Featured Images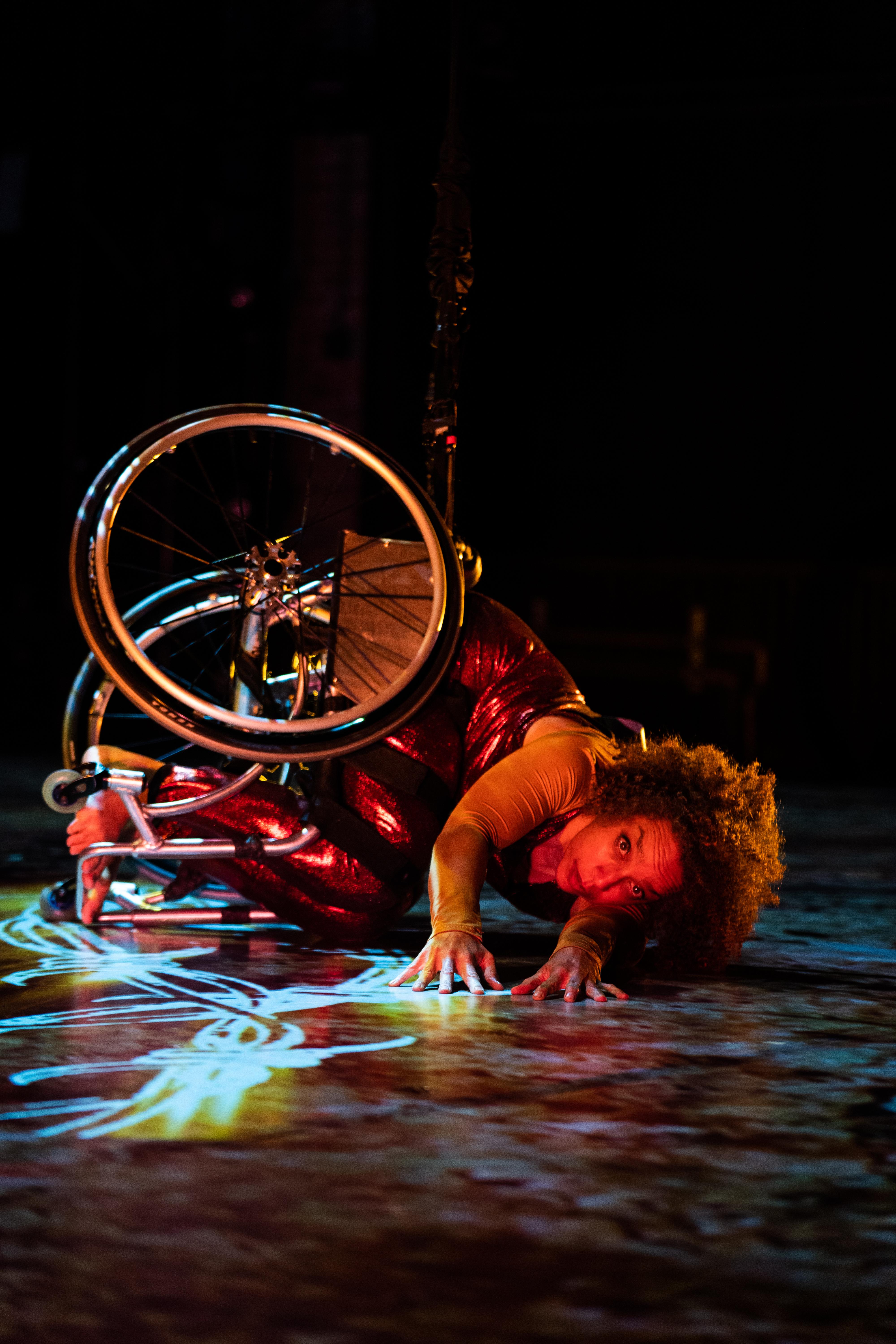 About
The Performance
Wired is an immense and intimate experience that traces the fine line between "us" and "them" through aerial and contemporary dance and the metaphoric use of barbed wire. The dancers of Wired spin and soar together in this meditation in sound, light, and movement on the gendered, racial, and disability stories of barbed wire in the United States, showing how this material shapes common understandings of who belongs. Barbed wire is designed as a material for containment. It is used, time and again, to limit individual and community movements and delineate boundaries as large as a nation state and as small as a personal fence. In Wired, this fraught material comes to highlight not only danger and contradiction, but also beauty and interconnection.
To create Wired, the artists of Kinetic Light—Alice Sheppard, Laurel Lawson, Jerron Herman, and Michael Maag—and their collaborators—composers Ailís Ní Ríain and LeahAnn Mitchell and scenic designer Josephine Shokrian—defy both gravity and assumptions about what dance can be. The artists of Kinetic Light see interdependence as a political position as well as an approach to making dance from a disability aesthetic: in which disability is a powerful creative and cultural force, and the many ways of accessing the performance are the art itself.
Accessibility
ASL interpretation and AD are available for all shows. There is no spoken dialogue in Wired. Audio description is available through Kinetic Light's app, Audimance. More information will be provided to ticketholders by email in advance. Orientation to and demonstration of the app will be available in the lobby prior to all shows, along with a tactile exhibit that serves as an introduction to the Wired set, props, costumes, and theatrical elements.
Wired content and artistry will remain the same for all performances. The show shares many aspects of MCA's Relaxed Performances. Audience members are welcome to exit and reenter.
Light haze is present in certain sections. There are no strobe lighting effects. Quiet spaces and stimulation kits are available for all performances.
The show will be livestreamed on Saturday, including ASL, with one channel being audio described. Friday and Sunday's performances will offer an alternative lighting design.
Collaborators
For a list of all Wired collaborators and funders, visit kineticlight.org/wired
This project was organized by Tara Aisha Willis; Curator, Performance and Public Practice; with Nolan Jimbo, Marjorie Susman Curatorial Fellow. Wired was commissioned by The Shed (NYC) as part of Open Call. This program was produced with guidance from MCA Advisory Partner Bodies of Work. Their contributions have shaped the development and implementation of this project.
Learn more about the MCA Advisory Partners
The engagement model for Wired was developed with support from the New Works Initiative, with lead support provided by Elizabeth A. Liebman. The New Works Initiative puts the creative process at the heart of the MCA's relationship with Chicago by supporting the development of new performances and creative projects.
About the Artists
Kinetic Light is an internationally recognized disability arts ensemble featuring Alice Sheppard, Jerron Herman, Laurel Lawson, and Michael Maag. Working in the disciplines of art, technology, design, and dance, Kinetic Light creates, performs, and teaches at the nexus of access, queerness, disability, dance, and race. In the company's work, intersectional disability is an aesthetic, a culture, and an essential element of artistry. Access is integral to the company's work and is part of the art itself.
Funding
Lead support for the 2021–22 season of MCA Performance and Public Programs is provided by Elizabeth A. Liebman.
Major support is provided by the Pritzker Foundation, the Alphawood Foundation and by Julie and Larry Bernstein.
Generous support is provided by Lois and Steve Eisen and The Eisen Family Foundation; Ginger Farley and Bob Shapiro, Martha Struthers Farley and Donald C. Farley, Jr. Family Foundation, N.A., Trustee; Susan Manning and Doug Doetsch; Carol Prins and John Hart/The Jessica Fund; and Anonymous.
Additional generous support is provided by Ms. Shawn M. Donnelley and Dr. Christopher M. Kelly, Cynthia Hunt and Philip Rudolph, Ashlee Jacob, Anne L. Kaplan, Sharon and Lee Oberlander, D. Elizabeth Price and Lou Yecies, and Enact, the MCA's Performance & Public Programs affinity group.
Generous support is provided by the Chicago Department of Cultural Affairs and Events (DCASE).
The MCA is a proud member of the Museums in the Park and receives major support from the Chicago Park District.