Teachers
Did you know Illinois elementary and high school teachers receive free admission to the MCA? Simply present a valid teacher ID at the admissions desk. Don't carry your school ID with you? Email us to request a teacher pass.
Gallery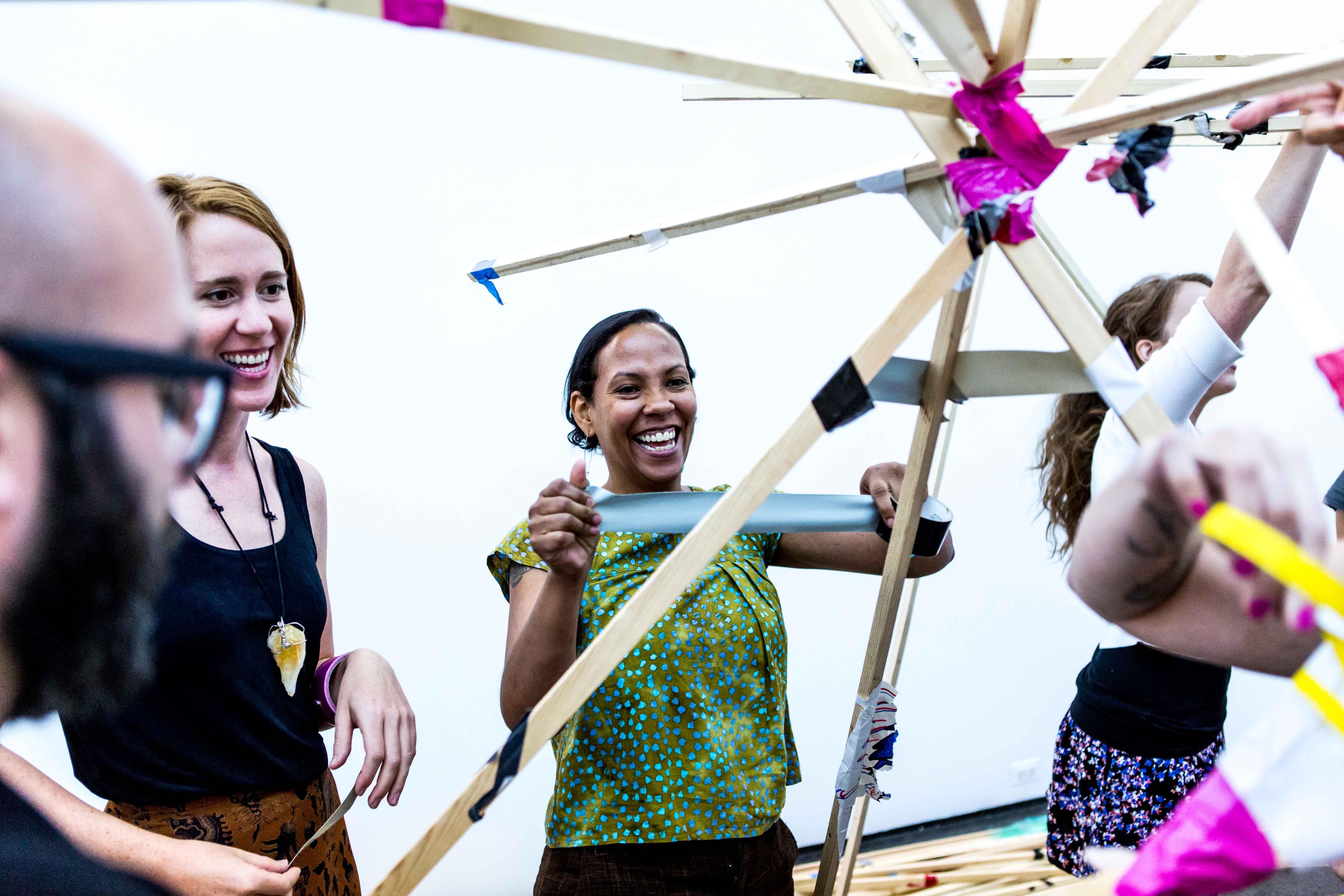 For Teachers
Teacher Institute
Teacher Institute is the museum's professional development program for classroom educators. The design of the free, year-long Institute, which includes the Learning Series and the Teacher Residency, is aimed at helping you investigate, design, incubate, and implement innovative, contemporary curricula.
Learning Series
Registration based. Free and open to all.
Seasonal, high-quality professional development open to all teachers, offering skills-based training on contemporary art integration and educator-specific programs designed in connection with the cultural assets of the MCA (exhibitions, exhibiting artists, public programs, and performances). To hear about upcoming Learning Series programs, sign up for our educator email list.
Teacher Residency
Application based. Apply Now
A year-long partnership with 15 classroom teachers. These Teachers-in-Residence at the MCA attend monthly collaboration sessions with the other Teachers-in-Residence, and work closely with MCA staff and mentors to develop new curricula for contemporary arts integration to be used in the classroom and museum.
2021-2022 Teachers-in-Residence
Annamaria Castellucci Cabral
Rayshawn Nowlin
Pamela Paggao
Jeannie Potter
Maria Scandariato
Kathy Alice Tae
Teacher Advisory Committee
A community of classroom teachers who meet quarterly to advise the MCA Learning team on school and teacher programs and matters of interest to the larger school community.
Current members of the Teacher Advisory Committee:
Andrew Breen
Bridget Doherty-Trebing
Lindsay Johnson
Lisa Wax
Rhavin Haynes
Marcia La Porte
Marina Lopez
Kristal Pacheco
Zachary Wisser
Multiple Visit Program
Currently on hiatus, the MCA's Multiple Visit Program brings the Common Core to life by offering teachers and students a chance to debate, discuss, and connect to works of art through return visits to the museum and provides professional development for teachers. Designed in alignment with Common Core English Language Arts Standards, this program uses contemporary art and ideas to sharpen students' critical thinking skills, helping them to engage in collaborative dialogue and inquiry.
Contact & Registration
Contact
Immersive professional development programs invite teachers to use the MCA as their studio, laboratory, library, and classroom.
In need of fresh ideas for your curriculum?

Teaching artists design and lead Teacher Tours to help educators investigate works of art in the galleries, make art, and connect their experiences back to the classroom.

Need to know what's happening in art, teaching and learning right now?

Educator Salons tackle timely issues through open exchange among peers, colleagues, and speakers.
---
Participants receive CPDUs. Vouchers for free parking in the MCA garage are provided pending availability.
Contact us at [email protected] or sign up for our educator email list to be the first to hear about opportunities at the MCA for teachers and students.
Teacher Mailing List Sign Up
Funding
Support for teacher programs at the MCA is generously provided by the Polk Bros. Foundation and the Terra Foundation for American Art. Additional generous support is provided by the Lloyd A. Fry Foundation, the Crown Family, and Discover.
Major support for the Teacher Institute is provided by the Fry Foundation and the Terra Foundation for American Art.
Generous support for school programs is provided by Anne and Chris Reyes; The Crown Family; GCM Grosvenor; Peoples Gas Community Fund; Andrea and Jim Gordon, The Edgewater Funds; Aon; Ariel Investments; the Harris Family Foundation; Illinois Tool Works; JHL Capital Group, LLC; Katten Muchin Rosenman; Graff; Northern Trust; William Blair Company; the Helen Brach Foundation; Cari and Michael Sacks; and Carol Prins and John Hart/The Jessica Fund.