Teachers
Did you know Illinois elementary and high school teachers receive free admission to the MCA? Simply present a valid teacher ID at the admissions desk. Don't carry your school ID with you? Email us to request a teacher pass.
Gallery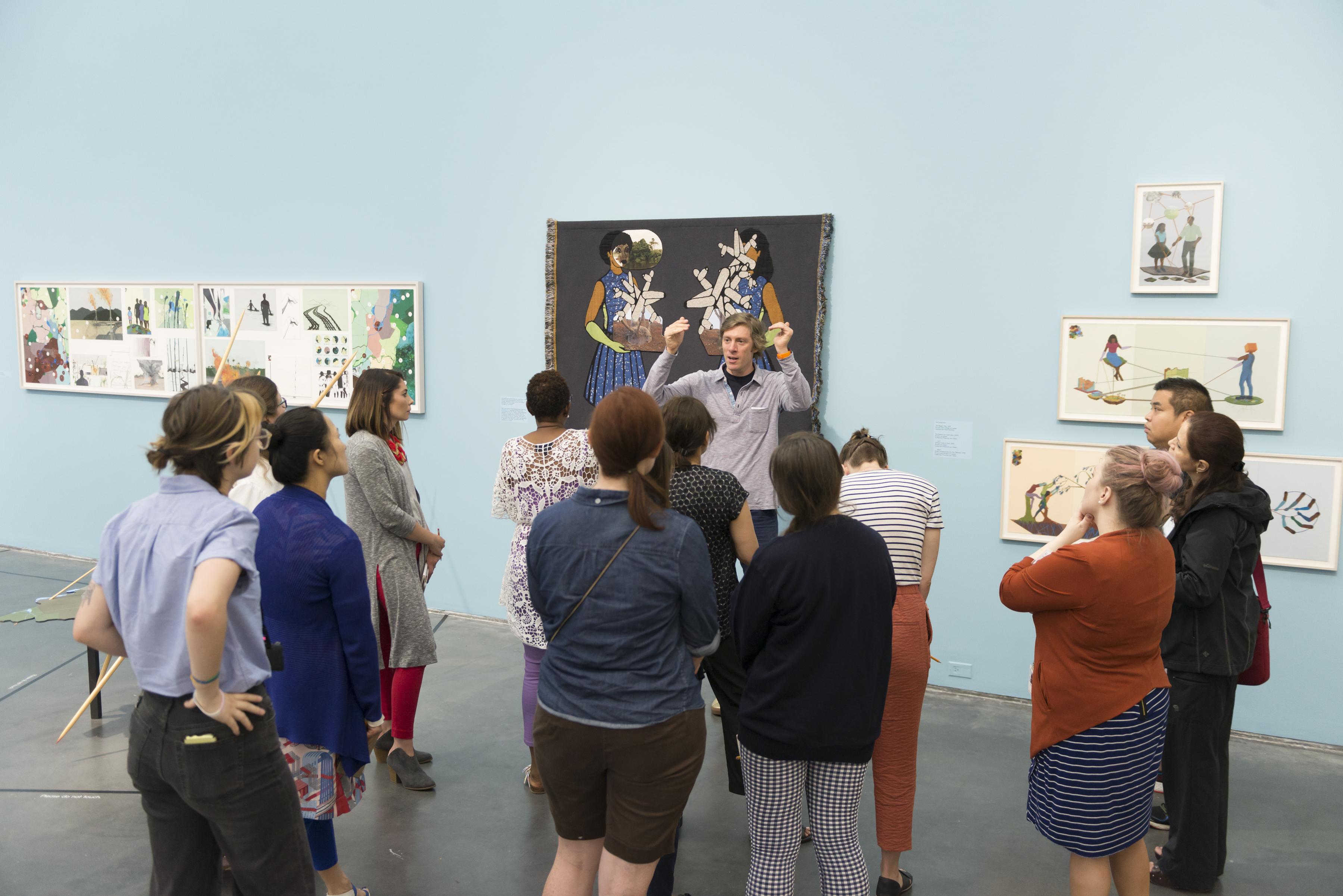 For Teachers
Teacher Institute
Registration-based.
The Teacher Institute is the MCA's professional development program for classroom educators. Designed to help you investigate, create, incubate, and implement innovative, contemporary curricula, this free, yearlong program includes year-round programming like the Learning Series and the Teacher Residency.
Learning Series
Registration-based. Free and open to all.
Throughout the year, the MCA hosts high-quality professional development programming. Open to teachers of all disciplines, these events are skills-based trainings on contemporary art integration and educator-specific programs.
Programs are designed in connection with the cultural assets of the MCA (exhibitions, exhibiting artists, public programs, and performances). To hear about upcoming Learning Series programs, sign up for our educator email list.
Multiple Visit Program
We are not supporting school field trips or the Multiple Visit Program at this time. We apologize for the inconvenience. We look forward to welcoming student groups again in 2023!
You can still take advantage of free admission for student groups. To reserve tickets, please email [email protected].
Teacher Advisory Committee
A community of classroom teachers who meet quarterly to advise the MCA Learning team on school and teacher programs and matters of interest to the larger school community.
Current members of the Teacher Advisory Committee (TAC):
Andrew Breen
Bridget Doherty-Trebing
Lindsay Johnson
Rhavin Haynes
Marcia La Porte
Marina Lopez
Kristal Pacheco
Lisa Wax
Zachary Wisser
For more details about the TAC, email Evelyn Sanford-Nicolson, Polk Bros. Associate Director of Learning.
Teacher Residency
This 10-month partnership with 15 Chicago-area K–12 classroom teachers of various disciplines includes monthly collaboration sessions, MCA class field trips, and curriculum development.
Working closely with MCA staff and other mentors, teachers develop new curricula focused on contemporary arts integration for classroom and museum learning, earning up to $750 in the process.
2022–23 Teachers-in-Residence
Philip Alvy
Shannon Andrea-Perryman
Paulette Butler-Mitchell
Gönül Zerya Düzer
Monica Koziol
Lynette Mendoza
Kelli Meserole
Lisa Pearson
Jeannine Potter
Devin Prendergast
Cyntria Richardson
Sofia Wehrle
Rebecca Wolsten
Contact & Registration
Contact
The MCA creates immersive professional development programs and invites teachers to use the museum as their studio, laboratory, library, and classroom.
In need of fresh ideas for your curriculum? Need to know what's happening in art, teaching, and learning right now?
MCA Educator Salons tackle timely issues through open exchange among peers, colleagues, and speakers.
---
Participants receive ISBE credit.
Vouchers for free parking in the MCA garage are provided pending availability.
Email Ahmad Bracey, Manager of Learning: School and Youth Communities, or sign up for our educator email list to be the first to hear about opportunities at the MCA for teachers and students.
Teacher Mailing List Sign-Up
Funding
Major support for Learning Programs at the Museum of Contemporary Art is provided by Julie and Larry Bernstein and Anonymous.
Additional generous support is provided by the Lois and Steve Eisen and The Eisen Family Foundation, Friends of Edwin A. Bergman Fund, the Hulda B. & Maurice L. Rothschild Foundation, Diane Kahan, The Marshall Frankel Foundation, D. Elizabeth Price and Lou Yecies, Carol Prins and John Hart/The Jessica Fund, and The William Randolph Hearst Foundations.