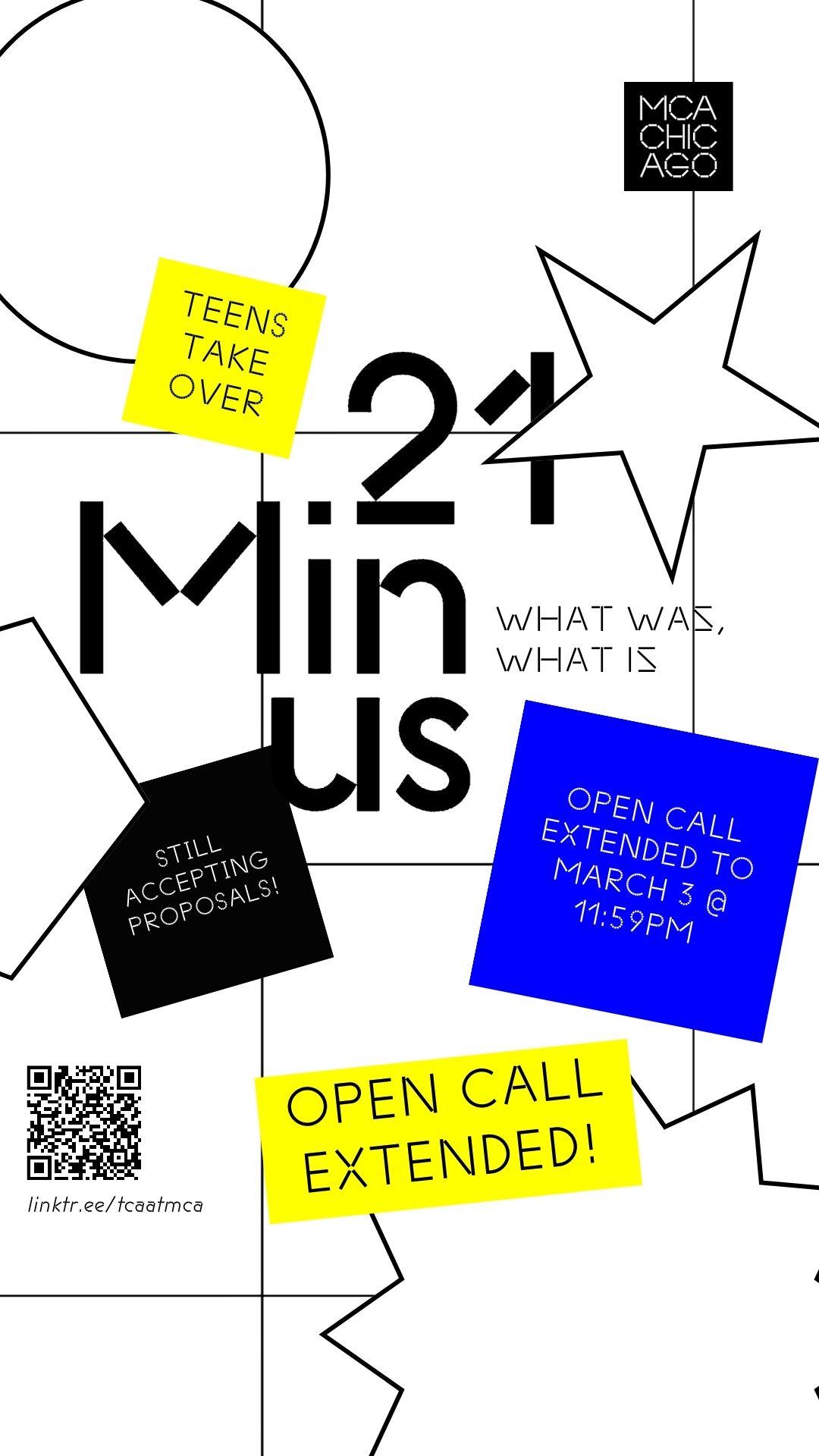 21Minus Call for Proposals
About 21Minus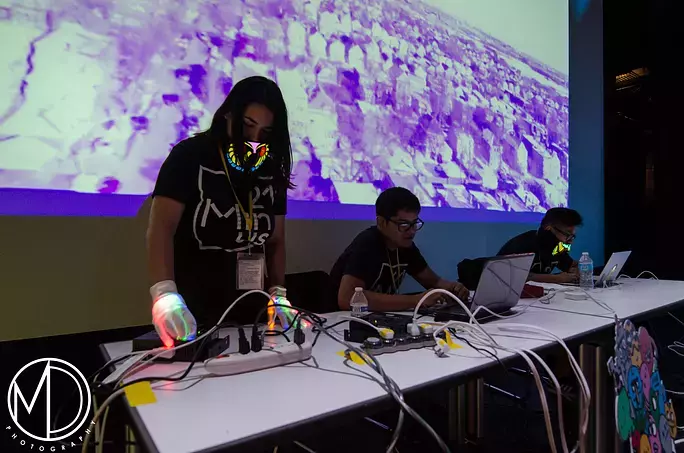 The MCA's Teen Creative Agency—a collective of 15–19 year olds from all over the Chicagoland area—present 21Minus. This annual festival of teen creativity and passion fills the museum with exciting, out-there projects that invite visitors to engage with the museum and each other in unexpected ways. This year, the theme is What Was, What Is.
On view during 21Minus, Gary Simmons's exhibition Public Enemy illustrates this year's theme by exploring the systems of power that historically facilitate the realities of marginalized groups. These systems remain today. As an agent in history's storytelling, consider how your proposals uncover what once was, and still is. We invite you to consider "What Was, What Is" broadly and to interpret this prompt creatively in your proposals. Our hope is that by engaging our pasts, our histories, and ourselves, we may recognize the realities of our experiences and environments.
Check out the FAQs for lots of information about 21Minus and making a great proposal. If you have questions about this process, want to talk through your ideas, or have questions about 21Minus in general, contact Ahmad Bracey at [email protected].
21Minus is curated and produced by TCA with support from Lead Artists Olive Stefanski and Miguel Limon, and Ahmad Bracey, Manager of Youth and Schools. It is free for people age 21 and under and their families.
Project Details
Types of Projects
21MINUS is a take over, not an exhibition. While we can't accept art that hangs on the walls, we can accept:
Workshops/Skill-shares: Share a skill. Facilitate a drop-in activity or a 20–40-minute workshop.
Conversations: Start a conversation about something important; sit down with a group, create a polling station, make an online comment board, or more.
Performances: Create a piece of performance art, host an open mic, do an improv act, lead a guided tour, dance, put on a fashion show, play live music, or DJ a set.
Printed materials: Pass out zines, comic books, stickers, posters, or other printed materials.
Installations: Build an environment visitors can step into, make a giant sculpture, create an interactive prompt.
Here are a few examples of past project descriptions:
Self-Care Journal Workshop

This is a workshop about making your own journals. You'll come into a room with lots of tables and book-making supplies. I'll give a presentation about different mindfulness practices related to journaling. I hope people will learn how to bind a book, think about the importance of reflecting and self-care, and feel empowered.

I learned how to lead workshops when I worked as a camp counselor. That's where I learned about making journals and about self-care. I have led two self-care workshops and journal-making at my school.
Balloon Release

I want to make an interactive balloon installation about fear and catharsis. During the event, people will write their fears on hundreds of balloons. The balloons will get tied together and form a huge sculpture. At the end of the event, everyone will get together and pop all the balloons. It will make them think about how to take control of and release their fears.

This is the first time I have done anything with balloons, but I have lots of experience talking to people about their emotions. In the teen program I am a part of, we host events and talk with members of the public. Even though I haven't done art with balloons, I have a lot of experience constructing small sculptures with fabric, so I know how to develop 3D artwork and work with different materials.
Criteria
All projects will be chosen based on the following:
Clarity—Can we understand from your description and image what this is about and what's going to happen?
Urgency—How important is the topic?
Uniqueness—How does this add something special to a bigger conversation?
Feasibility—Can this project happen at the museum, on our timeline, and in our budget?
FAQs
What is 21Minus?

21Minus is a takeover of the MCA by young artists. We can't disrupt or endanger the exhibitions that are already on view, but we can use all the public areas of the building as well as many of the gallery spaces for live performances, interactive experiences, workshops, and installations. It is a loud, crazy, exciting day! In 2018, there were roughly 800 visitors, 29 projects, and over 50 collaborators working with 25 TCA youth curators, 4 artist mentors, and 2 adult lead artists.
Who are you looking for?

We are looking for people who are:

Passionate

We are looking for people who have something to say, no matter if you express yourself through music, dance, drawing, politics and social justice, science, philosophy, economics, religion, math, and more. Everyone is welcome.

Open

All 21Minus projects directly engage audiences. We are looking for people who are open to interacting directly with museum visitors.

Flexible

Because of the complex systems that make the museum run, all 21Minus project artists will need to work closely with museum staff and TCA members to shape their projects so that they best respond to the spaces and exhibitions in the museum.

TCA works to make 21Minus a platform for people of all identities and backgrounds. We work to ensure the equity of our process by prioritizing applications from people who have traditionally been underrepresented at the museum including black, indigenous, brown, femme, queer, and immigrant artists as well as artists from Chicago's South and West sides.
Who can propose a project?

All people proposing a project must:

Be 21 years old or under on June 17, 2023.1
Live in the Chicagoland area.
Be available all day on June 17, 2023.
Be flexible and committed to working with others to develop a project.

People over 21, including adult leaders of youth organizations, can propose a project if the majority (more than half) of all artists working on the project are under 21.
If I applied or participated in previous years, can I apply again?

Yes, as long as you are still under 21.
What is the commitment if my proposal is accepted?

If your application is accepted, you must commit to:

Being available all day on Saturday, June 17.
One meeting at the MCA on a Saturday in May.
Being flexible and adapting your project according to museum guidelines and restrictions.
What if I have trouble getting to the MCA?

We can offer parking passes or limited travel stipends to support artists who have trouble getting to the MCA. Tell us if you have concerns about getting here.
What kinds of projects happen at 21 Minus?

21Minus is a platform for interactive projects that get people to engage with art and each other in new ways.

Past artists have . . .

led a workshop about microaggression.
invited visitors to interact with a giant baby made of tape.
performed an original sand-art performance piece.
danced inside of giant balloons.
played poetry games with visitors.
live-mixed video and audio on multiple screens with a fog machine.
invited visitors to print their darkest secrets on dirty laundry.
How are projects chosen?

All projects are reviewed and voted on by the 12 current TCA members. They use [standard criteria](Can you link to the Criteria section?) for all projects and special criteria for each proposal category.
What should I keep in mind when developing my project?

The MCA is a major public platform. What issues of urgency do you want to bring to public attention? What do you want to get people talking about?

During 21Minus you will be hosting your project. How do you want to engage with visitors?

Although youth take over the museum on 21Minus, there are a lot of artworks already on display. Take a look at the exhibitions currently on view at the MCA and see if any of the ideas or themes they deal with spark your imagination.
What are the constraints of working in the museum?

Because the museum is full of other visitors and delicate artwork, we have to be flexible and compromise. Some things to keep in mind:

Any weight-bearing structures or things that go over people's heads must be built by MCA staff.
Visitors can't eat, drink, or have liquids in the galleries.
There are only a few places where any liquids or messy materials (like paint) are allowed.
We need to get approvals for all materials that come in and out of the museum.
Can I build things?

The MCA has some facilities to help with minor constructions, however, large building projects aren't feasible. In fact, there aren't many places where large props can be used at the MCA.
Are there funds that I can tap into?

We can support projects with limited materials budgets, but if your proposal is very large, we will ask you to contribute.
Other questions?

If you have questions about this process, want to talk through your ideas, or have questions about 21Minus in general, contact Ahmad Bracey at [email protected] or 312-397-4020.
Project Submission
Ready to be a part of the takeover?
The form closes on March 3, at 11:59 pm.