The Art of Eating: Pineapple Pachadi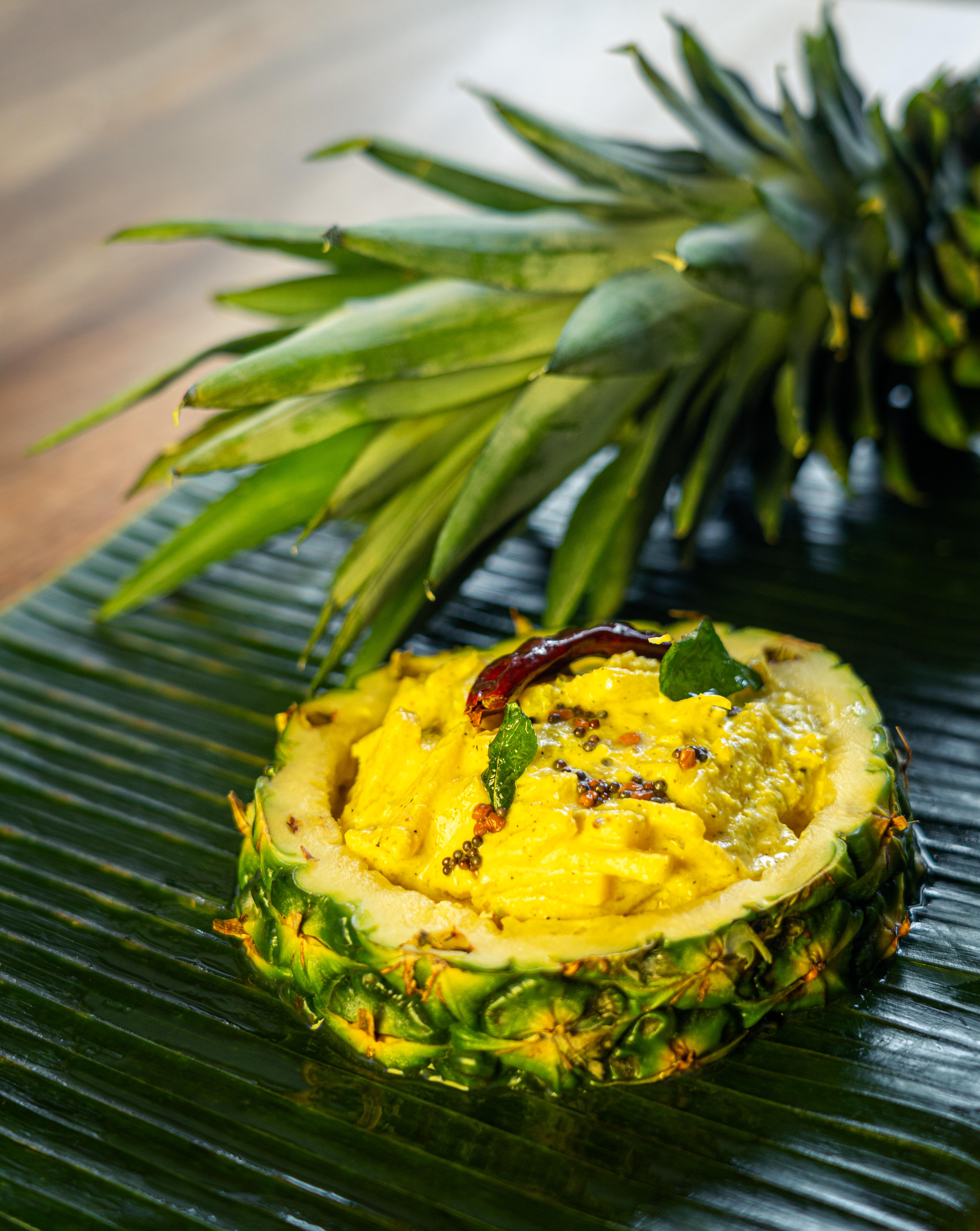 ---
---
Introduction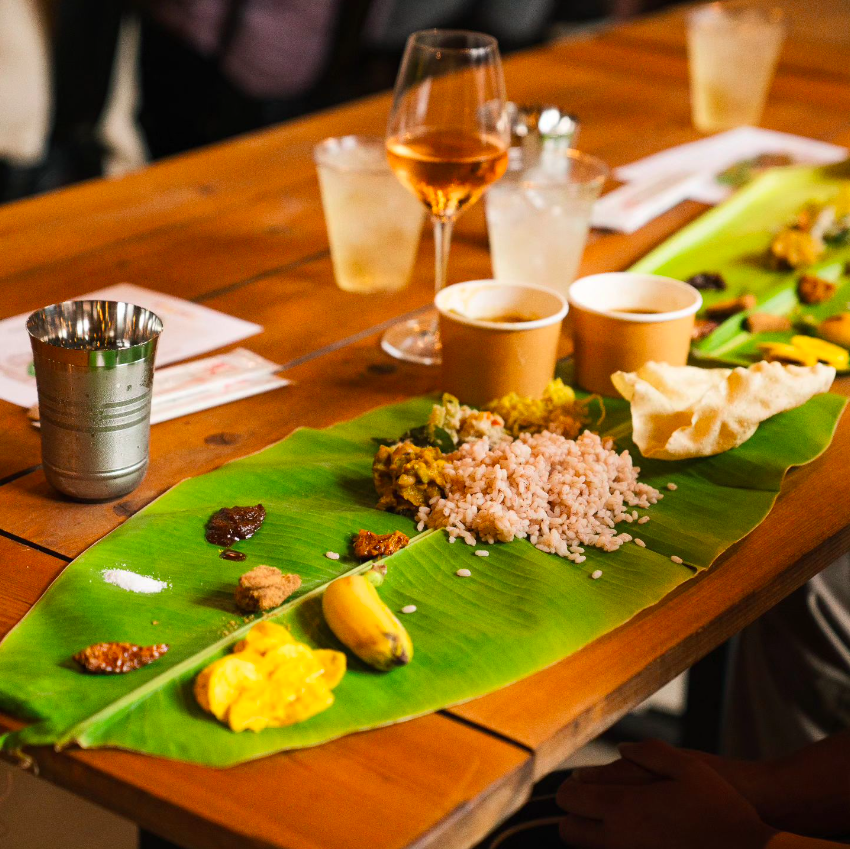 It's been said that you're not full until you're "sadya full." Meaning "feast" in Malayalam, sadya is a vegetarian banquet unique to the South Indian state of Kerala. You'll eat sadya at every wedding, regardless of the family's religion or economic status, and when a family member reaches a milestone birthday or anniversary, or passes away, everyone descends on the house to share in sadya. During the Onam Sadya, which takes place during the Keralan rice harvesting festival, up to 30 vegetable dishes and desserts are served.
Despite its grandiose origins, for Keralites sadya is everyday food too. Its component dishes show up at every sort of celebration life calls for, and on the kitchen table for weekday lunch. One such dish almost always found on a sadya spread is pachadi, a refreshingly sweet-and-sour yogurt-based dish that is delicious with rice and a spicy pickle on the side. Often made with cucumber, this pachadi recipe instead uses pineapple, a fruit that grows all over the countryside in Kerala. Grated red beets or green (unripe) mango also work great, but this version is my favorite of the varieties I've tried.
To me, sadya dishes are a reminder of true homecooked food—with the fresh and readily available produce found back home in Kerala—togetherness, and the warm embrace of family. Onam in particular, which takes place following our first monsoon season, is a nice reset for the changing of the seasons—not to mention unabashed indulgence. As Vinod is fond of saying, "It's our version of Thanksgiving dinner, which also functions as cooking for two days and eating in eight minutes." Having marked the fall equinox here in the Northern Hemisphere this past weekend, perhaps this recipe will inspire you to celebrate this harvest season. Or, make it part of your own sadya meal. Find additional inspiration in the Everyday Sadya cookbook, available for purchase on Thattu's website.
Recipe
Serves four to six people on its own
Ingredients
1 cup full-fat yogurt, divided
Dash lime juice (optional)
1/4 cup grated coconut, thawed
2 fresh green chilies, slit open (depending on the sweetness or tartness level, I like to increase the spice level; if you prefer it less spicy, remove the ribs and seeds)
1/2 tsp cumin powder
3 cups pineapple, cut in about 1/4-inch pieces
1/2-inch knob ginger, minced
2 tsp turmeric
1/2 tsp black pepper
2 tsp sugar, plus more as needed (optional)
2 tsp salt
2 tbsp coconut oil
1/4 tsp black mustard seeds
1 sprig fresh curry leaves, stemmed
1 whole dry red chile
1/4 tsp fenugreek seeds
Directions
Whisk and bring the yogurt to room temperature. (This step is very important to prevent the dish from curdling.) To make the yogurt a little sour, add a dash of lime juice.a Set aside.
In a spice grinder or blender, grind the shredded coconut with the green chilies and cumin, and inhale that glorious aroma! Add a couple spoonfuls of the yogurt to create a smooth paste. Set aside.
In a saucepan on medium heat, cook the pineapple with the ginger, turmeric, pepper, sugar (if needed), salt, and 3 tbsp water.b Taste the pineapple; it should still have a little bite to it.
When the pineapple is on the verge of getting tender, reduce the heat to low and mix in the coconut-chili paste. Remove from the heat and let cool for at least 15 minutes, or cool enough to eat a piece from your hand.
In a separate pan, over medium-high heat, warm the coconut oil.
(This next part happens very fast! Order matters, and you don't want to burn the ingredients, especially the fenugreek.) Add the mustard seeds. Once those start to sputter, turn off the heat, then immediately add the curry leaves and whole dry red chile, followed by the fenugreek seeds. Swirl the pan once, pour the tempered spices over the cooked pineapple, and mix well.
Fold in the yogurt last to make sure the yogurt doesn't separate. Taste for salt and adjust. Cool to lukewarm and serve with rice. This is best served on the day it's prepared.
---
Notes:
a. We recommend adding lime if the pineapple is super ripe to balance the sweetness.
b. If the pineapple is underripe, add a sprinkling of sugar to the pineapple when you start cooking.