The Art of Eating: Chocolate Chai Ice Cream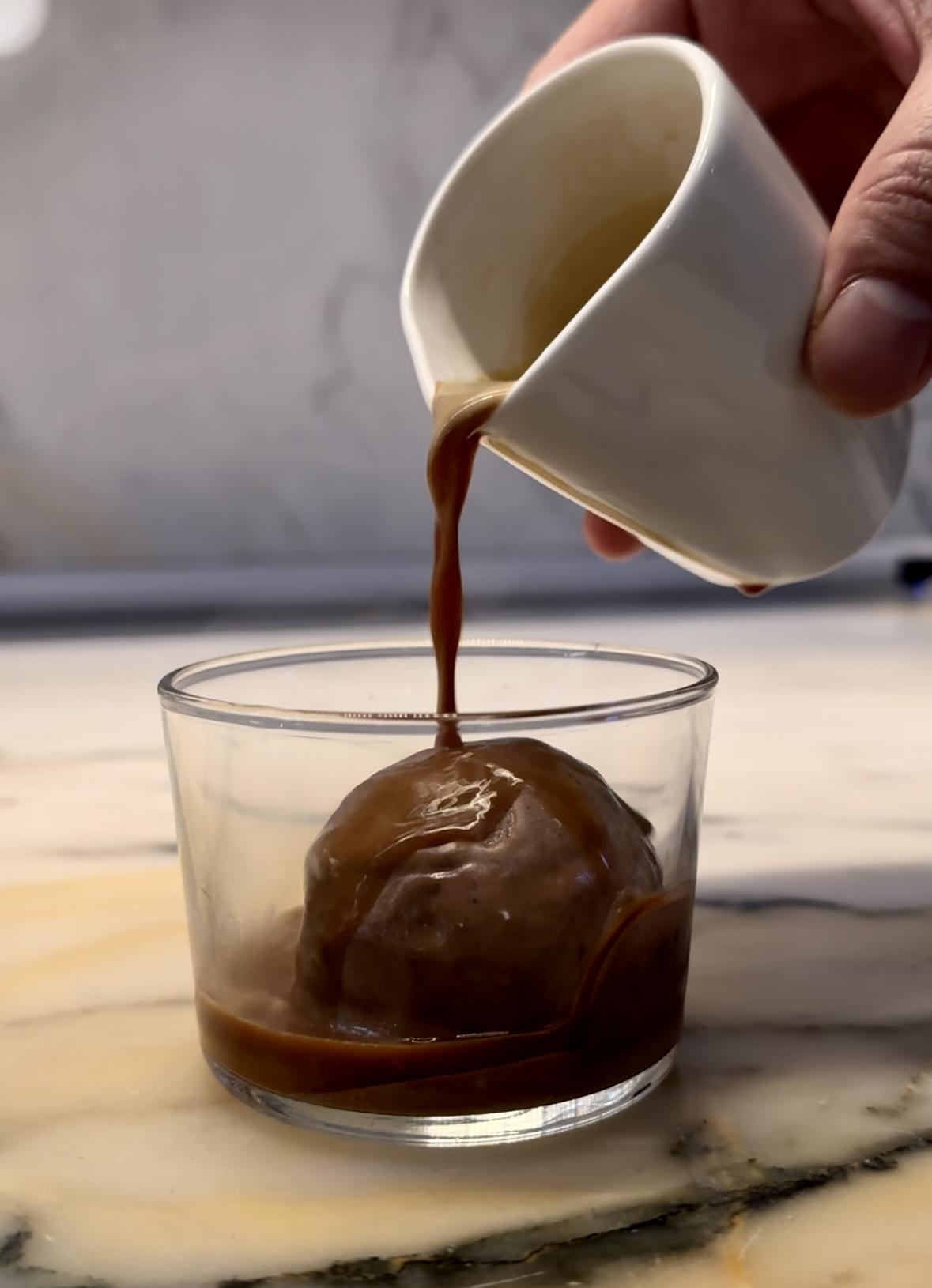 ---
---
Recipe
Ice cream encapsulates one of my favorite experiences in life: On vacation. Someplace sunny and warm. Soft serve ice cream cone. The hot day melts the outside of the ice cream. Perfection. 
We are fortunate to have a lot of fun equipment to play around with in the MCA kitchen. One of my favorite pieces of equipment is our ice cream maker. It can turn a goopy concoction of cream and sugar into smooth, beautiful ice cream in under 10 minutes.
This recipe is currently featured on the Marisol lunch menu. I love the depth of the chocolate flavor followed with the pop of warming spices from the chai. It comes with a shot of hot espresso to pour over the ice cream.
Chocolate Chai Ice Cream
14 ounces sugar
1 ounce water
7 ounces 60% dark chocolate, roughly chopped
30 ounces whole milk
10 ounces heavy cream
10 egg yolks 
4 ounces chai tea concentrate
1/3 cup cocoa powder
1/2 teaspoon espresso powder 
1 teaspoon salt
1 tablespoon pure vanilla extract
1 star anise
1 cinnamon stick
5 whole cloves
1/2 teaspoon whole coriander
1/2 teaspoon whole fennel seeds
1/2 teaspoon black peppercorns
Combine 2 ounces of sugar with 1 ounce water in a small saucepan. Heat until golden brown. Add 1 ounce heavy cream, stir to combine. Pour over dark chocolate. Let sit 2 minutes. Stir until chocolate is melted. Set to the side.
Heat remaining sugar, spices, and whole milk in saucepan over medium-low heat. Heat until sugar is dissolved. Pour 1/3 of heated mixture over egg yolks, whisk to temper. Pour back into saucepan and whisk in cocoa powder. Heat until mixture is slightly thickened, but do not boil. Remove from heat and add the remaining heavy cream, chai, chocolate, espresso powder, salt, and vanilla.
Allow mixture to cool and place in refrigerator overnight. Before churning, strain to remove whole spices. Churn in ice cream maker following manufacturer's instructions. Freeze overnight and enjoy.
The recipe yields about 2 quarts of finished ice cream.