Travel
MCA Circle Donors and DVC Members are invited to travel to thriving cultural sites to visit private art spaces and meet local artists and cultural thinkers. Our international and domestic excursions offer participants opportunities to learn about contemporary art from artists and experts alike.
Upcoming Trips
No trips are planned at this time, but please contact us for future opportunities.
Featured images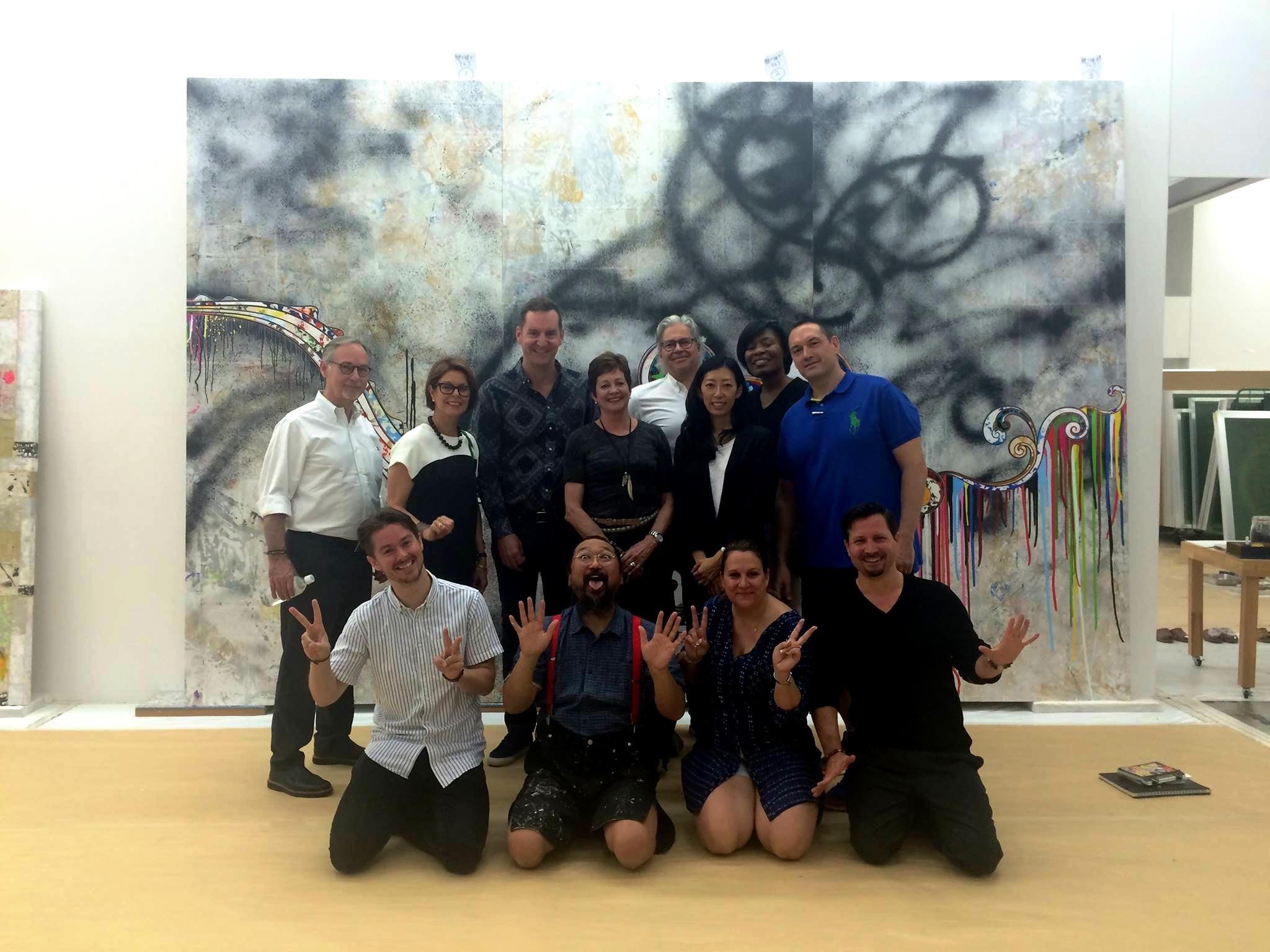 Past Trips
Director's Vision Council
Japan
In May 2016, Director Vision Council Members joined Pritzker Director Madeleine Grynsztejn for a tour of Japan's unique art scene. This exclusive trip highlighted the country's best contemporary art and architecture while providing insight into its rich history. Travelers also had private access to the studios of extraordinary artists, including Takashi Murakami, and to the homes of accomplished collectors.
Istanbul Biennial
In October 2013, members of the Director's Vision Council went on an unforgettable journey to Turkey, which highlighted both Istanbul's unique history and its vibrant contemporary art. The trip included access to private collections and artists' studios and a tour the 13th Istanbul Biennial under the insightful guidance of Pritzker Director Madeleine Grynsztejn and James W. Alsdorf Chief Curator Michael Darling. Additionally, members had the opportunity to relax in world-famous Turkish spas and tour the markets with private shoppers.
Documenta 13 and the Rhineland
In June 2012, members of the Director's Vision Council traveled with James W. Alsdorf Chief Curator Michael Darling and Pritzker Director Madeleine Grynsztejn to Germany to witness the epic contemporary art exhibition Documenta 13.
Documenta, which takes place in Kassel every five years, is considered one of the most important exhibitions for modern and contemporary art in the world. The trip also included a viewing of artist Gerhard Richter's stained glass windows at Cologne Cathedral and a visit to the Museum Insel Hombroich, which is a series of artist-designed pavilions scattered throughout the landscape around the home of collector Karl-Heinrich Müller, along with curator-led tours of various exhibitions and meals with various artists at some of Germany's finest restaurants and cafés.
Berlin and Copenhagen
Inspired by the MCA's artist-centric mission, the first Director's Vision Council travel opportunity focused on the artistic genesis and journey of one of the most important contemporary artists of our time: Olafur Eliasson. Travelers journeyed to the German city of Berlin, where Eliasson has his studio, as well as the artist's hometown of Copenhagen, Denmark.
This trip was led by Pritzker Director Madeleine Grynsztejn and coincided with Berlin Gallery Weekend, an annual event during which the city hums with artists, collectors, curators, and gallerists from around the world. Highlights included visits with the dynamic contemporary artists living and working in Berlin; tours of the private collections of significant collectors such as Erika Hoffmann; and luxury accommodations and meals at top gastronomic oases, including NOMA, recently named the "best restaurant in the world."
Circle Donors
Documenta
Circle Donors joined Pritzker Director Madeleine Grynsztejn for our trip to Documenta, June 7–13, 2017. The 14th iteration of this internationally renowned contemporary art event, curated in part by former MCA Senior Curator Dieter Roelstraete, takes place simultaneously in Athens, Greece, and Kassel, Germany. Among the trip highlights will be entry to the VIP preview in Kassel, an introduction to Documenta by one of the event's organizers, and private access to some of the art world's most well-respected collections in Athens.
Paris
Circle Donors joined Naomi Beckwith, Marilyn and Larry Fields Curator, on a trip to Paris in late October 2016. Each day offered exclusive access to some of the city's preeminent private collections, galleries, and artist studios, as well as curator-led deep dives into public collections and institutions such as the new Louis Vuitton Foundation. Participants also attended the VIP preview of FIAC, the International Contemporary Art Fair.
Marfa, Texas
Escaping the Chicago cold, MCA Circle Donors traveled to Marfa, Texas, with James W. Alsdorf Chief Curator Michael Darling. Travelers enjoyed two days of private tours of local artists' studios, as well as access to Donald Judd's home and studio and the stellar Chinati Foundation. Our group lodged at the historic Hotel Paisano and enjoyed unique culinary experiences to complement the art excursions.
Ann Arbor, Michigan
In January 2012, Circle Donors and Friends of MCA Stage ventured to Ann Arbor, Michigan, to experience Einstein on the Beach, an unconventional opera by famed composer Philip Glass. In addition to attending the performance, participants also received a tour of the University of Michigan Museum of Art by the UMMA Director Joe Rosa.
Los Angeles, California
James W. Alsdorf Chief Curator Michael Darling led an excursion to explore the Los Angeles art scene. The weekend included exclusive tours of private contemporary art collections, including those of Leonard and Susan Nimoy, Marc Selwyn, and Mandy and Cliff Einstein; visits with contemporary artists living and working in Los Angeles, including Sterling Ruby, Mark Bradford, and Thomas Houseago; an insider view of the gallery scene, with visits to the Broad Art Foundation, Regan Projects, Blum and Poe, and Susanne Viehlmetter; and meals at the city's gastronomic hot spots.
New York, New York
Circle Donors traveled to the city that never sleeps to experience Olafur Eliasson's Waterfalls and enjoy a private tour of the Whitney Museum of American Art's exhibition on Buckminster Fuller. A true highlight was a private tour of Jeff Koons's studio.