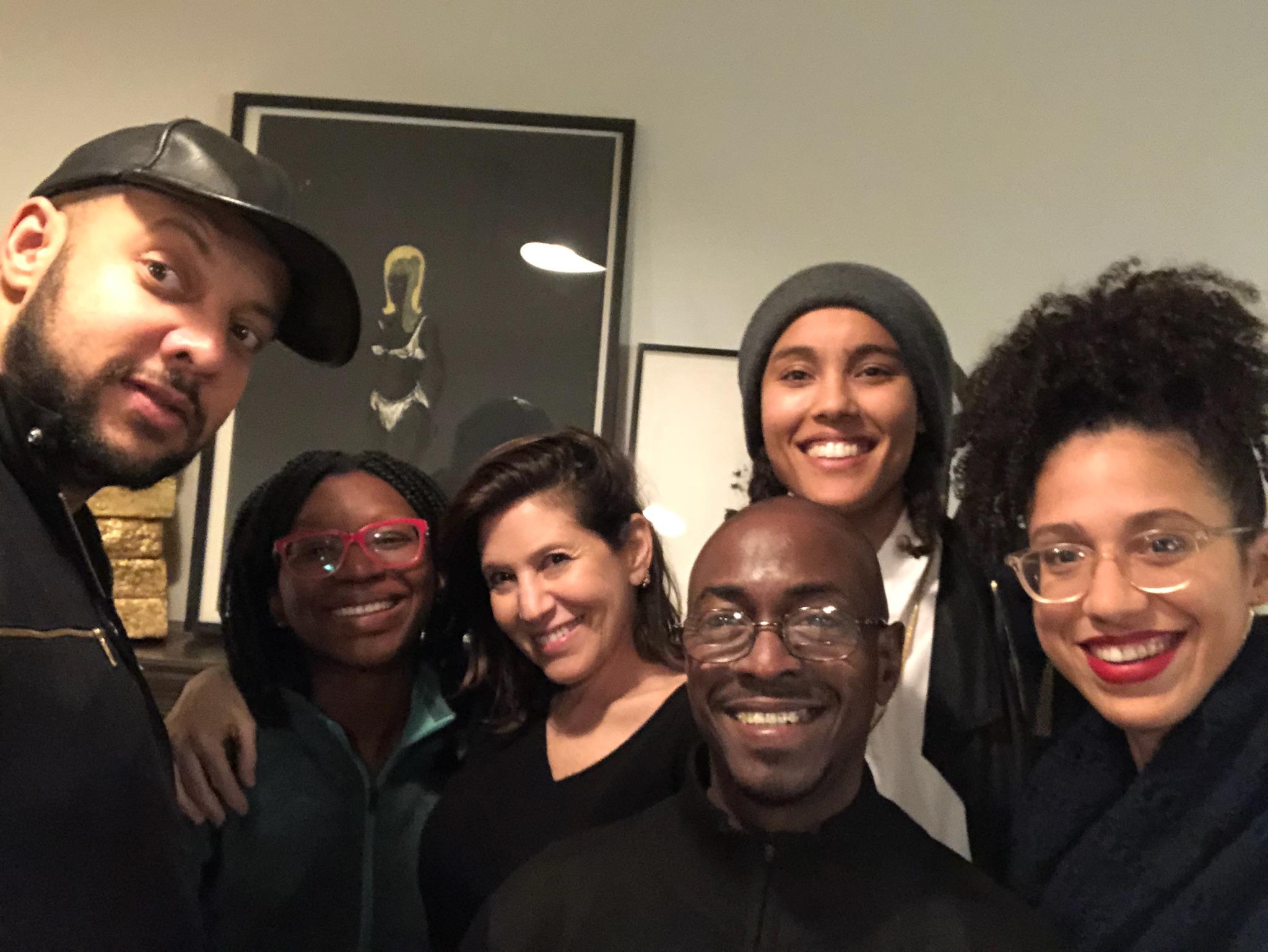 JACK & the Community
by Tara Willis
Creating opportunities for MCA Stage artists to engage with the community is an important part of our programming because it allows us to share our access to many of today's leading artists, to start larger conversations with our audiences and colleagues, and to learn directly from the artists.
Introduction
I'm thrilled to have the creative team behind the play JACK &, director Kaneza Schaal, actor Cornell Alston, and artist Christopher Myers, in town this week. The New York-based team will be teaching workshops, giving talks, having meals with local artists, educators, and organizers, and sharing their creative process with Chicago for six days. The spirit of generosity and mutual care with which they embrace each other, their audiences, and their unique approach to theater becomes more evident every time I see them in action.
In one of our first conversations, Kaneza told me she sees JACK & as an occasion to hold bigger discussions, outside each museum and theater they perform in, around the themes of prison reentry and our capacity for dreaming that the work takes on. With that in mind, it has been crucial to me to find ways for Kaneza, Cornell, and Christopher to bring their living, breathing art practice into the amazing work the MCA is already doing with teens. You'll notice in the itinerary below the many ways they are engaging with young people over the course of the week, as well as free opportunities for the public to participate.
I hope the conversations and teaching the creative team is taking part in this week-before they start to tour the show-will help them get specific about how the strategies they use to make theater together can be useful tools for fostering creative exchange and civic dialogue off-stage as well as on.
---
JACK & Engagement Visit Itinerary
Monday

2 pm
Arrive in Chicago!
6:30 pm
Dinner and roundtable discussion on prison justice and dreaming with 20 local cultural workers, activists, and educators, hosted by our Creative Engagement and Presenting Collaborator, Jane M. Saks, and Project&.

Tuesday

9 am–1 pm
Lead workshops for art and civics students at Sarah E. Goode STEM Academy through the MCA's School Partnership for Art and Civic Engagement (SPACE) program, as guests of Embedded Artist Damon Locks.
6 pm
Give a sneak peek into the library of media and textual materials that influenced the process of making JACK & during the In Progress series in the MCA Commons.

Wednesday

Noon–4 pm
Acclimate to the theater and prepare to return to the MCA Stage with the production.
6 pm
Give a talk titled, "Stories that build our future: excellence, experimentation, and audience," for theater professionals and artists from the League of Chicago Theaters.

Thursday

All day
Share coffee and conversation with MCA staff members and Chicago community leaders.

Friday

5:30–7:30 pm
Teach a joint workshop to share their creative practices with the MCA's Teen Creative Agency (TCA) and students from local arts education program, Marwen Lab.

Saturday

12:30–2:30 pm
Join the MCA's TCA as guest artists to discuss the politics and practice of theater in the museum.
4 pm
Depart Chicago!
---
Over the dinner and roundtable hosted by Project& last night, two things came up again and again: how do young people get into proximity with creative practice, and how is that relationship sustained? We didn't settle on any answers, but I hope this collaboration between the MCA Stage and Learning programs can be a springboard for more, from both the artists and the museum. Stay tuned!