Images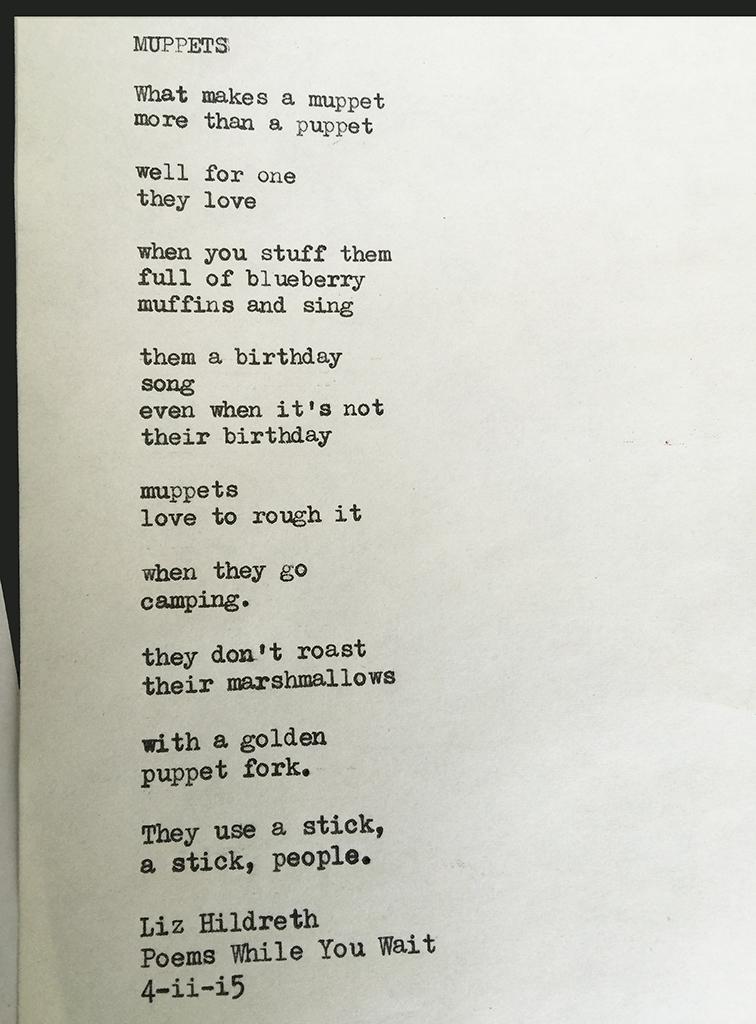 ---
In April, Poems While You Wait, participated in Family Day at the MCA where they wrote 89 poems in four hours on such topics as elevators, the Muppets, pink balloons, and a melancholy cheese sandwich. Poet and author Kathleen Rooney shares more about PWYW as well as a few of the poems they produced that day.
About
Since the summer of 2011, when they made their debut at Wicker Park Fest, the poets of Poems While You Wait have been subverting the cliché of the solitary writer toiling in obscurity by bringing themselves—and their typewriters—to public places throughout the city of Chicago and composing commissioned poetry on demand for strangers. The process is simple: the customer signs up for a poem by requesting a subject of their choosing, typically paying a $5 per poem fee, and then waiting 10–15 minutes while one of the poets creates a custom-made, original poem to keep or to give away as a gift.
Over the past four years, the founding members of the group—Dave Landsberger, Eric Plattner, and Kathleen Rooney—have been joined by a rotating collective of local poets. Together, they have brought patrons all over the city—and in the suburbs—an unexpected and unpretentious encounter with poetry in public venues, ranging from the Adler Planetarium to the Garfield Park Conservatory to the Harold Washington Public Library to Dose Market to Randolph Street Market to all kind of neighborhood festivals, fundraisers, and events. They've even done a handful of weddings, aka Poems While You Wed.
A handful of the poems by that day's participating poets is included here, and more can be found on the PWYW website. If you're interested in learning more, please follow them at poemswhileyouwait.tumblr.com/ or contact them directly at [email protected].
Join us this Saturday for the last Family Day until September!