Mammalian Diving Reflex/Darren O' Donnell, All the Sex I've Ever Had
Featured Images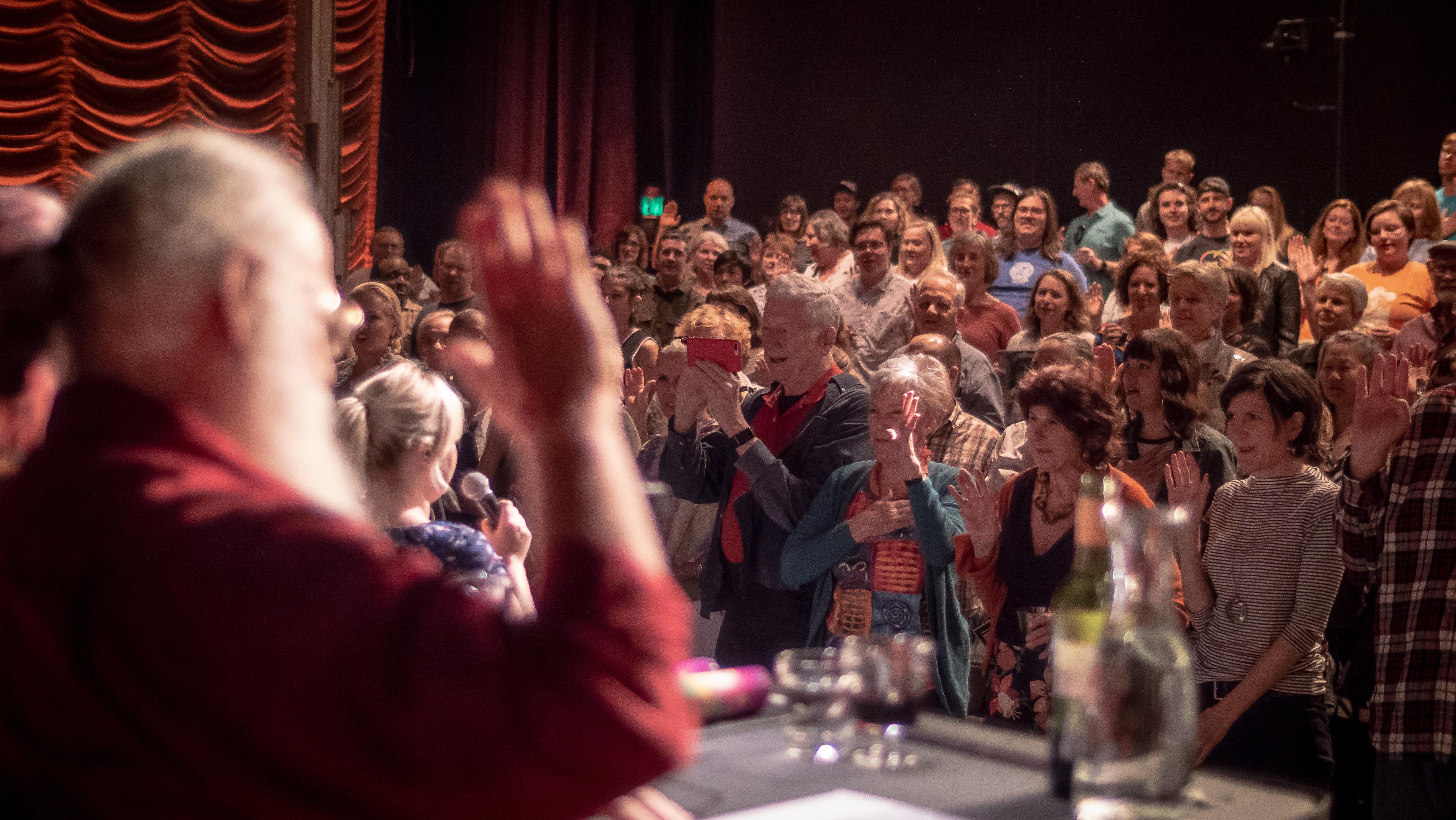 About
Starring six everyday Chicagoans over the age of 65 from all walks of life, All the Sex I've Ever Had offers the experiences of a generation to the audience. Specifically, they reveal their relationships to love and sexuality from the perspective of life's later years. Featuring all the memories they care to share about their romantic and sexual lives over the course of decades, these six courageously open up their personal lives to one another and to strangers in the audience. This cast of real-world elders share secrets of first crushes, turbulent affairs, unexpected pregnancies, and deaths of loved ones. They chat with the audience, toast to important milestones, and dance on stage. One of Chicago's favorite DJs, Bonita Appleblunt, will share the stage with them, spinning songs from each decade..
The performance offers a new understanding of intimacy, acknowledging that aging can yield deep knowledge—and a way of being in society that is open and fearless. All the Sex I've Ever Had invites everyone in the room to be generous and to find commonality in shared experiences that are usually left in the privacy of the bedroom. As these Chicagoans describe how they found their way into and out of intimate entanglements over a lifetime, bigger connections between social histories and power dynamics—as well as an entire generation's worth of historical moments—come into the theater.
This project was organized by Tara Aisha Willis; Curator, Performance and Public Practice; with Otez Gary, Curatorial Assistant.
The Artists
Mammalian Diving Reflex/Darren O'Donnell
Based in Germany and Canada, Mammalian Diving Reflex views innovative artistic interventions as a way to trigger generosity and equity across the universe. Founded by Artistic Director Darren O'Donnell in 1993, Mammalian is a research-art atelier dedicated to investigating the social sphere, always on the lookout for contradictions to whip into aesthetically scintillating experiences. We are a culture production workshop that creates site- and social-specific performances, theater-based productions, gallery participatory gallery installations, videos, art objects, and theoretical texts. Mammalian's body of work is interconnected, varied, and vibrant, reflecting our unique and growing body of knowledge and expertise on the use and function of culture. We create work that recognizes the social responsibility of art, fostering a dialogue between audience members, between the audience and the material, and between the performers and the audience. In all its forms, the company's work dismantles barriers between individuals of all ages, cultural, economic, and social backgrounds; we collaborate with non-artists and offer both participatory opportunities for the audience as well as the traditional option of simply watching the proceedings as they unfold. It is our mission to bring people together in new and unusual ways, in Toronto, Canada, our home base, and around the world, to create work that is engaging, challenging, and gets people talking, thinking, and feeling.
Funding
This presentation of All The Sex I've Ever Had is made possible in part thanks to grants from the Canada Council for the Arts and Ontario Arts Council touring programs.
Lead support for the 2021–22 season of MCA Performance and Public Programs is provided by Elizabeth A. Liebman.
Major support is provided by the Alphawood Foundation and by Julie and Larry Bernstein.
Generous support is provided by Lois and Steve Eisen and The Eisen Family Foundation; Ginger Farley and Bob Shapiro, Martha Struthers Farley and Donald C. Farley, Jr. Family Foundation, N.A., Trustee; Susan Manning and Doug Doetsch; Carol Prins and John Hart/The Jessica Fund; and Anonymous.
Additional generous support is provided by Ms. Shawn M. Donnelley and Dr. Christopher M. Kelly, Cynthia Hunt and Philip Rudolph, Ashlee Jacob, Anne L. Kaplan, Sharon and Lee Oberlander, D. Elizabeth Price and Lou Yecies, and Enact, the MCA's Performance & Public Programs affinity group.
The MCA is a proud member of the Museums in the Park and receives major support from the Chicago Park District.