George Lewis, Catherine Sullivan, and Sean Griffin Afterword, an Opera
An MCA Stage New Works Initiative presented in association with The Richard and Mary L. Gray Center for Arts and Inquiry at the University of Chicago
Featured images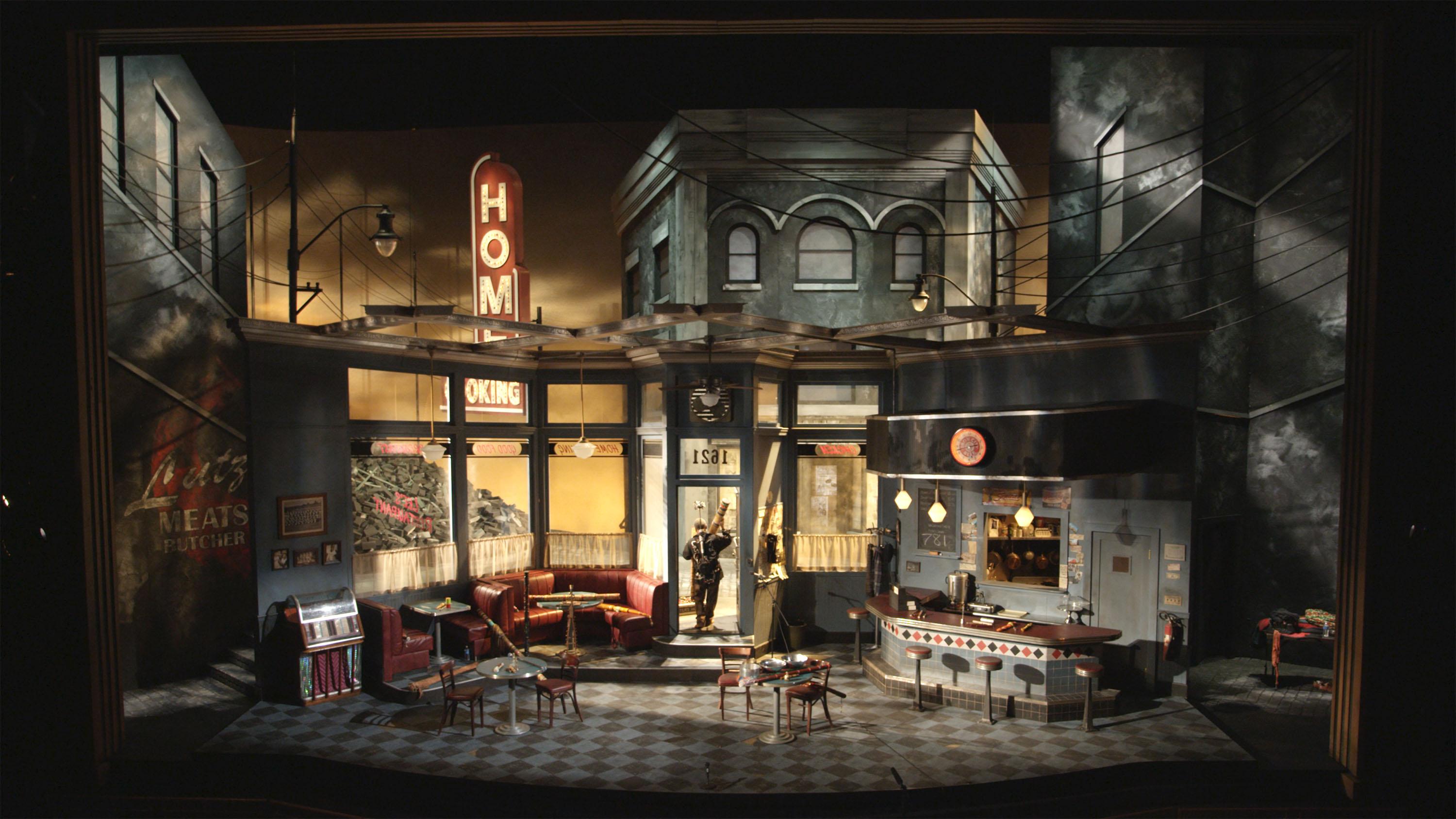 About the Performance
A multitude of voices, at once independent and in harmony, all imagining the future of creative music: this vision launches the experimental opera Afterword. Creative music in Chicago is unique, and one of its leading forces is the great black collective AACM: the Association for the Advancement of Creative Musicians. On the occasion of its 50th anniversary, an unexpected trio of collaborators is making a piece that imagines a future legacy. Acclaimed composer, musician, and AACM member George Lewis; media/theater artist Catherine Sullivan; and director Sean Griffin join forces with the trail-blazing new-music group, International Contemporary Ensemble (ICE), to present a multimedia work that combines chamber opera with real-time improvisation. The work features Joelle Lamarre, Gwendolyn Brown, Julian Terrell Otis, Douglas R. Ewart, Discopoet Khari B., Ann E. Ward, Coco Elysses, Otis Harris, Joelle Lamarre, Zachary Nicol, and Ninah Snipes. It is conducted by David Fulmer.
Founded on the South Side of Chicago in 1965, the AACM has long played an internationally recognized role in American experimental music. Afterword functions not as a history of the collective, but as a "Bildungsoper"—a coming-of-age opera of ideas, positionality, and testament. The libretto is drawn from my 2008 book, A Power Stronger Than Itself: The AACM and American Experimental Music (University of Chicago Press), a chronicle showing how artists and musicians assumed central roles in forging new models of black identity and social activism. What I call the AACM's "unstable polyphony" of voices, at once independent and in harmony in imagining the future of music, is the inspiration for Afterword, my first experimental opera, and where interpenetration of subject with artistic method becomes a vital touchstone for operatic experience.

From George Lewis
The MCA presents these premiere performances in conjunction with the MCA exhibition The Freedom Principle: Experiments in Art and Music, 1965 to Now.
About the Artists
George Lewis wears many hats: he's a trombonist, an improviser, a composer, a pioneer in music technology and computer music, a scholar, a historian, a multimedia artist, and an educator. He has always been light years ahead of the pack, asking questions that need to be asked, addressing and eloquently articulating issues about the various relationships between art and society, and realizing his humanistic vision through his brilliant works.

—Bomb Magazine
George Lewis is the Edwin H. Case Professor of American Music at Columbia University, as well as a MacArthur and Guggenheim Fellow, a member of the American Academy of Arts and Sciences, and has been a member of the Association for the Advancement of Creative Musicians (AACM) since 1971\. Lewis's work is documented on more than 140 recordings, and has been presented by the BBC Scottish Symphony Orchestra, London Philharmonia Orchestra, Ensemble Dal Niente, Radio-Sinfonieorchester Stuttgart, and others. In 2015, Lewis received a doctor of music (DMus, honoris causa) from the University of Edinburgh. MCA Stage has presented Lewis's work several times, most recently in a portrait concert with ICE (International Contemporary Ensemble).
Sean Griffin is a Los Angeles-based composer and director. The director of Opera Povera, an interdisciplinary consortium devoted to the creation and performance of new operatic, performance and exhibition projects, Griffin's work often features the unique talents of the instrumentalists and performers with whom he collaborates, and ranges through musical compositions, immersive operas, installations, films, and stage works. Griffin has collaborated extensively with artists Catherine Sullivan, Charles Gaines, and Aiyun Huang, and has been a resident fellow at Yaddo, MacDowell, and EMPAC. Griffin's works have been presented at venues including the 2015 Venice Biennale, MoMA, REDCAT, LACMA, Berlin's Volksbühne, and the Tate Modern.
Catherine Sullivan is an associate professor in the Department of Visual Arts at the University of Chicago. Her work engages theater, film, video, photography, writing, sculpture, and more. She produces performances and theater works that address a broad spectrum of historical and cultural reference, where the performers are often coping with written texts, stylistic economies, reenactments of historic performances, gestural and choreographic regimes, and conceptual orthodoxies. Her work has been exhibited nationally and internationally at the UCLA Armand Hammer Museum, Whitney Museum of American Art, Metro Pictures, Tate Modern, London; Opéra de Lyon, and the Volksbühne (Berlin), Galerie Catherine Bastide, Brussels and Galerie Christian Nagel, Antwerp/Berlin.
Additional Media
Funding
Afterword, an Opera is supported by the MCA Stage New Works Initiative with lead funding from Elizabeth A. Liebman; a Mellon Collaborative Fellowship for Arts Practice and Scholarship at the Richard and Mary L. Gray Center for Arts and Inquiry at the University of Chicago; the Multi-Arts Production (MAP) Fund, funded by the Doris Duke Charitable Foundation and the Mellon Foundation; and the Edwin H. Case Chair in American Music, Columbia University.
Afterword is being developed in partnership with the Chicago Performance Lab through the Theatre and Performance Studies Program at the University of Chicago, and the MCA New Works Initiative's Design Residency.