Queer Plushies
by Mikey Anderson
Text by Grace Needlman
Explore the importance of celebrating people of all gender identities while making plushie characters.
Introduction
Making art in your home is political. For a long time, in lots of parts of the world, there was a divide between home, where women were in charge, and the wider public world, where men were in charge. Even now, things that mostly women make in their homes, like quilts or stuffed toys, are sometimes viewed as less valuable than other kinds of art. Deciding that certain people have to stay home or that their work is less important because of their gender isn't fair or equitable.
Artists have always been part of the fight to make sure that people of all genders and identities can live and create freely and that their work is valued. Mikey Anderson creates characters that celebrate queerness. Queer identities don't fit into anyone's box and challenge us to expand how we think about ourselves and other people.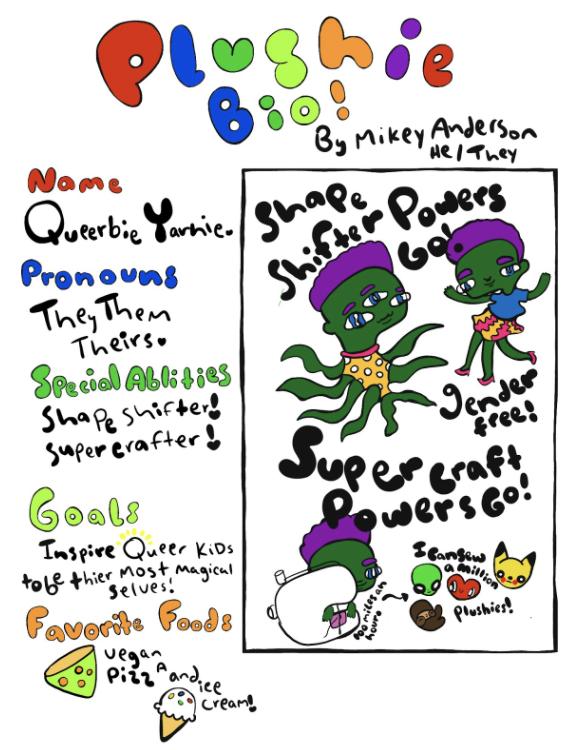 Instructions
Create your own soft, 3D characters—plushies—using your imagination, recycled fabric, and basic sewing techniques. Then join Mikey for a live character design demonstration and to show off your plushies during Family Day on May 9.
Gather your materials
Paper
Pen or marker
Scissors
2 pieces of fabric or felt (you can use any new or recycled fabric around your house)
Thread or yarn
Needle that will work with the thread or yarn
Something to stuff your plushie with—even bits of cut-up fabric will work!
Make a queer plushie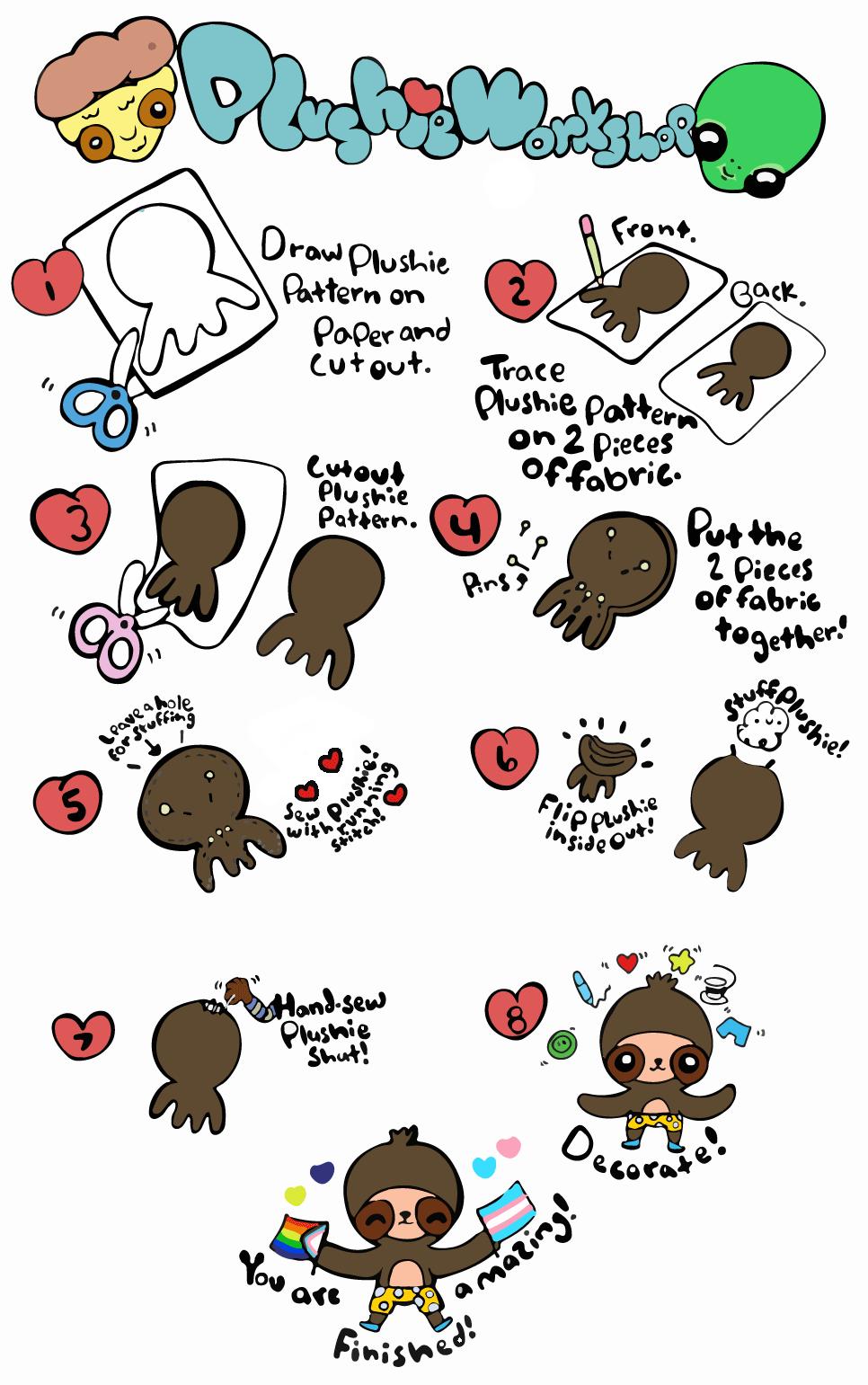 Draw your character. Imagine an animal, monster, or person who is joyfully, magically unique.
Draw your plushie pattern (the outline of your character) on paper and cut it out.
Trace your plushie pattern onto two pieces of fabric.
Cut out both pieces of fabric into the shape of your plushie pattern.
Put the two pieces of fabric together and secure with pins.
Sew both pieces of fabric together. Leave a hole about three inches long so that you can stuff your plushie.
Flip your fabric inside out, so the seam is on the outside and the edges of the fabric are inside.
Stuff your plushie with stuffing or cut up fabric.
Sew your plushie shut.
Decorate and enjoy!
Tell your stories
Print this character sheet and comic book page and use them to give your character a history and tell their story. Remember, you are valuable and the stories you tell are powerful!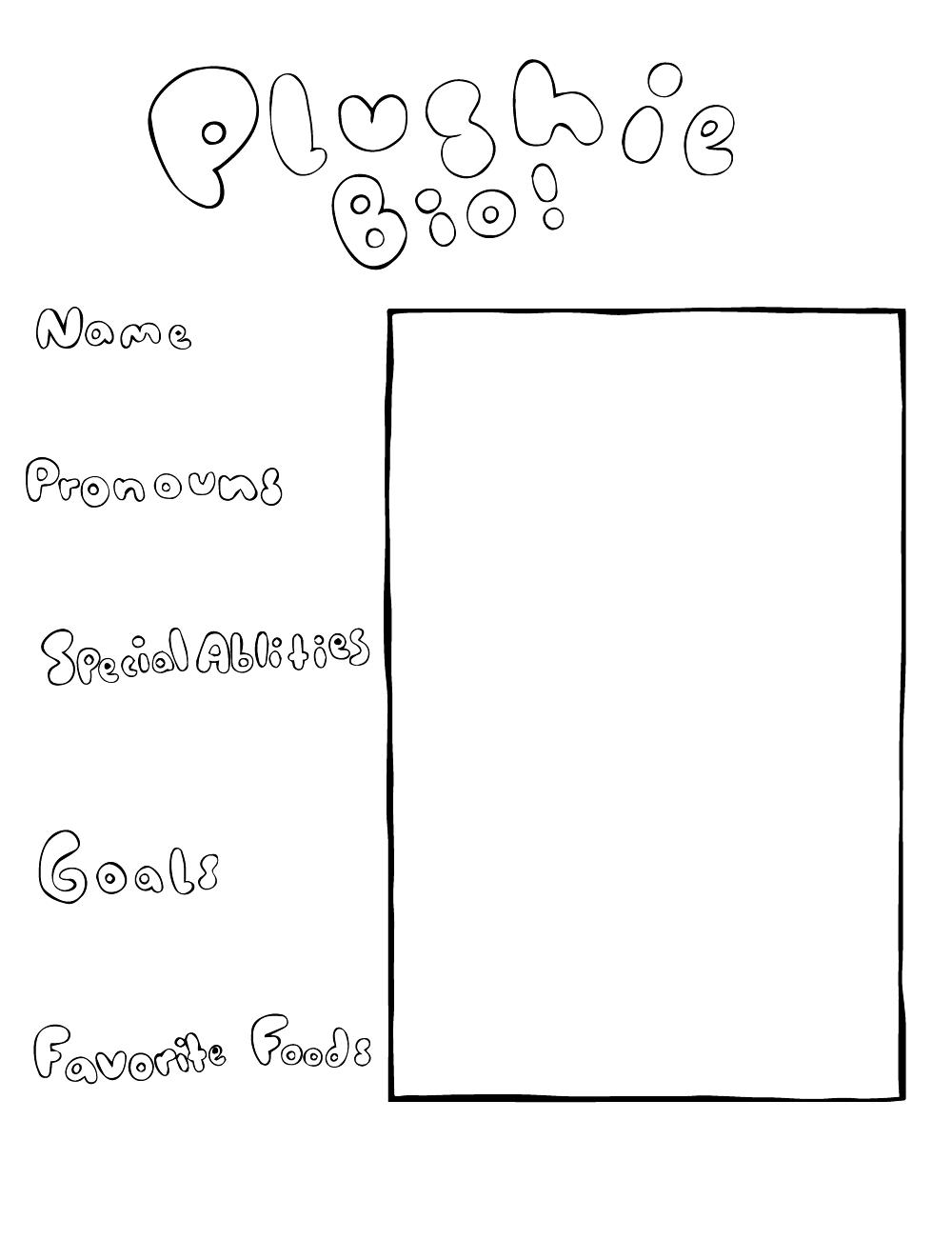 ---
Collection Connection
Curious about other artists who explore identity through crafting? Check out this artwork in the MCA Collection.