Art Apart: Then and Now, Together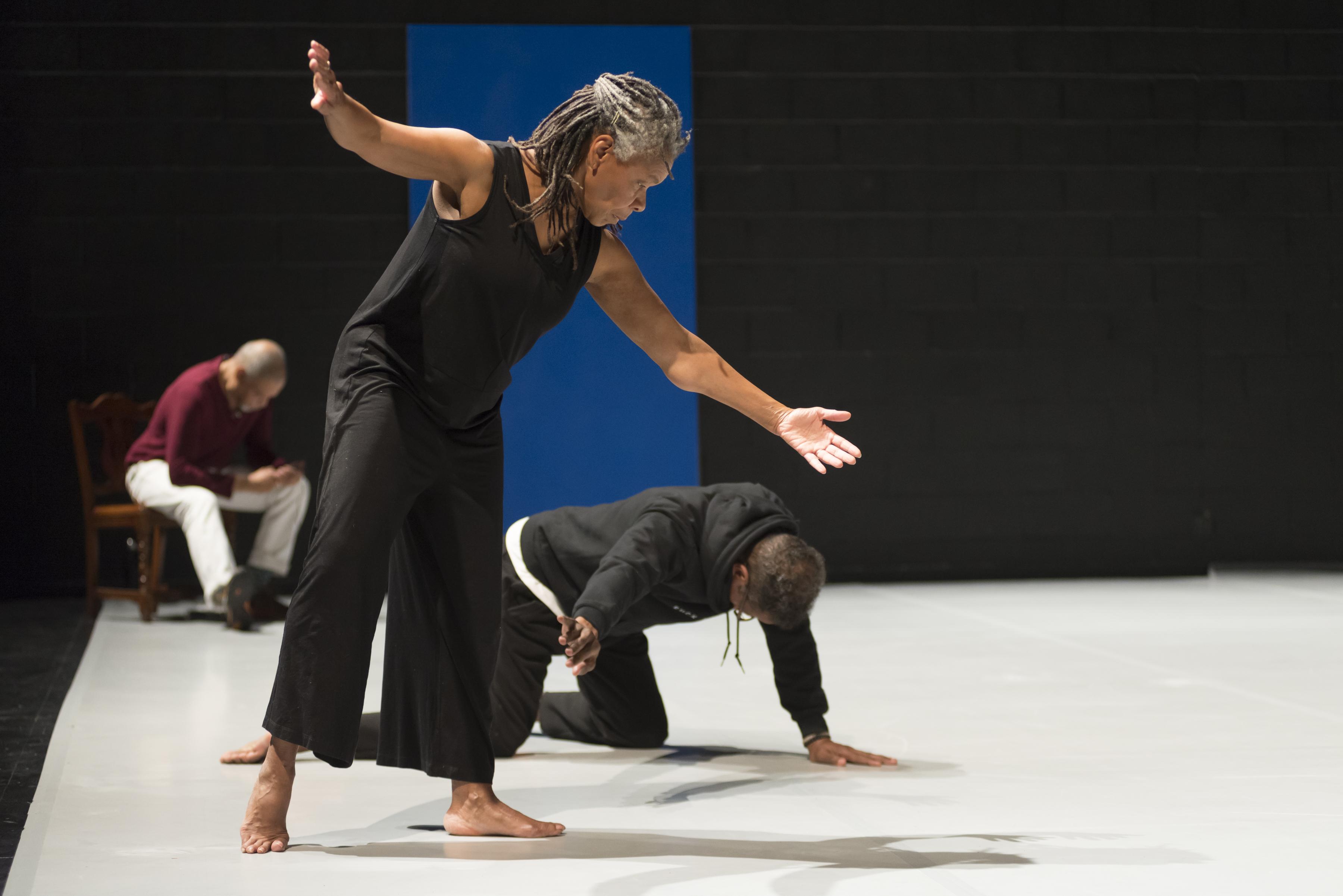 by Tara Willis
Introduction
Performance is often all about bringing an audience together to connect with the artists onstage. But performance can also be about connecting the artists onstage with each other, in solidarity and tenderness.
That was the case with Relations in 2018, when legendary choreographers Bebe Miller, Ishmael Houston-Jones, and Ralph Lemon improvised together for the first time.
---
At some point in following these three choreographers through the video archives of their 40-plus year careers, I started paying less attention to facts like dates and venues. Instead, I focused on the feeling of watching: moments when I suddenly found myself projecting my desire for connection onto them. Over the course of my research, I came across footage from 1991 documenting a large group of mostly white dancers improvising together. I imagined the feeling Miller might have had while looking across the room for the other Black dancer in the group, a feeling I'm familiar with myself. On an archived VHS recording of a performance by Lemon from the same year, a blurry gesture revealed the beginnings of his research into the Black South. This gesture would show up again in Lemon's work, including in Come Home Charley Patton: Part 3 The Geography Trilogy, performed at the MCA in 2005. In seeking evidence of the kinship these three artists share with each other, or alignment across their careers, I am also seeking kinship between myself in the present and the world they inhabited then.
The Relations booklet linked below was provided to each audience member attending the 2018 performances. This booklet was more than a way to frame the unpredictability of these artists' improvised trio and their uniquely shared histories: it was also a labor of mutual tenderness between the three artists. Lemon drew a picture of Miller for the occasion and waxed poetic about Houston-Jones' durational performance inside a garbage bag; Miller reflected on her own dance influences and how her memories of Houston-Jones, Lemon, and other peers shaped her thinking; Houston-Jones' 1982 manifesto for improvisation (created with his collaborator Fred Holland) seems to hug the collage of archival images at the center of the booklet. That manifesto also serves as an homage to one shared trait that has brought these three together in dance history over and over: "We are Black," the first line reads. They are also dancers. And in the footage we'll screen on July 18, that fact can't be denied.
Relations was born out of many layers of shared history between Miller, Houston-Jones, and Lemon, as well as out of the moments they shared those two nights onstage. Now, revisiting that closing night exactly one and a half years later, we live in a drastically altered world. Gathering together—as an audience, let alone to dance and sweat together onstage—is largely impossible. But watching this footage together from our own devices will add yet another layer of connective tissue into the mix: you, us, together, as multiple past and present moments converge onscreen. The show itself is these relationships between people as they play out over a career, a lifetime, a generation. Relations brings their individuality and uniqueness as artists, as well as their mutual care for each other and their craft onstage: the ingredients for keeping creative relationships going over time, distance, and unpredictable change.
What will we see of them in each other? Of their predecessors and peers? Of their personal histories and individual styles? Of ourselves? Simply by looking back at past performances—the moments that live on in the archives—what connections do we create between our own lives and others? Across time as well as space? By watching others be together onstage, we might bring ourselves more into focus.
Dig into the Archive
I hope you'll look back with us on July 18 during our Watch Party, but I also hope you'll dig through the archive with us too:
---
Read
Explore the Relations booklet with commissioned essays, reflection from the artists, and archival photographs from their personal collections.
Read the original MCA program notes that accompanied the 2018 performance.
Look back with a 2018 blog post by Curatorial Assistant Laura Paige Kyber that includes archival rehearsal footage of Bebe Miller and Ralph Lemon.
---
Watch
Reflect
Consider excerpts from a conversation between the three artists, held with Chicago Dance History Project's Jenai Cutcher.