Featured images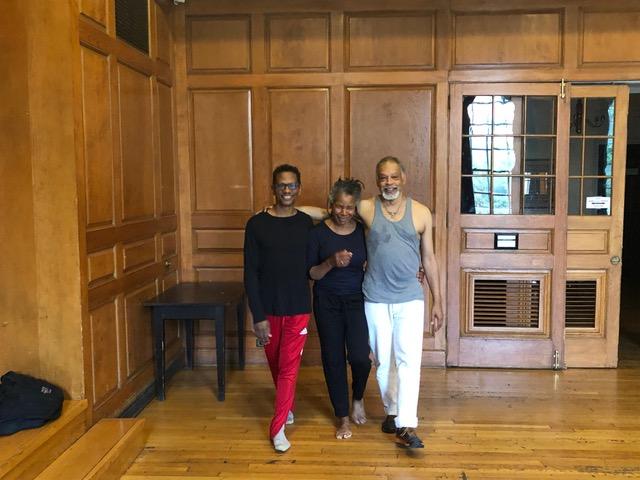 ---
When you buy a ticket to a live concert, it's usually understood that you'll see a final, complete work of performance. For some shows, this is true. What we see less often is the process of performers making daily tweaks and improvements, ongoing revisions that occur backstage before they're revealed to the audience.
In this ever-evolving spirit of live performance, the MCA is pleased to offer two improvised performances by three influential artists who for decades have been in process together and independently. These artists continue to shape the future of contemporary performance.
On November 2–3, Ishmael Houston-Jones, Bebe Miller, and Ralph Lemon come together for an engagement that is both a return to Chicago, where they have each performed individually, and a first-time encounter. While the artists have shared a stage at the Houston-Jones–curated 1982 dance series Parallels, this performance will mark the first-ever event where they will perform together. We are thrilled to host this reunion.
To mark the occasion of these performances, all attendees will receive a commemorative booklet of previously unpublished writings and archival photos of the artists, including a commissioned essay by writer and poet Claudia La Rocco.
For further insight on the longevity of these artists' careers and their relationships as collaborators, one must only venture up to the MCA's 4th-floor Turner Gallery, where on Saturday, November 3, Groundings will open to the public. This curatorial collaboration between performance and object-based visual arts situates six consecutive performance residencies alongside pieces from the MCA's permanent collection, revealing the creative process in performance. Included in the show are stills from Isaac Julien's 1999 film Three, which features Ralph Lemon and Bebe Miller in an adapted version of their Bessie Award–winning duet from 1986, Two.
One of the most fascinating, poignant aspects of reuniting these artists for Relations has been uncovering previously unseen photos, video, notes, and writings in their personal archives. If the Isaac Julien stills represent the completed work Three, it is a pleasure to watch the rehearsal footage for the film from Bebe Miller's personal archive embedded below. This footage was taken at the legendary Dance Theater Workshop, which, while no longer in operation, supported a generation of dancers in New York's "downtown" dance and performance scene.
---
Schedule Text
We hope you'll join us on Saturday for what will be a celebratory homage to the past and future of contemporary dance. Fully immerse yourself by following the itinerary below, or select the events that best fit your schedule.
MCA galleries open—visit Groundings, a collaboration between Tara Aisha Willis, Associate Curator of Performance, and Grace Deveney, Assistant Curator, that reveals the creative process and considers the invisible forces of motion at play in our society: politics, mysticism, history, and natural phenomena.
Panel-talk: Groundings curators Willis and Deveney will lead a discussion with exhibition performers Brandon Markell Holmes (Chicago), Mariana Valencia (New York), and Patricia Nguyen (Chicago) in a talk that considers movement in relationship to identity and action. (Personally, I am excited to hear these three artists, of a slightly younger generation, speak about the role of improvisation in their own work, especially in comparison to Relations.)
Time to enjoy pre-show dinner and drinks at the MCA's restaurant and bar, Marisol.
Relations performance begins in the Edlis Neeson Theater on the museum's first floor.
Immediately following the performance
A post-show talk with all three artists is moderated by Tara Aisha Willis.
Videography: Carla Peterson.