Well into 2018—the Staff's Best of 2017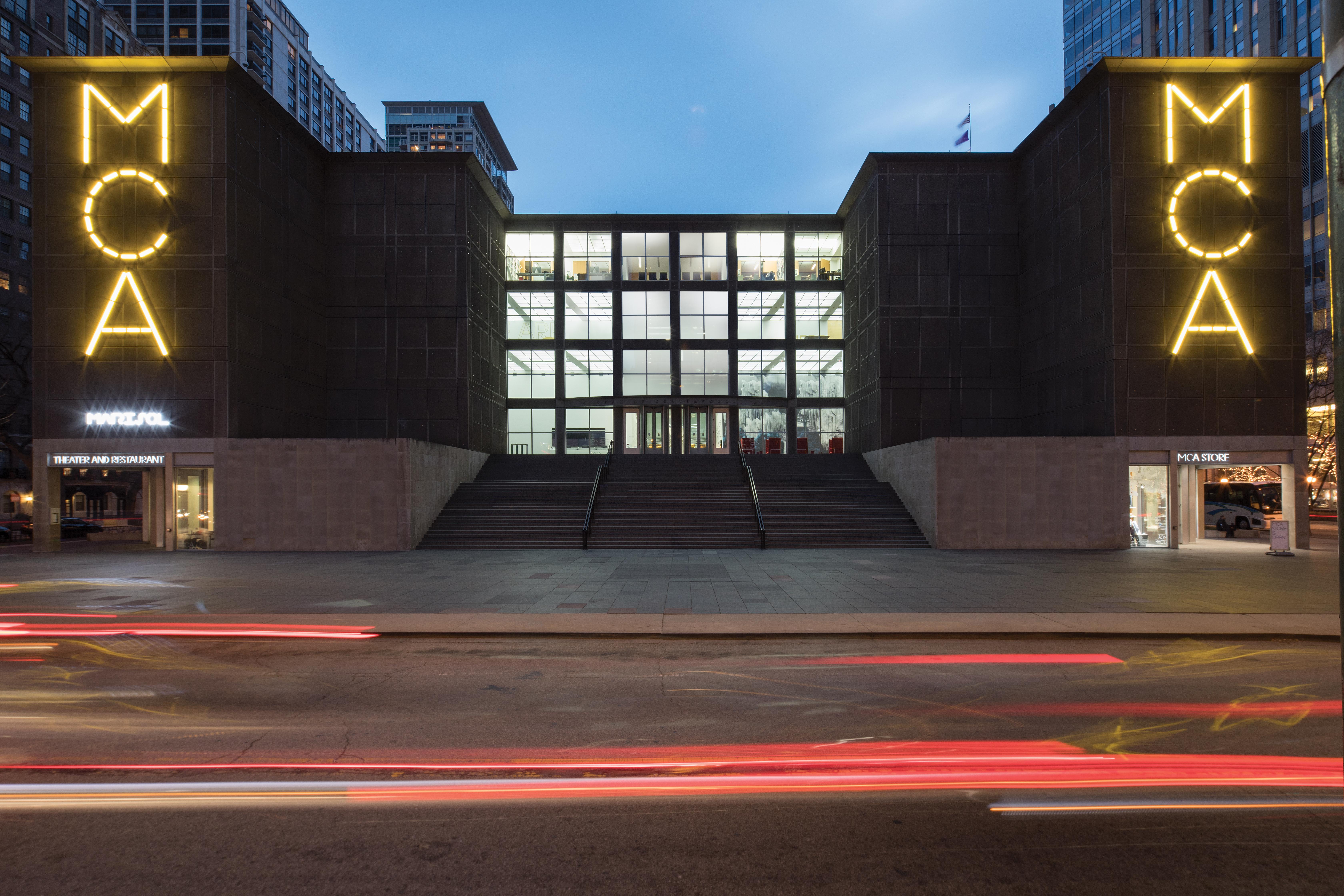 ---
As we look back at 2017—and take down our 50th-anniversary signage—the MCA staff have had some time to reflect on the museum's golden year. While our best-of-press post showcased our publicized successes of the year, we wanted to share insider opinions on the museum's best-of moments. Below, a few staff members highlights are featured.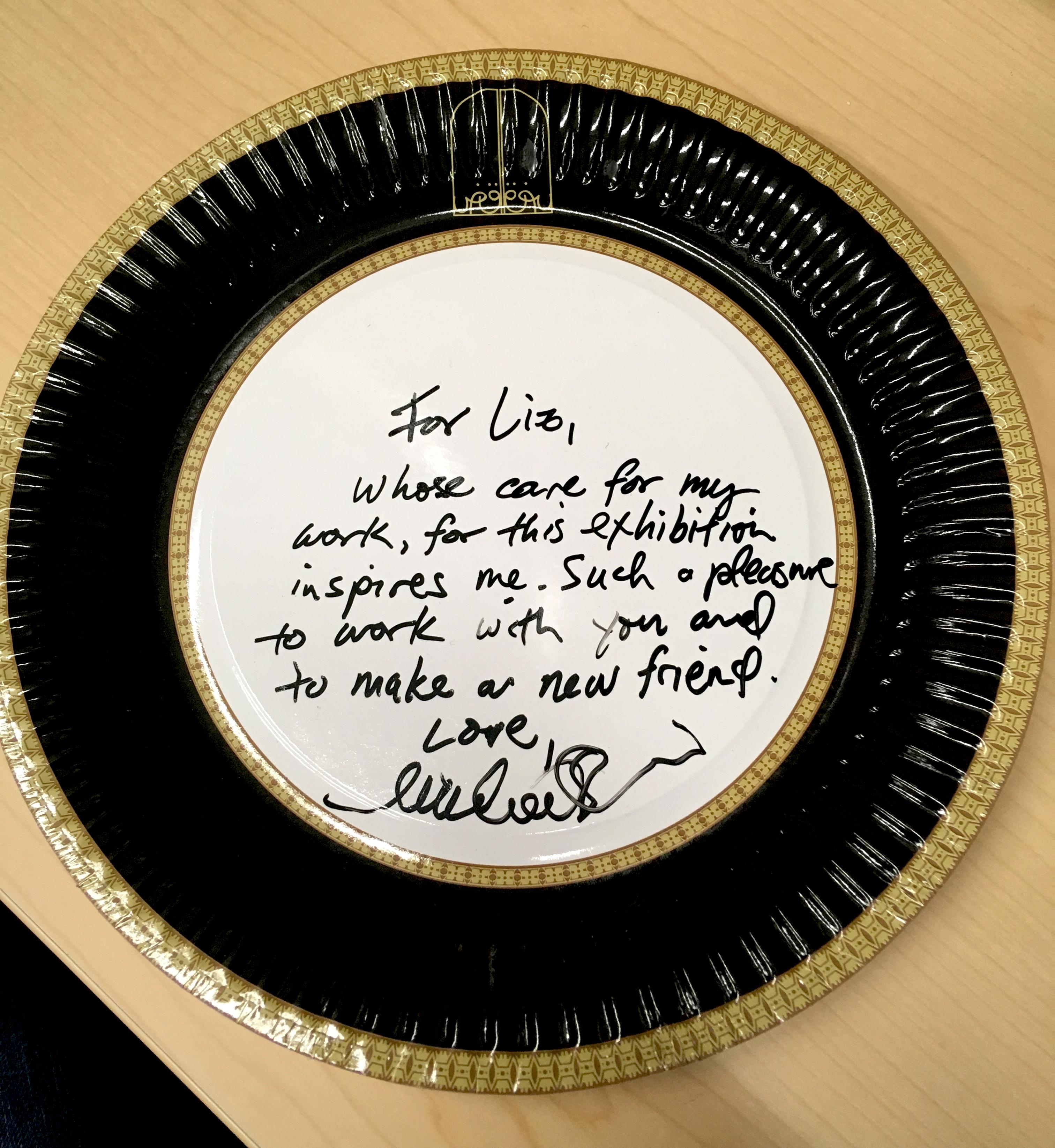 ---
After we finished installing Backstroke of the West, Michael Rakowitz wrote me and my daughter a note on some of his plates.

—Liz Rudnick, Assistant Registrar for Exhibitions
---
It all began with a "silly question" that Chicago Magazine asked Chief Curator Michael Darling in an interview: "Who wins in a fight? SUE, [the iconic Tyrannosaurus Rex at the Field Museum], or Felix [Maurizio Cattelan's 26-foot-tall skeleton of a house cat, inspired by SUE]." We decided to let the public weigh in via a Twitter poll. What followed was nearly as bad as the time SUE picked a Twitter fight with Merriam Webster.
The moral of the story: don't pick a fight with a T. rex.
---
My Family Day project Making a Giant Friendship Bracelet (Dec 2017) invited visitors to weave into a huge net armature and also make their own bracelets or other ribbon-based adornments to take away and share with their friends.
—Claire Arctander, Artist Guide
---
Watching visitors in the Commons lounge chairs watching the snow fall on our garden has been a highlight of that newly completed space.
—Phill Cabeen, Curatorial Assistant for Performance
---
My favorite moment was when someone asked me why a man was "hollering" in the galleries (referencing the Name Announcer).
—Marian Hillebrand, Development Project Assistant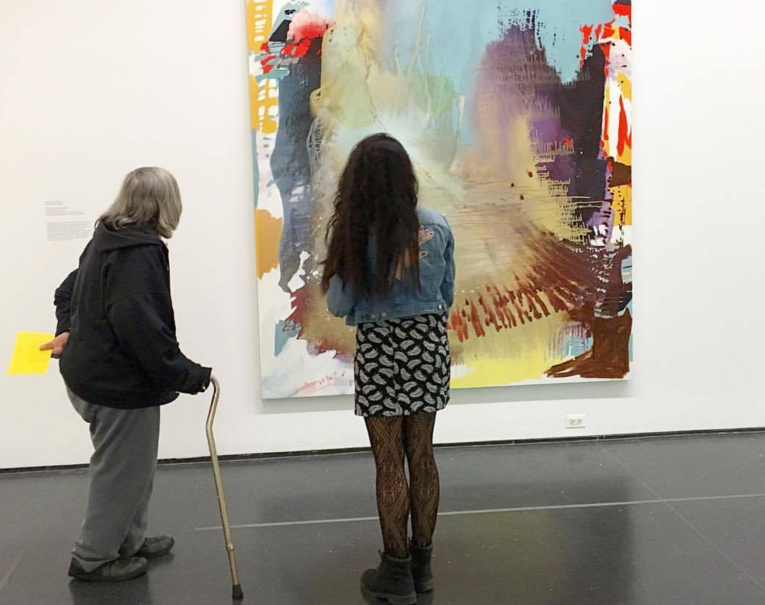 ---
In 2017 I had so many amazing moments at the MCA, here are some of my favorites throughout the year:
—Tracy Montes, Artist Guide
---
Usually music videos or lyrics start a rap beef, so we may hold the record for only rap beef started at a museum. During our ongoing conversation series that is copresented with Pitchfork, Vince Staples took a (very mild) shot at Eminem's politically charged freestyle, which he dropped at the BET Hip Hop Awards. Never underestimate the power of Twitter to blow things out of proportion. The next day, forums and fans were blowing up about it. Vince Staples later said he was joking in since-deleted Twitter posts.

—Abraham Ritchie, Social Media Manager