Artists Up Close: Cities in Dust
Featured image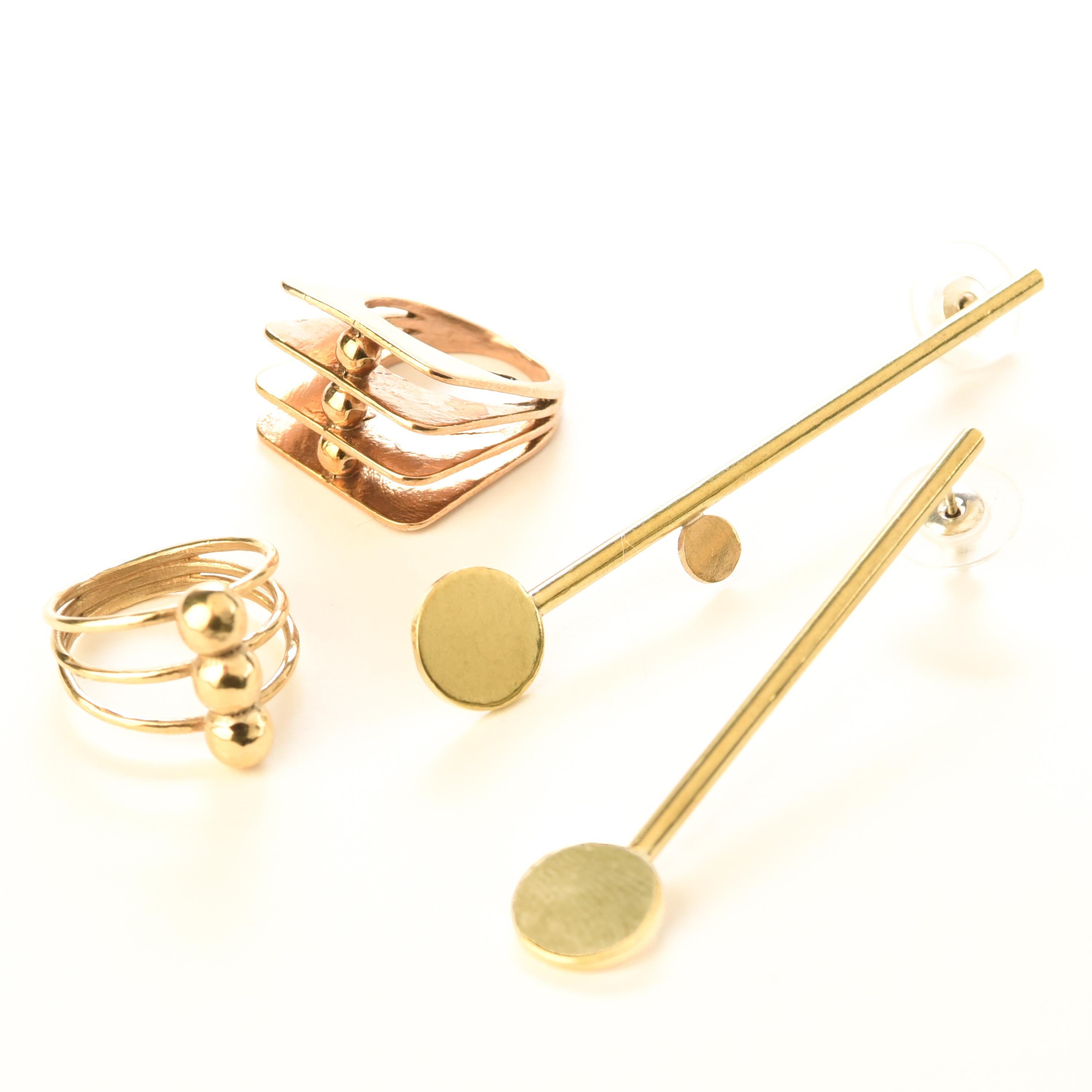 ---
Last spring, a call was put out to local artists and designers to submit products to be featured in the MCA Store. Extraordinary submissions came pouring in from all ends of the city and many fabulous products were added to the MCA Store's unique selection, including Meghan Lorenz's line of jewelry, created under the name Cities in Dust. In anticipation of our second call for submissions, we spoke with Meghan about her background and inspirations, and Siouxsie and the Banshees.
question 1
How have your experiences in the fashion industry influenced your jewelry design?
My experience in the fashion industry has been a wonderful evolution into what I'm doing now. I started off in visual merchandising and window display, which eventually transitioned into working with Chicago designers Elizabeth DelCastillo and Kelly Whitesell of Eskell, which, in addition to carrying other designers' clothing lines, was a line of silk pieces, released twice a year, as well as custom conversational prints. I wouldn't not be doing this today if it weren't for my experience at Eskell. I loved helping them buy jewelry for the shop. It was exciting to discover new designers. Understanding the wholesale market, production, sourcing, etc.—I attribute so much of what I know to that time. There are so many avenues one can take in the fashion industry, but owning a business is a great way to explore all (or many) of them.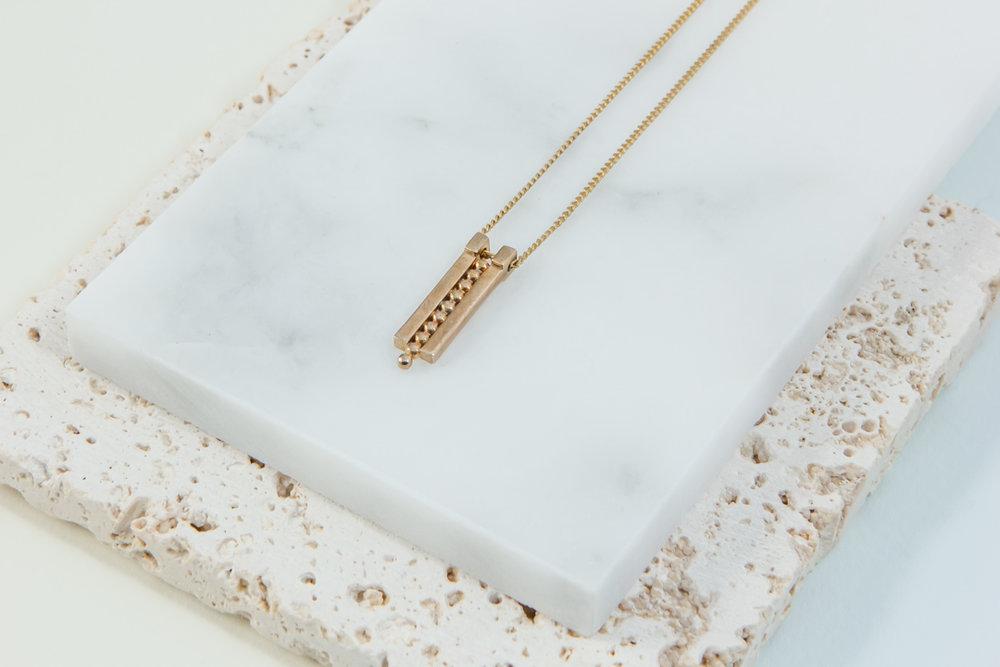 questions 2 and 3
You are from Chicago originally, and you left for Los Angeles and then returned. How would you compare the two cities? How does Chicago inspire you? What else inspires you?
I grew up in the Chicago suburbs of Oak Park and Naperville. I moved to Los Angeles after high school and then came back to Chicago to finish my BA at Columbia. I must admit, though i've been back for Chicago for years, I miss the color and yearly vibrancy of the West Coast. With each collection, I try to really be conscious of color. I was also really inspired by the architecture and clothing out west. A lot of mid-century modern and a lot of great vintage.
I can't think of the exact source of my inspiration in Chicago. I suppose there isn't a particular object, or any one defying thing about the culture in Chicago. We have incredible architecture here and I love Lake Michigan. We also have an amazing art community, but I think ultimately what fuels me are the people here: I'm very close with my family, I have a great customer base, and amazing friends. Overall, I'm very inspired and motivated by a general curiosity and openness that people have here. I really appreciate.
What inspired the name Cities in Dust?
"Cities in Dust" is the name of a song by Siouxsie and the Banshees. I highly recommend having a listen and watching the music video. The song is about Pompeii, and my work is often inspired by jewelry of the Old World. Also, Sixousie is one of my favorite style icons.
questions 4 and 5
You use metals, and especially brass, extensively in your pieces. Why are these your preferred materials, and how do they affect your designs?
It's hard to say brass is my preferred metal. I do love it. I love the way brass and bronze will patina over time. I love working on a large scale and the cost of brass and bronze supports this. I've recently started working with gold. It's a real treat, but to produce my large-scale pieces in gold would be impossible to do at an affordable price.
You have mentioned that you started Cities in Dust to design jewelry that you yourself would wear. What void do you believe Cities in Dust fills in the jewelry industry?
In the beginning, my intent was to create work that was more avant-garde than your everyday piece of jewelry. So maybe CID doesn't fill a void in the overall industry, but rather it fills a void in an individual's jewelry collection—to introduce something a little bigger and bolder (while also considering trends) to the fashion and maker communities here in Chicago.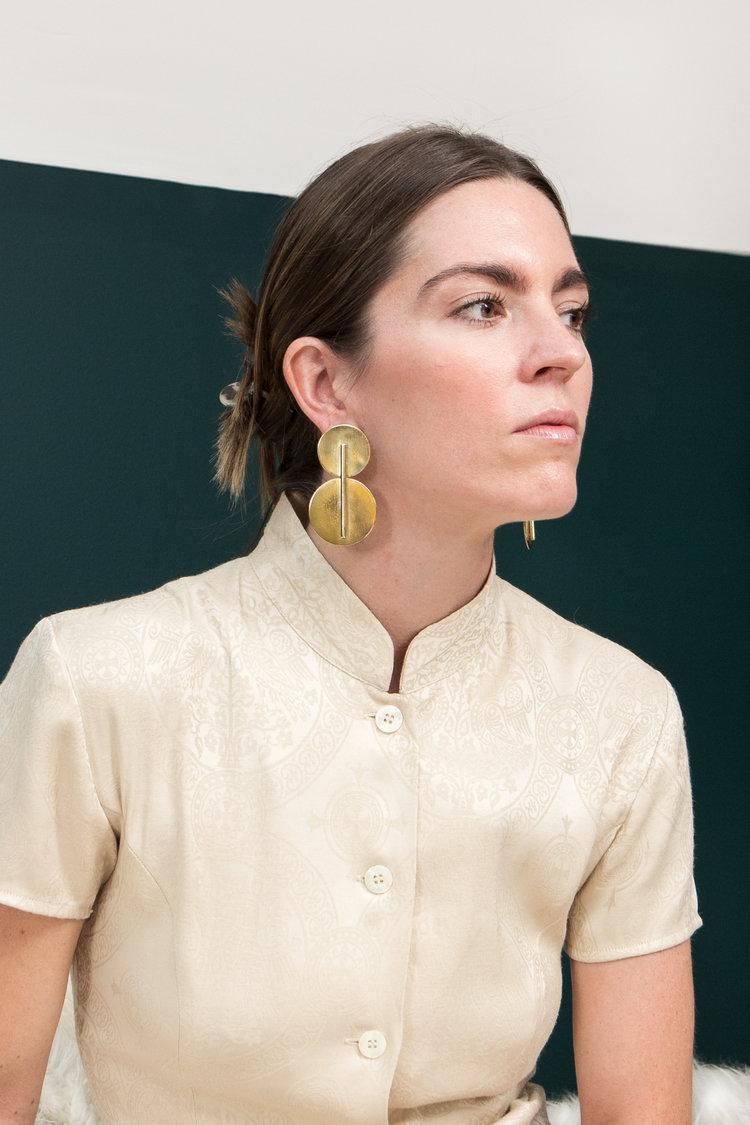 Questions 6 and 7
What are your customers like?
I work alone most of the time, so when I work an event or a pop-up, it's a true pleasure to meet people and engage outside of my studio. The most exciting thing I can think of is when I take a risk with a new piece, post it on Instagram, and have a customer inquire about pricing. Having the support of someone willing to take that risk with me is quite possibly the most rewarding and flattering part of my job. I have a strong, stylish, female customer base. I think we mutually rely on each other for style guidance.
Where do you see yourself, and Cities in Dust, in five years?
In five years I hope to see tremendous growth for CID. I hope to have a storefront with a showroom or even a store. I hope to expand to wholesale, and really grow the collections. Right now, everything is handmade and I'm fairly limited. I would love to have a strong staff to support larger and more-involved collections, and to continue to do all domestic manufacturing. It would be incredibly rewarding to have the ability to offer multiple full-time positions within the company.
call for submissions
The MCA Store is looking for other local designers to support. Submit your design today! The deadline is next Thursday, May 31.