A Place for Art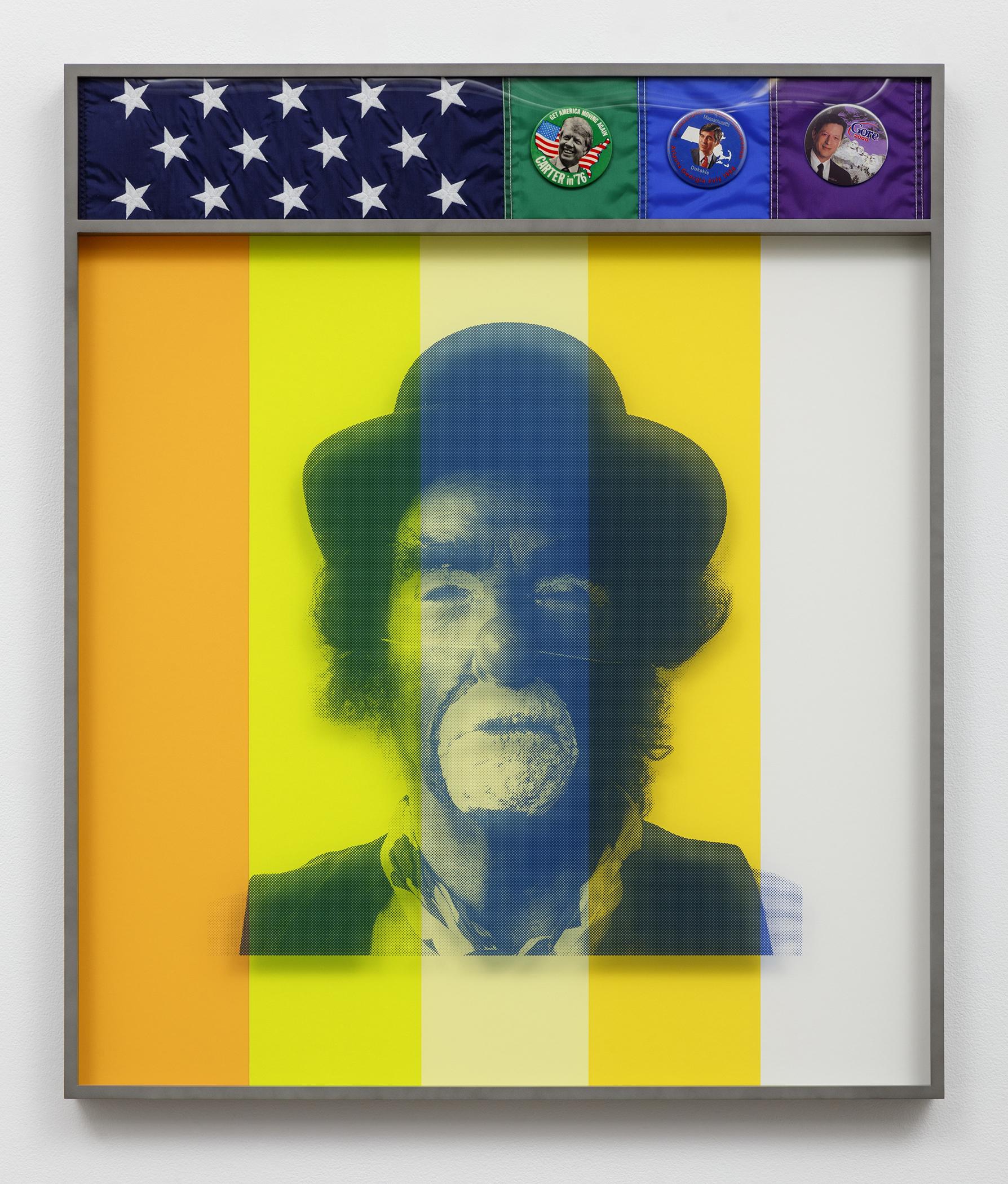 blog intro
A fitting reflection of the current political climate, Kathryn Andrews: Run for President charts the rise and fall of the president, from the candidates, campaigns, and election, to the end of the presidency. As the exhibition nears its close this weekend, Isabel Dieppa reflects on art's place in the politics of today.
on politics
We are inundated everyday with the three-ring circus that has become our presidential elections, and that's just in the primaries! Perhaps, in the stress of these elections, you've taken a break to witness something whimsical, entertaining, and sane. Or, if you're a political junkie like myself, you seek politics even in your entertainment. The current political and pop state has forced me to ask myself: What is the place for art in our current society?
On days when I feel overwhelmed I visit our exhibitions. Recently my favorite has been Kathryn Andrews: Run for President. Its shiny mirrors and representations of Bozo the Clown not only make me laugh but make me think. Often as artists, art makers, or art appreciators we can feel indulgent or guilty about the fact that what we do is "fun." (Any type of "art making" can be fun in one way or another.) But most art making can also be tedious, full of perfectionism, filled with hard-to-find research, and a lot of fundraising, especially if you're an independent artist. I've found myself asking recently: In a world that feels so chaotic, why make art?
I am a performing artist, dancer/actor, and I work in the performance programs department at the MCA. I go to shows all over the city often, and I see the value in theater and dance. The Greeks believed that tragedy taught people empathy, thus we have Oedipus and Electra. But in a world of reality TV shows, how can we transcend from the stage and literal theater space into real life? What is the point in going to see a live show if I can binge on Netflix?
I think art in all of its forms is ultimately about creating a sense of community and a dialogue around a specific topic. Last year MCA Stage presented Power Goes, an original work by Chicago-based dance group The Seldoms. I had the opportunity to see this show and in its exploration of power (how it is asserted, held, given up), it reminded me that since the beginning of civilization, power, politics, and expression have evolved into what society is today.
on artistic contributions
We need to ask modern audiences and art makers alike: How and what do we contribute to our civilization?
Politics can be found in all forms of art and business; not just literal politics but "politics,"—filled with budgets, people to report to, deadlines, etc. Sometimes we get so swept up in the "politics" of everything that we forget the impact of art (both performance and visual) on our modern culture. I think more important than being accountable to a grant, or grant maker, artists are accountable to the public. Artists have the same power as journalists. In order to make sense of the social chaos in the world, they search for new and inventive ways to address what is hard to speak of. Through art we can see the world and be unafraid to uncover the truth, even if that truth is ugly, as in the upcoming The Making of a Fugitive exhibition, which looks at how narratives constructed by the media influence our understanding of lawlessness.
on the power of art
Art's value, especially in the public realm, is often challenged, but I believe that it has a place in and is valuable to our society, so long as artists continue to challenge and push the boundaries. I believe that through sculpture, paintings, and texts we can build communities and have conversations that go beyond our museums and theaters to the dinner tables, voting polls, and city halls around the world.