Label Writing Project
Meet the label writers and the organizations we partnered with.
---
Continuing The Long Dream's exploration of equity, the Label Writing Project invites Chicago community members to author artwork labels in the gallery. Offering this powerful point of connection to people outside the museum provides insights into the role of art in our city and offers a unique opportunity for personal reflection to the visitor.
Authors include members of 826CHI, Marwen, MCA Chicago's Teen Creative Agency, and civic practitioners from the Civic Leadership Academy at the Harris School of Public Policy at the University of Chicago.
Marwen
Founded in 1987, Marwen provides access to free after-school and weekend arts programming to young people from underserved neighborhoods in Chicago. Marwen educates and inspires youth through visual arts programs, including pre-college and career workshops, led by a team of highly-skilled teaching artists. Students represent 54 out of Chicago's 57 zip codes, with 93% considered low income. Marwen now serves more than 1,000 young people each year.
Indigo Amaranth
---
Indigo Amaranth is seventeen years old and comes from a big family. Amaranth has been referred to as "crazy," "spunky," "eccentric," "different," and "artsy" since childhood. Surprisingly though, Amaranth did not discover the arts until much later. Around the third to fifth grade, Smith started doing poetry. Amaranth began drawing, sketching, and painting at an older age. Art is Amaranth's biggest outlet and strongest form of expression. From Amaranth: "I love that I can reveal pieces of myself yet stay impartial and let other[s] project their own feelings and opinions on to things I write and create."
Labels by Indigo Amaranth
Mike Cloud, Untitled, gendered hanging, 2020
Using fractured forms, splintered seams, and vividly painted surfaces, painter Mike Cloud created this piece as a continuation of his 2019 exhibition Tears in Abstraction. Through these abstractions, the viewer can contemplate identity, death, suffering, and their implications on individuals—and our collective society.
Lise Haller Baggesen, refusenik XIX, 2017
In the midst of political unrest in 2017, Lise Haller Baggesen created this piece, drawing inspiration from the refuseniks of the Jewish diaspora and the idea of refusal as a form of radical protest. Refusing to let the toxicity of world events shape her, this "temporary autonomous zone" (TAZ) was born. Made of domestic fabrics sourced from her immediate surroundings, such as shower curtains, the cape creates a portable place of refuge, emphasizing the essential nature of self-care and the act of refusal. In the course of digesting daily negativities, the act of refusal can be stronger than you think.
Janah Richardson
---
Janah Richardson is a rising junior at Walter Payton. Richardson loves reading, listening to podcasts, and bullet journaling. Richardson is a member of Walter Payton's varsity debate team and runs with Richardson's church's marathon running club. Richardson is passionate about creating equity and is always searching for ways to engage with the community.
Labels by Janah Richardson
BERNARD WILLIAMS, SCOTT CAR
Scott Car is a tribute to Wendell Scott, the first Black NASCAR driver. Despite poor funding and discrimination, Scott became the first Black person to win the Grand National race in 1963, a time of heightened racial tension. Scott's story of excellence was deliberately concealed within the folds of the American flag when a white driver was recognized as the winner. Scott Car has been an ongoing work for nearly eight years, paralleling Scott's family's continued fight to get the honor bestowed upon him. Through the use of materials like liquor bottles, a symbol of escape and danger, the piece tells a story of high stakes, risk, and speed for Black drivers who compete—and excel—in a sport with an audience that openly embraces the Confederate flag.
AMANDA WILLIAMS, WHAT BLACK IS THIS YOU SAY?
What black is this you say? is a series of monochromatic images that began as a response to the recent Instagram phenomenon "Blackout Tuesday." Despite its radical intentions, Blackout Tuesday sapped the energy of a movement, as seemingly trivial black screens flooded Instagram feeds. However, in Williams's series, each piece is entirely black but none of them look the same. Stark outbursts of color and the appearance of patterns challenge the reduction of Blackness to a mass generalization that may be perpetuated by dull social media trends. Each square is individually labelled with a caption that answers the title's question and makes a bold statement about Blackness, making them inherently and uniquely valuable.
Mya Cavner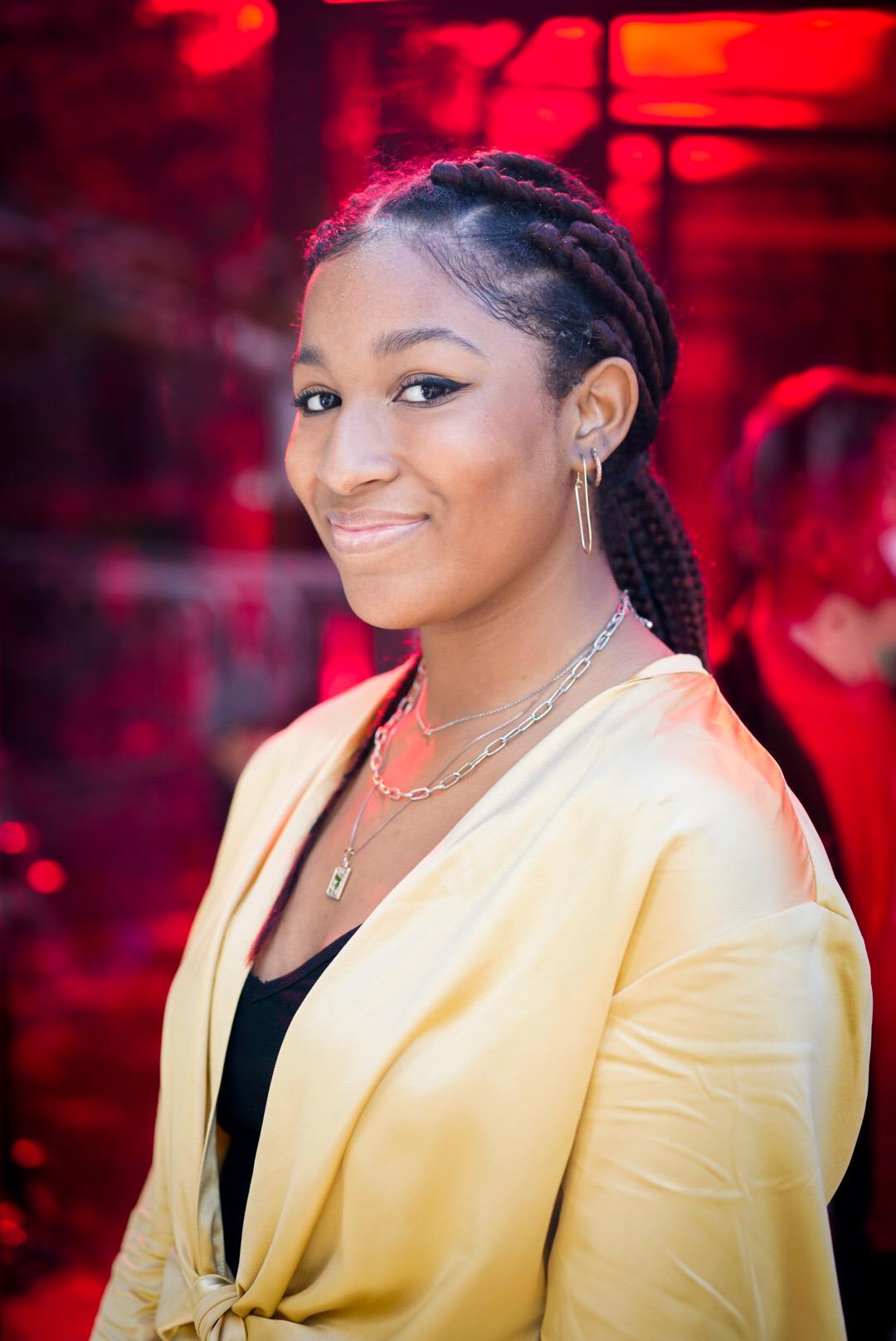 Mya Cavner is a visual artist, organizer, and a rising senior at Whitney Young High School with passions for merging art, fashion, and social activism. She has shown her artwork at the Museum of Contemporary Art Chicago and the Museum of Science and Industry, and hopes to continue pursuing art in her future studies in college.
Labels by Mya Cavner
Cheryl Pope, WHEN I GET OUT, voice of incarcerated youth in Washington DC, 2015
This floor mat displays words shared with Cheryl Pope during an interview with a young person incarcerated at a Washington, DC, juvenile detention center. The mat's dimensions, six by eight feet, mirror the exact size of the cells inhabited by incarcerated youth—some as young as six years old. This piece mimics rugs in everyday workspaces with its rigid, corporate materiality, contrasting with a vulnerable personal testimony. Its commonplace aesthetic exemplifies how people who are incarcerated are treated as statistics once institutionalized. Their voice fills the six-by-eight space, forcing us to acknowledge the voices of youth who are incarcerated.
Ebony G. Patterson, ….lavender heals mistrusts ….the workings of the dandelion are not enough, 2020
Ebony G. Patterson's deceptively colorful garden features vibrant flowers and new life sprouting in direct opposition to life in decay. She created an atmosphere of curiosity, with a nearly hidden record of death mimicking a grave marker and a lifeless arm dangling from the center of the work, almost as if it's being absorbed by the surrounding flowers. This work, constructed of hand-cut paper greenery, illustrates the transition from death into new life, memorializing victims of social injustice.
Ranya Dano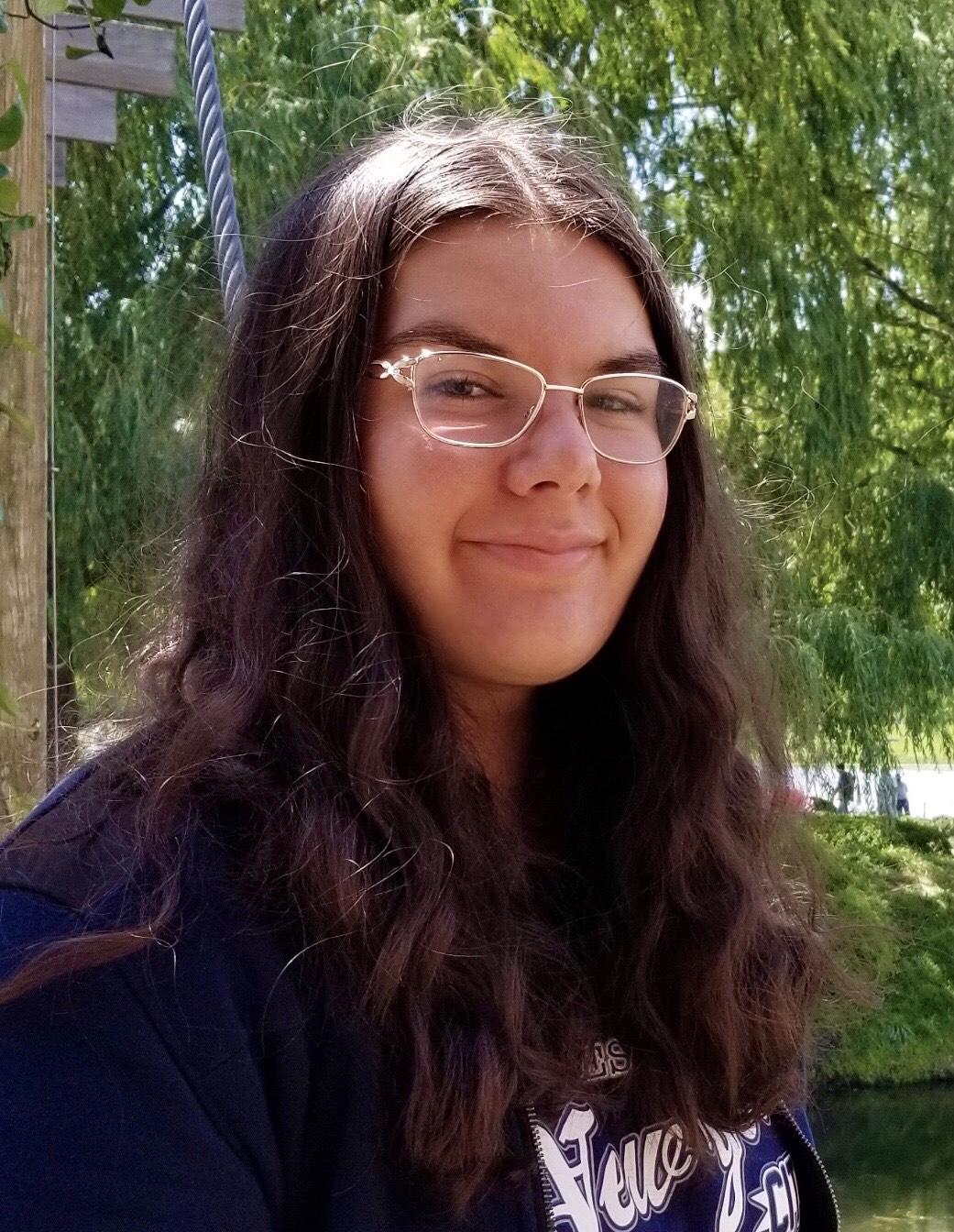 Ranya Dano is a junior at Northside College Prep. As an artist, Dano is experienced in drawing, painting, calligraphy, and photography but also enjoys experimenting with other mediums. Passions include visual arts, writing, cooking, languages, sociology, and science.
Labels by Ranya Dano
TONY LEWIS, PLUNDER, 2020
With the help of 19,000 graphite-dipped rubber bands, Tony Lewis used Gregg shorthand, a form of notation that uses symbols instead of letters, to elegantly construct the word "plunder," exploring how race is reinforced by language today. After unraveling the history of the United States, one can clearly see that the mass exploitation and oppression of Black people—who were regarded as tools to generate profit rather than human beings—are what attributed to the country flourishing as a world power. This nation was built on the plundering of slaves, which will forever be engraved into our society.
AARON HUGHES, 21 DAYS TO BAGHDAD/CHICAGO, 2018 and 2020
As a veteran who served in Iraq, Aaron Hughes reflects on the effects of war that persist physically and psychologically in individuals, communities, and landscapes. By juxtaposing demolished architecture in both Baghdad and Chicago in this artwork, Hughes bridged society's divides by showing how similar we all are: how loneliness, confusion, and destruction, from the United States bombing of Baghdad to the dismantling of the last Robert Taylor Homes public housing in Chicago, haunt all of us. What we think divides us is what actually unites us.
Natalia Sandoval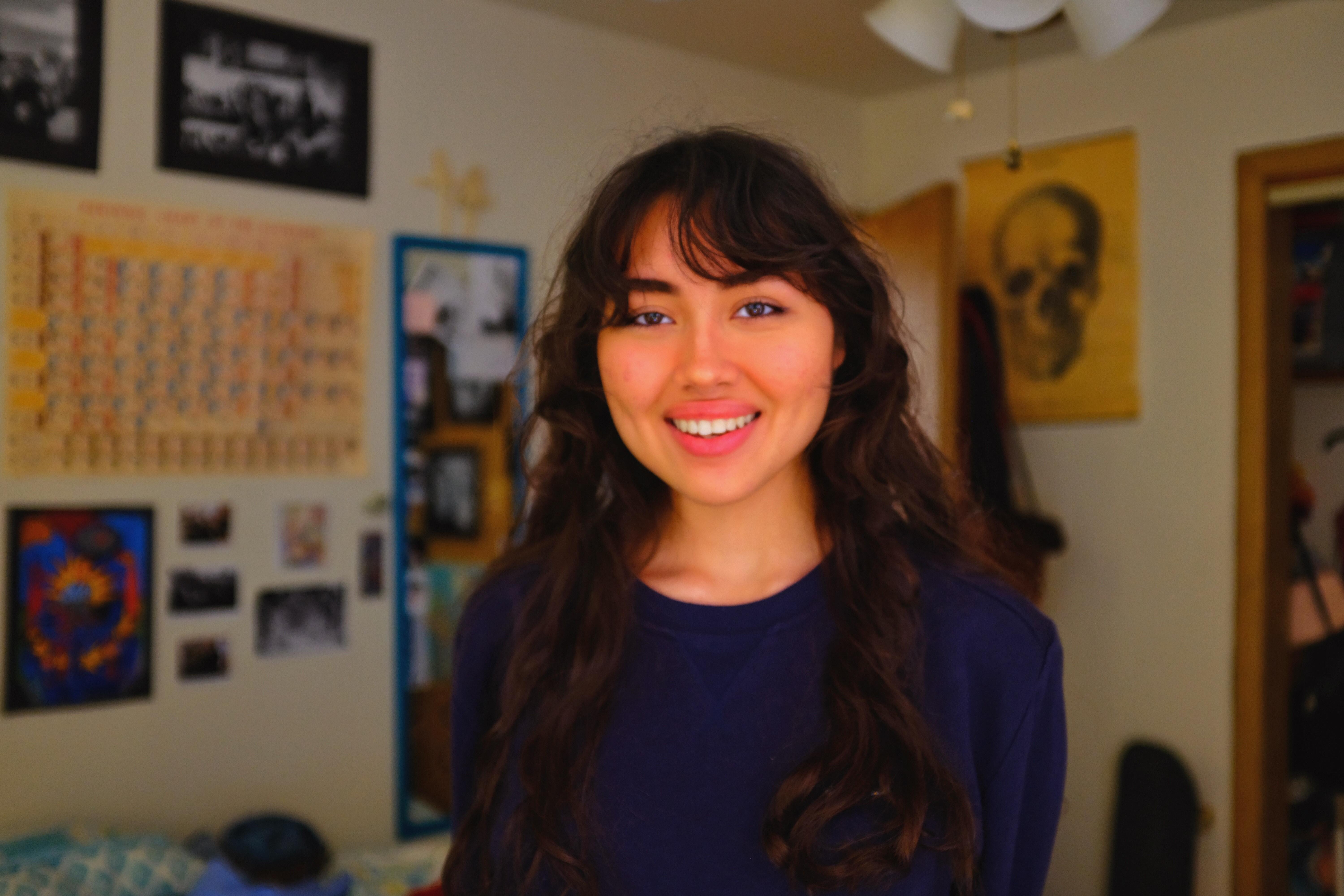 Natalia Sandoval is a Latina artist born and raised in Chicago. Like any good Chicagoan she loves Al's Beef and touring downtown on the weekends. While attending high school she reads, plays with paint, and skates in her spare time. She hopes to win a whistling contest, smell like mangoes, make a film, and be truly happy in life.
Labels by Natalia Sandoval
FARAH SALEM, Sub-Zero Distance and 'Abaya Veiling Garment from the Disclosed series (2016–ongoing), 2018
Sub-Zero Distance is a print from Farah Salem's Disclosed, a series of ongoing performance-based photography that began in 2016 in her home country of Kuwait. This print features the 'abaya, a traditional garment worn by women in parts of the Muslim world, covering a woman standing at a snowy edge. The design on the 'abaya alludes to Kuwait's economic history, spotlighting women's dependence on men working in the shipping and sailing industries—professions denied to women.
KAMAU Amu PATTON, ALTO AGE, 2020
Kamau Amu Patton's Alto Age serves as an homage to underrepresented historical figures, with a score created by celebrated American artist Terry Adkins. Patton's cultural manifestation uses footage of his masked alter ego, Blanche Bruce, circled by various artifacts including a seashell, tambourine, and multiple canes, while Adkins's composition plays in the background. Patton is an artist who embraces mystery and wants his audience to process their own feelings on his work. Alto Age can inspire many feelings, even the intimidation and confusion that I felt, but each viewer will have their own response.
826CHI
826CHI is a nonprofit organization dedicated to supporting students ages six to eighteen with their creative and expository writing skills and to helping teachers inspire their students to write. With free workshops for Chicago Public Schools students and underserved youth on topics ranging from storytelling and bookmaking to memoir writing and poetry, 826CHI serves to amplify the voices of Chicago youth through the power of writing and self-expression.
Esperanza Rivera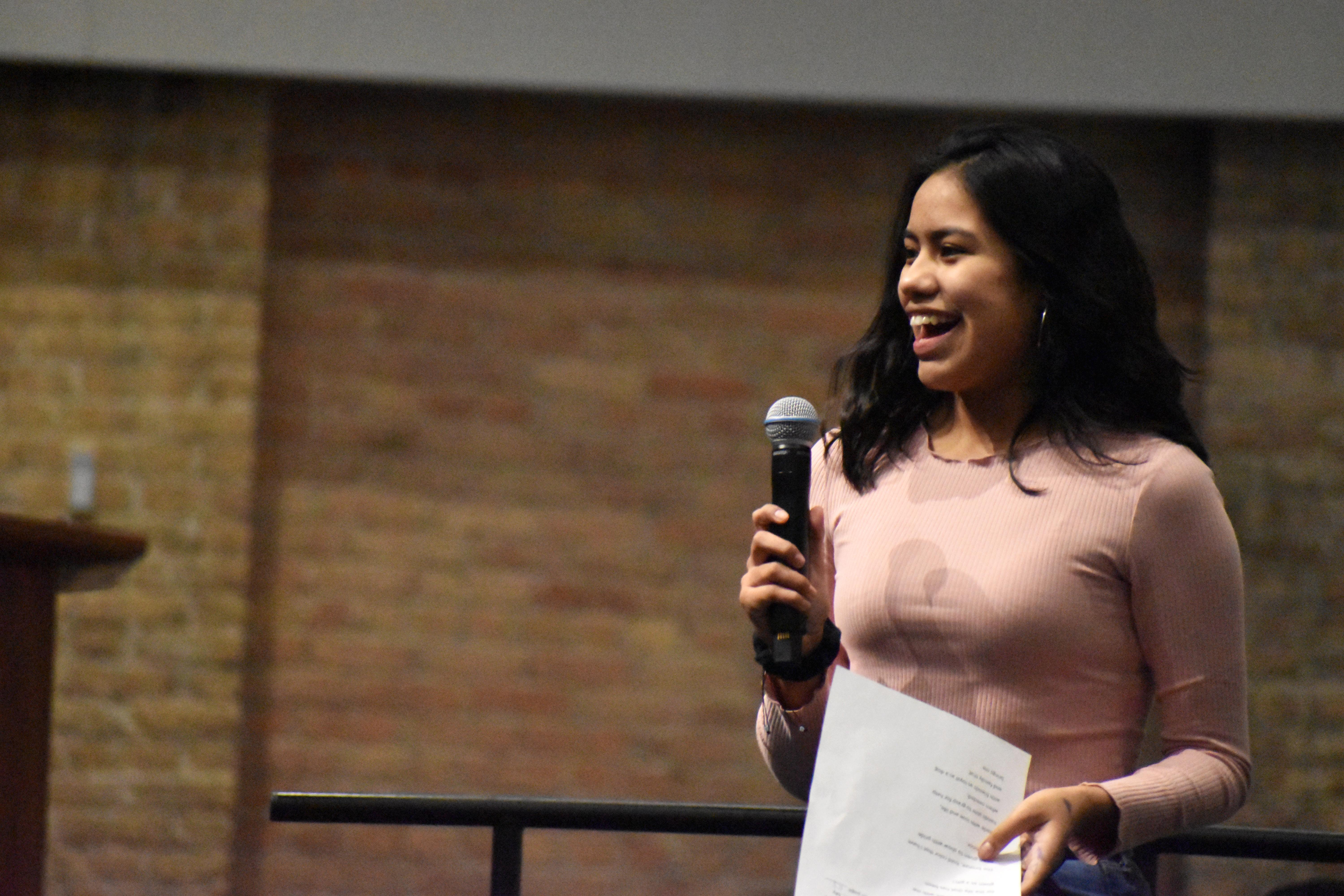 Esperanza Rivera is an artist and activist currently enrolled at the Chicago High School for the Arts where she focuses on visual arts. While not working hard on her craft, she attends 826CHI where she continues to pursue her passion for writing. Her moral beliefs include giving children of all ages a platform to speak their mind as they are the voices of tomorrow.
Labels by Esperanza Rivera
Kevin Weil, Demonstration, 2019
Kevin Weil's Demonstration was filmed in a model of a US college campus created by Homeland Security for training purposes. The deserted scene allows you to become absorbed in this makeshift reality and pushes you to let your imagination burst from the mind as you become immersed in the silent landscape. The unsteady camera movements and shots from multiple angles allow you to take control of the feelings the surroundings bring up and show close attention to small, delicately made details. However, a twist ending will instantly snap you back to the reality and the intended purpose of the scene.
DERRICK WOODS-MORROW, HOW MUCH DOES THIS MOMENT WEIGH FOR YOU?, 2018
Derrick Woods-Morrow responded to the psychological impact of police brutality using a crushed 2005 Crown Victoria police cruiser. By defacing it to ruin the entirety of the sculpture, Woods-Morrow metaphorically took life away from an inanimate object, much like police take away innocent Black lives, In a sense reclaiming what was taken from them, this interactive piece illuminates every so often from the police spotlight, a constant reminder of police presence in our everyday lives.
Daniela Morales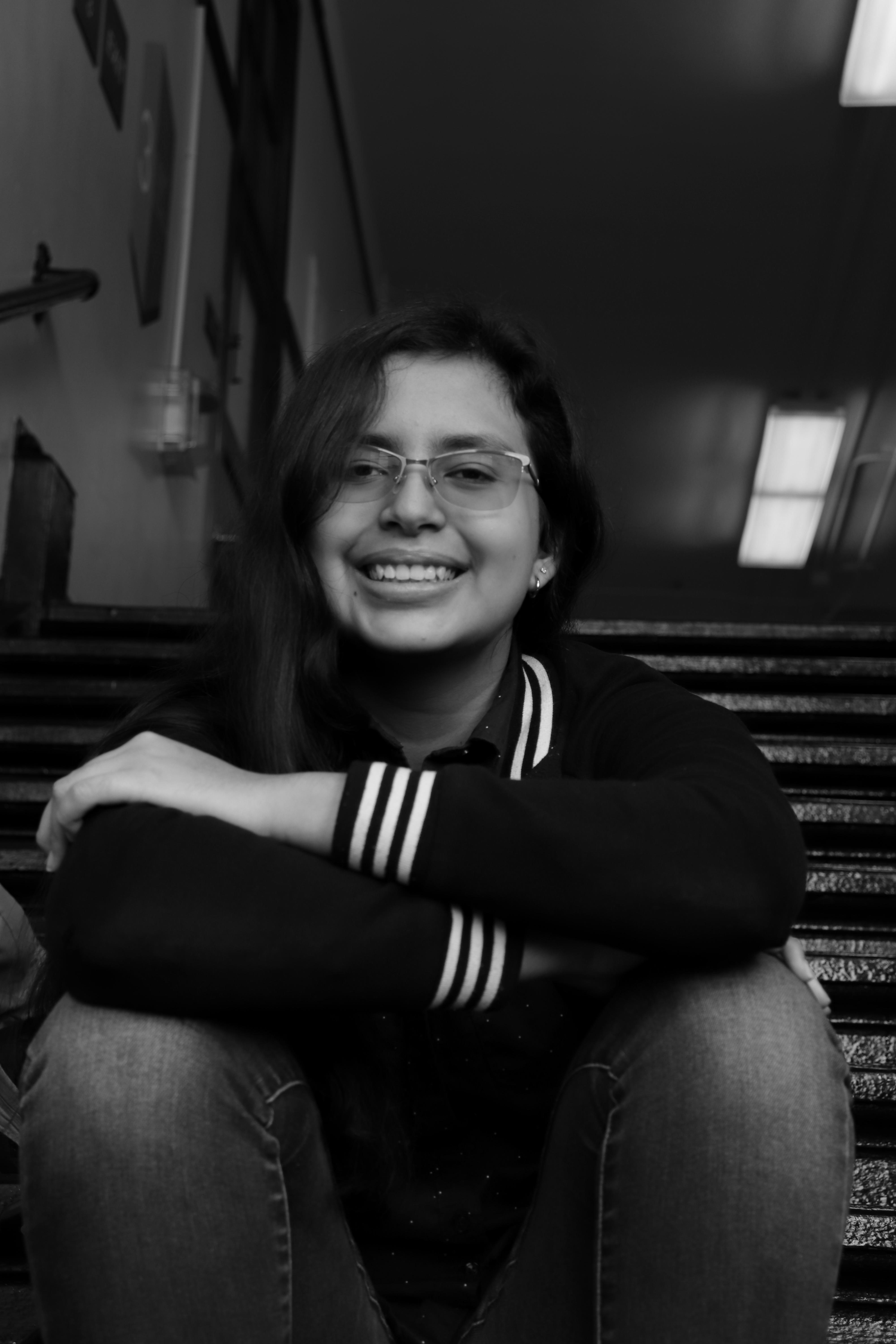 Daniela Morales is a writer who hopes her works can make it to the big screen one day. She's interested in filmmaking and exploring the ways in which she can tell stories through that medium. She likes to edit videos and go on walks with her dogs in her free time.
Labels by Daniela Morales
Edra Soto, Tropicalamerican, 2014
Through these flags, Edra Soto reclaimed the United States' flag as a Puerto Rican by combining distinct patterns made from the leaves of tropical plants—plants that often remind her of her home in the Caribbean. The flag's shades of green evoke ideas of money and wealth, underlining the way Puerto Rico is frequently overlooked by the American government. In Tropicalamerican, Soto imagined a better system where wealth is accessible to all, including those previously forgotten.
SANTIAGOX, GHOST TOUCH, 2020
In Ghost Touch, SANTIAGO X puts the player in an ever-shifting landscape, much like the world is experiencing during the global pandemic. The player's hands are the only constant in the landscape, furthering the sense of the player's only control being in their movements. By limiting the player's actions, SANTIAGO X leaves us with the powerful sentiment that even when we are not in control of our surroundings, we're in control of our actions.
Abby T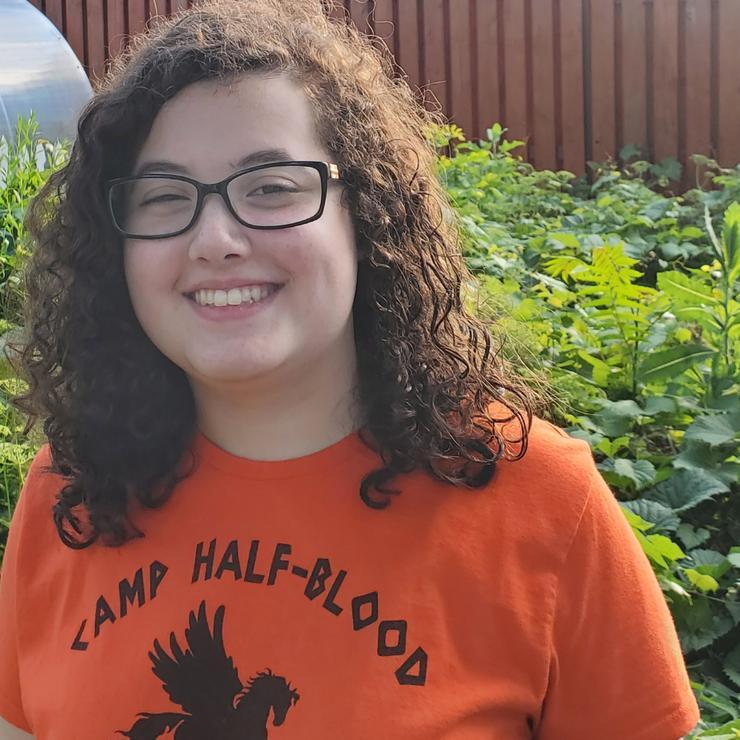 Abby T is seventeen years old and chronically indecisive. When she's not writing, she's thinking about writing. She loves trees despite her natural habitat being her room. Mushrooms are her sworn enemy.
Labels by Abby T
SADIE WOODS, SOOTHSAYER, 2019
Soothsayer by musician and DJ Sadie Woods is a seamless blend of old and new. The wood is carefully carved from trees sacred to Taíno, Indigenous peoples of the Caribbean. Woods crafted the music box-like piece, with its polished metal crank and silver strip, to play "Dancing in the Streets," a song politicized by the Black Panther Party. Through the combination of Taíno and Black influences, the resulting sculpture is stronger than the sum of its parts.
Chris Pappan (Kanza/Osage, Lakota), Scouts Honor, 2019-20
To create this piece, Chris Pappan used five vintage neckerchiefs from the Boy Scouts of America. The blue neckerchief has three depictions of of Native Americans on it. At the bottom, there is an image from when the neckerchief was originally printed in 1971, showing a stereotypical figure similar to many you find used as logos, mascots, and icons. The other two portraits are detailed depictions of Native Americans added by Pappan. Pappan's drawings are attention-grabbing, from the figure's asymmetrical ears to his expression. He seems lost in thought. He is not meant to be all Native Americans but is just an individual. Representing people as individuals, rather than stereotypes, can counteract racist depictions of Native Americans.
TCA
The Teen Creative Agency (TCA) is the MCA's cultural leadership program for Chicago teens (ages 14 to 19 years old) who come together from all over the city and use contemporary art and the museum to create, dream, envision, and transform around issues that are important to them.
Ari Karafiol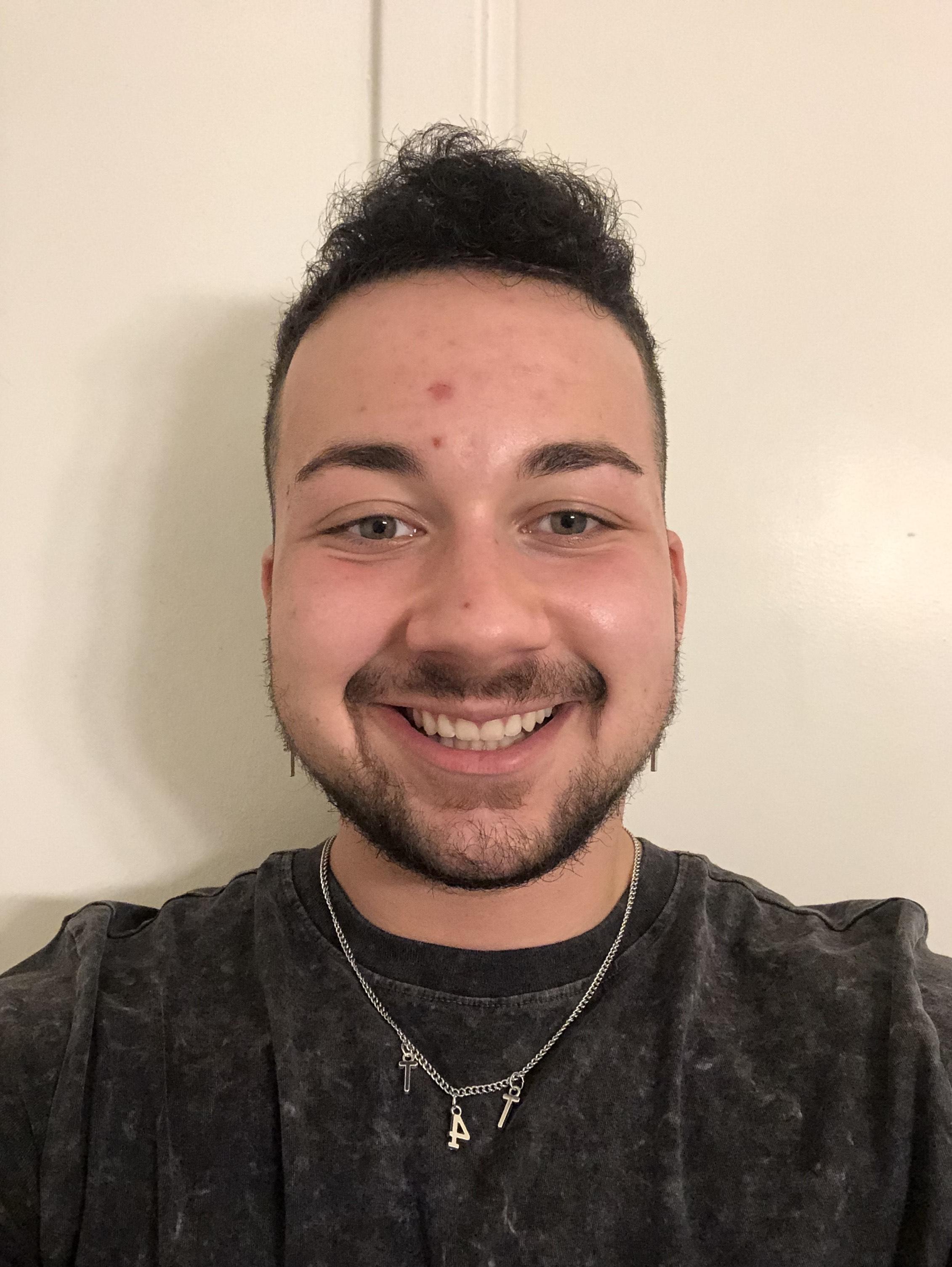 Ari Karafiol is a queer transmasculine powerlifter and mixed media artist whose work navigates memory and bodies. Karafiol also creates and facilitates workshops for educators to support trans* and gender nonconforming students. Karafiol is excited to continue learning how to use his role as an artist to be of service to his community.
Labels by Ari Karafiol
JONAS N. T. BECKER, BETTER OR EQUAL USE, 2020
Better or Equal Use shows four former coal mining sites in Appalachia. This series focuses on mining sites that were legally obtained for mountaintop removal mining—with the promise that, after the destruction of the mountains for mining, the mining companies would put these sites to better or equal use, building structures such as highways, strip malls, or prisons. Printed in coal dust from each of the respective sites, the photographs demonstrate the direct valuing of the land against its potential for extraction of fuel, money, and people. Becker calls us to understand the iterative nature of exploitation, and in using coal—an energy source we all use but rarely see—to recognize our participation in these systems.
JASON SALAVON, RAINBOW AGGREGATOR, 2012-13
Overwhelming and hyper-saturated, this display generates a real-time list of trending search terms on Twitter and Google. In this incessant stream of data, Jason Salavon contrasted the beauty of accessible information with the chaos of millions of online conversations: a collective train of thought that never slows. Using the colors of the rainbow, Salavon emphasized the limitlessness of our potential for information sharing while highlighting the inherently synthetic quality of communicating over the internet: Do these sites provide knowledge, or chaos?
Daniela Loza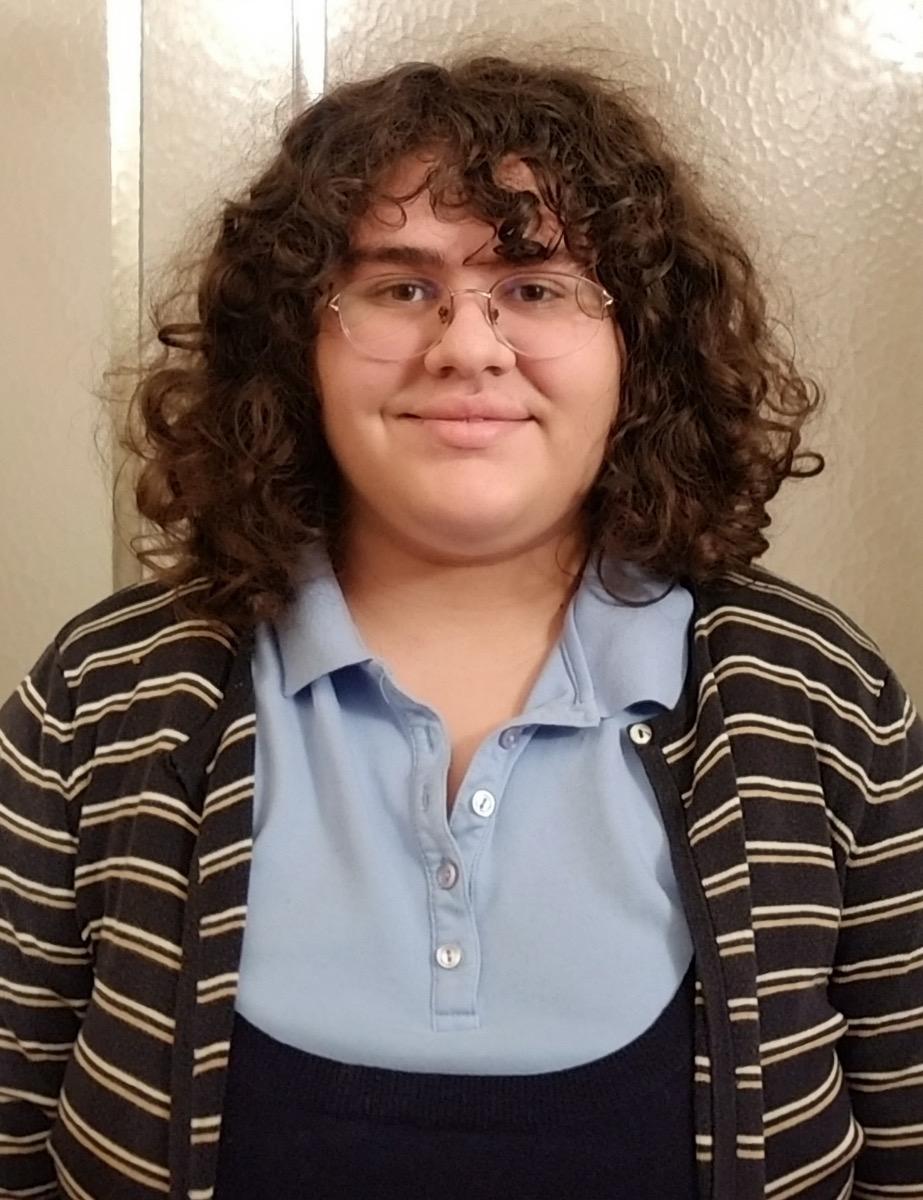 Daniela Loza is a fat, Latina, Chicago-based artist who works in a variety of mediums including papier-mâché, ceramics, watercolor, and crayon but mostly does illustrative work. Loza explores personal sexuality, gender, and imagination in a world of the artist's own where Loza will continue to explore and allow the artist's mind to rest.
Labels by Daniela Loza
Nereida Patricia, Ms. Colombia, 2019
This encrusted glass and beaded piece, covered with a blanket of glitter, has an otherworldly, dream-like quality. Nereida Patricia's mystical scene depicts Ms. Colombia, a trans elder from New York's LGBT community who fearlessly expressed herself and her Colombian heritage through colorful and extravagant outfits and once called herself a "human being from another planet." In 2018, Ms. Colombia was mysteriously found dead at Jacob Riis Park, a Queens, New York, beach. In this artwork, she transcends from the ocean waters where she was found, leaving us to witness her spiritual transition from life to death.
Jesse Howard, Rage South Carolina Nine, 2019
Jesse Howard's Rage South Carolina series captures the entangled web of real and false portrayals of Black lives. Howard's work embodies the portrayal of Black people in white-centric media, as well as studies of his community that speak about being disenfranchised and invisible. The title is a reference to the 2015 Charleston Church shooting in which nine African Americans were killed by a white supremacist during bible study. Using dark charcoal to create rich softness and cave-like shadows, Howard portrays an intense and layered portrait of the pain felt by the Black community. The agony on the face of this person leaves me feeling possessed, captivated by their expression.
Civic Practitioners
The five civic practitioners were asked to write labels that reflect on the artwork through the lens of public service work. Their unique perspective helps amplify artistic voices towards some of society's most complex issues. When we engage with artists and civic life, we help structure a stronger and more resilient future.
Ricardo Cifuentes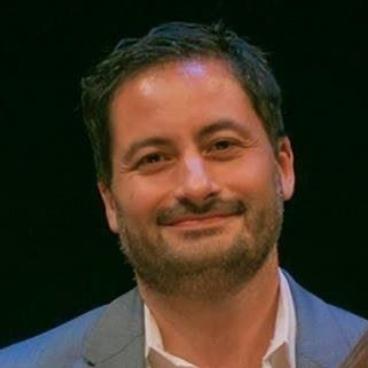 Ricardo Cifuentes is the vice president of external affairs at Esperanza Health Centers. Cifuentes joined Esperanza Health Centers in 2016, having previously served as director of development and communications at Renaissance Social Services, Inc., and as deputy director at AIDS Legal Council of Chicago.
URING A GLOBAL PANDEMIC, HOW DO WE CREATIVELY REACH OUT TO DISINVESTED COMMUNITIES AFFECTED BY COVID-19?
Labels by Ricardo Cifuentes
Jeanette Andrews, Invisible Museums of the Unseen 2020
Soundwaves. Gravity. Reflections. Air. These are the subjects of Jeanette Andrews's Invisible Museums of the Unseen, an audio art piece that can be downloaded as an app onto your mobile device. Aided by this GPS-enabled app, you can unlock hidden museums across Chicago dedicated to these mysterious forces. As you meditate on the physical phenomena that shape our surroundings, consider what other unseen aspects of our world shape our lives. From microscopic pathogens to systemic inequities, these forces exert power over our bodies just as surely as sound, gravity, and our physical world do.
Moises Salazar, Cuerpos Desechables, 2020
The images were quickly seared into our collective consciousness: migrant children, seized from their parents, huddled and abandoned in US-Mexico border detention camps. In Cuerpos Desechables, Moises Salazar recalled the horror of those images, using piñatas to recreate the "disposable" immigrant bodies referenced in the work's title. But it's not just their discarded bodies we see on display. Beneath the brightly colored paper, it's impossible to miss the psychological pain that undocumented immigrants often carry while isolated from the benefits of citizenship. Not only are their bodies systemically disposed of, but their very futures, hopes, health, and lives.
Audrey Wennink
Audrey Wennink is the director of transportation at the Metropolitan Planning Council. Wennink directs MPC's transportation policy efforts and coordinates those initiatives with other urban planning programs. She leads transportation research and advocacy efforts, including advocating for transportation safety, integrating performance-based planning methods into transportation practice, pursuing sustainable funding for multimodal investments, and increasing transportation equity.
HOW DO ARTISTS MOBILIZE AND MOVE THROUGHOUT THE CITY THAT IS DIVIDED? HOW DOES PUBLIC TRANSPORTATION INTERSECT INTO HOW ARTISTS MOVE THROUGH THE CITY?
Labels by Audrey Wennink
Andy Slater, Limited Reach, 2020
To Andy Slater, who is blind, sound is a primary element of daily life. When he went out onto his front step to make this recording, Slater captured a rich mixture of urban and natural sounds at his home in Berwyn, Illinois. This piece features an emergency siren during its monthly test, street traffic, trains, planes, water dripping, birds singing, and melodic wind chimes. This work prompts us to consider how we use sounds for navigation around cities and how sounds contribute to a sense of place. By embracing and showcasing familiar sounds, the recording also challenges us to focus on what's close to home during the COVID-19 era of self-isolation.
Tonika Lewis Johnson, Folded Map, 2017-18
Tonika Lewis Johnson's photographs document the sharply different locations at the same address on the north and south sides of Chicago—the result of segregation's legacy in housing and other urban policies. At 6950 North Ashland Avenue, we see people walking around the neighborhood, visible crosswalks, smooth pavement, and buildings in good condition. At the same address on the South Side, we observe pavement in disrepair, no marked crosswalks, buildings with boarded-up windows, and fewer pedestrians. The Folded Map series asks Chicagoans to acknowledge these dramatic differences and think about how we can contribute to a more equitable city.
Tim Jeffries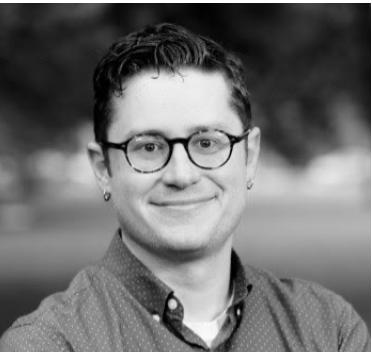 Tim Jeffries is a deputy commissioner in the city of Chicago's Department of Planning and Development where he manages the city's financial incentive programs, including tax increment financing (TIF) and property tax abatements.
HOW DOES THE CITY ALLOCATE SUPPORT FOR ARTISTS AND CORPORATIONS TO WORK TOGETHER THROUGH A BUDGET?
Labels by Tim Jeffries
Jeroen Nelemans, Treasure Trails-1, 2019/2020
Jeroen Nelemans explored the concept of identity by reducing it to its most basic parts. In this image, his fingerprints are digitally enlarged and enhanced, abstracted until they no longer function as a marker of identity. The fingerprints begin to look and feel more like maps. In a map of Chicago, the city is familiar and understood. Zooming in can show the identity and character of a neighborhood that makes it unique; zooming in even further will reduce an area to its anonymous component streets and rooftops. In this way, personal and community identity can be viewed as both individual and collective, unique but still part of a larger body.
Floating Museum, Monument Reassembly, 2020
First staged as a performance in 2018, the Floating Museum's Monument Reassembly invites participants to recreate an iconic moment in Chicago's history: the anti-war protests during the 1968 Democratic Convention, shown in the accompanying photograph. The artwork connects the discontent and protests of today with those of Chicago's past, demonstrating how all Chicagoans participate in the city's history. The civic sector constantly grapples with redressing the decisions of yesterday while simultaneously creating new policies, programs, and choices that draft the history of tomorrow. While this may seem true only in an abstract manner, the financial issues that Chicago currently faces highlights our collective role as active participants in our city's history.
Era Laudermilk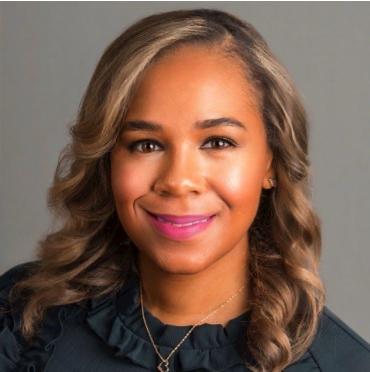 Era Laudermilk is the deputy of legislative affairs for the Law Office of the Cook County Public Defender. Laudermilk protects the fundamental rights, liberties, and dignity of each person whose case has been entrusted to us by providing the finest legal representation. Laudermilk has served in numerous leadership roles in the criminal court and juvenile court systems at the state and local government levels, working to advance policies that enhance positive outcomes for court-involved people.
HOW ARE WE THINKING OF JUSTICE REFORM POLICY AS IT RELATES TO ARTISTS "REIMAGINING" SYSTEMS?
Labels by Era Laudermilk
Bethany Collins, Do You Know Them?

(1897)

, 2018
"Do you know them?" and "Help me find my people" were common questions in classified ads of the late 19th and early 20th century, placed by Black Americans separated from family members because of slavery, war, or emancipation. These ads often read like love letters, recalling precious memories and identifying information—a name, an address—that could lead to reunification. The art of letter writing remains critical for those with loved ones caught in the tangle of the criminal justice system, which disproportionately impacts Black Americans. The heartache of family separation described in the ads of yesterday continues in the love letters of today.
Jina Valentine, APORIA: FAULT LINES Alabama, Arizona, Georgia, Louisiana, Mississippi, North Carolina, South Carolina, Texas, and Virginia, 2017
This work depicts states that were subject to the Voting Rights Act of 1965, which took critical action to end discriminatory practices that prevented Black people from voting, including literacy tests and poll taxes. Jina Valentine used iron gall ink on paper made from a hand-sewn cotton quilt, both symbolic of the abuses of slavery, to trace the redrawing of district lines through years of gerrymandering, which seeks to manipulate the vote. District lines were drawn with hydrogen peroxide, accelerating the rusting of the ink and producing sulfuric acid, which erodes the paper over time—a metaphor for the destabilization of our democracy.
Vanessa Uribe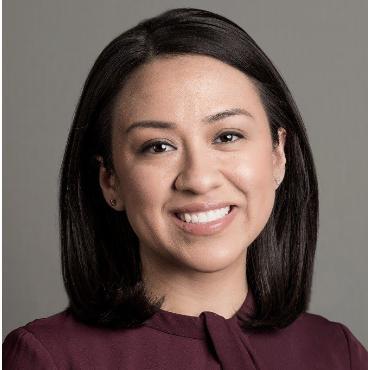 Vanessa Uribe is the program manager for Cook County. In that role, Uribe manages equitable and collaborative initiatives for Cook County's Bureau of Economic Development, including inclusive public-private partnerships, special initiatives like the 2020 Census, and the planning and launch of the county's Racial Equity Leadership Council.
WHAT'S THE RELATIONSHIP BETWEEN EQUITABLE HOUSING, THE US CENSUS, AND THE WAYS ARTISTS REFLECT ON HOUSING AS A HUMAN RIGHT?
Labels by Vanessa Uribe
Selva Aparicio, Tejo (Hopscotch), 2018
In a time rife with anxiety about our mortality and worth, this sculpture speaks to the equalizing force of death. This piece, made from casts of deceased human donors, bears skin imprints that represent unique life experiences that can be, in part, determined by zip code. The life-expectancy gap between neighborhoods on the north and south sides of the city underscores the legacy of inequity in Chicago. The adverse effects of COVID-19, racial injustice, neighborhood divestment, and income inequality are not equally distributed among us. The same block of concrete does not equal the same chance at life. Equality for everyone is not truly appreciated until death, when finally there is no hierarchy between us.
Julia Fish, First plan for floor [ floret ] — section three and six, 1998
In Julia Fish's installation, each green floret appears to bloom and grow, while the white tiles evoke loss. The colored tiles bring to mind the ever-changing population of the United States—and the impact of those who are not counted in the census, depriving their communities of vital resources and representation for the next ten years. As the green tiles blossom and empty space dwindles, we contemplate the global viral pandemic that has put every person at risk. The impact of COVID-19 has made the census, which is used to allocate healthcare resources, even more significant.