David Neumann, Marcella Murray, and Tei Blow for Advanced Beginner Group, Primer for an Impossible Conversation with Guest Moderator, Mikki Kendall
Watch this event on Vimeo at 6 pm CT.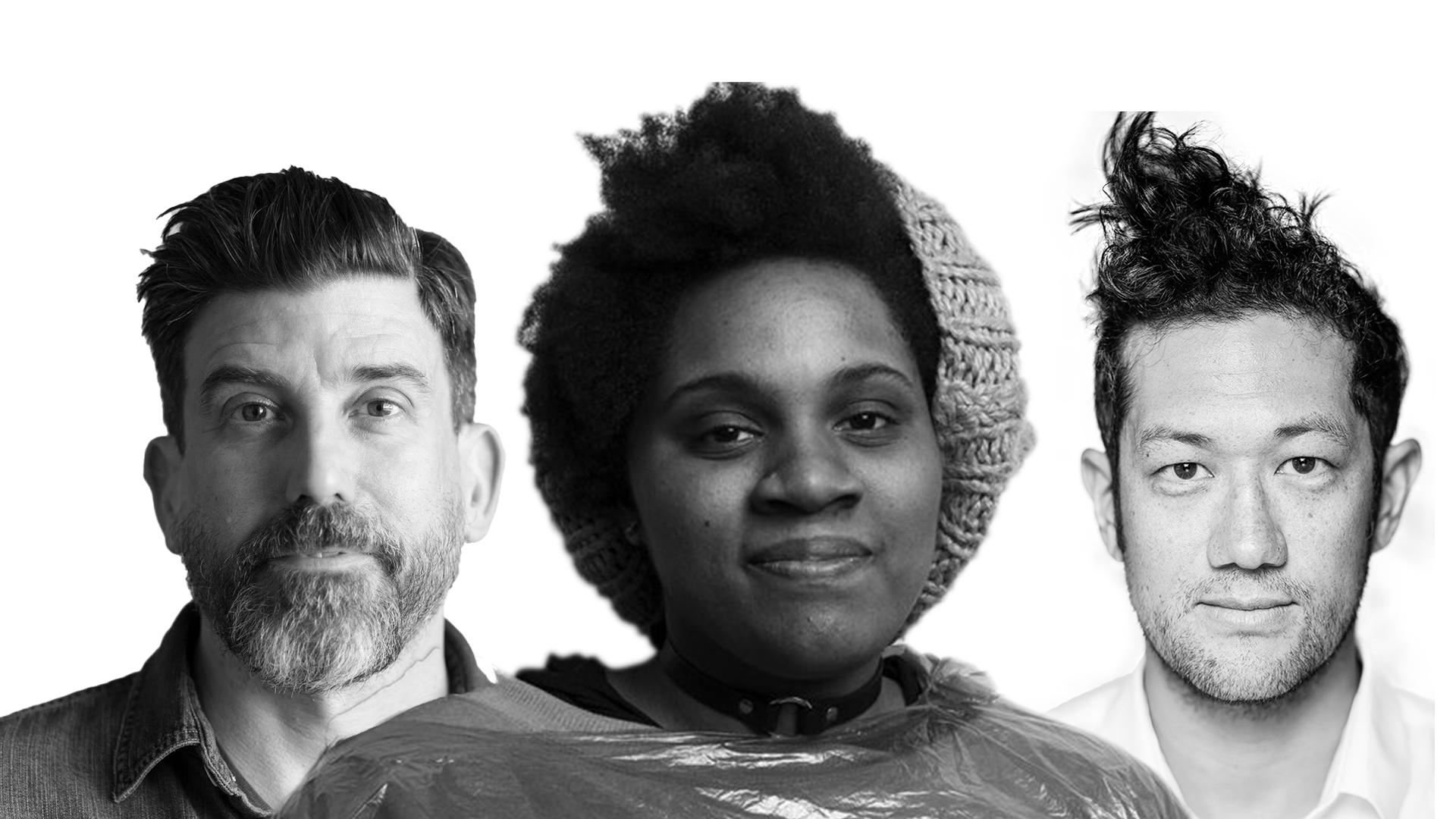 Featured images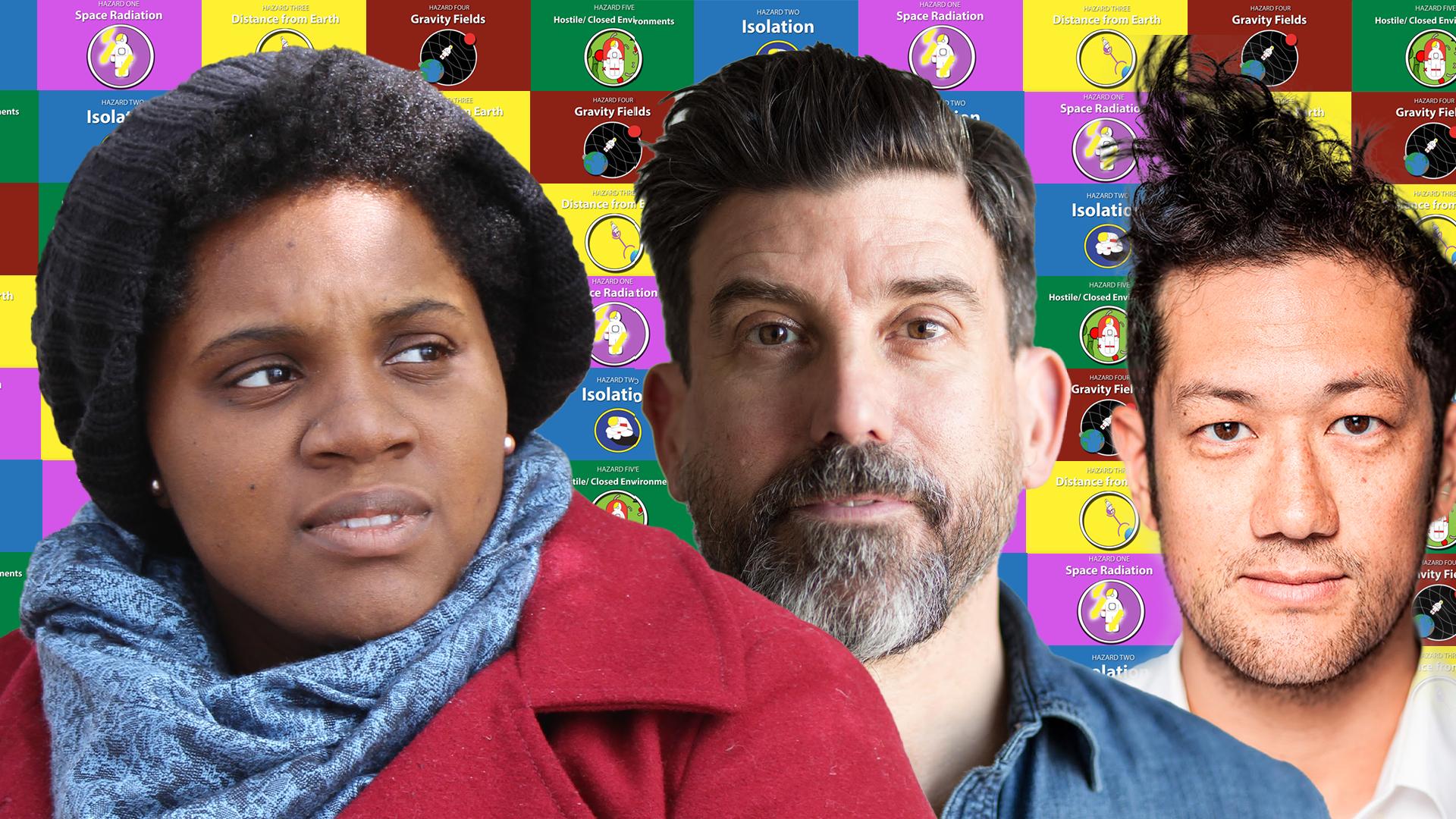 About the Event
Continuing to unpack their years-long conversation around race, theater artists Marcella Murray and David Neumann, along with collaborator Tei Blow, weave imagery, short bursts of dance, and the act of being in dialogue itself to reveal the effort needed for two people to actually be in the same place at the same time. The performance event includes an in-depth conversation with Chicago's own Mikki Kendall, author of Hood Feminism" and Amazons, Abolitionists, and Activists: A Graphic History of Women's Fight for their Rights, to kick off the museum's annual Dialogue Series, this year exploring the power of dialogue and dissent to bring us together in a fractured world.
When difference is an inextricable truth of our reality, how can the art of conversation become a strategy for survival? Is it possible to close the gaps between our perspectives through conversation, or is it more important to linger in the distances between us? Do we need to choose? How can we learn to be better listeners, to build stamina for uncomfortable conversations? How do we practice for moments when connection is of utmost importance but requires us to remain apart? How far away from someone else's point of view are we, really?
A Deeper Look

Riffing on their Obie award–winning stage show Distances Smaller Than This Are Not Confirmed, this online presentation emerges from the need to continue that on and offstage conversation as a creative act. In this partially pre-recorded, partially livestreamed digital performance, the artists lead audiences through commentary, found footage, research, imagery, live conversation, and source materials culled from their three-plus year creation process. This step-by-step, non-instruction manual is inspired by DVD extras and (not-exactly) sequels. The unexpected overlaps between race and science fiction that emerge become lenses onto a larger cultural conversation—and reveal the fraught (and occasionally humorous) subtext beneath it.

Being witness to one another's frustrations, vulnerabilities, discoveries, missteps, epiphanies, and pain is central to Murray and Neumann's process, and in Primer for an Impossible Conversation, they extend their collaboration into the digital realm by both responding to and embodying the evolving conversation between themselves and the world at large. Within a wild aesthetic approach, Murray and Neumann examine the space—literal and figurative—between them, made even more complicated in a time of social distancing and virtual connection. Their collaboration attempts the radical act of centering an Black woman's experience and perspective, making further progress toward dismantling the white supremacy baked into their own relationship and creative process. In the end, that process is a hopeful gesture, one that brings us to new ground, new language, and new relationships.
Program Notes and Downloads
This project was organized by Tara Aisha Willis, Associate Curator, Performance and Public Practice with Laura Paige Kyber, Curatorial Assistant.
This project is presented as a part of the MCA's annual Dialogue Series, which is a museum-wide commitment to sustained inquiry into museum practice, access, and inclusion. Each annual series includes eminent speakers presenting innovative work happening across disciplines, panel discussions, and opportunities for open dialogues between local arts professionals and audiences.
About Speakers
Mikki Kendall is a writer, diversity consultant, and occasional feminist who talks a lot about intersectionality, policing, gender, sexual assault, and other current events. Her essays can be found at TIME, the New York Times, The Guardian, the Washington Post, Ebony, Essence, Salon, The Boston Globe, NBC, Bustle, Islamic Monthly, and a host of other sites. Her media appearances include BBC, NPR, the Daily Show, PBS, Good Morning America, MSNBC, Al Jazeera, WVON, WBEZ, and Showtime. She has discussed race, feminism, education, food politics, police violence, tech, and pop culture at institutions and universities across the country. She is the author of AMAZONS, ABOLITIONISTS, AND ACTIVISTS (illustrated by A. D'Amico), and of HOOD FEMINISM, both from Penguin Random House.
David Neumann's (co-creator, performer, and founder of Advanced Beginner Group) original work has been presented in New York at Performance Space New York, New York Live Arts, The Kitchen, Abrons Arts Center, Central Park SummerStage, BRIC Celebrate Brooklyn, Symphony Space, The Chocolate Factory, and the Whitney Museum of American Art. ABG has also performed at the Walker Art Center, Alverno College, MASS MoCA, Fusebox Festival, the Ringling International Arts Festival, and the American Dance Institute, among others. Neumann was a performer for many years working with, among others, Mikhail Baryshnikov, Big Dance Theater, Doug Elkins, Doug Varone, and Sally Silvers. Recent projects include: choreographer of Hadestown (Broadway, National Theater, New York Theatre Workshop); The Total Bent (Public Theater); War (LCT3); Futurity (Ars Nova and Soho Rep); An Octoroon (Soho Rep/Theater for a New Audience); directing Geoff Sobelle in The Object Lesson (Brooklyn Academy of Music and New York Theatre Workshop); and choreographing Hagoromo at BAM Harvey with Wendy Whelan and Jock Soto. Neumann is currently professor of theater at Sarah Lawrence College. Most recently, Neumann's work, I Understand Everything Better, received two NY Dance and Performance Bessie Awards, one for Outstanding Production and one for Outstanding Music Composition/Sound Design.
Marcella Murray is a New York-based theater artist from Augusta, Georgia. She is a playwright, performer, collaborator, and puppeteer. Murray's work is heavily inspired by the observed ways in which people tend to segregate and reconnect. Her work tends to focus on themes of identity within a community and (hopefully) forward momentum in the face of trauma. Performances include The Slow Room, a piece directed by Annie Dorsen at Performance Space New York; a workshop of Ocean Filibuster which was co-created by the team Pearl D'Amour (Lisa D'Amour and Katie Pearl) with composer Sxip Shirey at Abrons Arts Center; I Don't Want to Interrupt You Guys which was created in collaboration with Leonie Bell and Hyung Seok Jeon during RAP at Mabou Mines; New Mony created by Maria Camia at Dixon Place; and Shoot Don't Talk at St. Ann's Warehouse/Puppet Lab created by Andrew Murdock. Along with David Neumann, she recently co-created Distances Smaller Than This Are Not Confirmed (Obie Special Citation for Creation and Performance) which opened at Abrons Arts Center in January of 2020.
Tei Blow is a media designer and performer based in Brooklyn, NY. Blow's work incorporates photography, video, and sound culled from found materials and mass media alongside live instrumentation. He performs music as Frustrator on Enemies List Recordings and is one half of Royal Osiris Karaoke Ensemble, whose ongoing multipart series The Art of Luv is a recipient of the Creative Capital and Franklin Furnace Awards. He has performed and designed for The Laboratory of Dmitry Krymov, Mikhail Baryshnikov, Jodi Melnick, Big Dance Theater, David Neumann/Advanced Beginner Group. Blow's work has been featured at Hartford Stage, Dance Theater Workshop, PS122/PSNY, Lincoln Center Festival, The Kitchen, BAM, The Public Theater, The Broad Stage, MCA Chicago, MFA Boston, Kate Werble Gallery, Baryshnikov Arts Center, The Roundabout, The Wadsworth Atheneum, and at theaters around the world. He is the recipient of a 2015 New York Dance and Performance "Bessie" Award for Outstanding Sound Design for David Neumann/Advanced Beginner Group's I Understand Everything Better. Blow is currently a Baryshnikov Arts Center Cage/Cunningham Fellow.
Advanced Beginner Group (ABG) is a collection of artists across many disciplines and approaches that come together for specific projects such as Distances Smaller Than This Are Not Confirmed (Obie Award winning), I Understand Everything Better (Bessie Award winning), and Big Eater. Advanced Beginner Group makes work that is at its core an irrational response to our perceived place in the universe. Advanced Beginner Group makes pieces from scratch, bringing to word, action, and proximity a delighted embrace of our contradictory lives. Words and actions can only point to experience. The collection of artists actively attempts to create experiences that are difficult to describe. ABG's most recent work Distances Smaller Than This Are Not Confirmed premiered in January 2020, co-created by David Neumann and Marcella Murray, co-commissioned and copresented by Abrons Arts Center and the Chocolate Factory Theater, and associate-produced by Mabou Mines.
Funding
Major support for the Dialogue Series is provided by Julie and Larry Bernstein, Zell Family Foundation, and Carol Prins and John Hart/The Jessica Fund.
Generous support is provided by Lois and Steve Eisen and The Eisen Family Foundation, and Caryn and King Harris.
Lead support for the New Works Initiative is provided by Elizabeth A. Liebman. Lead support for the 2020–21 season of MCA Performance and Public Programs is also provided by Elizabeth A. Liebman.
Major support for the 2020 MCA Performance season is provided by the Alphawood Foundation and Julie and Larry Bernstein. Generous support is also provided by Lois and Steve Eisen and The Eisen Family Foundation; Ginger Farley and Bob Shapiro/the Martha Struthers Farley and Donald C. Farley Jr. Family Foundation; Susan Manning and Doug Doetsch; and Carol Prins and John Hart/The Jessica Fund. Additional generous support for MCA Stage is provided by Enact, the MCA's performance affinity group. The MCA is a proud member of the Museums in the Park and receives major support from the Chicago Park District.
Foundation Season Sponsor