Claudia Rankine and Will Rawls What Remains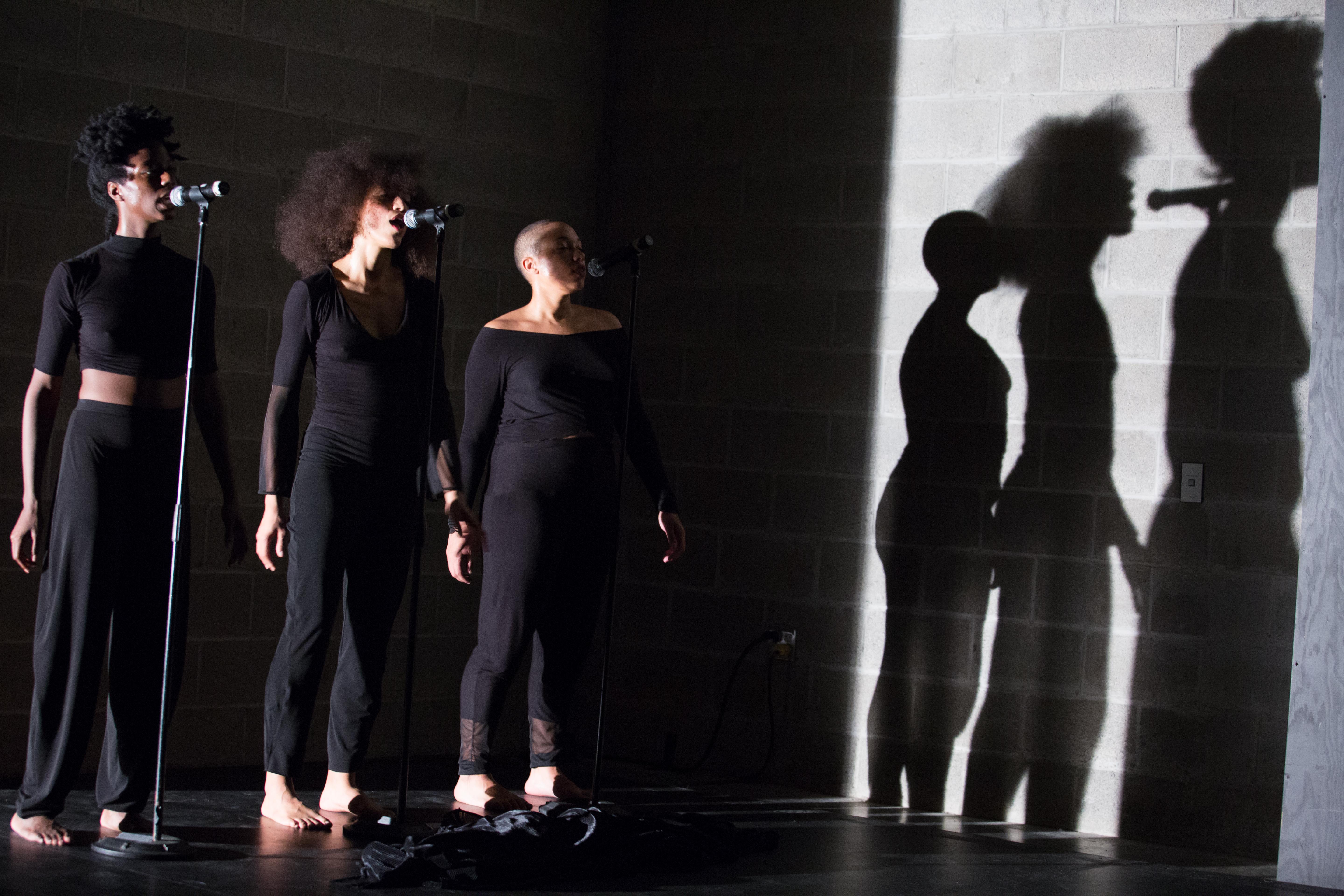 While "surveillance" might conjure images of security cameras, cellphones and other machines, What Remains considers less concrete, more culturally ingrained kinds of surveillance that shape and have shaped the black American experience.

—New York Times
Featured images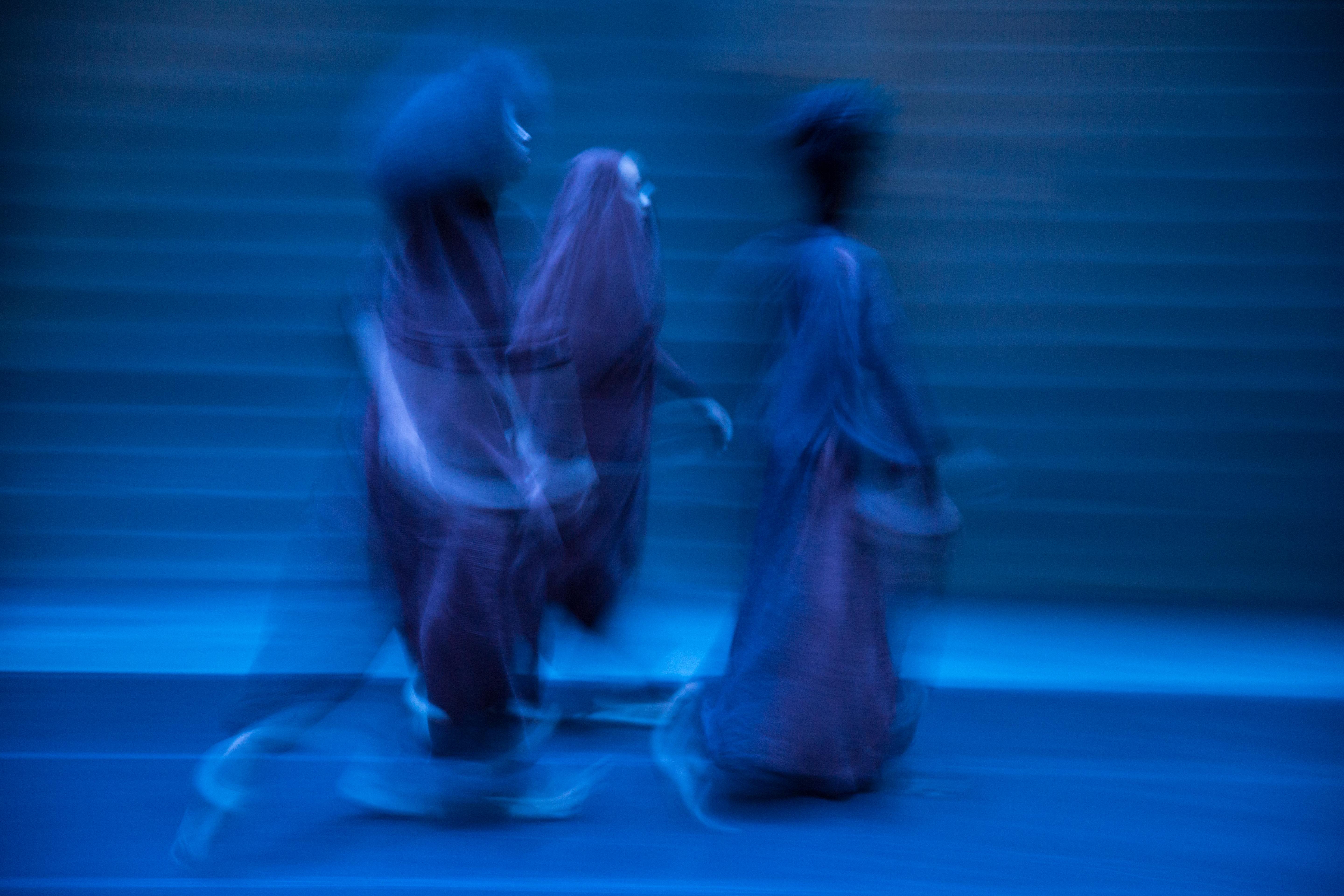 About the Event
Presented in association with Threewalls In-Session 2019
What Remains unites poet and MacArthur Fellow Claudia Rankine, Bessie Award–winning choreographer Will Rawls, and creative consultant John Lucas for a unique, collaborative live performance. The performers stage encounters with themselves and one another, poetically addressing the erasure and exposure that drive the historical murder and disturbance of black citizens. Layered with language, video, dance, and music references, the performance invites its audience into the dreamlike environment of an entombed imagination and responds to violence and disappearance with a resonant, ghostly chorus. As its performers insist on their own bodily presence within a society that curtails their movements, What Remains unfolds a spectrum of physical actions to challenge and destabilize how the audience comes to recognize personhood.
What Remains is performed in the MCA Warehouse, reflecting the influence of Chicago's sprawling geography on the tundra-like psychic space of the performance. It is a Live Arts Bard Production and is created in collaboration with and performed by Leslie Cuyjet, Jessica Pretty, Tara Aisha Willis, and Bessie Award–winning sound designer Jeremy Toussaint-Baptiste, with production design by David Szlasa and costume design by Eleanor O'Connell.
RUNNING TIME: 60 minutes
About the Artists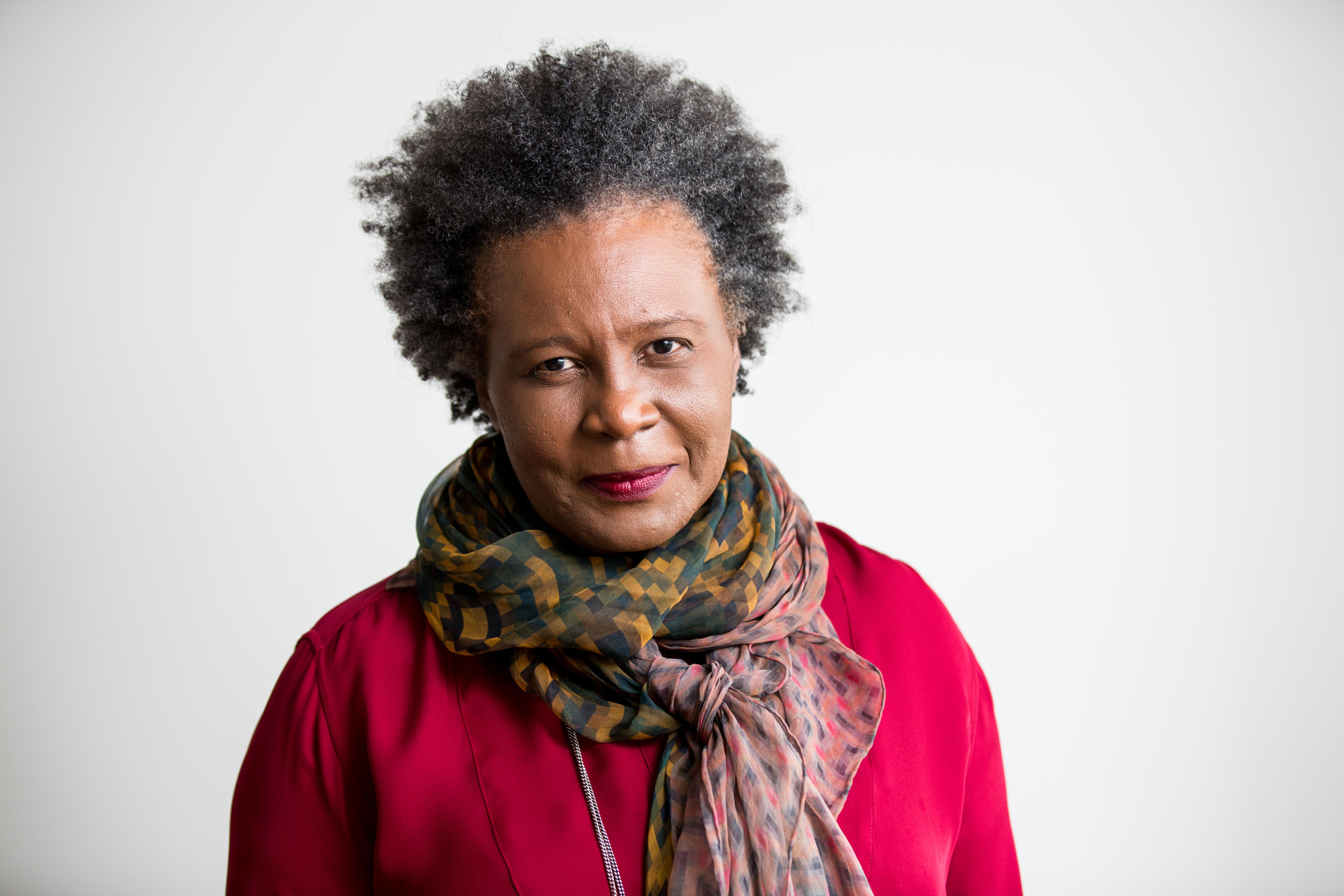 Claudia Rankine is the author of five collections of poetry including Citizen: An American Lyric and Don't Let Me Be Lonely; two plays including Provenance of Beauty: A South Bronx Travelogue; numerous video collaborations; and is the editor of several anthologies including The Racial Imaginary: Writers on Race in the Life of the Mind. Her most recent play, The White Card, premiered in February 2018 (ArtsEmerson/American Repertory Theater). Among her numerous awards and honors, Rankine is the recipient of the Bobbitt National Prize for Poetry, the Poets & Writers's Jackson Poetry Prize, and fellowships from the Guggenheim Foundation, Lannan Foundation, MacArthur Foundation, United States Artists, and National Endowment for the Arts. She is a chancellor of the Academy of American Poets and teaches at Yale University as the Frederick Iseman Professor of Poetry. In 2016 she cofounded The Racial Imaginary Institute (TRII). She lives in New Haven, Connecticut.erick Iseman Professor of Poetry. In 2016 she cofounded The Racial Imaginary Institute (TRII). She lives in New Haven, Connecticut.
Will Rawls is a choreographer, writer, and lifelong performer based in Brooklyn. His practice combines dance with other media to investigate the poetics of blackness, ambiguity, and abstraction. His inquiries into bodily states and humanity aim to redraw notions of power and form. The recipient of the 2017 Bessie Award for Outstanding Emerging Choreographer, Rawls has presented his work at The Chocolate Factory Theater, MoMA PS1, Performa 15, the Whitney Museum of American Art, ImPulsTanz, and Portland Institute for Contemporary Art. In addition to his own performances, he collaborated with Ishmael Houston-Jones to cocurate the Danspace Project Platform 2016, Lost and Found, which focused on the intergenerational impact of the AIDS epidemic on dancers, women, and people of color; Rawls helped organize performances, reconstructions, and discussions, and coedited the catalogue Lost and Found: Dance, New York, HIV/AIDS, Then and Now. His writings have been published by Artforum, Triple Canopy, Les Presses du Réel, the Museum of Modern Art, New York, and the Hammer Museum. He is the recipient of a Guggenheim Fellowship, a Robert Rauschenberg Foundation Residency, and a Foundation for Contemporary Arts Grant. He has held teaching fellowships at Wesleyan University and Williams College, and continues to lecture widely at universities and festivals.
John Lucas
John Lucas is a documentary photographer and filmmaker working in the humanist tradition. He has directed and produced several cutting-edge multimedia projects including a collaborative series of video essays with poet Claudia Rankine titled Situations. In 2014 he completed his first feature-length documentary film, The Cooler Bandits, which was awarded best documentary at the 2014 Harlem International Film Festival. His work has been exhibited in museums and galleries, both nationally and internationally, including the Brooklyn Museum; Cleveland Museum of Art; REDCAT, Los Angeles; OK Harris Works of Art, New York; Smithsonian Institution, Washington, DC; Pulitzer Arts Foundation, St. Louis; La Panadería, Mexico City; Aeroplastics Contemporary, Brussels; and Fieldgate Gallery, London. Lucas was born and raised in Ohio.
Jeremy Toussant-Baptiste
Jeremy Toussaint-Baptiste is a Bessie Award–winning composer, designer, and performer living and working in Brooklyn. In 2014 he received his MFA from Brooklyn College's Performance and Interactive Media Arts program and in 2017 was an Artist-in-Residence at ISSUE Project Room. Toussaint-Baptiste is a founding member of the performance collective Wildcat! and frequently collaborates with performers and fine artists including Will Rawls, Yanira Castro/a canary torsi, Jaamil Olawale Kosoko, and André M. Zachery. He has presented work at the Brooklyn Museum; The Kitchen, New York; ISSUE Project Room New York; the Studio Museum in Harlem; Pennsylvania Museum of Art, Philadelphia; FringeArts, Philadelphia; Tanz Im August at HAU3, Berlin; and Stoa Cultural Centre, Helsinki, among others.
---
Funding & Partners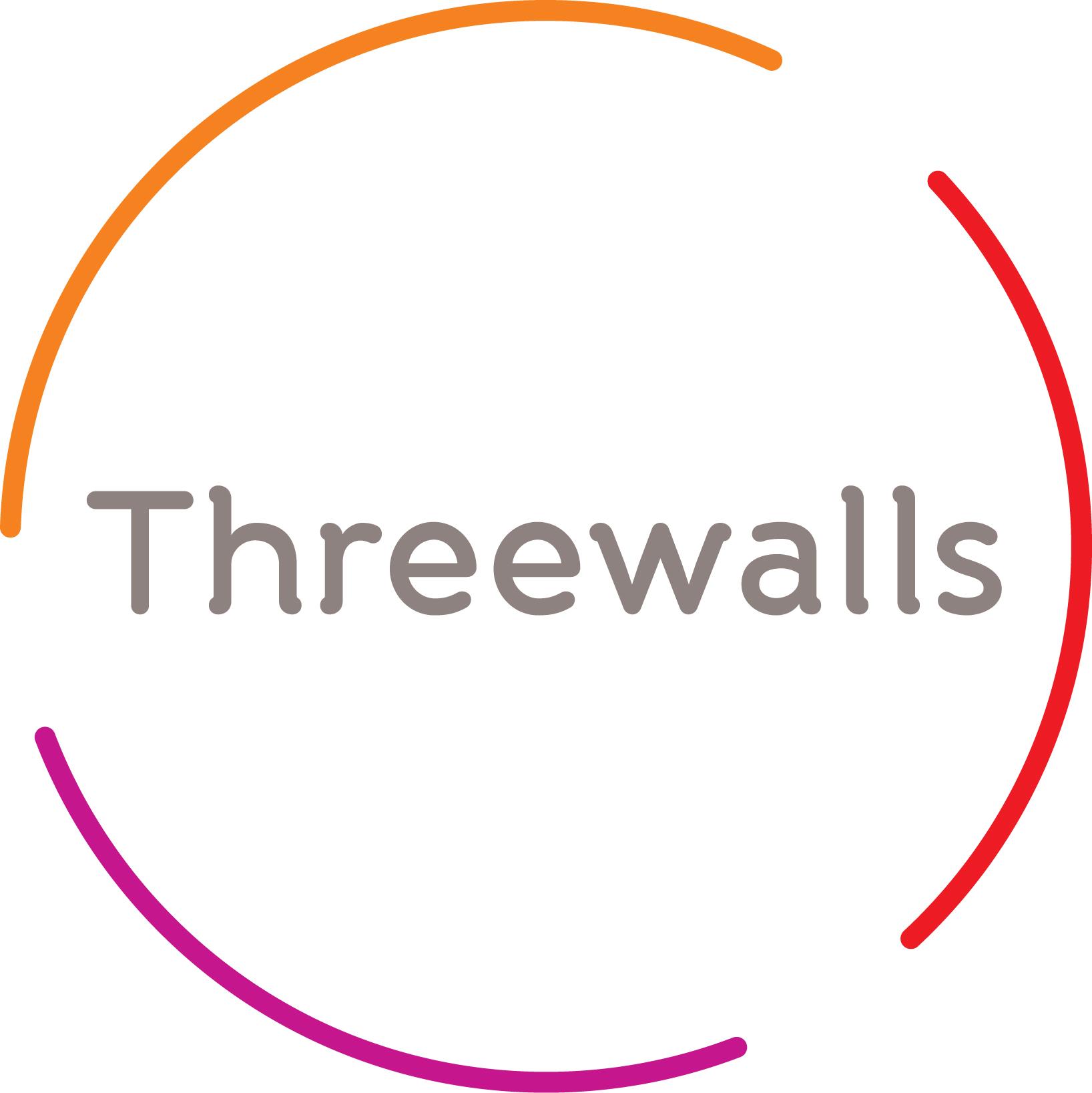 Generous support for What Remains at the Museum of Contemporary Art Chicago is provided by the Nathan Cummings Foundation, with the support and encouragement of Jane Saks.