Open Dialogue: Public Discourse and Museums
Featured images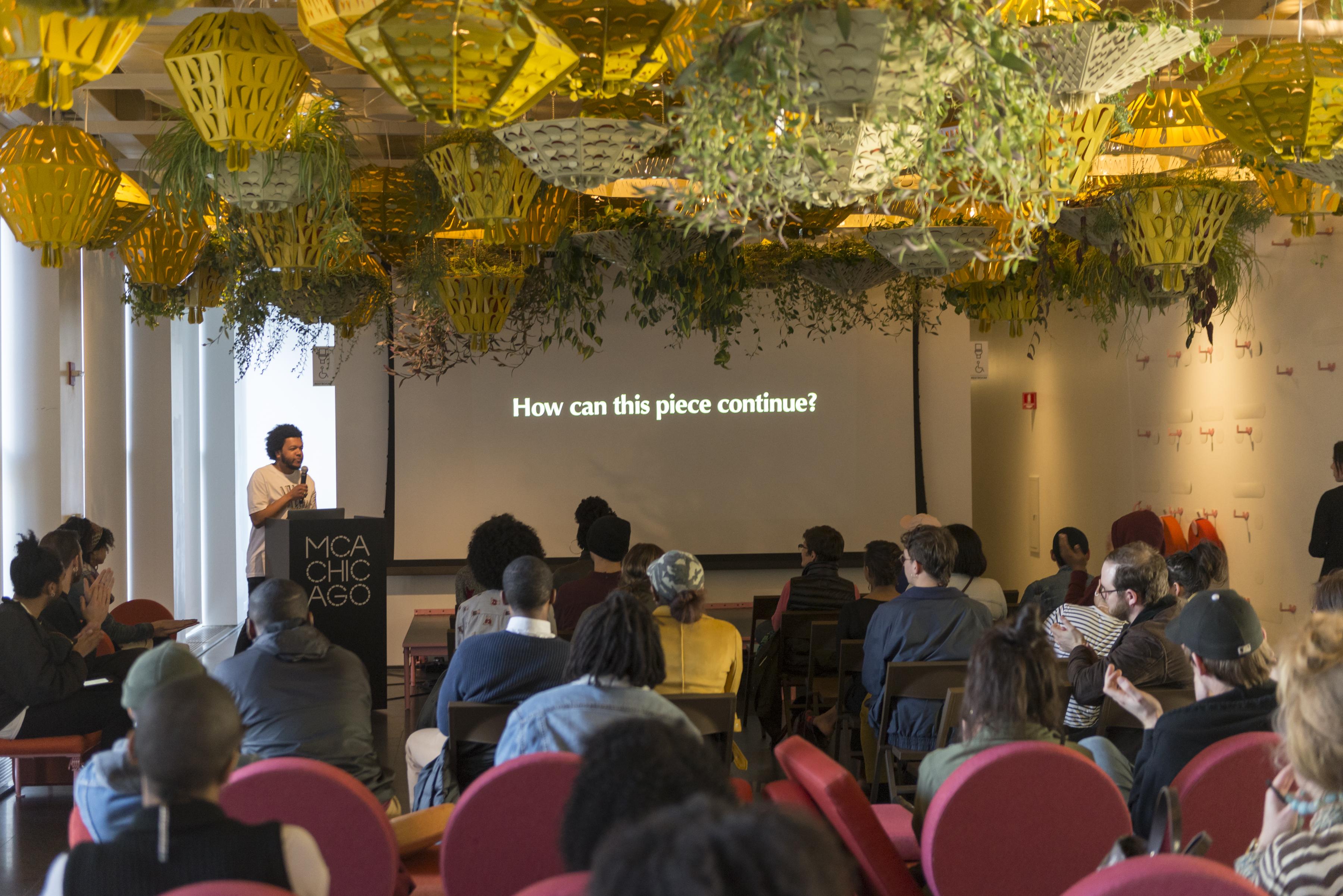 ---
Participate in a public conversation led by local art and museum practitioners that asks what the place of public discourse is in museum practice.
Panelists include artist and educator Kamilah Rashied; MCA Director of Convergent Programming, Claire Ruud; and Nenette Luarca-Shoaf, Director of Adult Learning and Associate Curator of Interpretation at the Art Institute of Chicago.
The Dialogue Series is a museum-wide commitment to sustained inquiry into museum practice, access, and inclusion. Each annual series includes eminent speakers presenting innovative and interdisciplinary work, panel discussions, and opportunities for open dialogue between local arts professionals and audiences.
---
Artist Bios
Nenette Luarca-Shoaf has been Director of Adult Learning and Associate Curator of Interpretation at the Art Institute of Chicago since 2016 and also teaches a graduate seminar and practicum in Museum Education for students in MA and MFA programs at the School of the Art Institute of Chicago. She earned a PhD in art history from the University of Delaware, specializing in American Art, and has held fellowships and curatorial positions at the Smithsonian American Art Museum, Philadelphia Museum of Art, Saint Louis Art Museum, and Amon Carter Museum of American Art. As a postdoctoral fellow at the University of Minnesota in 2014-15, she co-founded the online journal, Open Rivers: Rethinking Water, Place, and Community.
Kamilah Rashied is a producer, administrator, educator and interdisciplinary artist. She has worked from every angle of cultural production as an arts administrator with seventeen years of experience in new program development, community based programming and civic minded audience engagement, contributing to the development of new and ongoing projects at many venerable arts and culture organizations in Chicago including: MCA Chicago, Art Institute of Chicago and SAIC, University of Illinois at Chicago, Chicago Park District, Chicago Public Library, Illinois Humanities, Arts Alliance Illinois, Rebuild Foundation, Young Chicago Authors and Victory Gardens Theater to name a few. In her current role as Donor Community Manager at City Bureau, a civic journalism lab on the south side of Chicago, she works alongside a team of exceptional human beings that are changing the face of local journalism through programs that center voices that are too often marginalized in media.