Faye Driscoll
Thank You For Coming: Play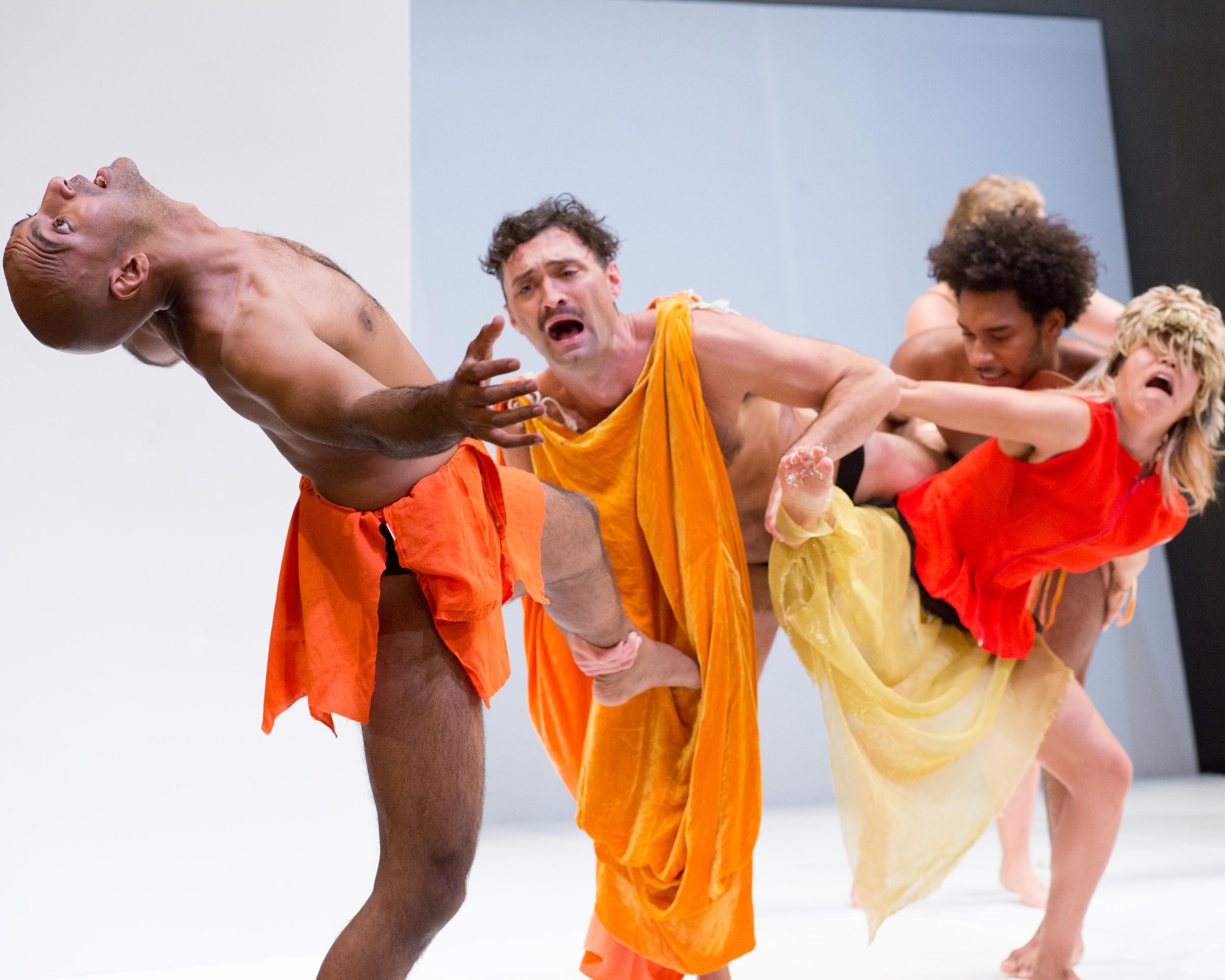 Rambunctious spontaneity, with a healthy dose of anxiety throughout

—The Star Tribune
Copresented with the Chicago Humanities Festival
In Play, Bessie Award–winning director and choreographer Faye Driscoll uses the ritual of storytelling to explore our reliance on stories to relate to one another and form identities as individuals and citizens. Play is the second installment in her series Thank You For Coming, and focuses on the shadows, gaps, repetitions, and stutters between what we say and what we do while we say it. The physical and aural exist in a slippery relationship, as performers ventriloquize, shape-shift, and speak through and for each other.
This semi-fictional collective autobiography explores "who we are" as both mythically urgent and elusively empty beings, laying bare the dichotomous experience of self and the performance of self. It asks us to consider how personal and societal narratives both define and reduce our lived experience and inform the stories we tell about ourselves, in a strange and delightful meditation on language and the desire for meaning.
RUNNING TIME: 105 minutes
Featured image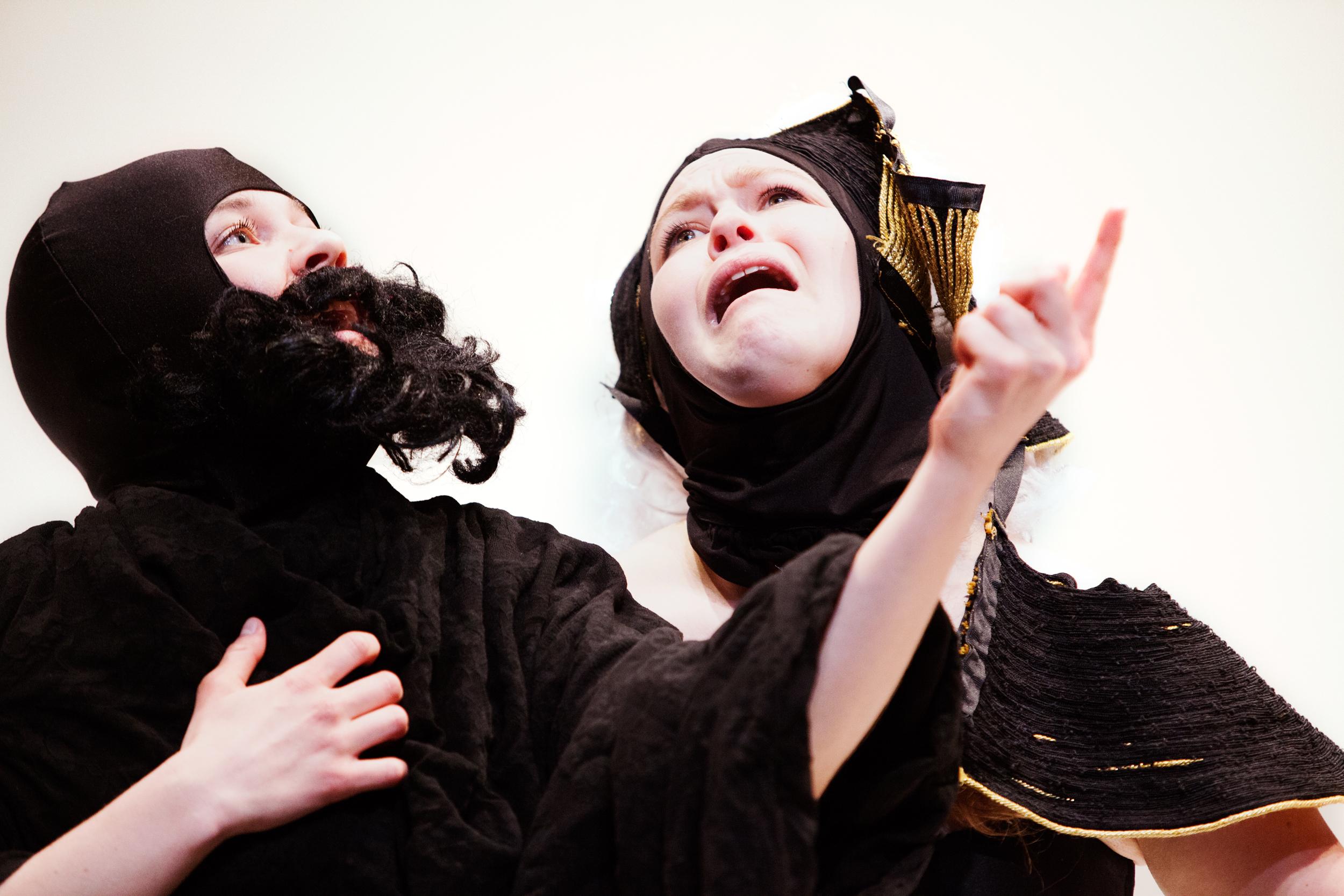 Accessible Events
RELAXED PERFORMANCE with ASL INTERPRETATION and AUDIO DESCRIPTION
SUN, NOV 12, 2 PM
This performance is open to everyone, but the artists are offering it as a relaxed performance. Relaxed performances are for people, with or without disabilities, who prefer some flexibility in regards to noise and movement in the theater. Stage lighting and sound have been adapted by the artists to be less intense. Patrons are free to leave and reenter the theater as necessary, and the theater lights are kept at a glow to facilitate movement. Sensory rest areas are available outside the theater for patrons to take a break before returning to the show. Volunteers, many of whom are members of the disabled community, are present to assist. ASL interpretation is provided by Shannon Moutinho and Sam Freeman. For more information, call the MCA Box Office at 312-397-4010.
About the Artist
The work of choreographer and director Faye Driscoll is rooted in an obsession with the problem of being "somebody" in a world of other "somebodies." Driscoll's works include Wow, Mom, Wow(2007), a postmodern/pop musical/ death-metal fantasy; 837 Venice Boulevard(2008, Bessie Award), an autobiographical work that takes place in a theater within a home; There Is So Much Mad in Me (2010), an exploration of ecstatic states; You're Me(2012), a duet distorted by props, paint, and manic costume; and Thank You for Coming (2014–ongoing), a series about how we are all wrapped up in each other whether we like it or not. The MCA presented Attendance, the first installment in Driscoll's Thank You For Coming series, in February 2016. The most recent work in the series, Play, premiered in 2016 at the Wexner Center for the Arts and has traveled to the Brooklyn Academy of Music (BAM).
The artist has collaborated extensively with some of the most innovative new theater and performance artists in the United States, including Young Jean Lee for Untitled Feminist Show, presented by MCA Stage, Cynthia Hopkins, Taylor Mac, Jennifer Miller, and NTUSA. She was one of the only dance artists exhibited in Younger Than Jesus, the inaugural exhibition of the New Museum's triennial, and her work was included in NYC Makers: The MAD Biennial, the first biennial at the Museum of Arts and Design.
Driscoll has been commissioned by presenters from across the United States, including the MCA, the Institute for Contemporary Art/Boston, Danspace Project, Fusebox Festival, UCLA, CounterPULSE, BAM, and American Dance Festival. Driscoll is a 2016 United States Artists Doris Duke Fellow and recipient of a Doris Duke Award (2016), a Bogliasco Fellowship (2014), a Guggenheim Fellowship (2013), and a Creative Capital Award (2013). She has been an artist-in residence at Baryshnikov Arts Center and Park Avenue Armory, and a choreographic fellow at Maggie Allesee National Center for Choreography (MANCC).