Tatsu Aoki/Tsukasa Taiko
Reduction
Featured image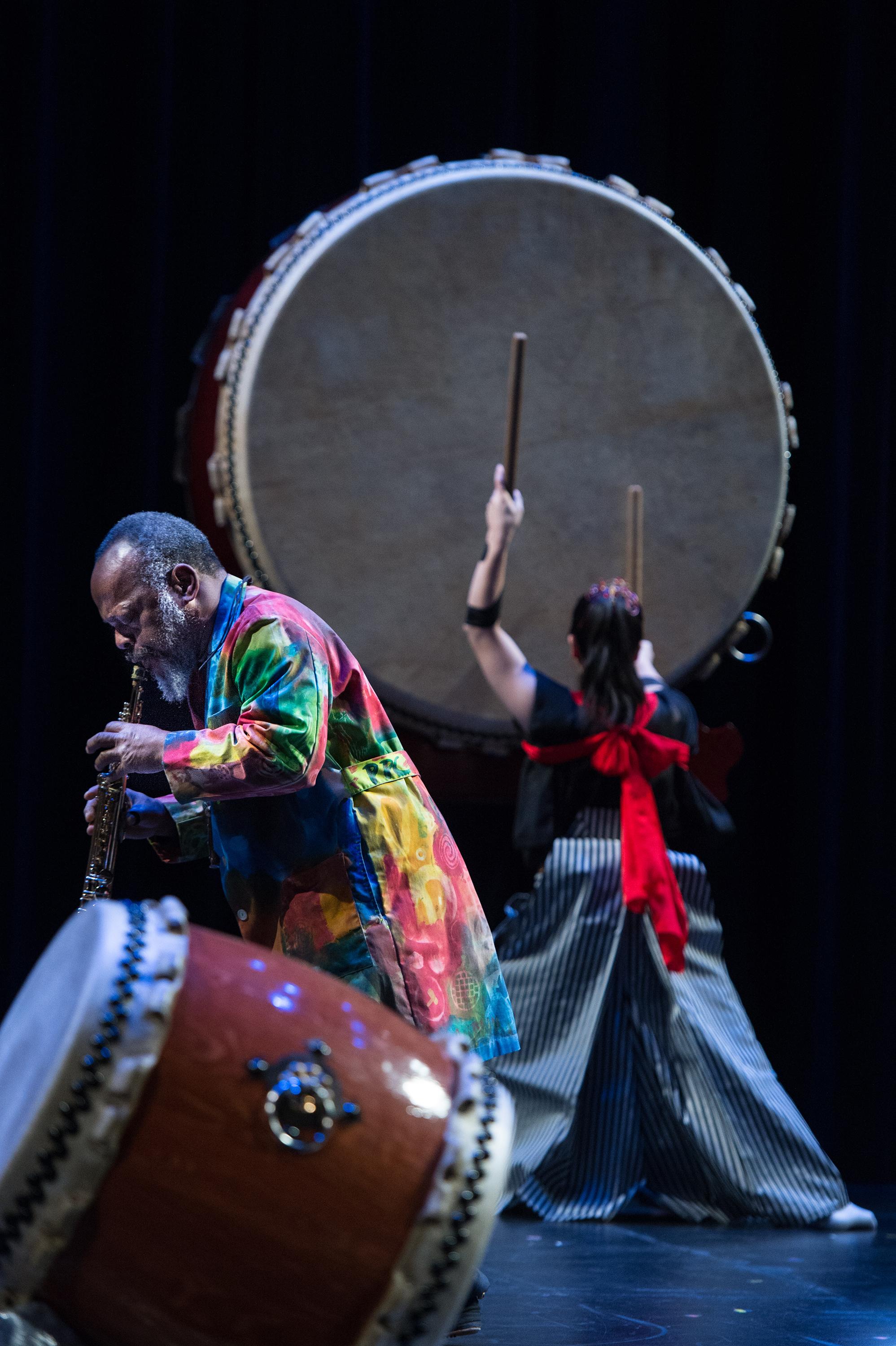 He may be the hardest-working man in Chicago jazz . . . Aoki has been tireless in bringing together Japanese and American musicians, as well the audiences that follow them.

—Chicago Tribune
Copresented with Asian Improv aRts Midwest
An eclectic slate of contemporary and classical music and dance artists from Tokyo, San Francisco, and Chicago reunite at MCA Stage for two distinct and inventive programs, rooted in the unmistakable sound of taiko. Once heard only at traditional ceremonies and temples in Japan, today taiko allows artists to explore exuberant expression and the fullest possibilities of drumming.
Reduction forefronts taiko's central role in the musical experimentation of 1970s Tokyo. Directed by creative artist Tatsu Aoki, this hybrid program owes much to Aoki's roots in a well-known artisan family and his role in Tokyo's new wave of performance art. In contrast to the popular appeal of Taiko Legacy, the companion matinee program by Tsukasa Taiko that features ensemble work by three generations of taiko players, Reduction explores the quieter contours of space, silence, time, weight, and visual imagery to connect the viewer to the less obvious elements of beauty inherent in today's Japanese art forms.
The unearthly Ayako Kato, originally of Yokohama and currently one of Chicago's leading contemporary dance improvisers, performs alongside formidable creative musicians including Nicole Mitchell on flutes, Ari Brown and Douglas R. Ewart on reeds, and others. The superb percussive talents of Eigen Aoki, Hamid Drake, and Michael Zerang demonstrate taiko's complexity, in an extended improvisation set that also features the artists performing on snare drums and percussion. Additional guest artists in the program are Melody Takata and Francis Wong (San Francisco), Jonathan Chen (New York), and others to be announced.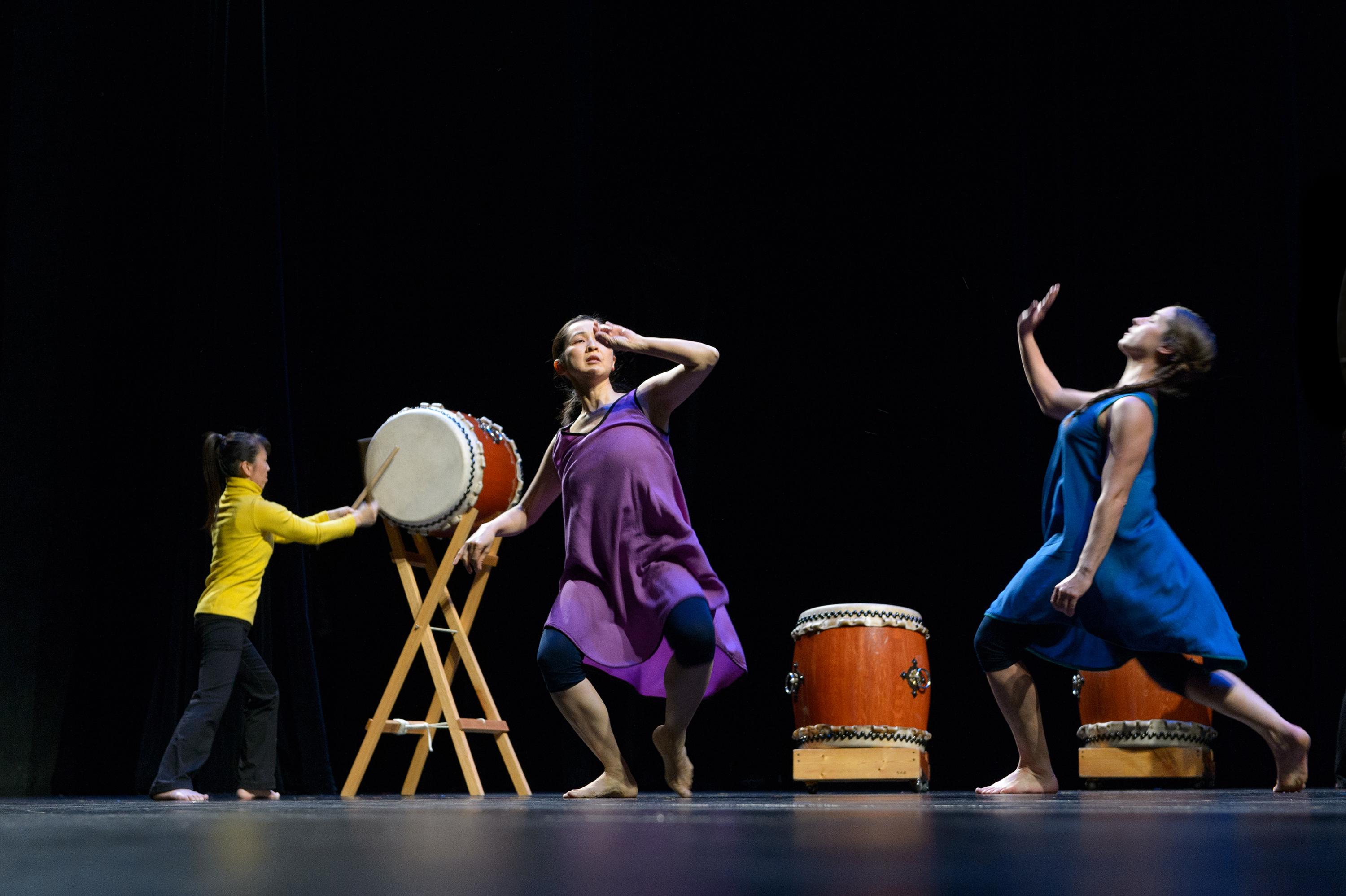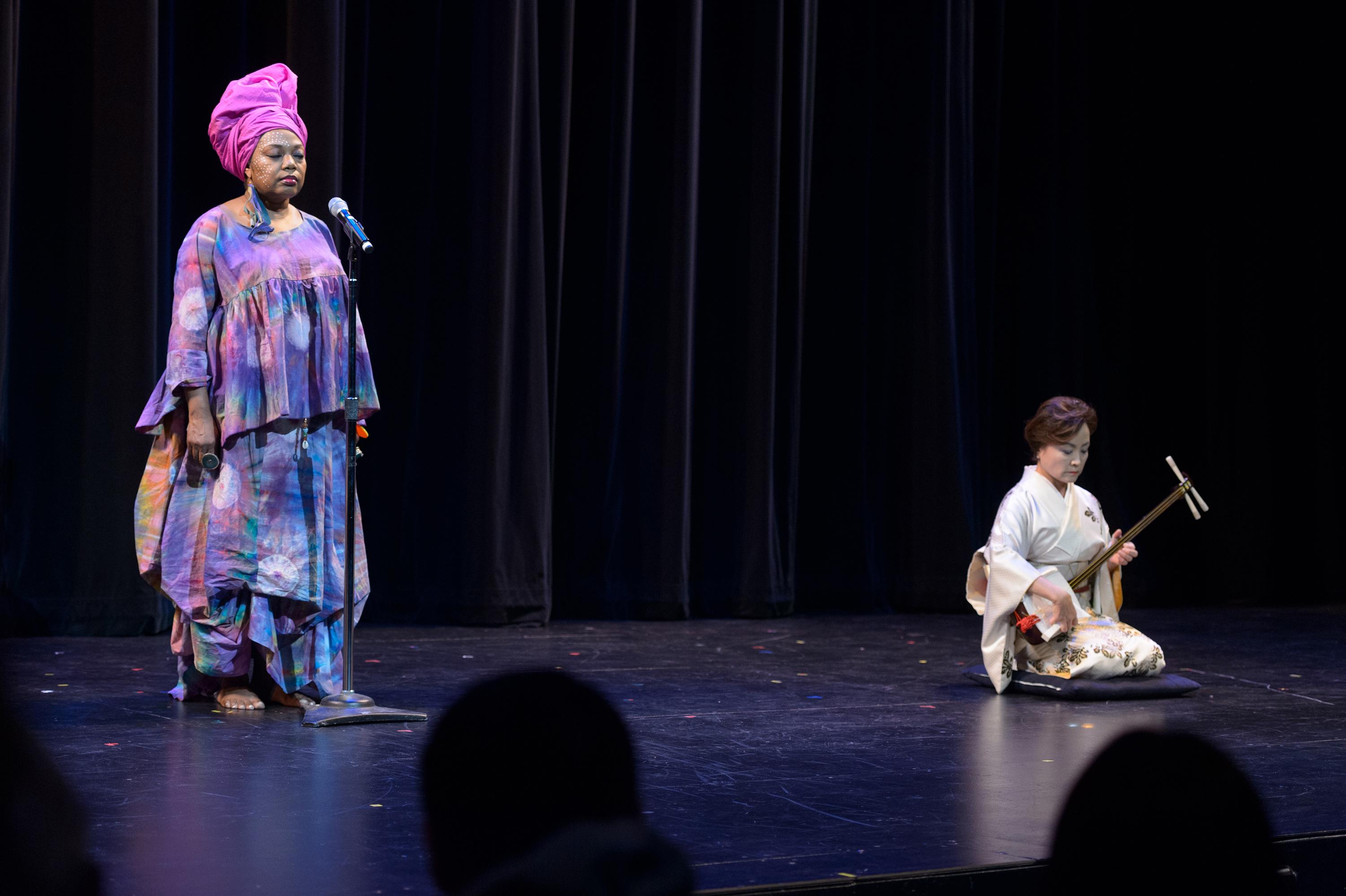 About the Artists
Tatsu Aoki is a leading artist and advocate for the Asian American community. He was born in Tokyo in 1957 to Toyaki Moto, an artisan family proficient in Okiya, the tradition of working as booking and training agents for geisha. In the late 1960s—in the face of Tokyo's economic and social decline, which forced many traditional family businesses to close, and his grandmother's passing—he shifted his training to American pop and experimental music. By the 1970s, Aoki was active in Tokyo's underground arts movement as a member of Gintenkai, an experimental ensemble that combined traditional music and new Western forms. He began working in small-gauge and experimental films, influenced by his biological father, who was a movie producer at Shintoho Studio.
Hamid Drake is a Chicago-based jazz drummer and percussionist who frequently tours internationally. His earliest collaboration was with legendary Chicago tenor saxophonist Fred Anderson. In 1977, he cofounded the Mandingo Griot Society with Foday Musa Suso, the celebrated kora player from Gambia, and composer-percussionist Adam Rudolph. Other regular collaborators include bassist William Parker, saxophonist David Murray, free jazz saxophonists Peter Brötzmann and Ken Vandermark, and fellow drummer Michael Zerang. More recently, Drake has performed with Archie Shepp in various configurations, the group Phat Jam, and human beat boxer and rapper Napoleon Maddox as part of the jazz/hip-hop group ISWAHAT. He performs frequently with several Hungarian jazz groups, recording with Viktor Tóth and Mihály Dresch. In addition to the drum set, Drake also performs on the frame drum, the tabla, and other hand drums. He has performed with Tatsu Aoki since the 1990s, when they first played together in the Fred Anderson Trio and Quartet. In 2013, Drake was named Artist-In-Residence for the Chicago Jazz Festival, where he performed with four different ensembles, including Eigen Aoki and drummers from Tsukasa Taiko.
Douglas R. Ewart, from Kingston, Jamaica, entered the School of the Association for the Advancement of Creative Musicians (AACM) in 1967 as a student of Shaku Joseph Jarman and Roscoe Mitchell. He is an accomplished visual artist as well as composer, music inventor, and multi-instrumentalist—notably of the sopranino and altosaxophone, clarinet, bassoon, flute, bamboo flutes (shakuhachi, ney, and panpipe), didgeridoo, and Rastafarian hand drums (nyabingi, repeater, and bass). He has been Chair of the AACM for periods between 1986 and 2009 and performs with J. D. Parran, Muhal Richard Abrams, Anthony Braxton, Rufus Reid, Don Byron, Wadada Leo Smith, Cecil Taylor, and many others.
Ayako Kato is a dancer and choreographer from Yokohama, Japan, trained in classical ballet as well as in butoh (with master Kazuo Ohno), tai chi, Noh theater, and modern dance. She established Art Union Humanscape (AUH) in Chicago in 1998 with double bassist Jason Roebke and in 2007 received a Chicago Dancemakers Forum Lab Artist Award.
Nicole Mitchell is a creative musician, composer, and educator who headlines at festivals and venues throughout Europe and the United States with her various bands. She has been repeatedly awarded by DownBeat Critics Poll Top Flutist of the Year (2010–13) and served as the first woman president of the AACM. Her MCA commission Mandorla Awakening: Emerging Worlds premiered on the MCA Stage in May 2015 with her Black Earth Ensemble.
Michael Zerang, a first-generation American of Assyrian descent, was born in Chicago. A professional musician, composer, and producer since 1976, his focus is on improvised music, free jazz, contemporary composition, puppet theater, experimental theater, and international musical forms. Zerang collaborates with contemporary theater, dance, and multidisciplinary performers and has received three Joseph Jefferson Awards for Original Music Composition in Theater—in 1996, 1998, and 2000—in collaboration with Redmoon Theater. As a percussionist and composer, he has more than eighty titles in his discography and has toured nationally and internationally to thirty-three countries. Zerang is part of The Trio Waz with Tatsu Aoki and Edward Wilkerson Jr.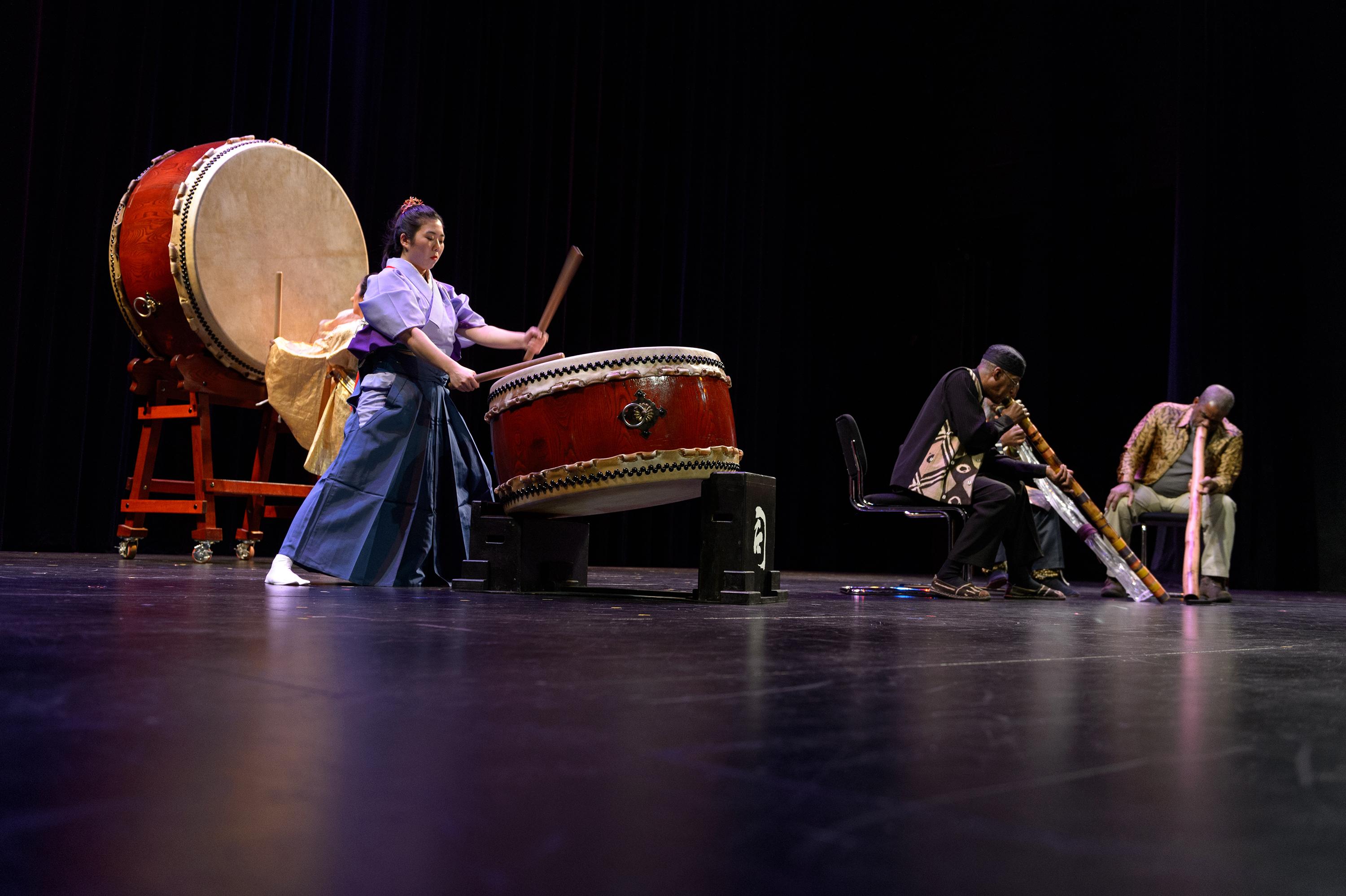 Funding
Generous support for MCA Dance is provided by David Herro and Jay Franke.