Nicole Mitchell: Creative Music Summit Mandorla Awakening:
Emerging Worlds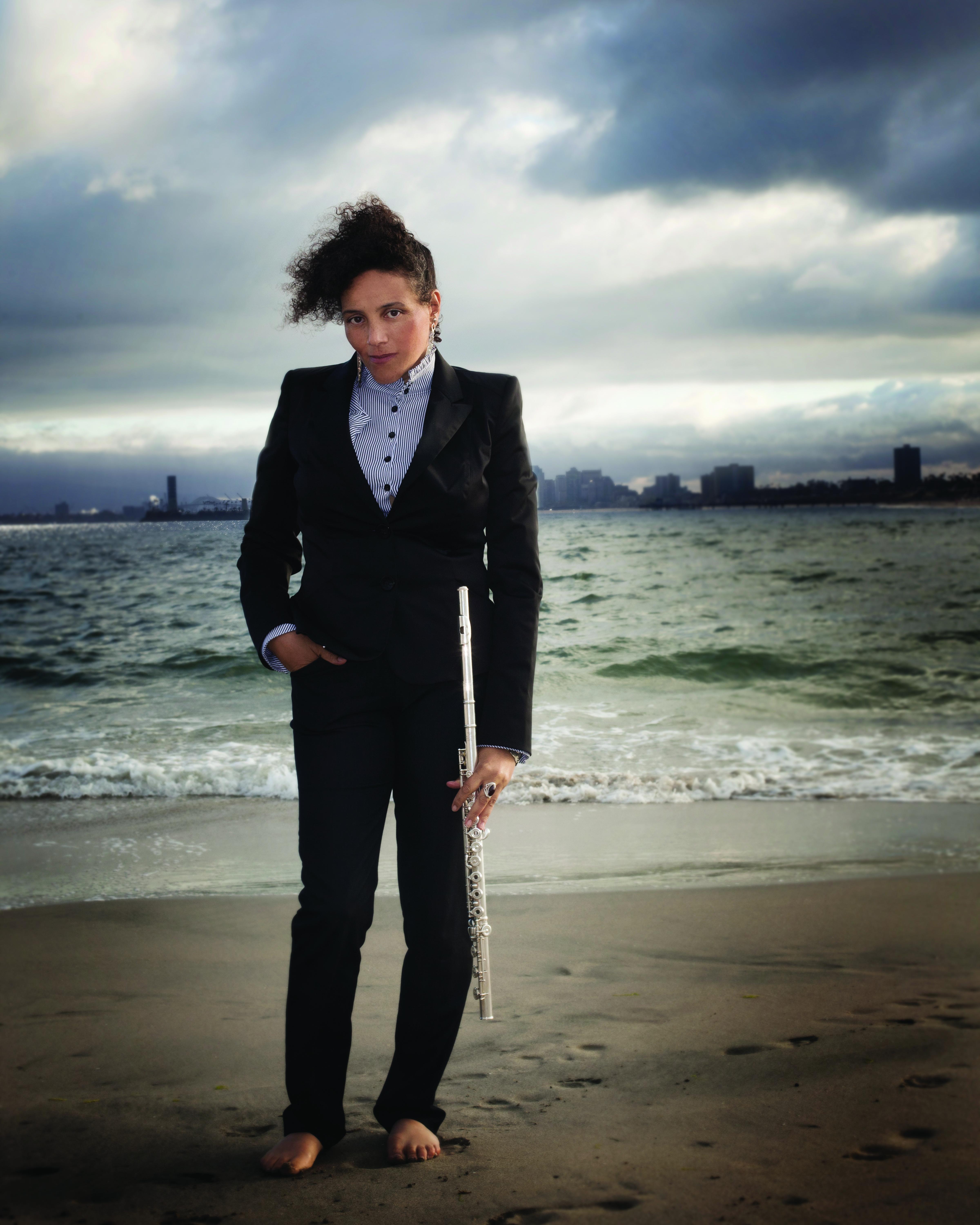 Mitchell generates an energized connection between musician and instrument, a discipline and excitement about song and tone and technique that . . . put the idea of virtuosity in its best light.
About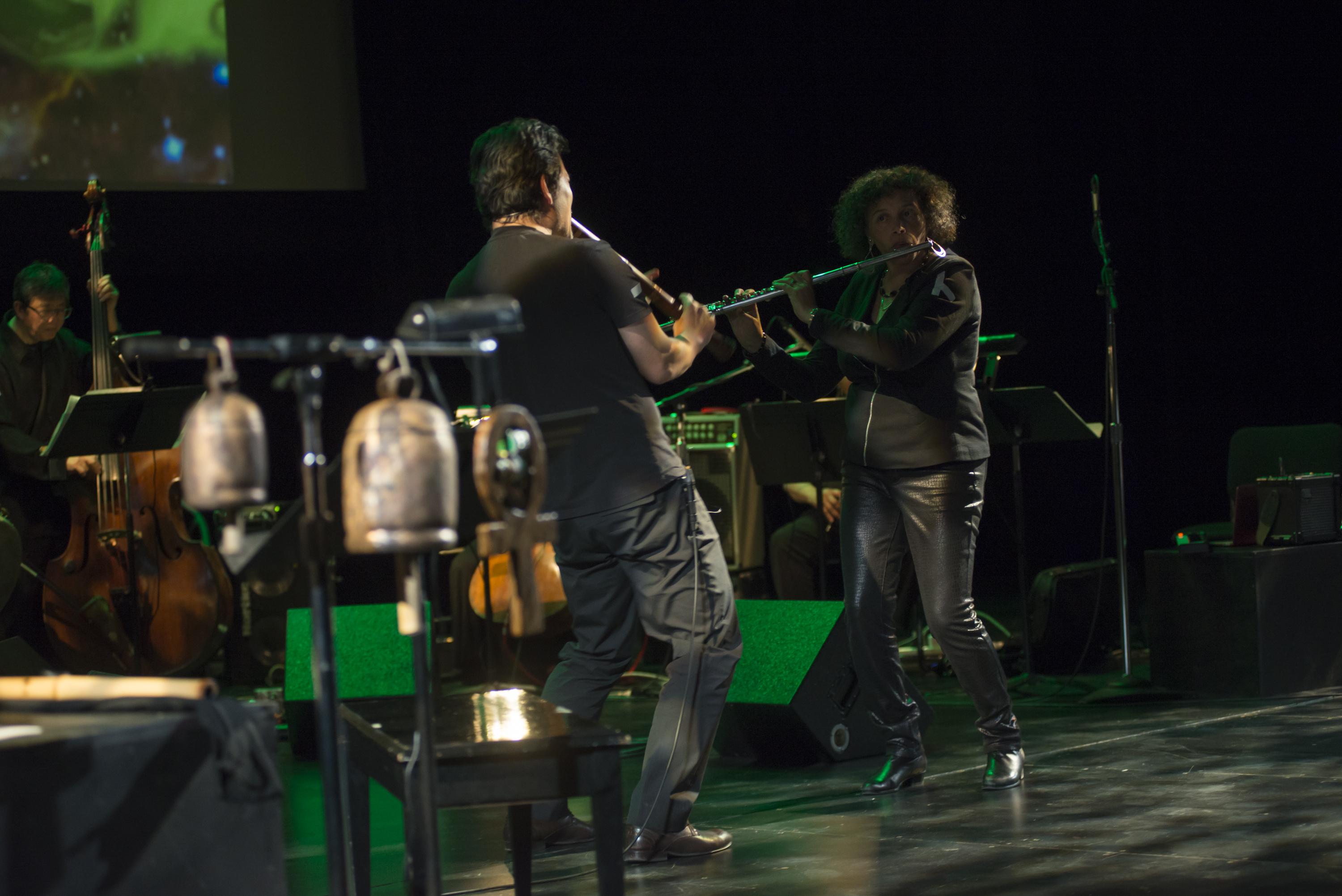 Creative musician and composer Nicole Mitchell sets her sci-fi multimedia concert of video and music in the year 2099 to reframe progressive movements through history. In the futuristic world of Mandorla Awakening, a couple journeys beyond the boundaries of the dominant yet decaying society of the World Union and discovers the egalitarian land of Mandorla. They must either adapt to their new home or face death struggling to save their old one.
Eschewing acting and dialogue, Mandorla Awakening is an audacious experiment in sound, color, and moving imagery that transforms the stage's physical plane into Mandorla, a land with double suns. Mitchell contrasts two societies musically—setting the material-based instruments of Mandorla, such as strings, against the electronic sounds of the World Union. Mitchell plays flute and electronics alongside her dynamic electro-acoustic chamber orchestra Black Earth Ensemble. Visual artist Ulysses Jenkins collaborates on video and lighting.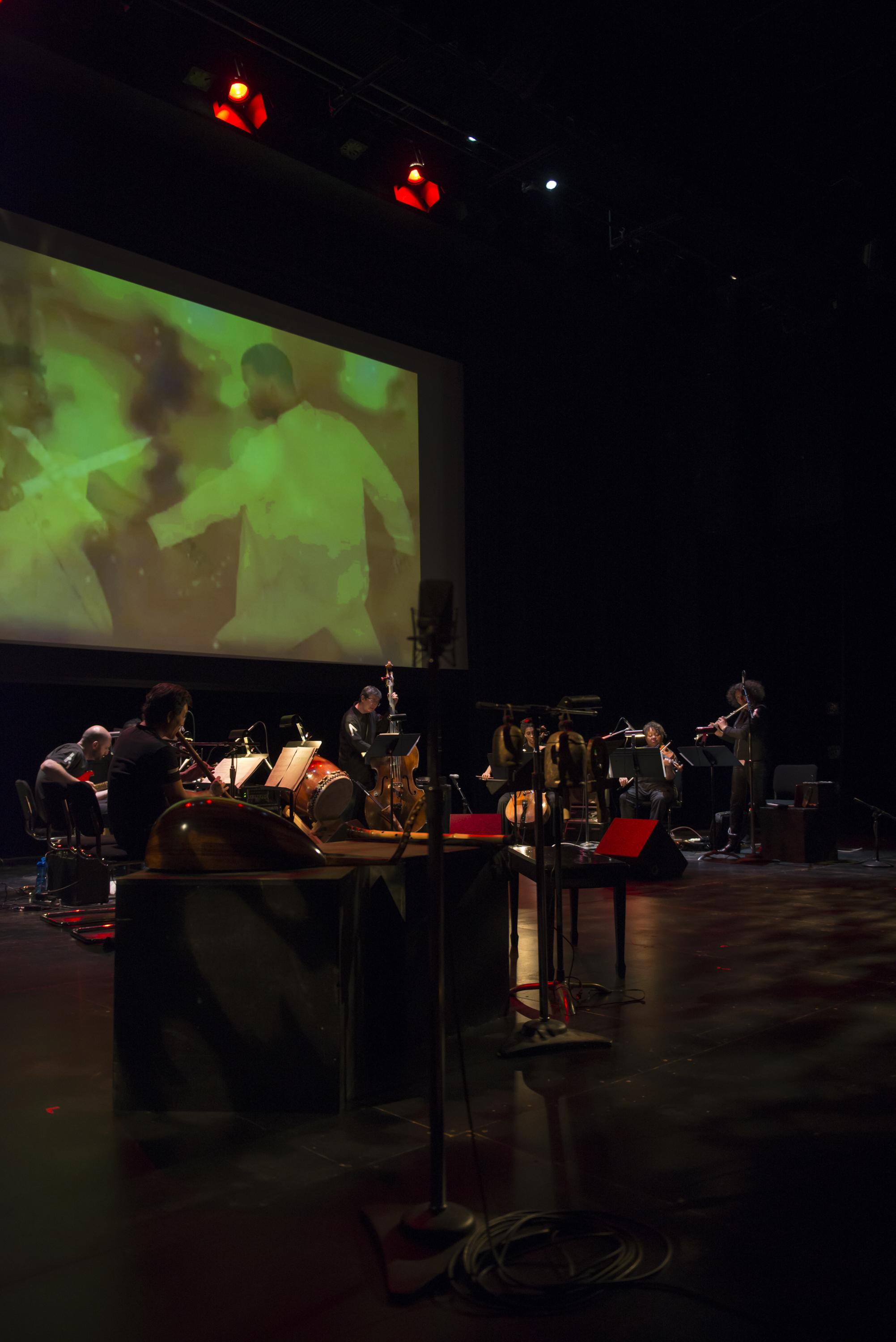 Based on Mitchell's novella of the same name, Mandorla Awakening takes as its point of departure anthropologist Riane Eisler's book The Chalice and the Blade, which documents the global shift from egalitarian to hierarchical societies. Mitchell's visual inspiration for Mandorla Awakening is the almond-shaped aureola that surrounds figures in traditional Christian art and is at other times portrayed as two intersecting circles (a mandorla) representing wholeness. In Mitchell's blending of music with text and visuals, she reaches into the haunting drama of humanity's past to imagine a poetic vision of a better future.
Mandorla Awakening is presented as part of the MCA's Creative Music Summit in recognition of creative musicians/composers, and in conjunction with the 50th anniversary celebrations of the Association for the Advancement of Creative Musicians (AACM). This year, Creative Music Summit features Mitchell and Renée Baker in two distinctive concerts that journey through the multiple dimensions of outer and inner spaces.
About the Artist
Nicole Mitchell is a creative flutist, composer, bandleader, and educator. Her music celebrates African American culture while reaching across genres and delving into the legacy of jazz, gospel, experimentalism, pop, and African percussion. Mitchell reframes progressive movements in history through music that transmits the voices of people ranging from Harriet Tubman to afro-futurist Octavia Butler and Michelle Obama. Mitchell founded Black Earth Ensemble, Black Earth Strings, Ice Crystal, and Sonic Projections. She served as the first woman president of the Association for the Advancement of Creative Musicians, which she has been a member of since 1995\. Mitchell's multiple commissions include two from the MCA: Mandorla Awakening: Emerging Worlds and, in 2010, Intergalactic Beings, Part Two of Xenogenesis Suite: A Tribute to Octavia Butler, and from International Contemporary Ensemble (ICE), the Chicago Jazz Festival, and the Maggio Fiorentino Chamber Orchestra in Florence, Italy. She is a recipient of the prestigious Alpert Award in the Arts and among the first class of Doris Duke Artists. Mitchell has headlined at festivals and art venues throughout Europe and North America. The Jazz Journalists Association named her top flutist of the year for the past four years in a row. She is a professor of music at the University of California, Irvine. Visit Nicole Mitchell's website for more information.
Renée Baker, Nicole Mitchell, and others discuss the intersections among music, media, and social practice and their convergence as part of larger social progress movements. Following the conversation, filmmaker and visual artist Ulysses Jenkins and historian Jacqueline Stewart cocurate films from the archives of Black Cinema House.