John Jota Leaños Imperial Silence: Una Ópera Muerta
One of the most beautiful and seamless pieces of performance art, culture and commentary I have ever seen.

—Presa POBRE/POOR Magazine
Featured Images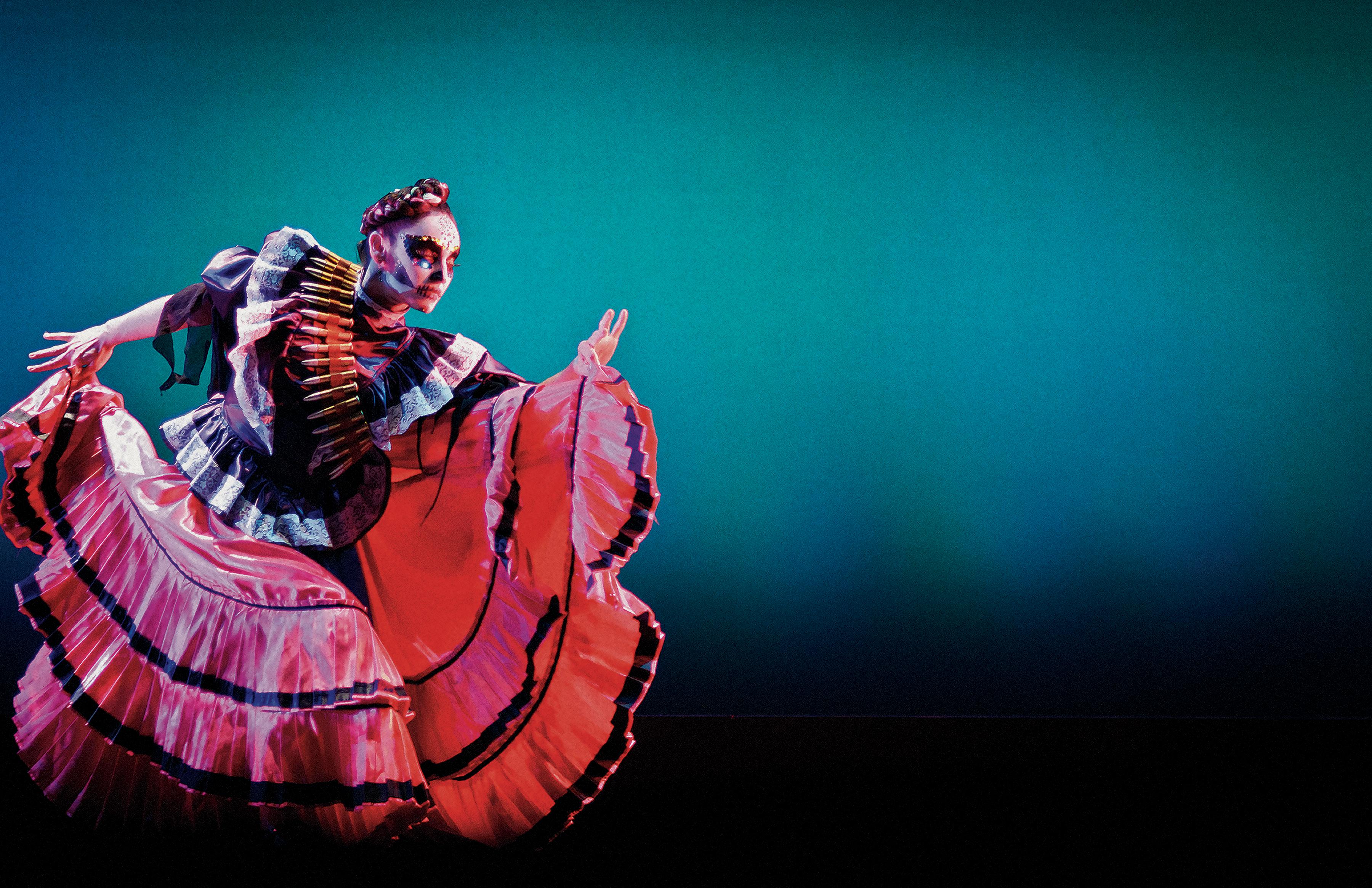 About
Cultural taboos around silence, death, and dissent are presented through a multimedia performance that fuses dark, humored animation with Mexican folklore dance, Mariachi music, hip-hop, bossa nova, and blues. The work is created by San Francisco-based director, John Jota Leaños; Chicago-based choreographer Joel Valentin-Martinez; DJ/composer Cristóbal Martinez; and the Tucson Mariachi ensemble, Los Cuatro Vientos.
The opera's four acts are Act I: Los ABCs ¡Qué Vivan los Muertos!, an animated primer on war and empire; Act II: Deadtime Stories with Mariachi Goose and Friends an animation that re-examines Mother Goose children's rhymes and culminates with the great fall of Humpty Mariachi Dumpty; Act III: ¡Radio Muerto!, a live performance and animation of a skeleton traveling the road to Mictlan (the Aztec underworld); and Act IV: DNN: Dead News Network, a dead animated newscast exploring the silencing of dissent and "spin" in the corporate news media.
About the Artist
John Jota Leaños is known for new media, public art, installation and performance that excavate hidden histories and misplaced memories with a baroque aesthetics, a practice that brings to the fore older traditions and approaches—such as Mexican muralism and nursery rhyme storytelling—and merges them with new technologies and contemporary interpretations. Imperial Silence: Una Ópera Muerta is his largest collaborative and tactical media work, and involved dozens of artists, writers and community members for this reimagining of historical and "true" events.
Leaños has received the 2012 Guggenheim Fellowship in Creative Arts, the United States Artist Fellowship (2011), which annually recognizes 50 of the country's greatest living artists, and the National Association for Latino Arts and Culture Artist Award (2012). His social art practice is closely identified with Xicanismo, the updated voice for Chicano/a culture, and has been shown at the 2002 Whitney Biennial, SF Moma, MOCA LA, Massachusetts Institute of Technology, and is increasingly experienced virally as Internet videos, podcasts on mobile devices, and community concerts in unexpected public spaces in the Bay Area.
Additional Media