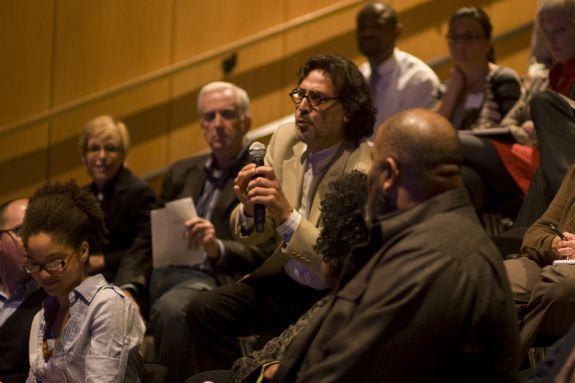 The Dialogue
About
Join us as we host the fourth iteration of The Dialogue, our seminal fall event that turns the MCA Theater into a live chat room. Together we delve into pressing issues of diversity and inclusion facing museums today. This year we focus on Millennials, the generation born between 1980 and the early 1990s that is changing the way we experience everything. As this generation comes of age, values related to self-identity, including notions of race and culture, are shifting profoundly. Museums and cultural organizations must attempt to understand these profound changes and their implications to develop a new sense of where and how people produce and engage with art. This might mean that organizations, such as the MCA, should not only rethink who and what we present but also the very ideologies that underlie our collecting, presentation, and interpretive activities.
Grounded in new ethnographic research of Chicago Millennials, the preliminary findings of which will be shared by the Museums in the Park Marketing Committee, this dynamic evening features Hennessy Youngman, YouTube's most followed art theorist; Chicago Commissioner of Cultural Affairs Michelle T. Boone; and our newest curator, Naomi Beckwith, formerly of The Studio Museum in Harlem. Join us for the panel, followed by a family-style dinner reception and continuing dialogue.
Live tweet during the event with MCA TWEET SEATS. Follow us at @mcachicago and use #thedialogue when tweeting about the program.
Funding
Presented with the MCA's Audience Development and Diversity Committee. Media support is provided by the Chicago Defender, N'digo, and WVON.