"Figures of Speech"
This exhibition offers an unprecedented survey of Abloh's creative work in total by pulling back the curtain on his process.
Featuring interviews with:
<a href="#tremaine-emory" class="bio">TREMAINE EMORYa is a creative director, storyteller, and cofounder of No Vacancy Inn, a platform for art, music, radio, fashion, and more. Emory and Acyde Odunlami founded No Vacancy Inn in 2015.
<a href="#arthur-jafa" class="bio">ARTHUR JAFAa is an artist, filmmaker, and cinematographer. Two of Jafa and Abloh's collaborations are featured in this exhibition: Wakanda Never (2018) and Screen Shot (2017).
<a href="#hans-ulrich-obrist" class="bio">HANS ULRICH OBRISTa is the artistic director of the Serpentine Galleries in London. A curator, critic, and art historian, he has conducted hundreds of interviews with a wide range of artists and cultural figures.
Acyde Odunlami, known commonly as <a href="#acyde" class="bio">ACYDEa, is a music producer and cofounder with Tremaine Emory of the multiplatform collective No Vacancy Inn. In 2017, No Vacancy Inn created a capsule collection with Abloh called "Off-White c/o Art Dad LLC."
<a href="#amy-verner" class="bio">AMY VERNERa is a Paris-based journalist who writes for Vogue.com and Vogue Runway. During her career, she has covered numerous art- and fashion-related stories in publications such as The New York Times, GQ, and wallpaper.com.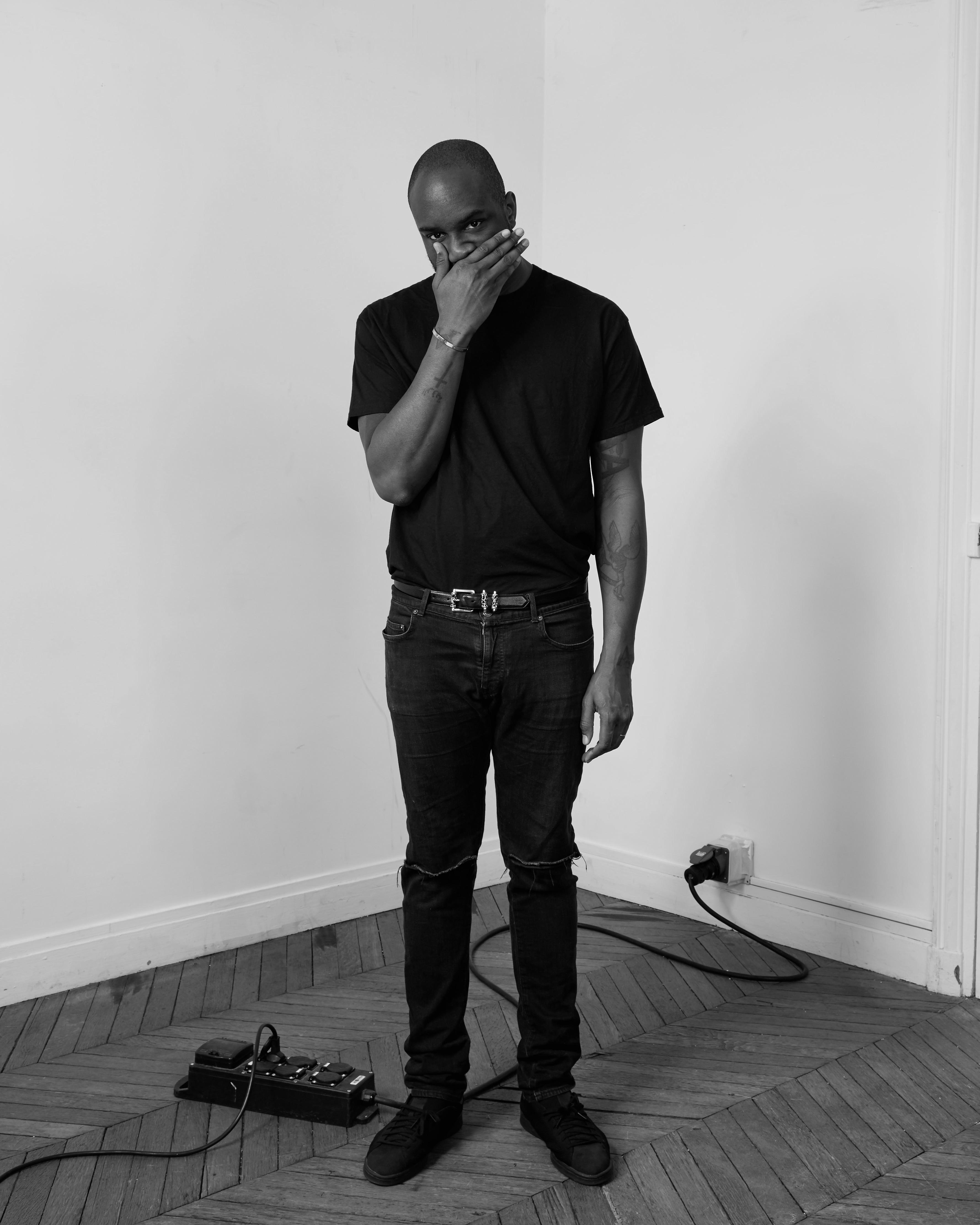 Audio Experience
Structured around the exhibition's central themes, this thirty-minute audio accompaniment to Virgil Abloh: "Figures of Speech" explores Abloh's career, ethos, and methodology around his creative process.
Transcript
[Music]
Virgil Abloh: My name is Virgil Abloh and I don't think I do anything besides be creative.
Michael Darling: You have arrived. You're right where you're supposed to be. Right in the middle of the 1990s and also the future.
Virgil Abloh: Grew up in Rockford, Illinois. It was amazing. I felt like I was just an average kid from the middle of nowhere.
Michael Darling: Simultaneously in a record shop in Rockford, Illinois and a fashion atelier in Milan. Between the literal and the figurative.
Virgil Abloh: I don't feel responsible to preconceived notion of art. I feel more responsible to a community that is trying to change the tide or—just sort of—live in an optimistic society that art, design, music, and fashion actually change the world for the better.
Michael Darling: Welcome to Figures of Speech, a comprehensive look at the evolution of the American artist and designer Virgil Abloh. I'm Michael Darling, Chief Curator at the Museum of Contemporary Art Chicago. This guide features the voices of some of Abloh's closest collaborators and biggest fans in the worlds of art and fashion.
Hans Ulrich Obrist: Kanye heard rumors, as he told me, about this young student in Chicago who understands music, who gets culture, who gets design, who can bridge all of these fields.
Arthur Jafa: It was always a very clear vision, it seemed, in terms of what his voice was.
Acyde: He's breaking the fourth wall of all of these things: of playing music to people, or getting them introduced to fashion, or getting them introduced to architecture or design.
Amy Verner: There has always been something unexpected to what he has proposed.
Tremaine Emory: V really wants us to look inside and focus on ourselves to see how we can help ourselves and help the community.
Michael Darling: And, of course, we'll hear from Abloh himself. One thing to know: Virgil travels constantly. So, if it sounds like he's speaking from a car or a street corner, he probably is. We recorded him wherever we could. There are seven stops on this tour. Each one lasts about four minutes and introduces an entire gallery, so feel free to wander while you listen. Enjoy!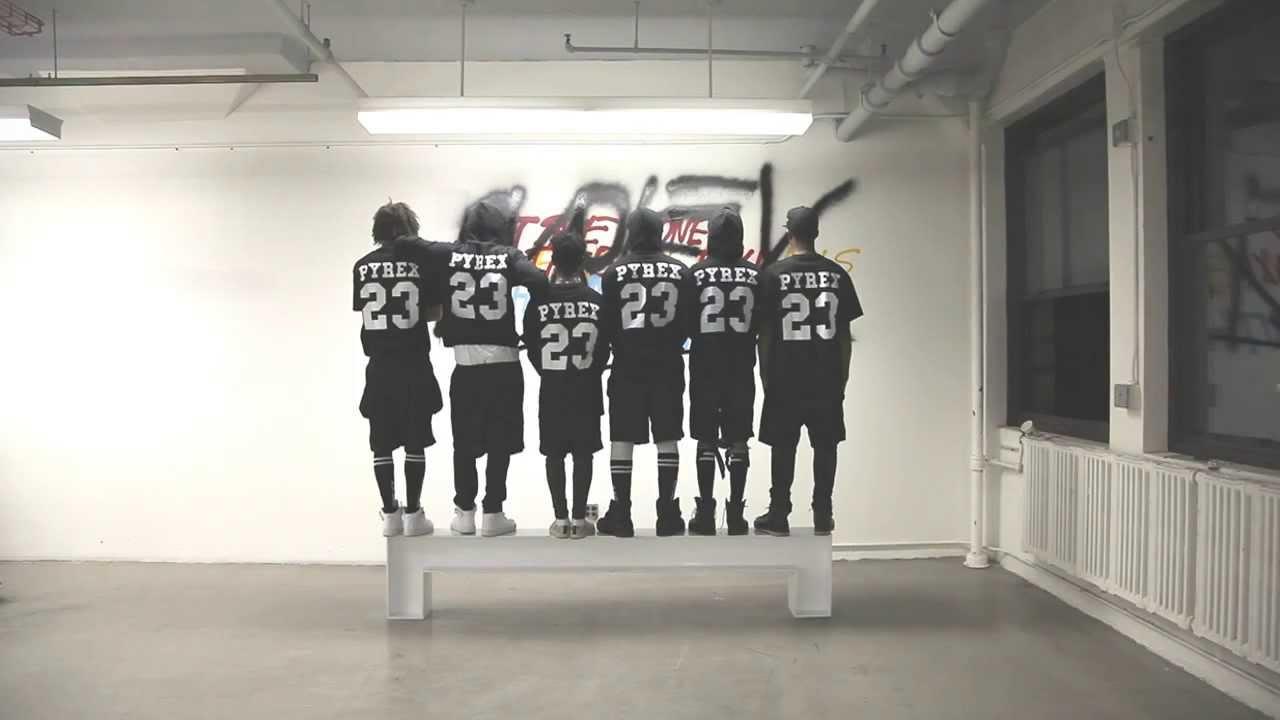 "EARLY WORK"
Abloh got his start in fashion with a t-shirt: an experimentation in taking an everyday item and injecting it with new meaning.
Transcript
[Music]
Virgil Abloh: Something that I was taking from Bauhaus, or my early education in architecture, that there's no borders between mediums, only just human-perceived border.
Narrator: Abloh followed this mantra from the beginning of his career. In 2003, he was hired as an intern at Kanye West's creative agency DONDA and worked his way up. Here's Tremaine Emory—creative consultant, storyteller, Abloh's friend and collaborator:
Tremaine Emory: He was Kanye's righthand man—creative direction, consulting, creative gardening, whatever you want to call it.
Narrator: Pyrex Vision, his first major solo project, was conceived as the film you see in this gallery. Abloh wanted to express a new unity he sensed in youth culture, hence the title: "A Team with No Sport."
Tremaine Emory: When I first saw it, I was like, "Oh, either you sell drugs or you play basketball to get out the hood." From the Caravaggio painting to Pyrex on the top to the 23. It's a metaphor, it's beautiful.
Narrator: Pyrex, as in the glass containers your mom used for leftovers, is also synonymous with manufacturing crack cocaine. And 23 is the jersey number of "His Royal Airness" Michael Jordan of the Chicago Bulls. Caravaggio was a revolutionary 17th-century Italian painter whose work inspired Abloh to study architecture. Abloh combines these disparate references to reflect a moment in American culture.
Virgil Abloh: There's a change in tide in the ecosystem. You have Obama as president. There's new perspective on equality. I think us as curators or artists or participants in that should do our best job at just freezing it, documenting it.
[Lyrics:
Instincts that can still betray us
A journey that leads to the sun
Soulless and bent on destruction
A struggle between right and wrong]
Narrator: For Tremaine Emory, Pyrex Vision was also about finding a way to be heard.
Tremaine Emory: Those flannels that are in the video, they're from Ralph Lauren Rugby, which doesn't exist anymore, that he bought on discount. The hoodies and t-shirts are Champion hoodies. The shorts are Champion shorts. He took the means that he had, somewhat meager, and made something beautiful because he told a story. Streetwear, like hip-hop music, punk music, blues music, jazz music, communicates the struggles, hopes, joys, dreams, and art of the subculture, the downtrodden, the underdog. It's our billboard, to say we're here and what we have to say is important and what we care about is important. That's what streetwear is to me. It's communication, language.
"FASHION"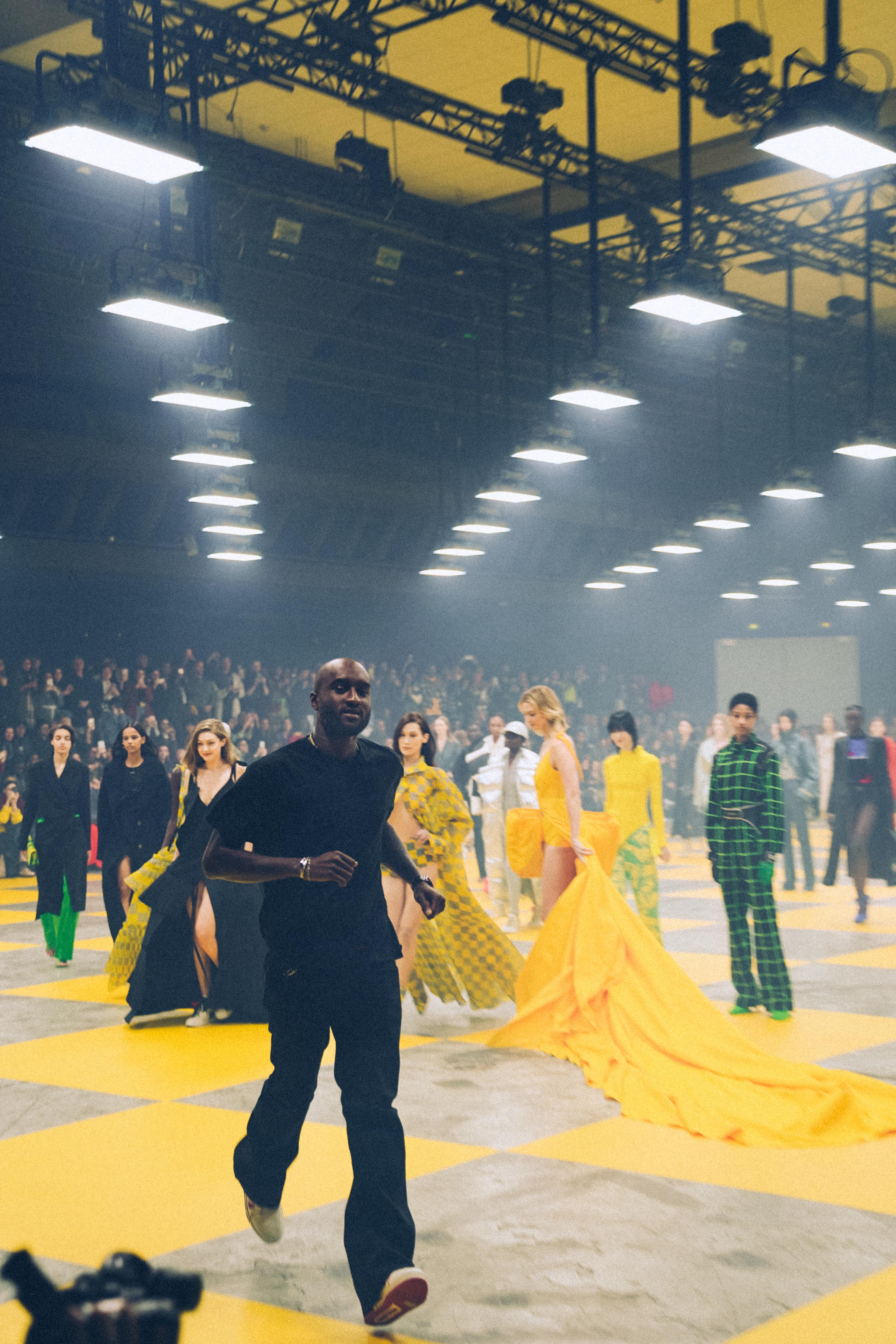 Abloh turned the fashion world upside-down when he brought streetwear to Paris. His luxury collections investigate class, race, history, and the established rules of couture.
Transcript
[Music]
Amy Verner: Virgil is a disruptor. There is no question. My name is Amy Verner, and I am a Paris-based contributing editor to Vogue Runway and Vogue.com. He has said himself that he makes a new aesthetic by crashing two things together that are not related.
Narrator: This approach is clear in the way that Abloh launched Off-White. He brought streetwear aesthetic to the heart of the European fashion world, creating his clothes in Milan and showing the collections in Paris.
Amy Verner: Virgil was rather unique, in that the first collection that he proposed did consist of quite a few hoodies, t-shirts, but they incorporated graphics that ranged from very literally streetwear graphics, things that you see when you are driving down the street, to a Caravaggio painting. The vision was always bigger than streetwear.
*[Lyrics:
Pretty pink, baby blue
Why don't (why don't) you teach me something new]*
Amy Verner: He wanted Off-White, from the very beginning, to be perceived as luxury. He injected luxury with these youthful elements with things that feel familiar from our culture and this, all of a sudden, redefines what our notion of luxury can be and, as a result, makes it newly desirable. Every time you see a very frothy, fancy couture-inspired dress it will be paired with a sneaker, his Nike collaboration, for instance. But then, when there is a look that is clearly very streetwear in statement, he will show that with a pair of heels. So Off-White ends up being this carefully calibrated disruption of both how we perceive streetwear and how we perceive formal dressing. That is something that he continues to refine, season after season.
Narrator: In 2018, Abloh got a new job.
Amy Verner: For Virgil to launch Off-White in 2014 and to end up as the artistic director for the menswear at Louis Vuitton within four years is something that is unprecedented in fashion.
*[Lyrics:
Quem viaja nas sombras
Por detrás dos seus ombros]*
Virgil Abloh: The road to becoming artistic director of Louis Vuitton could only be described as long and, maybe, uncertain.
*[Lyrics:
Yeah, yeah
Young, young, young gunna, yeah
Run that back turbo
Baby, sold out dates…]*
Virgil Abloh: But it was very much my goal to prove that design could be different. I had blind faith that even though designers didn't look like me or come from people like me, that there was a place for it in the modern world. What's to be recognized here is that work makes the impossible, possible.
"MUSIC"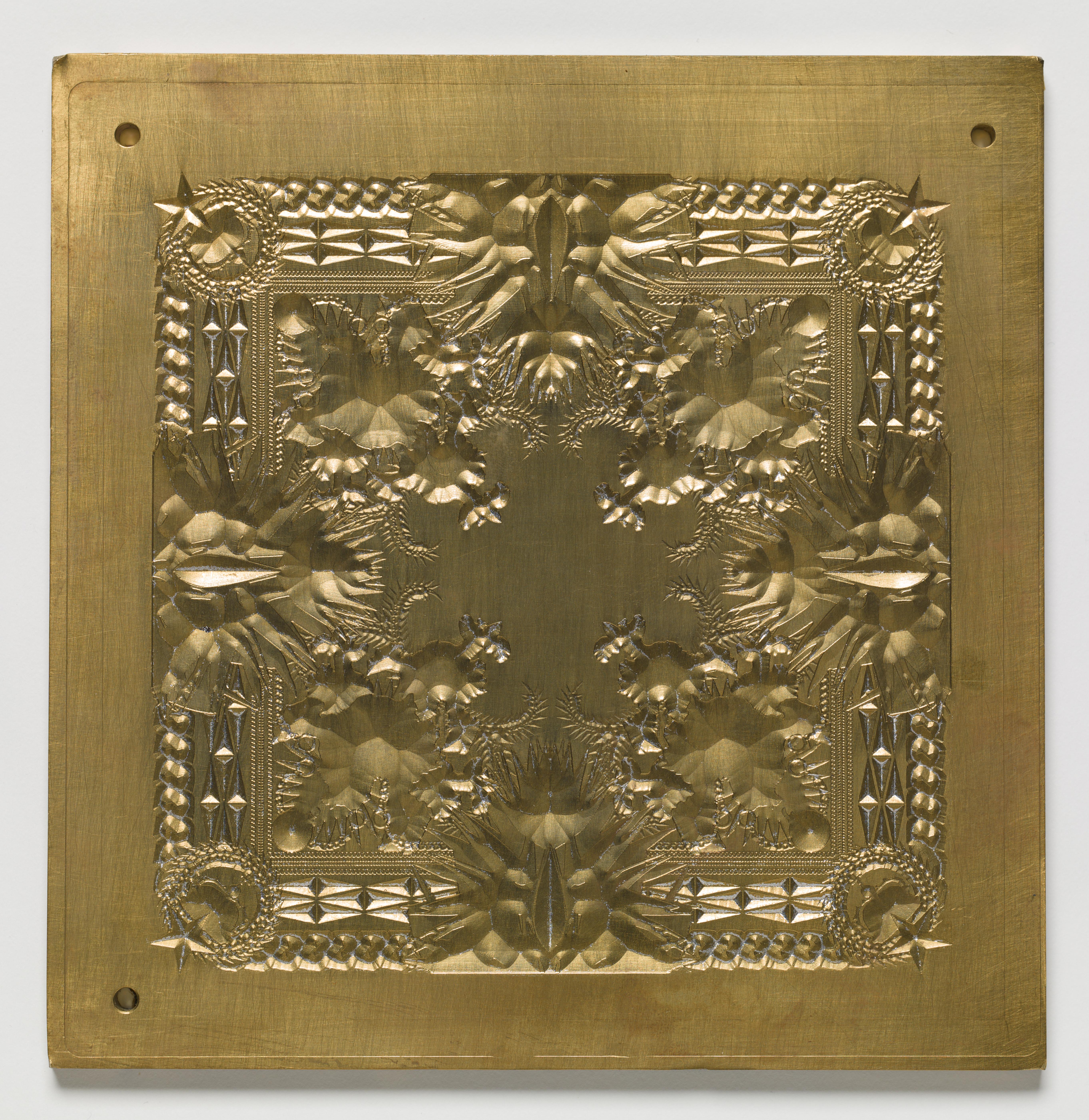 Like his fashion designs, Abloh offers alternatives to the status quo in his work with music. In DJ sets performed at high-profile venues and festivals, Abloh continues to confront preconceived notions about the industry as a whole.
Transcript
*[Lyrics:
Check, check, check, check, check, check, check it out, uh
I'm with the static like radio, why do your pistol shoot vertical?]*
Narrator: Music is vital to Abloh's artistic practice. He began deejaying as a teenager and much of his work as a designer is linked to music. Here's Off-White collaborator, music producer, and friend of Abloh's, Acyde.
Acyde: I think he uses it as a point of interruption and as a point of introduction to some people, because I think fashion is and has been very elitist. That's how it's created, that's what it was built upon. And I think music, at its very best, tends to eliminate elitism and gives us all something communal to congregate around.
_[Lyrics:
So I ball so hard muh'f****s wanna fine me
But first n***** gotta find me…]_
Acyde: I think a moment that everyone is going to remember clearly and consistently is the moment that the Watch the Throne album dropped, with the track "Ni**** in Paris" being the main focal point of that.
_[Lyrics:
Ball so hard, this s*** weird
We ain't even 'pose to be here
Ball so hard, since we here
It's only right that we be fair
Psycho, I'm liable to be go Michael
Take your pick, Jackson, Tyson, Jordan, Game 6]_
Narrator: The 2011 collaboration between Kanye West and Jay-Z made Acyde see the future differently.
Acyde: The title of the track is super obnoxious. But, in a way, it was a stake in the ground, which was to say, in an open and declarative way, that all of these kids from around the world, who weren't necessarily the people you'd expect to see in the midst of the fashion center of the world—that being Paris—were now in Paris. So, I think that track in particular really was the moment that connected everything.
*[Lyrics:
You are now watching the throne
Don't let me into my zone
Don't let me into my zone
I'm definitely in my zone
(Zone, zone, zone, zone, zone, zone, zone, zone)*
Narrator: Abloh directed the record's visual presentation. And for Tremaine Emory, the project was very much about art.
Tremaine Emory: Watch the Throne—the aesthetics of the tour, the sound of the music, and the aesthetics of the packaging, and the imagery—that was done by Virgil, Jay, and Riccardo Tischi, and Kanye. It was the attempt to fight against the secondary way that black art has been seen.
Narrator: You can see the gleaming brass pressing plate for the album cover in this gallery.
Tremaine Emory: The artwork for the album, it looks like a cross-pollination of culture. It definitely looks regal but then alien too. So, I believe it's putting hip-hop in the same category as Picasso.
"BLACK GAZE"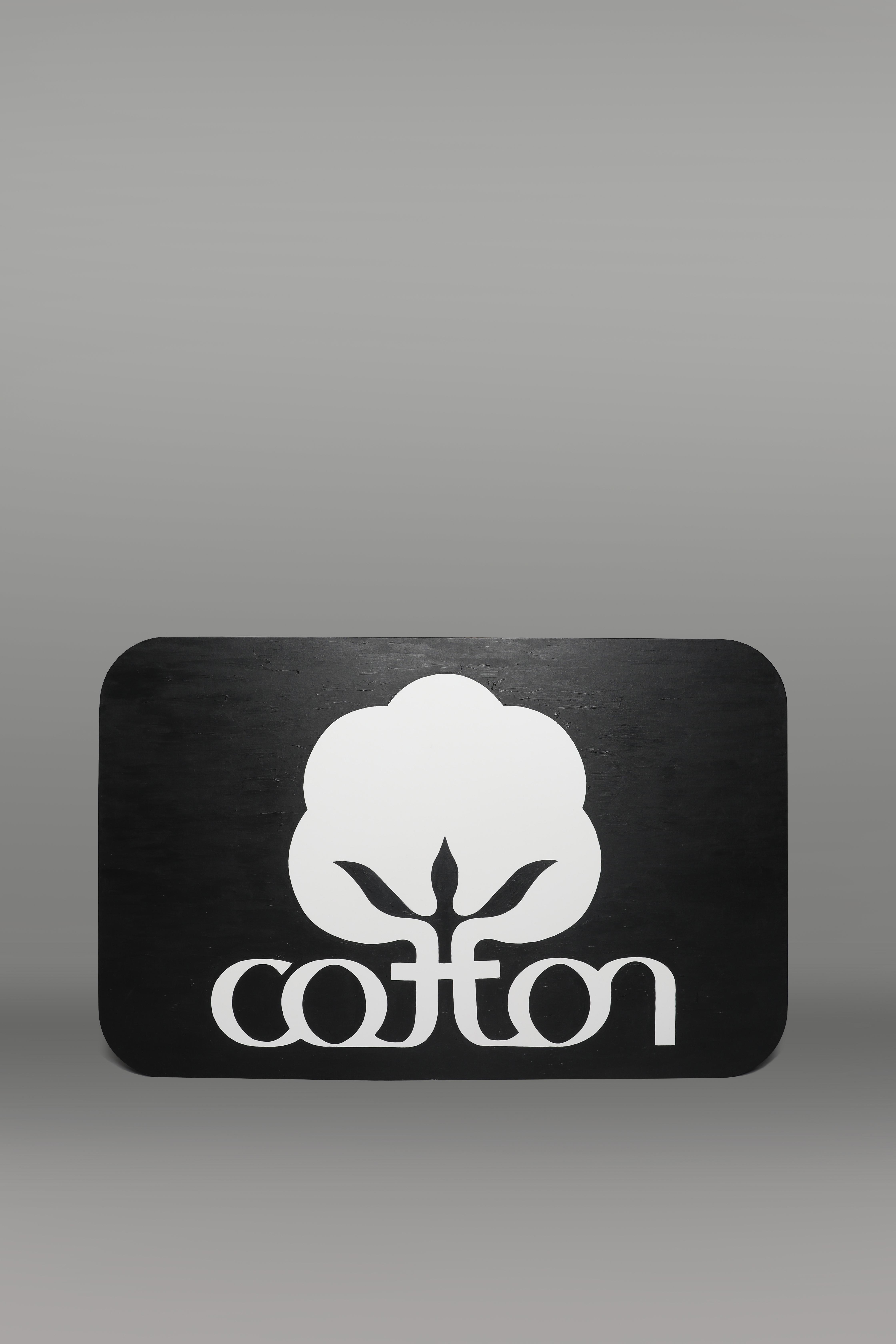 With the 2013 launch of Off-White, Abloh challenged the elite fashion industry's longstanding exclusion of black talent. This section explores Abloh's approach to fashion and art through the lens of black cultural experience.
Transcript
_[Lyrics:
Hitting that b**** with the fire, notice me
Hitting that boy with the fire, n**** didn't notice me]_
Narrator: This section of the exhibition is called "The Black Gaze."
Arthur Jafa: If you talk about the black gaze, that inevitably has to be bound up with the white gaze.
Narrator: That's artist and filmmaker Arthur Jafa who's collaborated with Abloh.
Arthur Jafa: The white gaze, of course, is the thing that's the single most ubiquitous fact of American society. It's always, in a sense, determined by white people looking at black people and how black people are going to respond. When Virgil suggests something like the "black gaze"—it's just really not that common a term, right? I think what he's suggesting is resisting or refusing to privilege the impact of the white gaze on black behavior. In a sense, it's just a way of speaking to this whole idea of asserting black aesthetic values. There's a lot of complicated ideas around what is streetwear. Oftentimes people will talk about it as black fashion or black style. How these things overlap—there's clearly a complicated relationship between the two. At a certain level, a pair of pants is a pair of pants. A coat is a coat. So the question, in some ways, is how do you reframe a thing that already is, or is very, very familiar? How do you spin it? Virgil is the best at that. He's the best at taking things that are beautiful, that perhaps imply one thing, and making them imply two or three things at the same time.
Narrator: You can see exactly what Arthur Jafa is talking about in Virgil's work for Serena Williams and Beyoncé, displayed here.
Virgil Abloh: Within fashion design, what intrigued me most is not the aesthetic, or the idea of fashion for fashion, I'm more interested in the ability to story tell using fashion as a device. So, these garments in particular, the U.S. Open on-court dress made for Serena Williams or the dress for Beyoncé Knowles-Carter are two instances of shining the light on powerful African American women that are artists, that are mothers, that are cultural figures, that are breaking boundaries within their disciplines. Me, as a designer, being able to use my skillset and use my practice to highlight and sort of make warrior outfits or make outfits that prime them to exist in their space is always something that I believe is past fashion but important.
"DESIGN"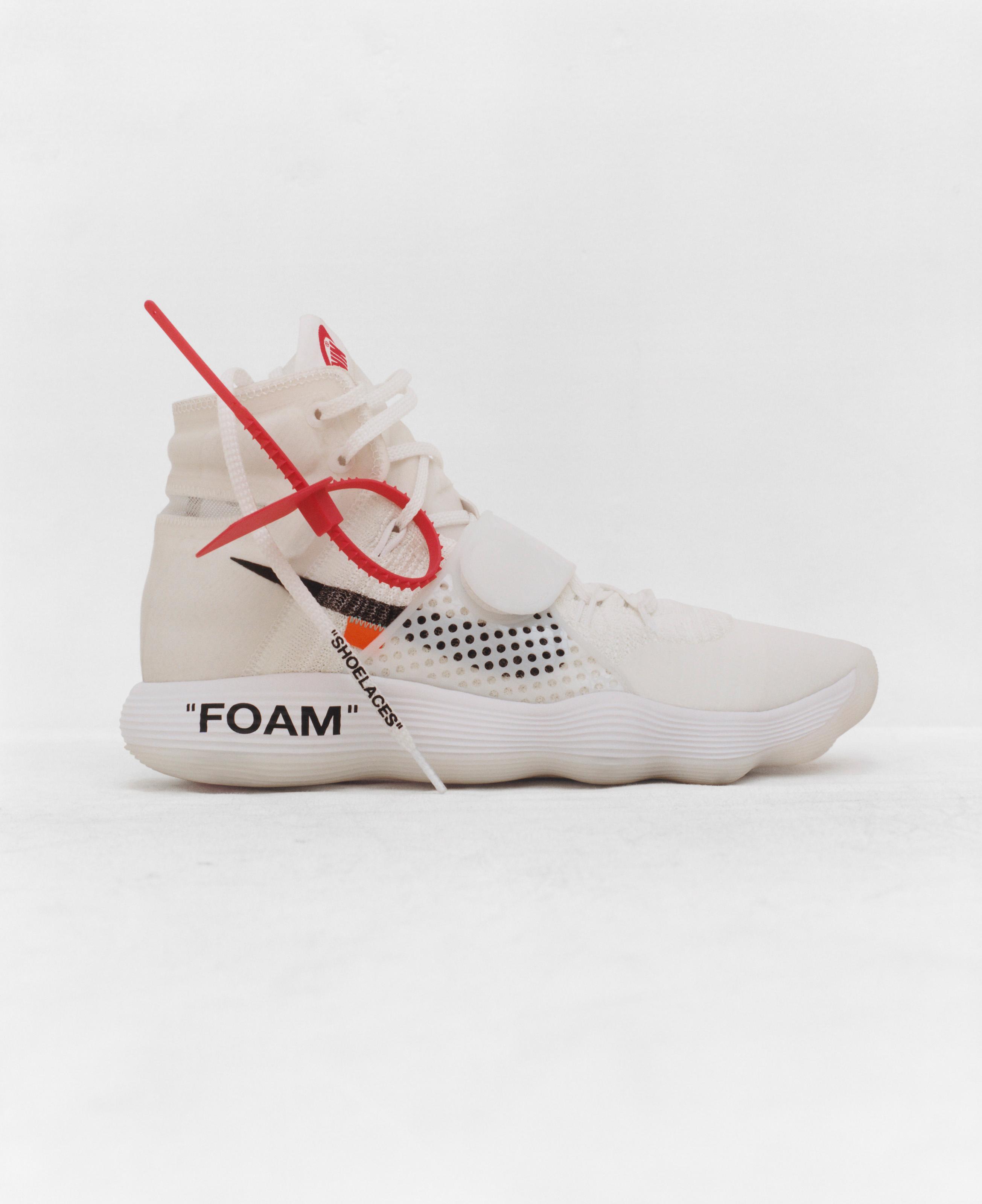 Abloh's designs question the use of images, advertising, and materials. By focusing on recurring concepts and ideas such as appropriation and wordplay, he encourages us to look anew at our everyday life.
Transcript
[Music]
Hans Ulrich Obrist: It's all about this idea of the macro.
Narrator: That's Hans Ulrich Obrist, artistic director of the Serpentine Galleries in London.
Hans Ulrich Obrist: It's this idea of how, as an artist, you can actually have a real impact by reaching as many people as possible, not just in the art world, not just in the design world, kind of art-for-all, as one could maybe call it. And I think that sort of leads us to IKEA.
Virgil Abloh: I was always given this feedback that Off-White was super expensive, and it's not affordable, and I was interested in collaborating with IKEA because of its democratic design, and that it was ubiquitous.
Narrator: Besides the tongue-in-cheek IKEA designs, Abloh has collaborated with Levi's, Warby Parker, and, of course, Nike.
Virgil Abloh: Obviously, a kid from Chicago, idolizing Michael Jordan, believed he could fly due to his shoes, I challenged myself and Nike to do something different. I wanted to give this feeling like these Nike shoes weren't made from a microwave and that they were actually made by hand. In order to make a human connection with inanimate objects, evidence has to be seen.
_[Lyrics:
I came, I saw, I came, I saw
I praise the Lord, then break the law
I take what's mine, then take some more
It rains, it pours, it rains, it pours]_
Narrator: Tremaine Emory compares Virgil's ability to reach a mass appeal to Andy Warhol.
Tremaine Emory: I've been a big fan, more than a fan, a student, of Andy Warhol since reading his diaries. His understanding of confluence, of zeitgeist, his understanding of high-low culture, that Coca-Cola's the best thing because a rich guy billionaire in Dubai drinks it and a bum on the street drinks it. Just that micro from the macro…Virgil has that understanding. Virgil's factory's in his phone though, in his WhatsApp, whereas Andy's was on 14th street.
Narrator: Abloh has also collaborated with artists like Jenny Holzer and Takashi Murakami.
Virgil Abloh: To me, what's central to my narrative is the work that I've been making in the more recent years, which is more fine art. I've been identifying with the power of advertising. How that, at its essence, is what drives culture. It drives taste. It drives decisions. It drives everything from an election to what you'd have for lunch.
"THE END"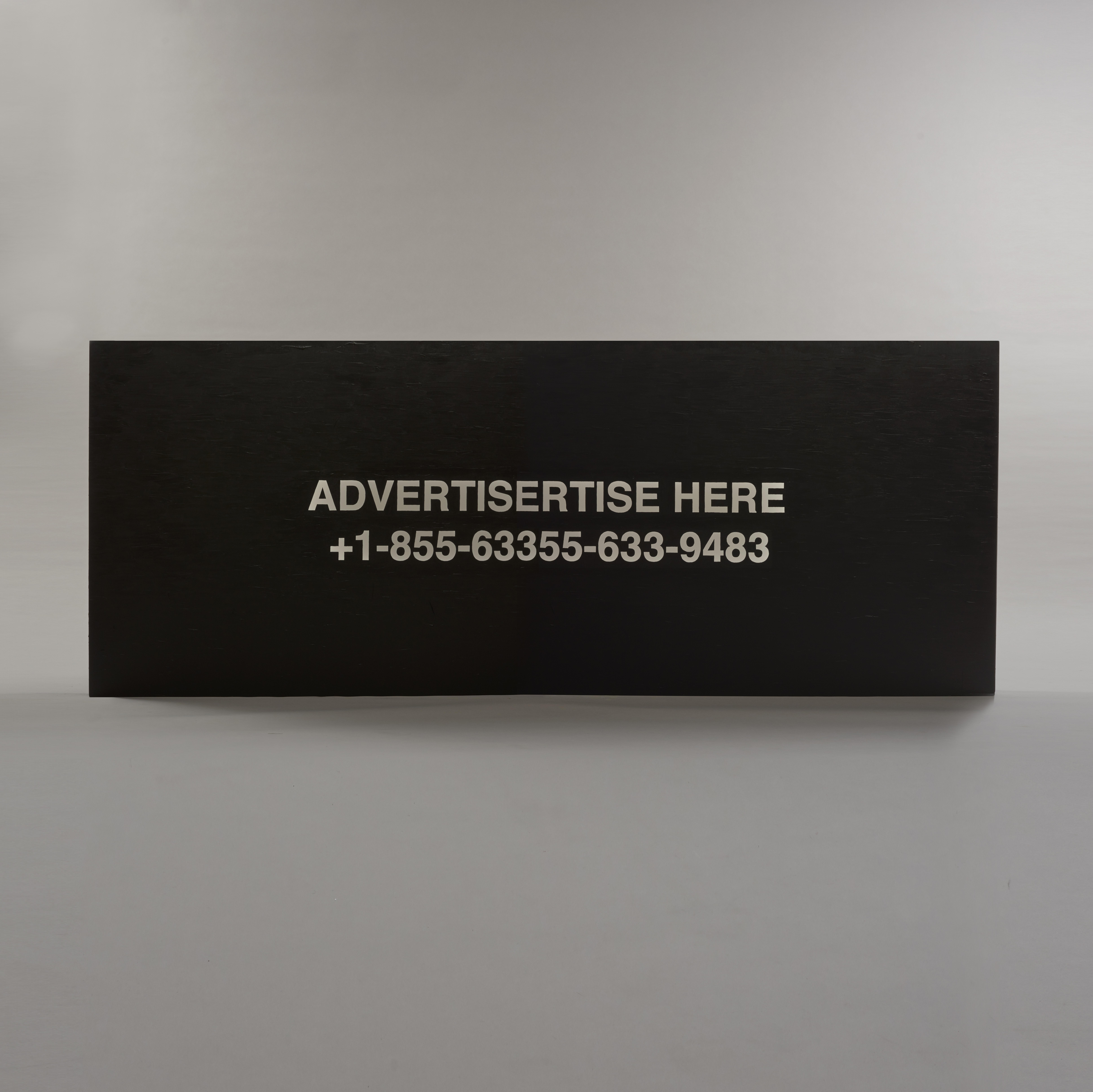 For Abloh, "the end" can only be a figure of speech.
Transcript
Hans Ulrich Obrist: We should never forget that it's only just begun. There are going to be so many more things Virgil is going to do and Virgil keeps surprising us. Because the moment we know his work as a fashion designer, we know his work as a designer in the larger sense, the moment we know his work also as an artist who collaborates a lot with other artists, the moment we know his work as a DJ, he already does the next thing.
Keep movin' forward, keep movin' forward]_
Narrator: That's how Virgil himself sees it: stay tuned for more—whatever that "more" might be.
Virgil Abloh: I'm not delusional. I know each category of the things I make. I also reject those categories. They're not made for me, but they're made for interpretations of me. What makes this show important, in a lot of ways, is I view it as a—sort of like—opening statement. It's really the foundation. It makes an algorithm in a way, to extend my art practice from a traditional one to the untraditional, mixing disciplines to create works that are steeped in ideas around creativity and culture.
Keep movin' forward, keep movin' forward]_
Exhibition Description
The Museum of Contemporary Art Chicago presents Virgil Abloh: "Figures of Speech," the first museum exhibition devoted to the work of the genre-bending artist and designer Virgil Abloh.
The exhibition is organized by Michael Darling, James W. Alsdorf Chief Curator, with curatorial assistance from Chanon Kenji Praepipatmongkol, Marjorie Susman Curatorial Fellow. It is presented in the Griffin Galleries of Art on the museum's fourth floor.
Exhibition Credits
Lead support for Virgil Abloh:"Figures of Speech" is provided by Kenneth C. Griffin; the Harris Family Foundation in memory of Bette and Neison Harris: Caryn and King Harris, Katherine Harris, Toni and Ron Paul, Pam Szokol, Linda and Bill Friend, and Stephanie and John Harris; Zell Family Foundation; Cari and Michael J. Sacks; Julie and Larry Bernstein; Marilyn, Larry, and Adam Fields; Karyn and Bill Silverstein; and Matt Bayer and Joyce Yaung and the Bayer Family Foundation.
Major support is provided by Conagra Brands Foundation, Susan Gaspari-Forest and Robert Forest, Gretchen and Jay Jordan, Anne L. Kaplan, Liz and Eric Lefkofsky, Jennifer and Alec Litowitz, and Phillips.
Generous support is contributed by the Joyce Foundation; the Bluhm Family; Robert J. Buford; Ellen-Blair Chube; Efroymson Family Fund; Denise and Gary Gardner; Susie L. Karkomi and Marvin Leavitt; Kovler Family Foundation; The Bellick Family; Nickol and Darrel Hackett; Vicki and Bill Hood; Katie and Billy Hutchens; Susan D. Goodman and Rodney Lubeznik; Anna Lee; Cheryl Mayberry McKissack and Eric McKissack; Catherine Ross and Chris Liguori; Les Coney, Mesirow; and Heiji and Brian Black.
Lead Community Engagement Partner is Northern Trust.
Lead Education Partner is The Heart of Neiman Marcus Foundation.
Generous hotel partner is Aloft Mag Mile.
Website Credits
INTERPRETATION ASSISTANT
Sarah Adler
MANAGER OF PLANNING and PRODUCTION
Lorenzo Conte
SHANNON LANDING AMOS HEAD OF MUSEUM INTERPRETATION, HIGH MUSEUM OF ART
Julia Forbes
EDITOR
Leah Froats
ASSOCIATE DIRECTOR OF INTERPRETATION AND VISITOR RESEARCH
Rosie May
DESIGN and PROGRAMMING
Alexander Shoup
PROOFREADER
Christina Stephens
WEB CONTENT MANAGER and EDITOR
Anne Walaszek
INTERPRETIVE PLANNING ASSISTANT
Alimot Yusuff
Written and produced by Antenna International. Images found on this site are for educational use and are published under the umbrella of the Fair Use doctrine. Typeface created by Karl Nawrot.
Virgil Abloh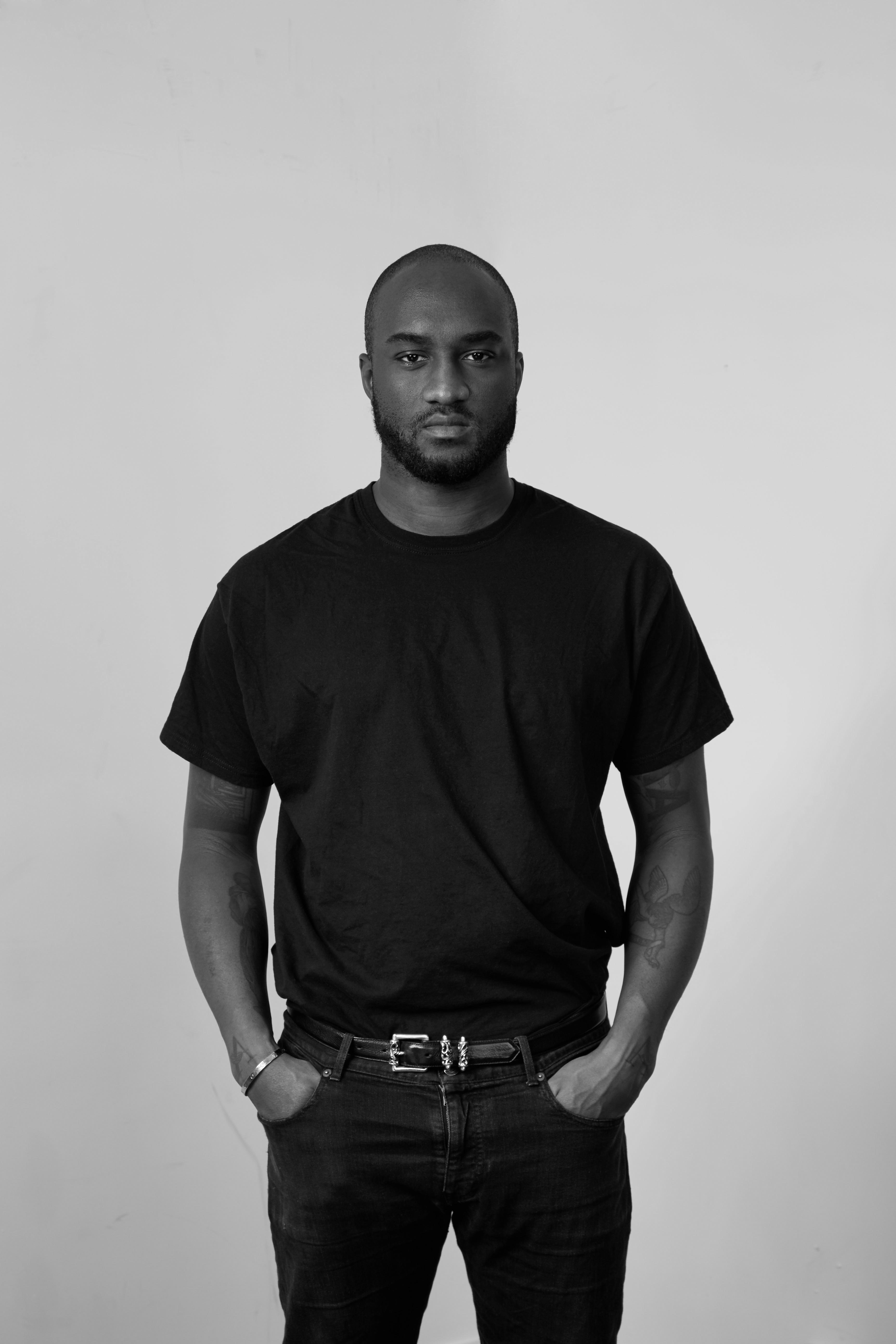 Tremaine Emory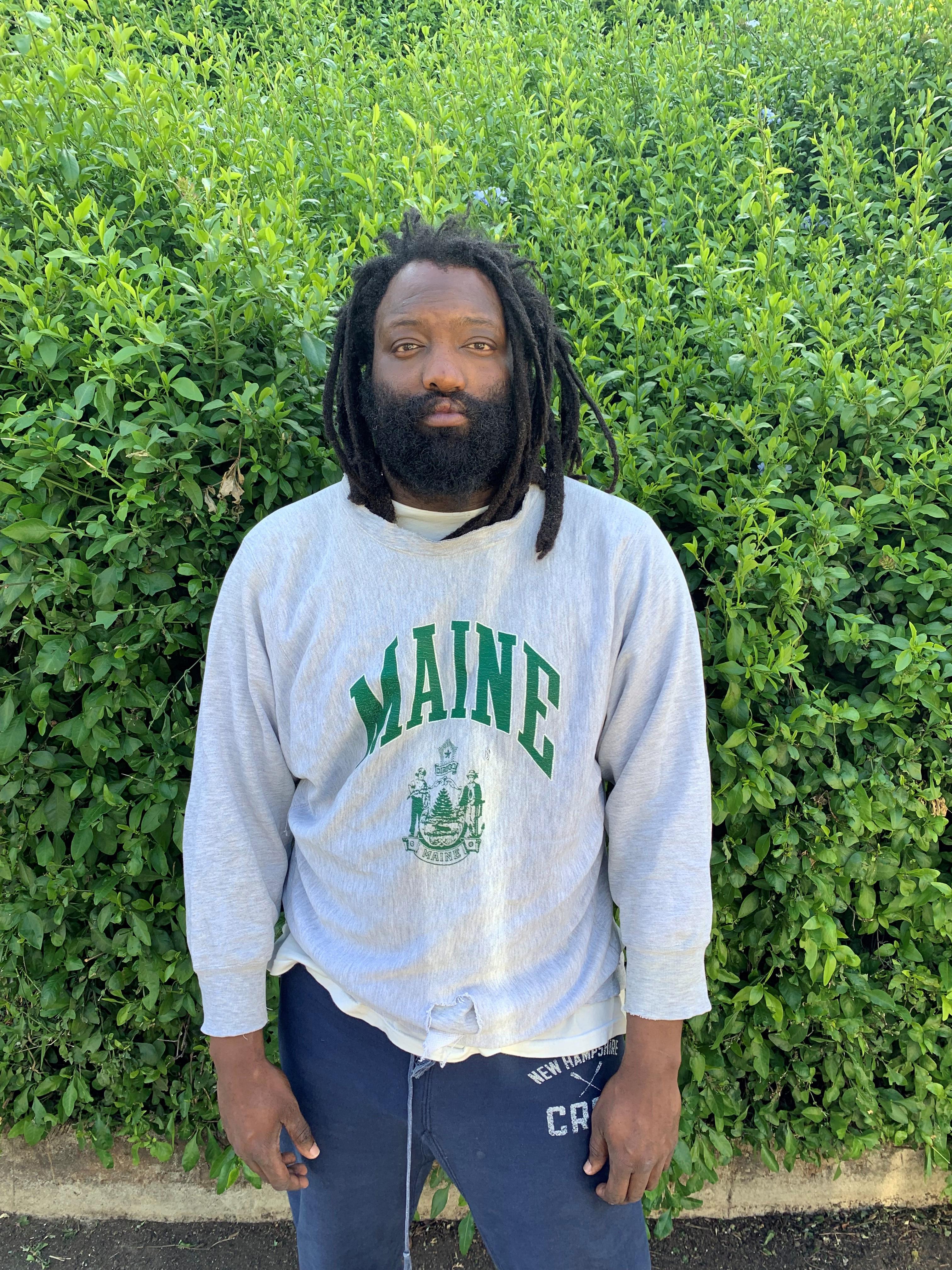 Arthur Jafa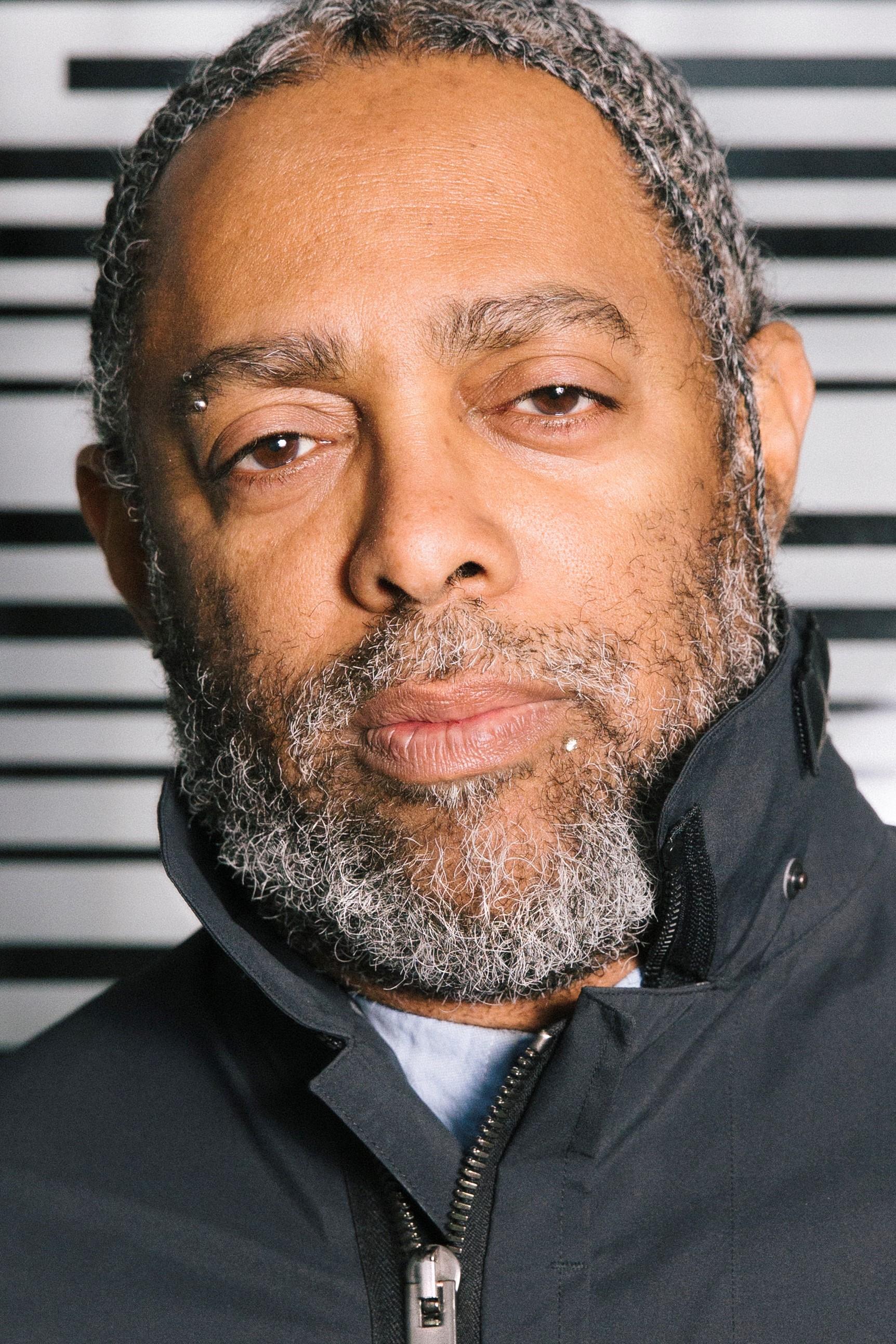 Hans Ulrich Obrist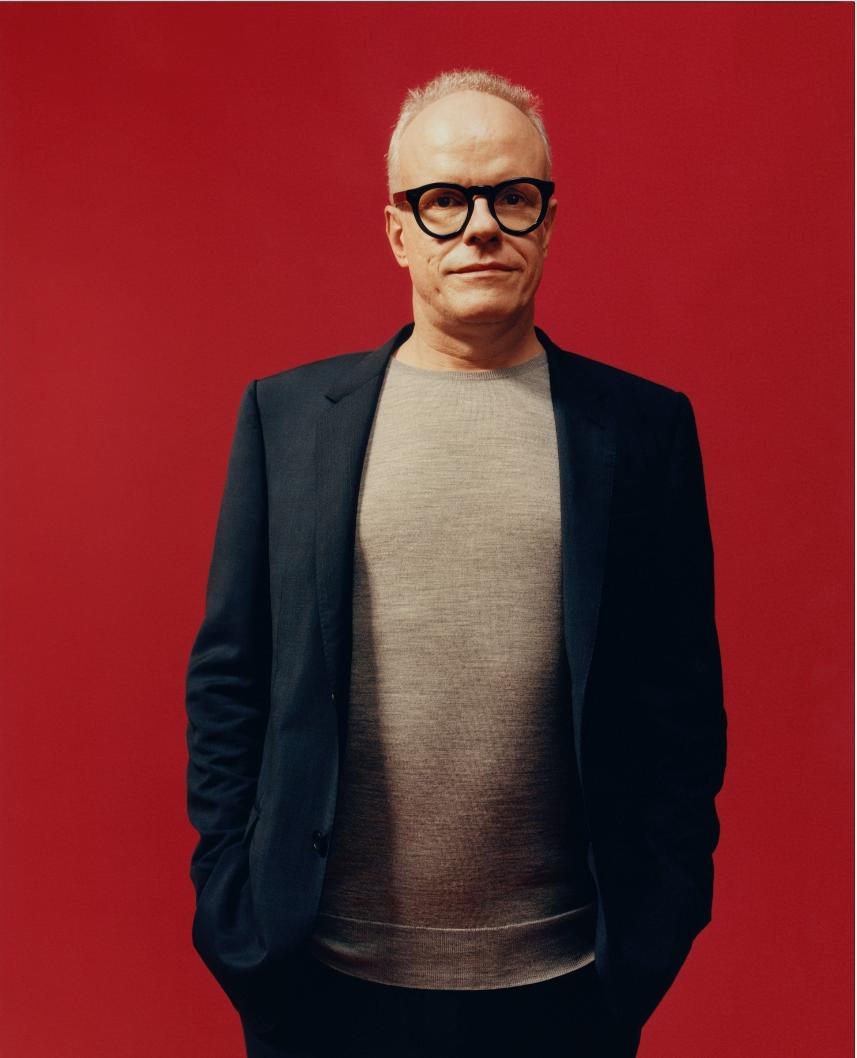 Acyde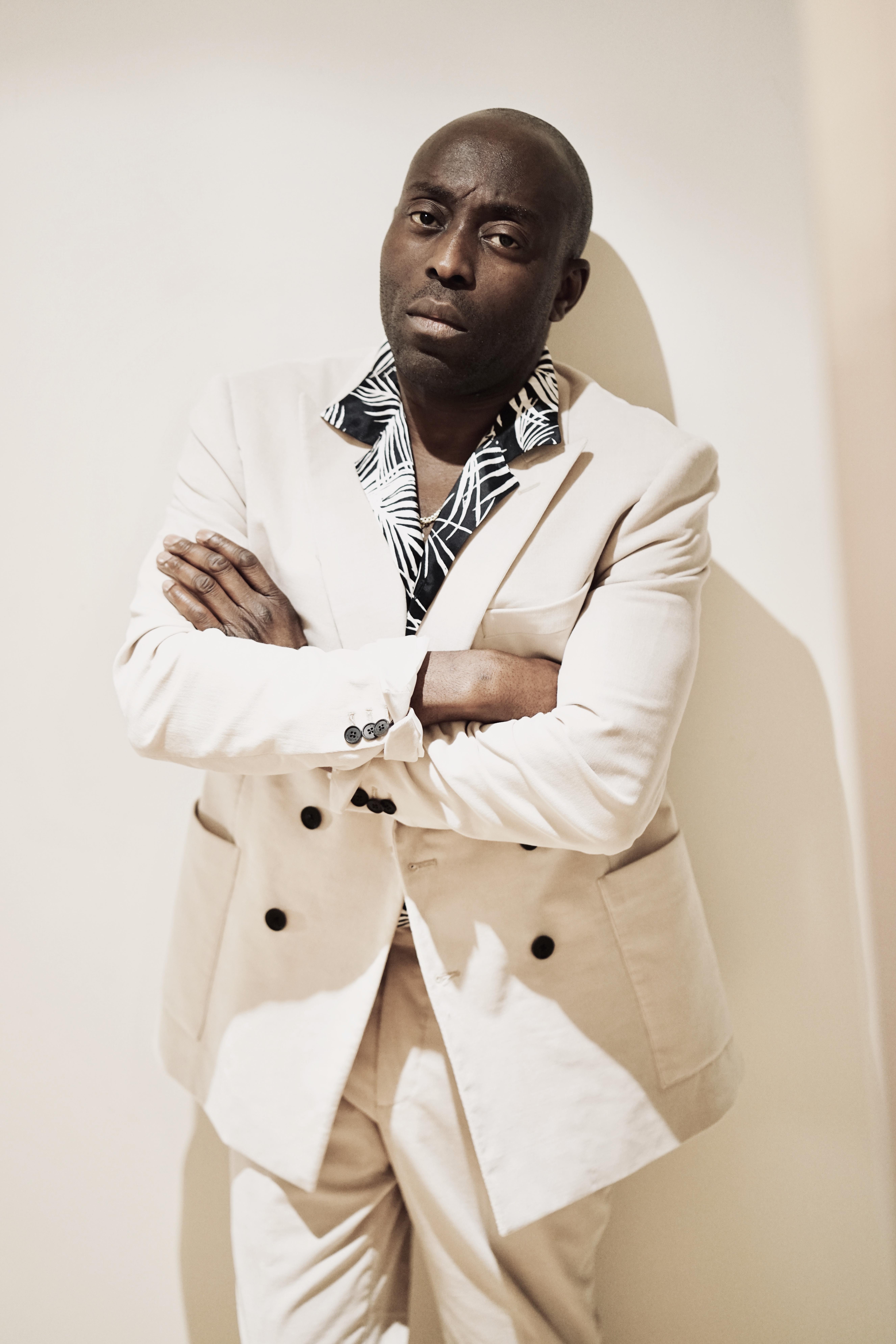 Amy Verner