Brendan Fernandes, A Call and Response
Featured images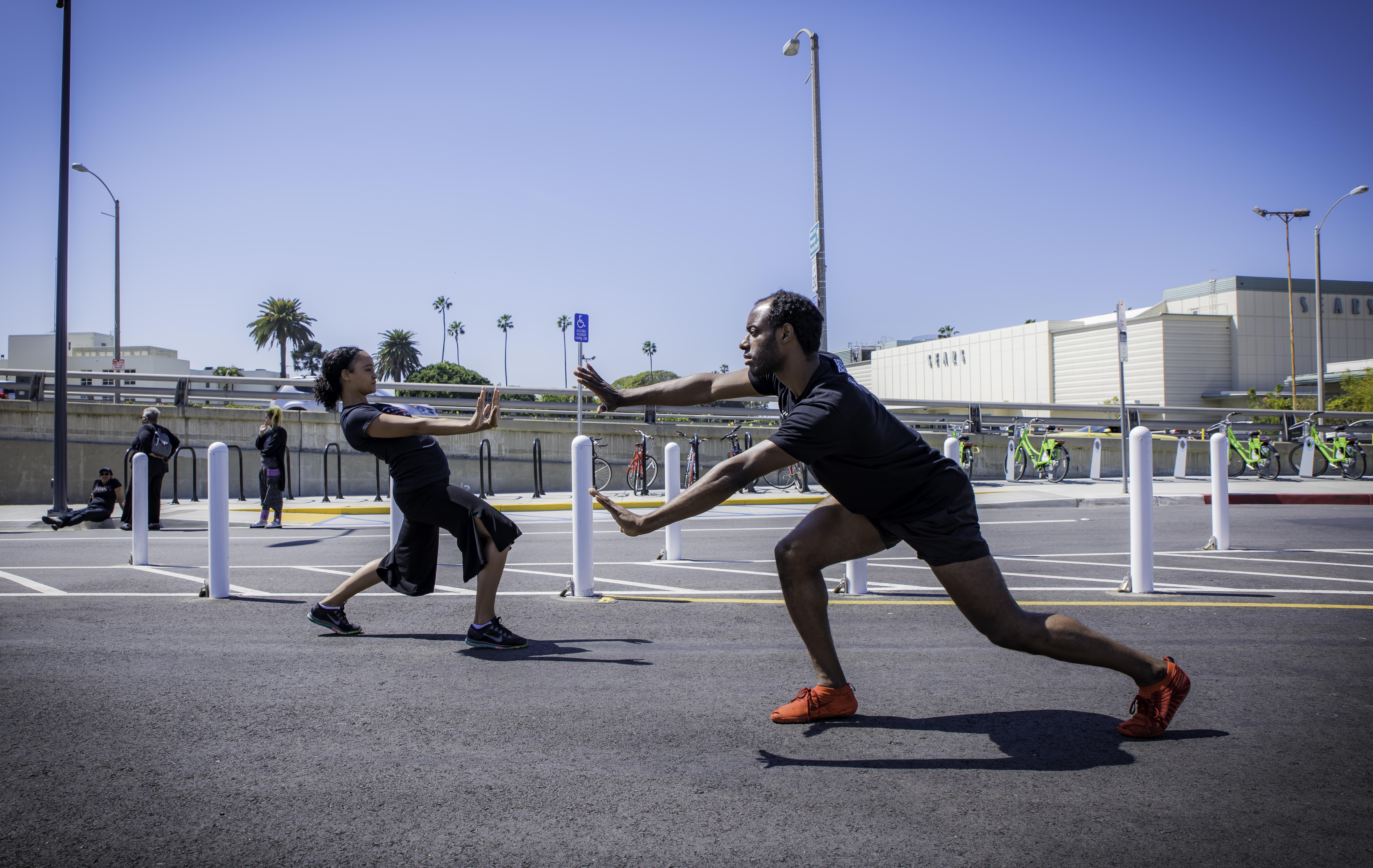 About the exhibition
Brendan Fernandes's dance-based installation in the Commons, entitled A Call and Response, explores the ways society sees and values different kinds of bodies. Using language, architecture, and gesture to understand the nature of being seen, Fernandes encourages dancers–and visitors–to collaborate and generate new forms of physical language that move and attract other bodies in space.
Fernandes (Kenyan, b. 1979) seeks to isolate everyday actions, such as running for the bus or slinging a bag over your shoulder, considering individuals' movements in social spaces as a kind of choreography. Over the course of the exhibition, the artist poses the question: How do the shapes of our bodies and our physical proximity to others affect our sense of visibility?
The Commons Artist Project: Brendan Fernandes is organized by January Parkos Arnall, Curator of Public Programs, with Christy LeMaster, Assistant Curator of Public Programs.
The Commons Artist Project is a biannual exhibition series that provides a platform for artists to create commissioned installations that consider the big issues of our time. The projects provide direct opportunities for visitors to interact with the works and ideas of local and regional artists of national recognition.
Installation Images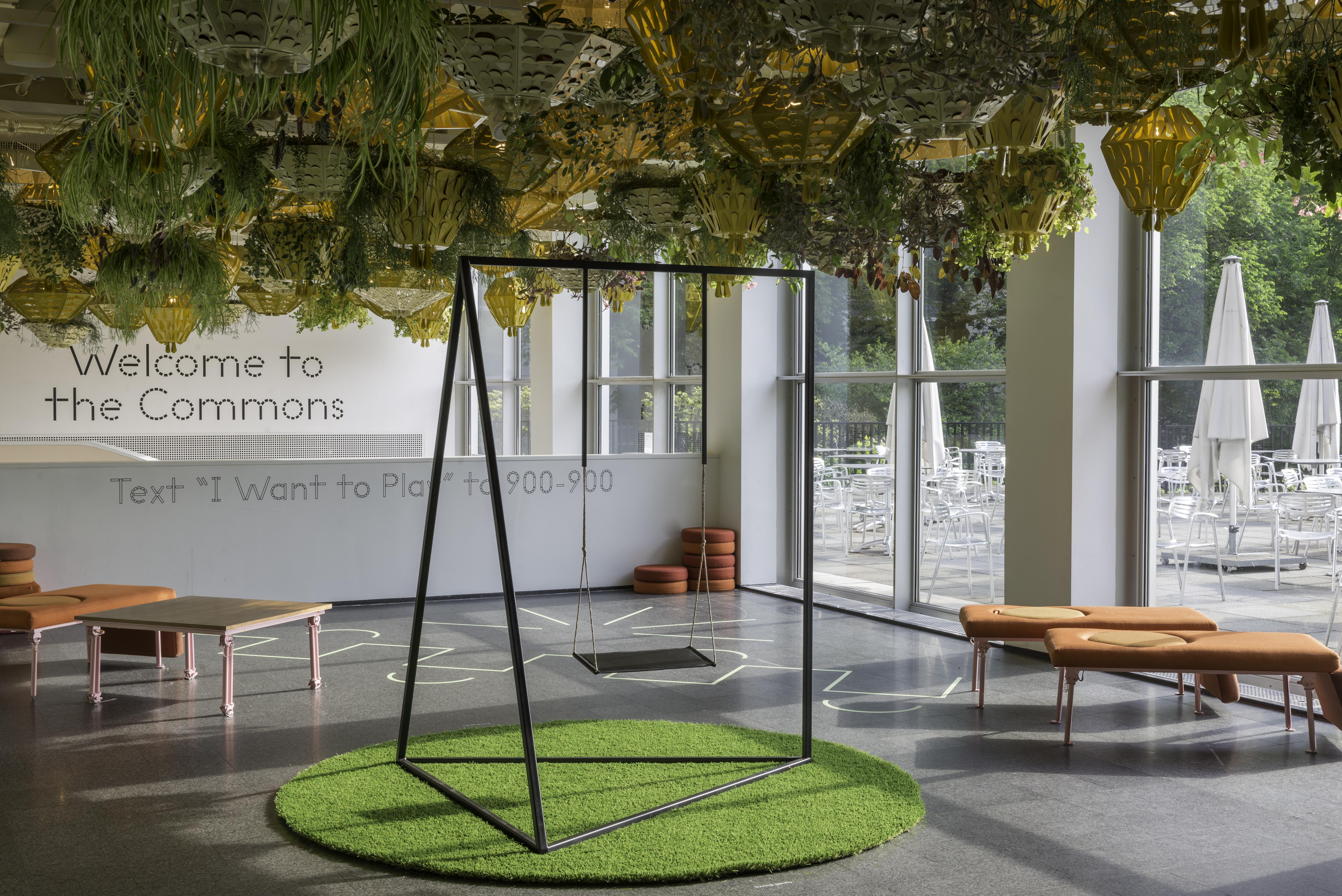 ---
About A Call and Response
A Call and Response consists of three movement-based projects, all of which encourage visitors to participate in their formation.
The installation in the Commons
A series of prompts invite visitors to explore together the ways our appearances and movements convey social meaning.
Open Call
Fernandes asks visitors to answer a "call to movement" and participate in a collectively generated performance alongside professional dancers in the Commons and on the Terrace. While this piece has been performed before at other venues and institutions, it's a totally unique experience created in the moment, with the people in the room.
Calling Time
With the keen eyes of visitors to the museum, Fernandes and three dancers create a new movement piece over the course of open rehearsals throughout the summer. Culminating in two final performances in the fall, Calling Time is catalyzed by architectural constructions, prompts, and visitor input.
See the schedule below for all of Fernandes's rehearsals, activations, and performances to collaborate in the creation of new work.
EXHIBITION EVENTS AND ACTIVATIONS:
Tue, June 18: Exhibition opens
Wed, June 19, 6 pm: Talk: Brendan Fernandes with January Parkos Arnall
Sun, June 23, 11 am–1 pm: Opening Brunch & Open Rehearsal
Sat, June 29, 7–11 pm: Activation at Prime Time: "Question Everything"
Tue, July 9, 11 am–1 pm: Open Rehearsal
Fri, July 19, 6 pm: Open Rehearsal
Tue, July 23, 11 am–1 pm: Open Rehearsal
Tue, Aug 6, 11 am–1 pm: Open Rehearsal
Tue, Aug 20, 11 am–1 pm: Open Rehearsal
Tue, Sep 10, 1–3 pm: Open Rehearsal
Tue, Sep 24, 1–3 pm: Open Rehearsal
Fri, Sep 27, 6 pm: Calling Time Performance
Sat, Oct 5, 1pm: Open Call Performance
List of Dancers in the Project
Dancers within this project include: Benjamin Wardell, Cameron Lasater, Elijah Richardson, Kara Brody, Michelle Reid, Samuel Crouch, Samuel Horning, and Simone Stevens.