Meshell Ndegeocello
Chapter & Verse: The Gospel of James Baldwin
Announcement
Registration for broadsheets and email notifications has closed. Please visit thegospelofjamesbaldwin.com to view the PDF of the broadsheet, and explore Chapter & Verse.
Featured images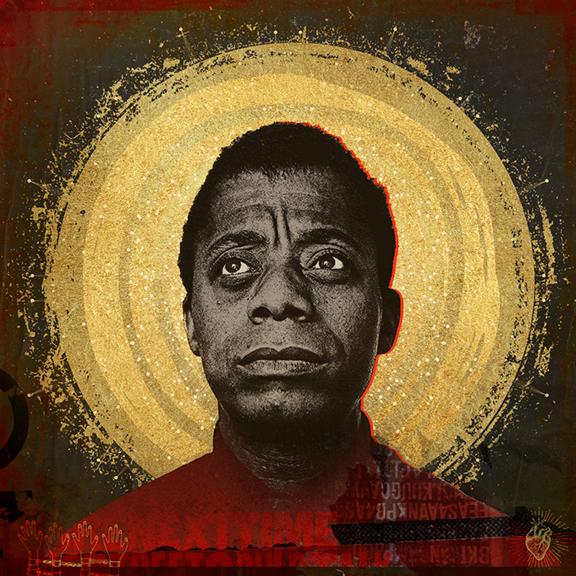 ABout the Event
Music powerhouse Meshell Ndegeocello provides a 21st-century ritual toolkit for justice each month of fall 2020. Inspired by James Baldwin's truth-telling treaty on justice in America, The Fire Next Time, and our current endlessly changing world, this is a call for revolution in the form of an ongoing gift during turbulent times. Artists making vital work from theater to sculpture share testimonies of resilience in this monthly release of music, thoughts, meditations, and visual media, including poet and activist, Staceyann Chin, artists Suné Woods and Nicholas Galanin, and director Charlotte Brathwaite. The latest toolkit becomes available each month at thegospelofjamesbaldwin.com.
A Deeper Look
A Deeper Look

This ritual toolkit for justice created by Meshell Ndegeocello with collaboration from Charlotte Brathwaite, celebrates James Baldwin's ideas and legacy through music, visual imagery, and calls for each individual to remotely execute actions in unison, on their own time. Using the form of a church service as a starting place, structured, sacred rituals for worship, empowerment, and reverence inspire each month's gifts, offered for free at thegospelofjamesbaldwin.com. As each new virtual and limited-edition print broadsheet is released, participants are invited to join in on the urgent and critical investigation of race, religion, and sexual orientation in the United States of America, and its status quo.

The artists offer gifts—music, thoughts, meditations, and visual testimonies of resilience—alongside Meshell Ndegeocello's genre-bending song-cycle, inspired by James Baldwin's The Fire Next Time. These four previously unreleased music tracks will drop monthly as part of these audio and visual "toolkits" for the soul. By signing up online, subscribers receive access to a toll-free number to hear Ndegeocello's voice and music and links to online music videos, each created by a different artist, through an exclusive online portal. Print broadsheet containing Baldwin quotes, original artwork, and other poetic text will arrive in the mail each month for participants who register while supplies last.
How to participate
Visit thegospelofjamesbaldwin.com each month to access the toolkits:
Read: A limited-edition monthly broadsheet, featuring Baldwin's words and calls to action. The deadline to sign up to receive a print version of the broadsheet has passed, but a PDF is available on the website.
Call: Dial a toll-free telephone number and discover songs, meditations, and chants to ease your mind any time, day or night, when you need it most.
Watch: Experience visual testimonies by Staceyann Chin, Suné Woods, Nicholas Galanin, and Charlotte Brathwaite, with original music created by Ndegeocello.
credit
This project was organized by Tara Aisha Willis, Associate Curator, Performance and Public Practice, with Laura Paige Kyber, Curatorial Assistant. It is a coproduction of Bismillah, LLC and the Fisher Center at Bard and co-commissioned by Fisher Center at Bard, UCLA's Center for the Art of Performance, MCA Chicago, Kenny Leon's True Colors Theatre, and the Festival de Marseille.
"Baldwin speaks about things that are very familiar within the human condition, and the most revolutionary music to me—the music that changed my life—is the songs about the inner struggle, the commonality of being human."
"A fierce tide of feeling—rage and despair, love and hope and exaltation—courses through [the work], an almost indefinable work of music theater created by the performer and musician Meshell Ndegeocello, and inspired by 'The Fire Next Time', James Baldwin's incisive polemic about race in America, first published in 1963."
NEW WORKS INITIATIVE
Lead support for the New Works Initiative is provided by Elizabeth A. Liebman.
Lead support for the 2020–21 season of MCA Performance and Public Programs is provided by Elizabeth A. Liebman. Major support is provided by the Alphawood Foundation and Julie and Larry Bernstein. Generous support is also provided by Lois and Steve Eisen and The Eisen Family Foundation; Ginger Farley and Bob Shapiro/the Martha Struthers Farley and Donald C. Farley Jr. Family Foundation; Susan Manning and Doug Doetsch; and Carol Prins and John Hart/The Jessica Fund. Additional generous support for MCA Stage is provided by Enact, the MCA's performance affinity group. The MCA is a proud member of the Museums in the Park and receives major support from the Chicago Park District.
Foundation Season Sponsor