Images of Kim Brandt and her work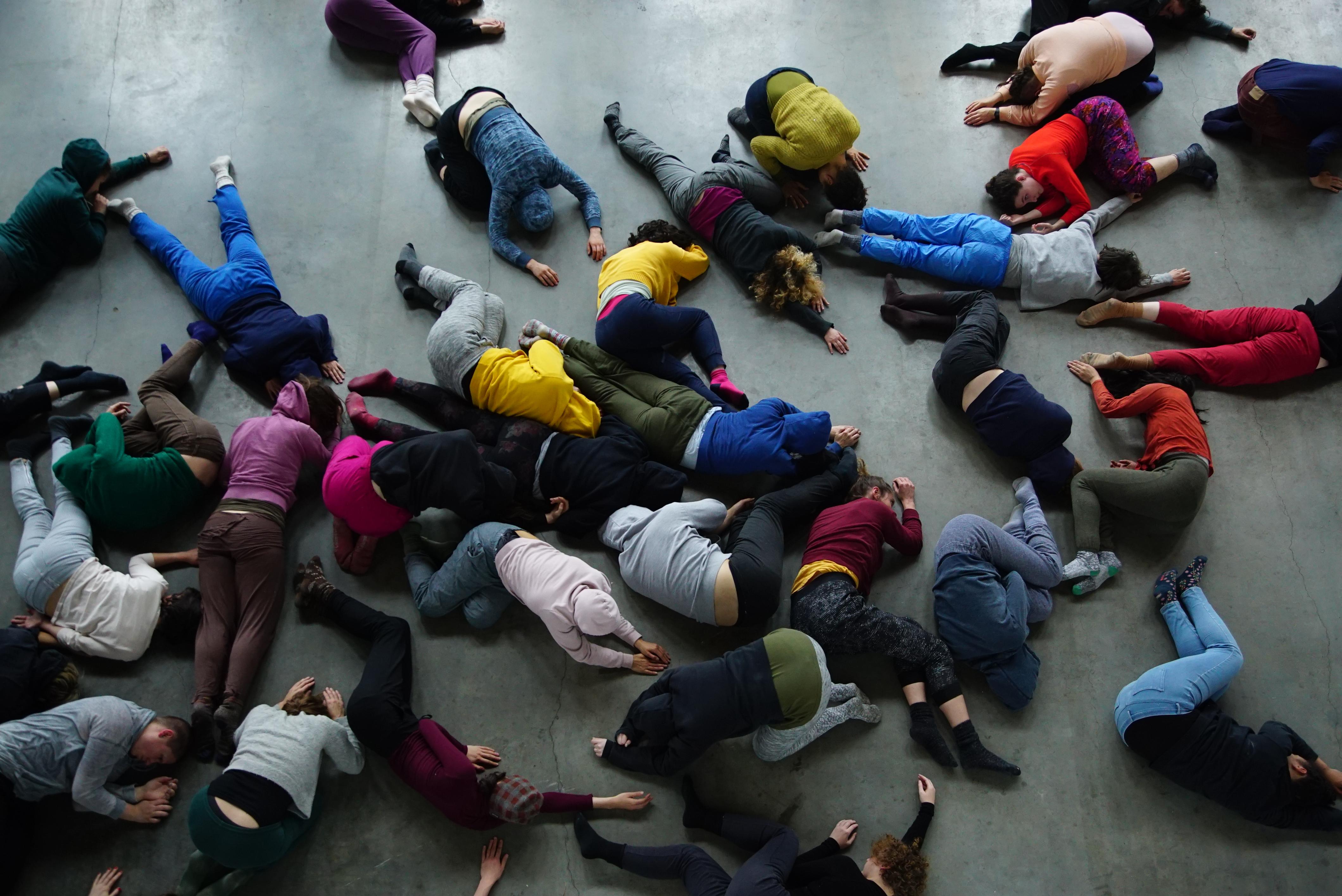 Choreographer Kim Brandt strips away excess in her search for a "body of bodies."
Intro Questions
How do we share space? How does one action influence another? How does the MCA's iconic architecture facilitate or interrupt our collective movements?
Program Description
A morphing and intersecting mass of bodies traverses the MCA's spaces in Kim Brandt's Level , a series of performances orchestrating the relationships between people and environments and the effect our movements have on our surroundings. This large cast of New York and Chicago-based performers follows movement scores amidst the presence and pathways of visitors, disrupting how we value and understand what it means to move in unison. Drawing upon the body's constant relationship to gravity, and performance's capacity to suddenly appear and quickly disappear from view, Level loops various pathways through the museum, forming and dissolving kinetic structures that oscillate between tension and release. Created with composer Nate Wooley's live sound featuring Chicago musicians, and visual artist Strauss Bourque LaFrance's wardrobe stylings, Level calls the eye and ear to how the space between audience and performer, bodies and architecture, bodies and the ground, bodies and other bodies, allow us to differentiate while also bringing us together.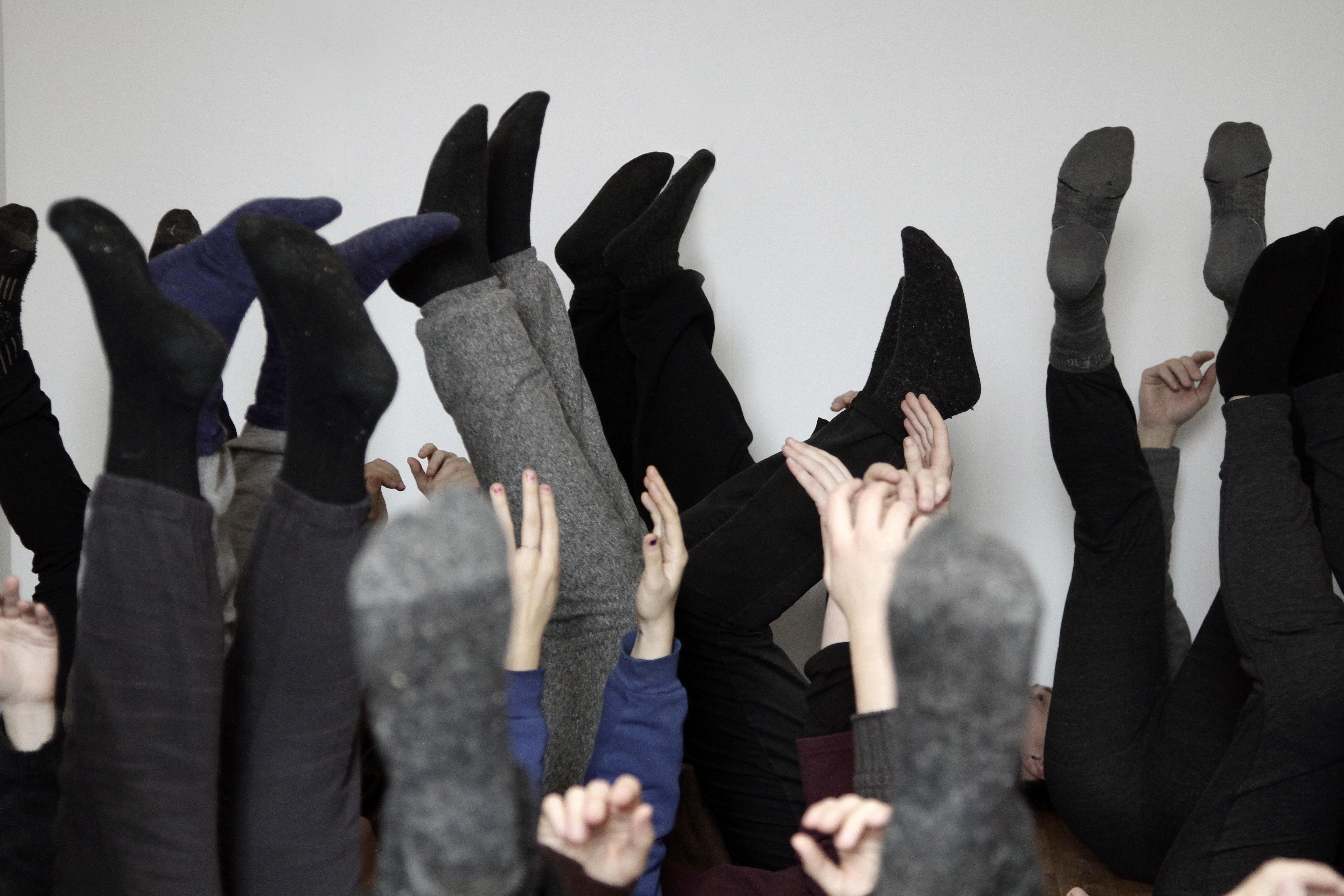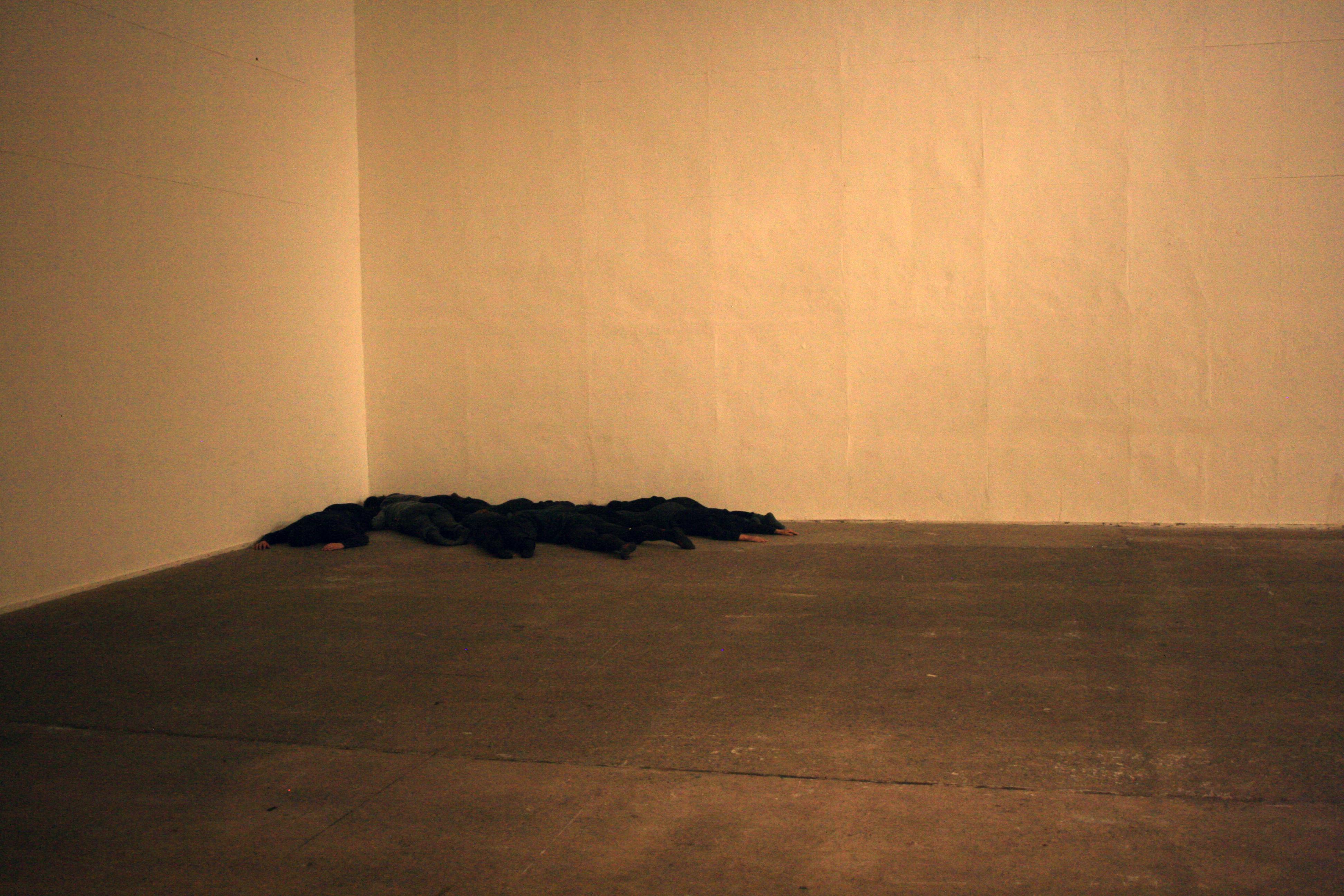 About the Artists
Kim Brandt is a choreographer who creates performances that ask motion to answer questions about how a body can be, and explores how a coming together alters the tone of our environment. She has presented her work in New York City at The Shed (2019), MoMA/PS1 (2018), SculptureCenter (2017), Abrons Arts Center (2017), Pioneer Works (2016), Artists Space (2015), AVA Gallery (2015), and The Kitchen (2014). Her work has been supported by a NYFA/NYSCA Fellowship in interdisciplinary arts (2018), a Foundation for Contemporary Arts Grants to Artists Award (2017), the Mertz Gilmore Foundation (2016¬–2018), the Jerome Foundation Travel and Study Grant (2016), and the Brooklyn Arts Council (2016). She has received residencies at MoMA/PS1 (2017–2018), Djerassi (2018), Movement Research (2016–2018), the Bogliasco Foundation (2016), and the ISSUE Project Room (2015). She has performed in the works of Bruce Nauman, Ryan McNamara, and Walter Dundervill, and her writing and interviews have appeared in Artforum, BOMB Magazine, Girls Like Us, and Sound American. Brandt earned a BA from Hampshire College and an MFA in sculpture from Tyler School of Art.
Nate Wooley is a composer who works as an interpreter, improviser, and composer within the conjuncture of contemporary classical, jazz, noise, and electronic music. He has performed as a soloist and commissioned composer at the SWR Donaueschingen Festival, Musica Polonica Nova, Wrocław Jazztopad, Festival international de musique actuelle de Victoriaville, A L'ARME Berlin, Music Unlimited, and numerous other international jazz festivals. He has been an artist in residence at London's Cafe Oto and Brooklyn's ISSUE Project Room. He was a 2016 recipient of the Foundation of Contemporary Arts Grants to Artists Award in music/sound. He made his New York Philharmonic debut in 2018 as a soloist in Ashley Fure's triple concerto Filament. Wooley is the founder of the For/With Festival, which commissions and premieres works created through collaboration between composer and performer with an emphasis on radical timbral techniques and improvisation within composition. Wooley is also the editor of Sound American, curator of the Database of Recorded American Music, and teaches at the New School for Social Research.
Strauss Bourque-LaFrance is a costume designer who earned a BA from Hampshire College, an MFA from Tyler School of Art, and attended the Skowhegan School of Painting and Sculpture. Bourque-LaFrance has staged solo exhibitions across the United States and internationally at venues including T29 in Rome, Italy and the Northampton Center for the Arts in Northampton, MA. He has been included in exhibitions at The Kitchen, New York, NY; The Clifford Gallery at Colgate University, Hamilton, NY; ICA Philadelphia; The Contemporary Austin, Austin, TX; Abrons Art Center, New York, NY; The Judson Memorial Church, New York, NY; and Sculpture Center, New York, NY; among many others. Bourque-LaFrance was a recipient of the Northampton Arts Council Grant, an Artist in Residence at Dance and Process at The Kitchen, and an Artist in Residence at Movement Research in New York. Bourque-LaFrance is represented by Rachel Uffner Gallery in New York.
Funding