Performance: Black Monument Ensemble
Featured images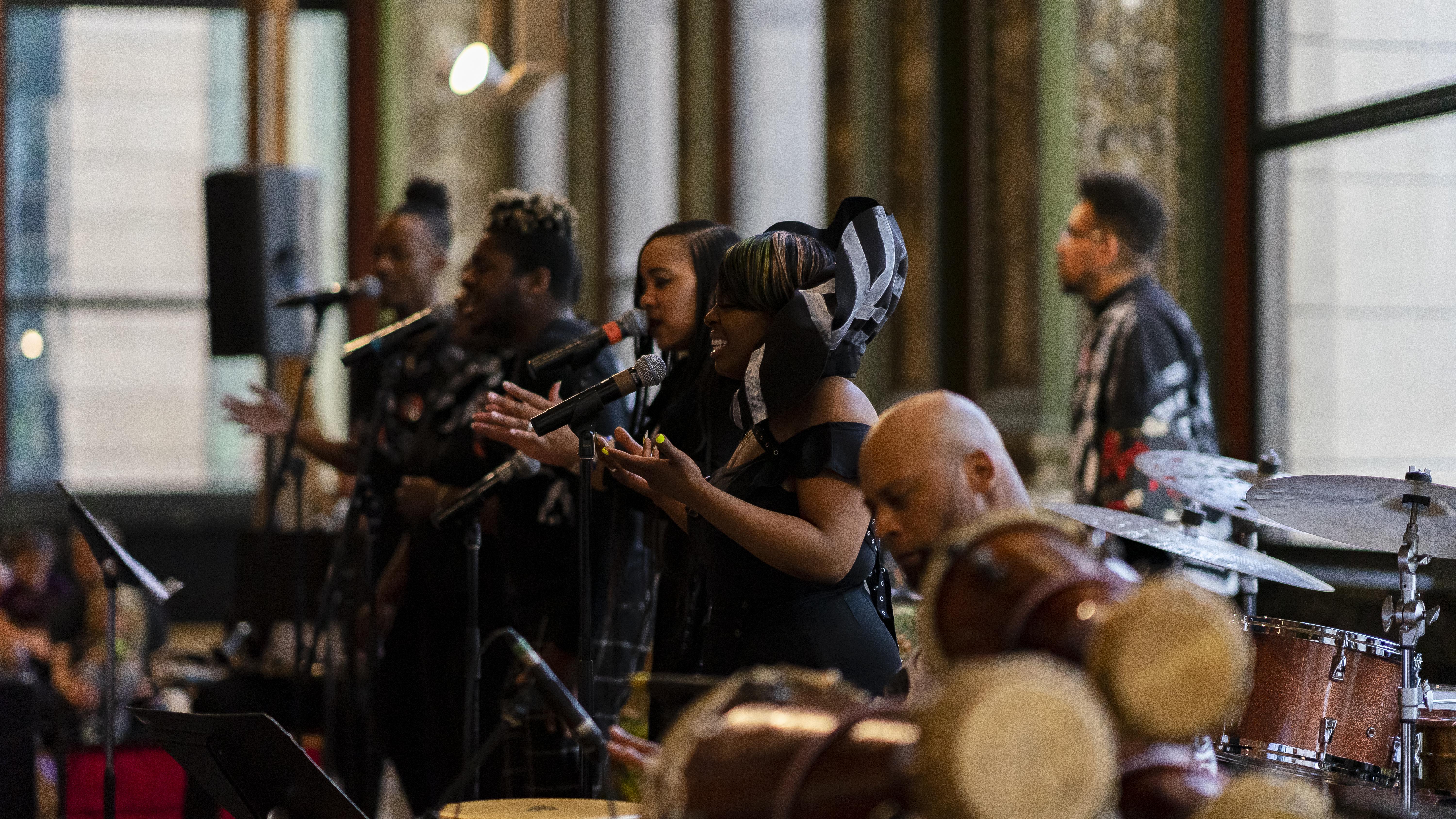 ---
Chicago-based sound and visual artist Damon Locks presents a music and dance performance with his Black Monument Ensemble in the Commons. Created to address the shift toward an era when people's civil rights are again in question, the ensemble uses samples and drum machines alongside live vocals and percussion in an innovative intersection of gospel, jazz, and activism. The Black Monument's debut LP, Where Future Unfolds, was released in 2019 on International Anthem.
The performance is followed by a talk in the Edlis Neeson Theater with artist Arthur Jafa and actress and cinematographer Cheryl Lynn Bruce. Jafa, whose work Love Is The Message, The Message Is Death is on view in the exhibition Prisoner of Love, will discuss his work as a cinematographer with Bruce on Julie Dash's Daughters of the Dust.
This event is a part of the 150th anniversary of the Water Tower celebration. The MCA is proud to be a member of the Water Tower Arts District.
Public Programs at the MCA are organized by by Curator January Parkos Arnall and Assistant Curator Christy LeMaster with the Performance and Public Practice team.
ABOUT THE ARTIST
Damon Locks is a Chicago-based visual artist, educator, vocalist, musician, and deejay. He attended the School of the Art Institute of Chicago, where he received his BFA. Since 2014 he has been teaching art at Stateville Correctional Center through the Prison + Neighborhood Art Project. He is a recipient of the Helen Coburn Meier and Tim Meier Foundation Achievement Award in the Arts and the 2016 MAKER Grant. Last year, he operated as an Artist Mentor in the Chicago Artist Coalition program FIELD/WORK and more recently became a Soros Justice Media Fellow. He is currently inaugurating the new Public-Engaged Residency at the Hyde Park Art Center and works as an artist in residence with the MCA's SPACE Program, introducing civically engaged art into the curriculum at the Sarah E. Goode STEM Academy.
Join the City of Chicago and a multitude of partner organizations for a day-long neighborhood festival celebrating the 150th anniversary of the historic Chicago Water Tower.