Thurman Barker and Ben LaMar Gay, South Side Suite and Hecky Naw! Angles!
"There is no one universe for Ben LaMar Gay, he just sonic booms from one sound to another."
Featured images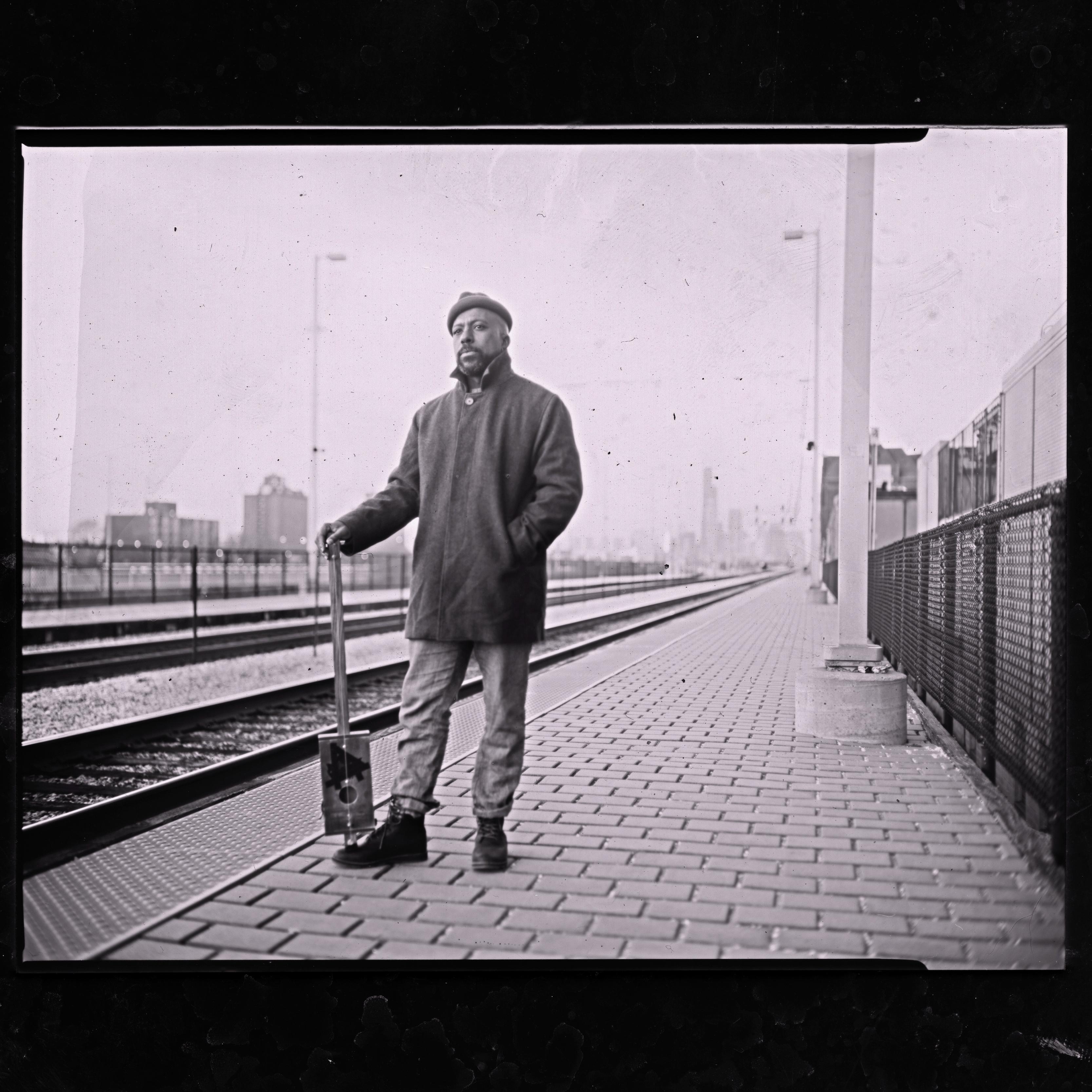 "[Thurman Barker is] possibly the AACM's hottest drummer..."
"It's hard to remember a more combustive combination of drums and guitar…"
Featured images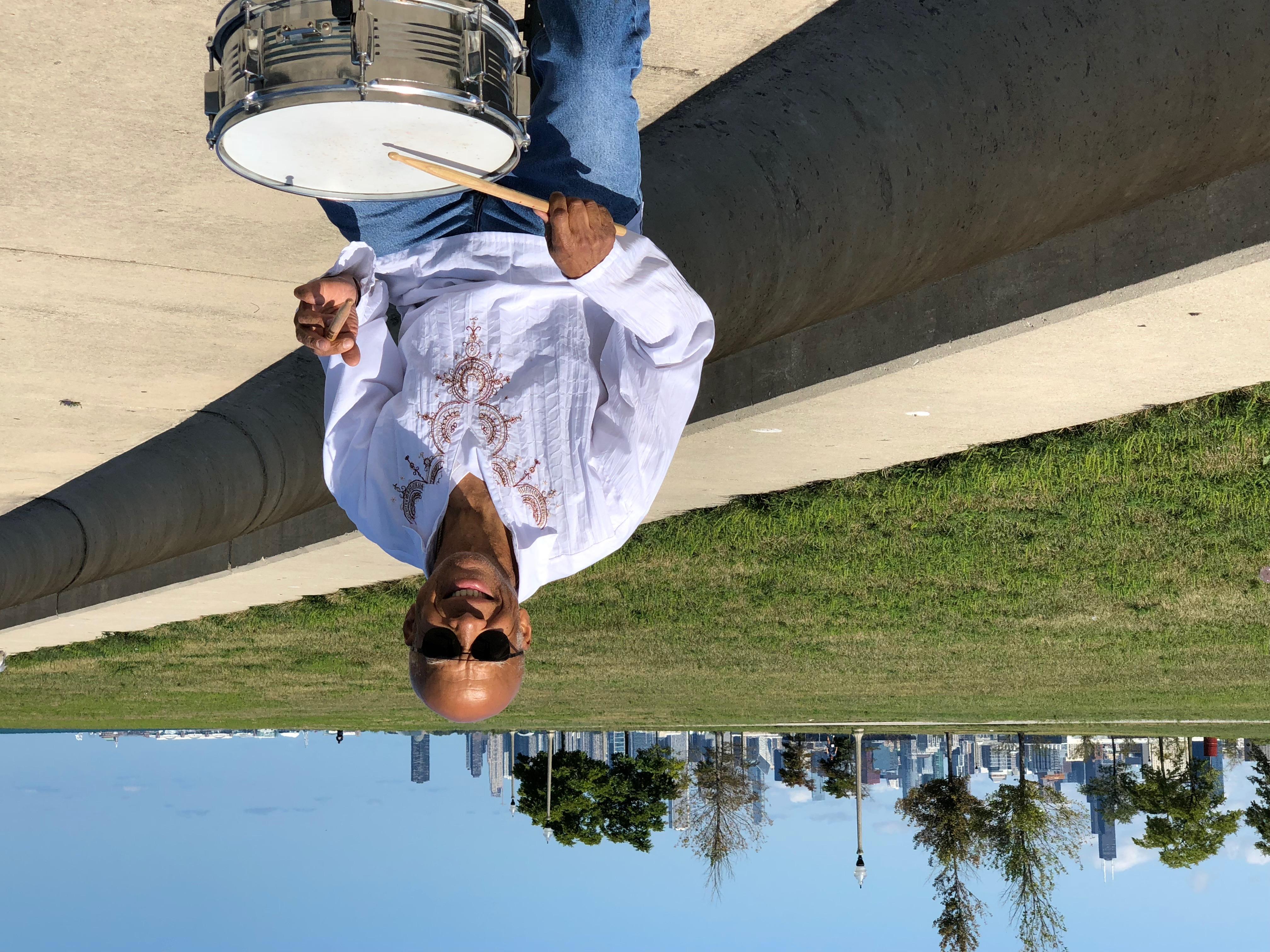 Accessible Events
FRI, AUG 30, 8 PM
Victor Cole provides an optional live audio description for patrons who are blind or low vision. Headsets can be reserved by calling our Box Office at 312-397-4010 or by emailing [email protected].
Info about the Post-Show Talk
Post-Show Talk
FRI, Aug 30, immediately following the performance
The audience is invited to stay for a brief conversation with Ben LaMar Gay, Thurman Barker, their collaborators, and Associate Curator of Performance, Tara Aisha Willis.
---
MCA NEW WORKS INITIATIVE
Two generations of Chicago-born composers share an evening to honor the history and future of music experimentation and the city of Chicago itself. During the weekend of the Chicago Jazz Festival, seasoned percussionist Thurman Barker pays homage to his early days in the city's jazz scene with South Side Suite and "polymath" cornetist Ben LaMar Gay explores the shapes and sounds of Chicago social dances in Hecky Naw! Angles!, giving audiences a taste of his new dance and video collaboration being developed on the MCA Stage.
Thurman Barker, South Side Suite
From the late 1950s through the 1970s, Chicago was home to an active and vibrant music scene: all varieties of jazz and blues, orchestras and contemporary music ensembles, the future stars of Motown, Broadway musicals, acts from New York, Los Angeles, and Chicago. Thurman Barker honed his percussion skills across that entire range of styles, including his first experience expanding beyond the limits of conventional jazz under the Association for the Advancement of Creative Musicians (AACM) founder, Muhal Richard Abrams. Barker's composition South Side Suite is the culmination of these experiences; this iteration for a quintet brings vocabulary he learned in those early years to the MCA Stage.
Ben LaMar Gay, Hecky Naw! Angles!
What happens when you turn the volume down low on Chicago social dance forms such as line dancing, footwork, or Chicago stepping? What if you let the body of the line dancer conduct the music, rather than the other way around? In this new work in development, composer Ben LaMar Gay joins forces with interdisciplinary performer and scholar Raquel Monroe to create the next installment in his ongoing series of "lies"—or tall tales in music form—for the MCA Stage. The series, called The Manipulations of Lines and Breff, makes propositions that cannot quite be resolved. Revealing this early stage of the project to audiences for the first time, Gay pairs the music with video projection and live movement, stripping down the familiar rhythms to write a new folklore for black Chicago.
Run Time: 80 minutes with intermission
ABOUT THE ARTISTS
Kim Alpert combines analog and digital technologies, movement, music, and interactivity, to create sculptural and performance-based video systems. Alpert's visual practice centers on her humanism and inquisitions into psychology and spirituality— understanding and translating the impact of visual language to create meaning and peace. Alpert uses synthesis, feedback, and found footage to weave dream tapestries both recorded and improvised. A significant part of Alpert's performed work is in collaboration with improvisational musicians, blending prerendered content with live visualizations. She performs in collaborative and cross-disciplinary works such as Mike Reed's Flesh and Bone, The Instigation Orchestra, and her own project, Scan Lines. Alpert holds a degree in digital art and design from Full Sail University and was inducted into their hall of fame in 2013. Alpert's work has been on display at the Sculpture Objects Functional Art and Design (SOFA) Expo, Stony Island Arts Bank, and Facets Cinematheque. Her interactive room, Body Phonic, a gesture-driven instrument and longitudinal sound visualizer, is on permanent display at the National Music Centre of Canada. Alpert is responsible for the video and projections in the performance.
Thurman Barker is a master, world-renowned drummer and percussionist, as well as a composer and professor. His professional career has spanned decades and his talent is so extensive that it encompasses and crosses over into many musical genres, including, but not limited to, jazz, blues, contemporary, and classical. His percussion performances are forces to be reckoned with that cannot, and should not, be pigeonholed by anything as limiting as a label. He was the house drummer at the Shubert Theatre for 10 years and has played behind the likes of Bette Midler, Marvin Gaye, Billy Eckstine, Vikki Carr, and blues legend Mighty Joe Young. He was a founding member of the Association for the Advancement of Creative Musicians (AACM) and is a member of the American Society of Composers, Authors and Publishers. He has five recordings under his own label, Uptee Productions, and has recorded as a sideman on 50 albums.
Ben LaMar Gay is a composer and cornetist who moves components of sound, color, and space through folkloric filters to produce brilliant electroacoustic collages. The Chicago native's true technique is giving life to an idea while exploring and expanding on the term Americana. Inspired by the vibrant experimental music scene of Chicago, and a three-year residency in Brazil, Gay collaborates with some influential figures in the world of music, dance, and visual arts including George Lewis, Itiberê Zwarg, Onye Ozuzu, Qudus Onikeku, Nicole Mitchell, Jeff Parker, Catherine Sullivan, Mike Reed, Joshua Abrams, Celso Fonseca, Tomeka Reid, The Black Monks of Mississippi, Bixiga 70 and the Association of the Advancement of Creative Musicians. His musical influences derive from his collection of experiences in all of the Americas and the gathered data channeled by technology and its amplifying accessibility. Embracing international vision while remaining true to his roots, Gay's creative output aligns with the honest notion that he only knows how to be a man from the South side of Chicago.
Raquel Monroe has been an avid social dancer most of her life, leading to her study of concert dance forms. This project brings her back to social dance, as both an object of study and enjoyment. A Chicago resident for ten years, her first attempt at learning step exposed her to the depth of urban line dancing in the city, just as this project provides deeper access to Black Chicago. Monroe enjoys dancing with baby boomers and folx over forty, many of whom have maintained a steady dance practice through stepping and line dances. Chicago's black social dances, like the people, appear smooth and easy, but its intricate footwork complicated further by house music require attention and skill. Monroe is a performance scholar completing a monograph analyzing performances of Black Power by black female cultural producers in popular culture. Monroe performs with Propelled Animals creating immersive, interdisciplinary performance installations. She is an associate professor of dance and codirector of Academic Diversity, Equity, and Inclusion at Columbia College Chicago. She holds a PhD in culture and performance.
Funding
Lead support for the MCA Stage New Works Initiative is provided by Elizabeth A. Liebman.