Featured images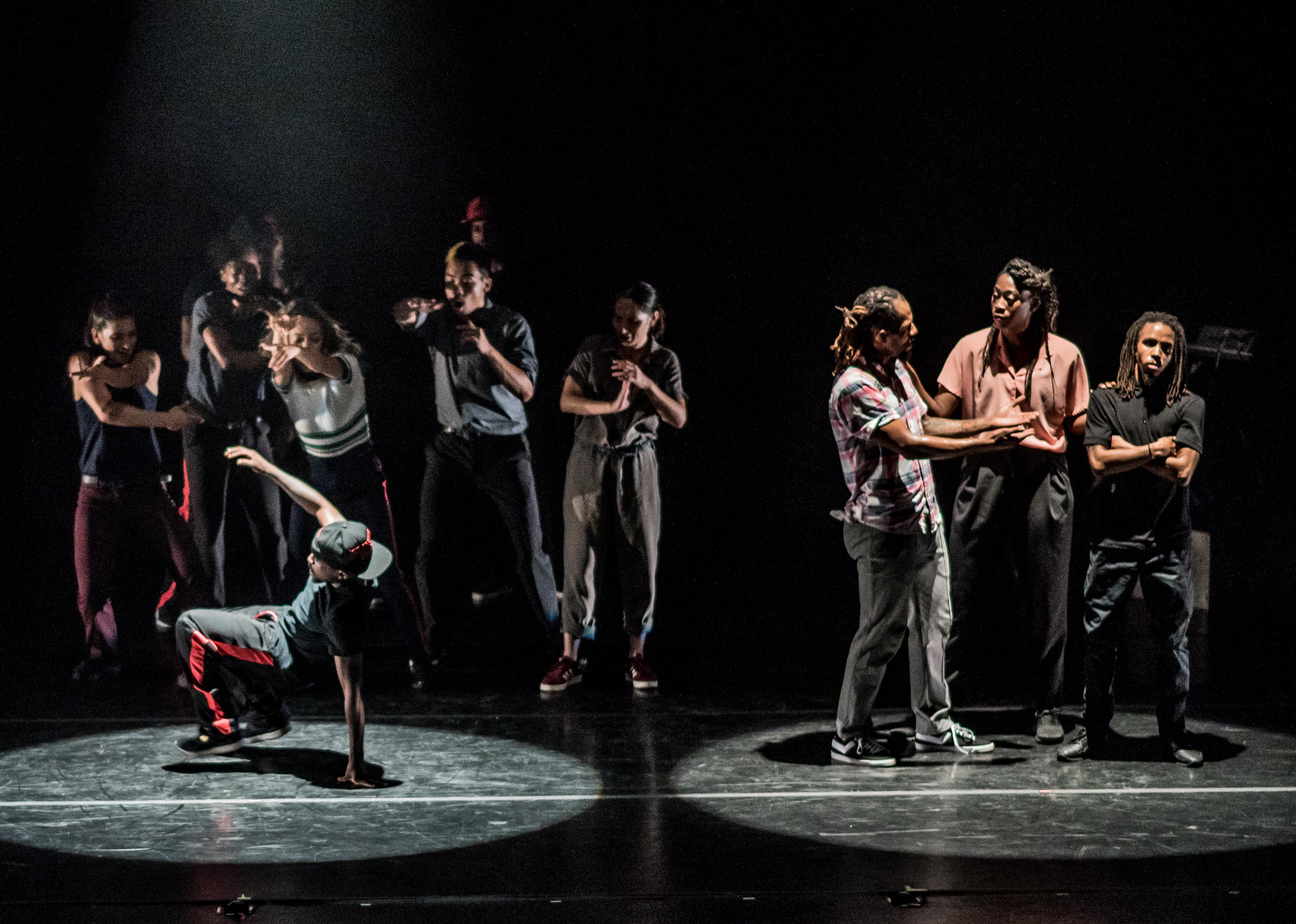 ---
MCA NEW WORKS INITIATIVE
House music and dance are often referred to as "going to church"—legendary hip-hop dance artist Rennie Harris takes the phrase literally, exploring issues of morality, spirituality, and community in a story based on Oliver Twist that includes Chicago's own dancers and a church choir. LIFTED begins when Joshua is sent to live with his aunt and uncle after his parents pass away. Hoping to comfort him in his time of mourning, Joshua's relatives mandate he attend church, which he rebels against. When Joshua gets involved with a band of pickpockets, he is intrigued their disregard for authority, but must make big choices in order to be down with the band of thieves. This story of shame, forgiveness, and redemption is told through gospel music, hip-hop dance theater, and the complex footwork of house dance—one of Chicago's own unique club cultures. Joshua's journey reveals the influences and roots of black oral and spiritual traditions, while celebrating the community and collective energy of black culture.
Run Time: 90 minutes with intermission
Accessible Events
ASL-INTERPRETED PERFORMANCE with AUDIO DESCRIPTION
SAT, AUG 24, 2 pm
ASL interpretation by Julikka LaChe and Veramarie Baldoza is provided for this performance. Victor Cole provides an optional live audio description for patrons who are blind or low vision. Headsets can be reserved by calling our Box Office at 312-397-4010 or by emailing [email protected].
---
ABOUT THE ARTIST
Recognized by the United States Department of Education as a leading ambassador for the art of hip-hop dance, choreographer Rennie Harris continues to open doors for others to follow. Harris has received a number of arts and academic honors: among them are fellowships with the Guggenheim and USArtist International, as well as honorary doctorate degrees from Columbia College Chicago and Bates College in Lewiston, Maine. Often cited as being one of the first artists to bring hip-hop dance to concert stages around the world, Lorenzo "Rennie" Harris continues to find new ways to expose the next generation to the power of the arts. Harris is known for having brought social dances to the concert stage and creating a cohesive dance style that finds a cogent voice in the theater. He has often been acknowledged as a powerful spokesperson for the significance of street origins in any dance style. Harris was voted one of the most influential people in the last 100 years of Philadelphia history and has been compared to twentieth century dance legends Alvin Ailey and Bob Fosse. He was nominated for the Laurence Olivier Award and was awarded the Herb Alpert Award in the Arts in 2003. His group of dancers and their infectious brand of movement have toured the globe.
Funding
This performance is commissioned in part by the MCA with support by the National Performance Network Creation Fund.
Lead support for the MCA Stage New Works Initiative is provided by Elizabeth A. Liebman.
"Mr. Harris's choreography is never about tricks: his dances, as always, are about the spectacle of atmosphere."
"Harris is nothing less than an international guru of hip-hop choreography..."