Tamar-kali and Damon Locks
Demon Fruit Blues and Where Future Unfolds
Featured image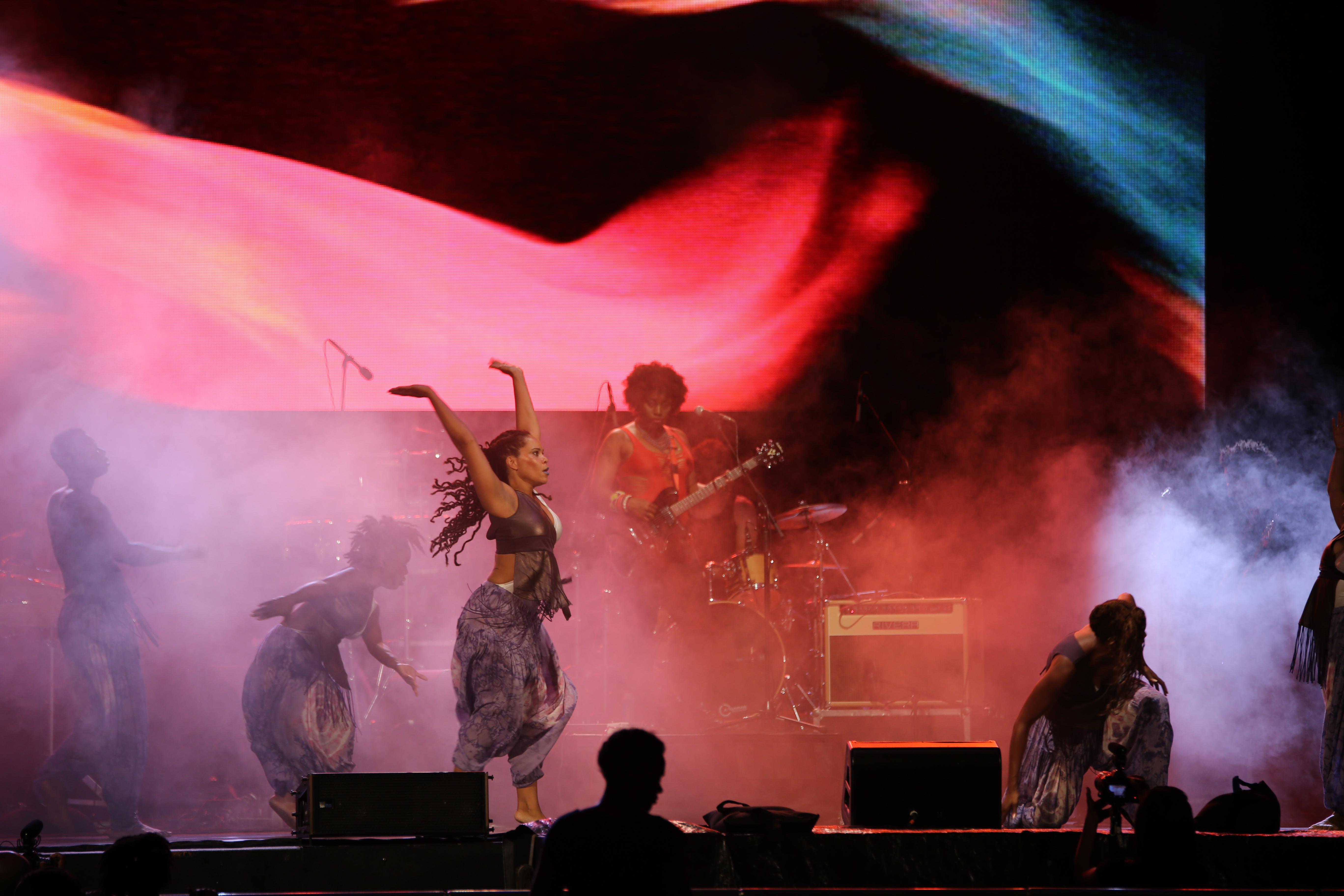 MCA New Works Initiative
The MCA throws open its theater doors on two works in development that expand the boundaries of black musical genres and lineages, riffing on radical histories for the current moment. Audiences are invited to witness New York–based vocalist and composer Tamar-kali's Demon Fruit Blues and Chicago-based visual artist and musician Damon Locks's Where Future Unfolds as the two artists develop new creative collaborations across dance, video, and visual art.
Tamar-kali's Demon Fruit Blues, directed by Charlotte Brathwaite, is a multilayered, immersive music-based experience that deconstructs the origins of misogyny, weaving a sonic tapestry that connects the dots between modern day rock, gospel, the blues, and original African rhythms. Tamar-kali's compositions, along with choreography by Adia Whitaker and video imagery by Sarah Olson and Tiffany Smith, weave a complex narrative that exposes both the contradictory roles that women play in society and how perceptions of the female body throughout Western and Judeo-Christian history have left their indelible mark on those who identify as women. Demon Fruit Blues addresses the unspoken paradigms that psychically sever the ties between the cultures and histories of the African diaspora and the potential for healing.
Damon Locks formed the Black Monument Ensemble to address the shift toward an era when people's civil rights are again in question. Where Future Unfolds asks how the past lives in the present and how it can be activated to learn about that present. Inspired by the activism of the 1960s and 1970s—when the church was a focal point for galvanizing the black community, with its gospel music as the soundtrack—Locks uses voice, sampler, and drum machines alongside the ensemble's vocals and percussion to dig into those powerful musical structures. Locks's visual art is projected in concert with the music, performed by Dana Hall (drums), Arif Smith (percussion), and Ben LaMar Gay (trumpet, bells), alongside vocals by Lauren Robinson, Allie Bradford, Tramaine Parker, Phillip Armstrong, and Joseph Kern, addressing how the winds of change blow both forward and back.
RUNNING TIME: 90 minutes, with one intermission
Tamar-kali, Demon Fruit Blues (trailer). Directed by Ralston Smith.
About the Artists
Born and bred in Brooklyn, artist Tamar-kali is a second-generation musician, composer, and singer-songwriter with roots in the coastal Sea Islands of South Carolina. The aggressive, melodic rock of her five-piece outfit at once enchants and delivers a swift kick to the gut with its incisive emotional core. The work she composes and arranges for Psychochamber Ensemble, her string sextet and voice project, marries the classical music of her Catholic upbringing with post-punk sensibilities. Her incendiary performances and contribution to the 2003 documentary film Afro-Punk's soundtrack introduced a generation to her unique story and undeniable talent. Her debut as a film score composer came in 2017 with Dee Rees's Mudbound, starring Mary J. Blige and Carey Mulligan, which premiered to rave reviews at the Sundance Film Festival and was nominated for four Academy Awards, and continued in 2018 with Joshua Marsten's Come Sunday, starring Chiwetel Ejiofor and Lakeith Stanfield. Her powerful vocals have been featured in the Dee Rees's award-winning film Pariah(2011) and in HBO's biopic Bessie(2015) starring Queen Latifah. Her eclectic sound and versatility have allowed her to perform on a variety of domestic and international stages with a diverse list of artists from Paramore, Vernon Reid, and Roger Waters to Vijay Iyer, Meshell Ndegeocello, and The Roots.
Damon Locks is a Chicago-based visual artist, educator, vocalist/musician, and DJ. He attended the School of the Art Institute of Chicago, where he received his BFA. Since 2014 he has been teaching art at Stateville Correctional Center through the Prison + Neighborhood Art Project. He is a recipient of the Helen Coburn Meier and Tim Meier Foundation Achievement Award in the Arts and the 2016 MAKER Grant. Last year he operated as an Artist Mentor in the Chicago Artist Coalition program FIELD/WORK, and more recently he became a Soros Justice Media Fellow. He is currently inaugurating the new Public-Engaged Residency at the Hyde Park Art Center and works as an artist in residence as a part of the MCA's SPACE Program, introducing civically engaged art into the curriculum at the Sarah E. Goode STEM Academy.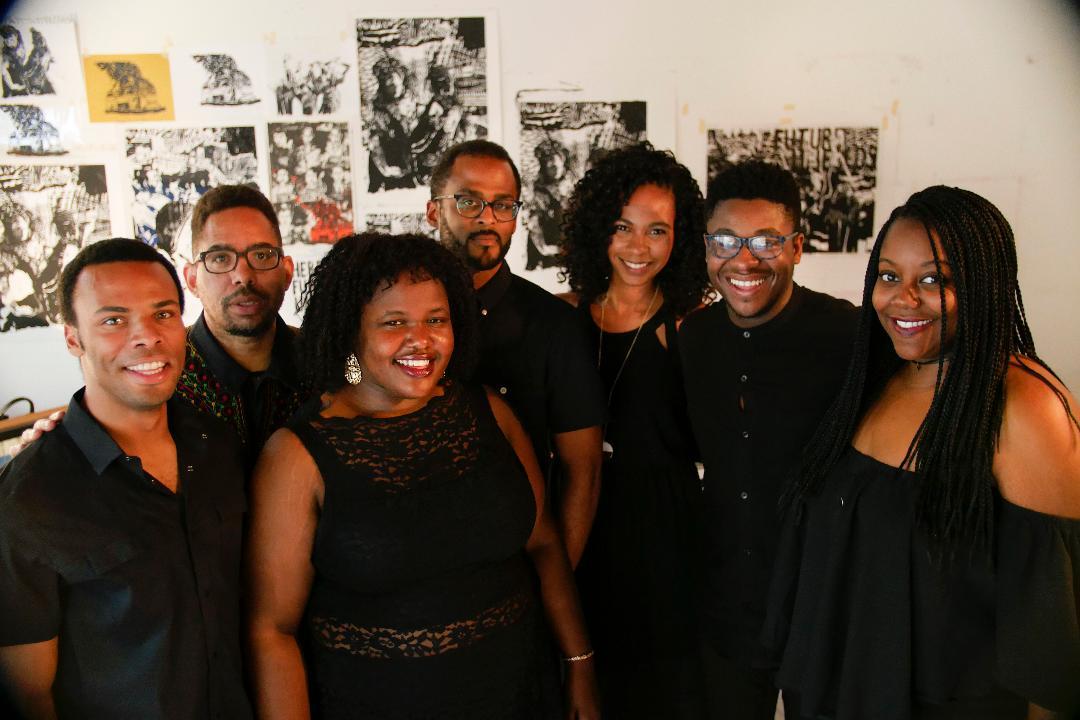 Funding
Lead support for the MCA Stage New Works Initiative is provided by Elizabeth A. Liebman.