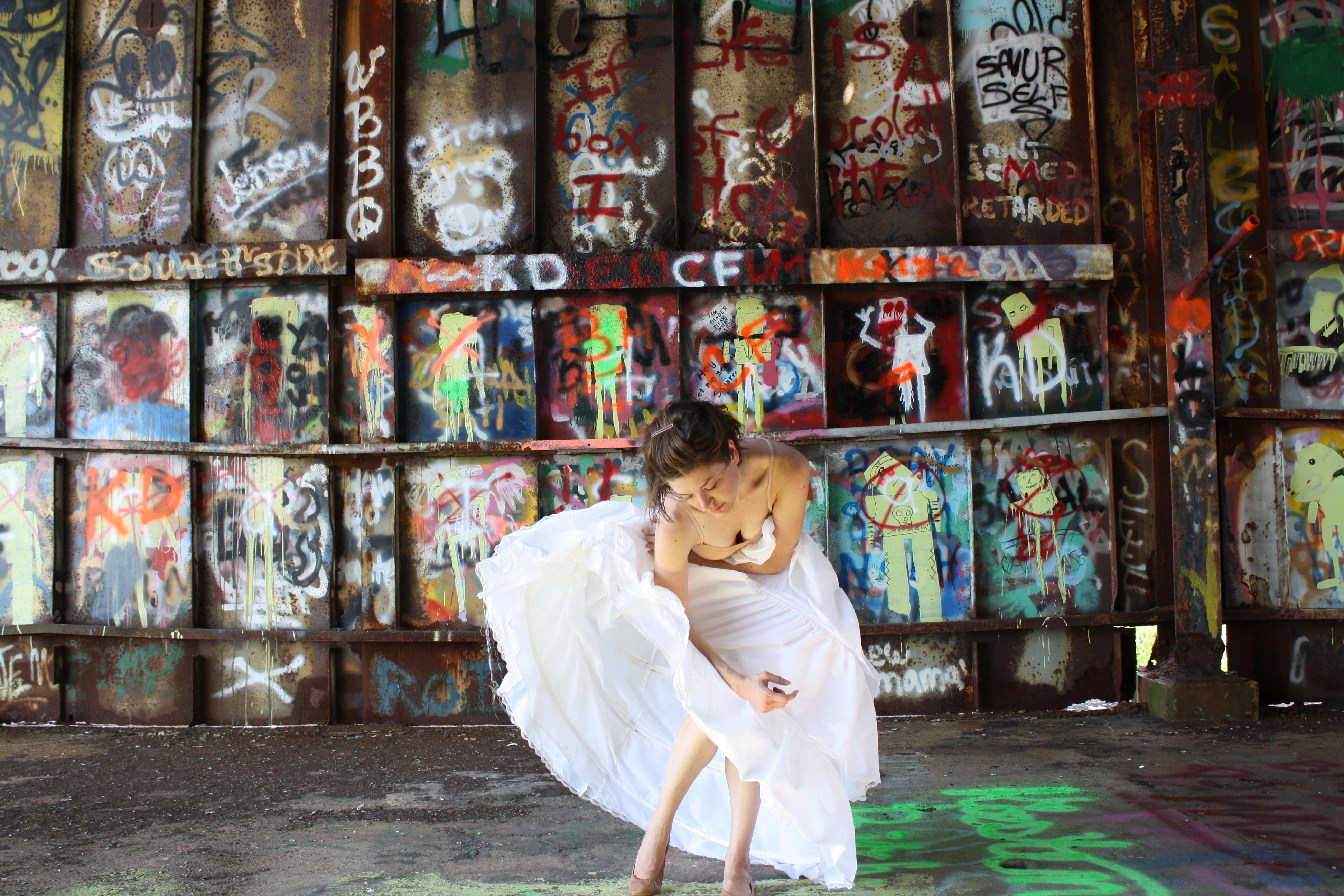 Chicago Dancemakers Forum SHareOUT!
SHareOUT! is the MCA's new mini-festival of works that have been developed in a year of research supported by Chicago Dancemakers Forum. Cofounded by the MCA, Links Hall, and the Dance Center of Columbia College, Chicago Dancemakers Forum is celebrating 15 years of supporting audacious and imaginative dancemakers.
MCA New Works Initiative
Fri, Aug 24

6–9 pm: Victoria Bradford—MCA grounds*
7–9 pm: Yoshinojo Fujima (Rika Lin) & Joshua L Ishmon—Edlis Neeson Theater
8:30–9:30 pm: Brittany Harlin—The Commons*

Sat, Aug 25**

2–5 pm: Victoria Bradford—MCA grounds*
3–5 pm: Yoshinojo Fujima (Rika Lin) & Joshua L Ishmon—Edlis Neeson Theater
4:30–5:30 pm: Brittany Harlin—The Commons*
For the opening weekend, Victoria Bradford and Brittany Harlin activate the museum grounds, and Joshua L Ishmon and Rika Lin (aka Fujima Yoshinojo) share a double bill using the theater. Bradford and electronics composer Todd Mattei transform the building's outdoor perimeter for a durational relay run that invites the public to join. In the theater, Ishmon and dancers perform Redefining BLACK to an original score by trumpeter/vocalist Sam "Trump" Harris, and Fujima Yoshinojo transgresses Japanese classical dance with Asobi: Playing within Time—a performance for four dancers with original video and music by Tatsu Aoki and Reduction Ensemble. Harlin's dancers and a live band close out each day in the Commons.
This piece is durational and audience members are free to come and go as they please.
** The performance by Joshua L Ishmon features ASL interpretation by Veramarie Baldoza and Julikka LaChe.
Featured Images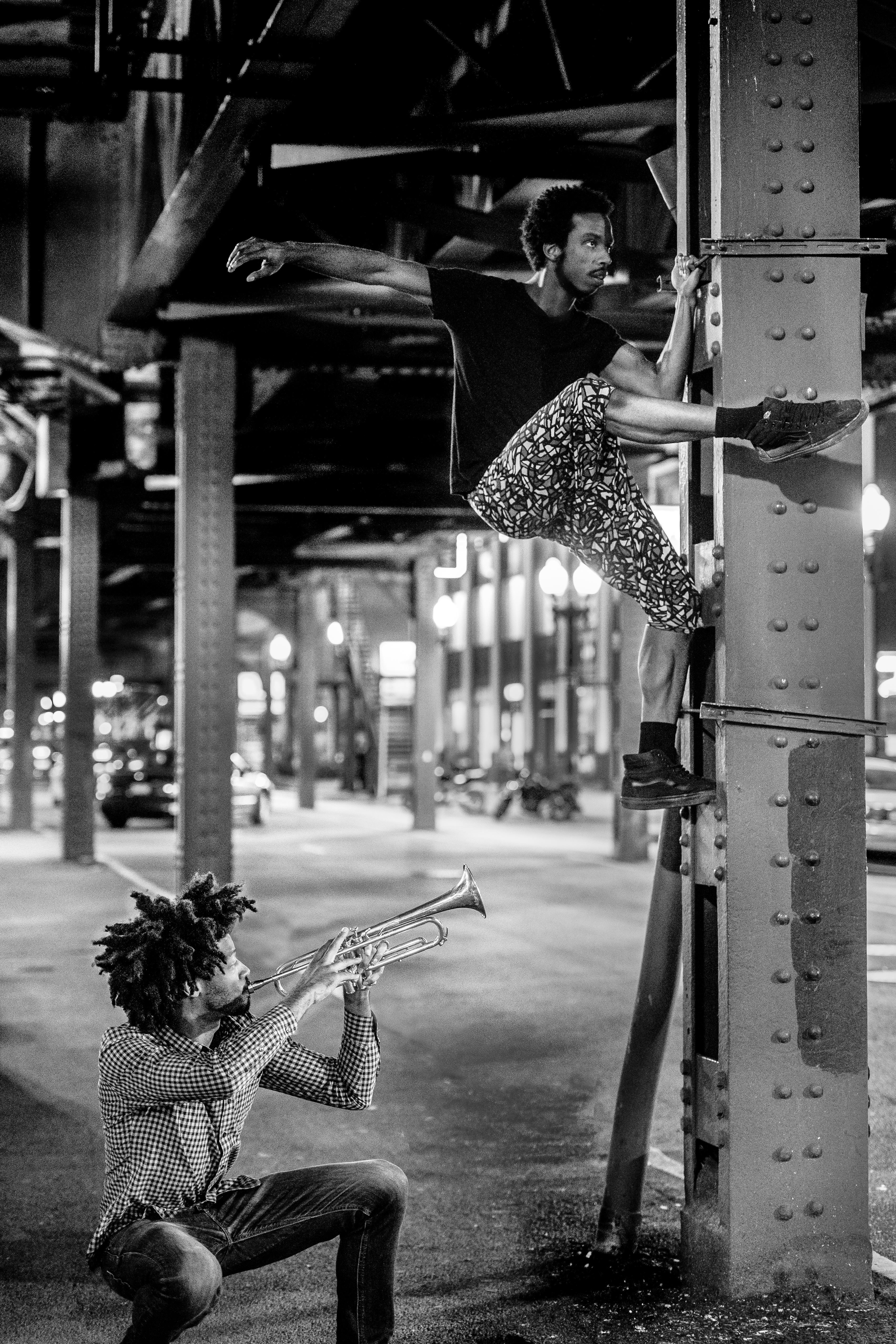 About the Performances
In Redefining BLACK, Joshua L Ishmon interrogates both the ways that symbolisms are made and the social origins of knowledge. Throughout his year as a Lab Artist of the Chicago Dancemakers Forum, he is organizing a series of community meetings to encourage discussion about the word/color/race "black." Ishmon uses this process to test his belief that society shapes individuality and to expand his movement vocabulary from the emerging histories and emotions that surface from the talks. Redefining BLACK combines concert and social dance with storytelling, and features an original score by trumpeter/vocalist Sam "Trump" Harris, who performs live. Ishmon is both a member and one of the rehearsal directors of Deeply Rooted Dance Theater, as well as cofounder and producing director of the DRDT Emerging Choreographers Showcase. Named New City's "Best Breakout Dance Artist" and the Reader's "Best Choreographer" in 2017, he collaborated with South African choreographer Fana Tshabalala in the same year for DRDT's Indumba premiere.
Rika Lin (aka Fujima Yoshinojo) is a shin-nisei, a part of the postwar Japanese American diaspora, an interdisciplinary performing artist, a choreographer, and a grandmaster in Fujima-style Japanese classical dance. For her Lab project Asobi: Playing within Time, Yoshinojo trifles with the perception of time as an act of dancing. Searching for and testing the line connecting judgement to gender perception, Yoshinojo's momentary, organic reaction reflects or responds using the traditional and creative musicians of the Reduction Ensemble, directed by Tatsu Aoki. Her choreography, which stems from traditional pedagogy, lulls viewers into believing what at first appears to be a traditional Japanese dance but is in fact a transgression, filled with subtle expressions of humor and protest.
Victoria Bradford is a choreographer working in applied arts research, public art, performance, and installation. She has produced work for the MCA, McColl Center for Art + Innovation, and deCordova Sculpture Park and Museum, among many other spaces across the country. Bradford understands the body as a physical presence that not only has the power to intervene in systems much larger than itself, but also brings a sense of scale to the paradoxes and conundrums of our times. As a Lab Artist, she is planning an expedition on foot from the headwaters to the mouth of the Mississippi River. She and a team of three women and two men are running a relay across the 2,300 miles of the Great River Road, stopping in 100 towns in a period of 100 days and gathering stories of those living along the country's ecological treasure. At once diverse, everyday, and profoundly human, the stories of these people articulate a spectrum from loss to resilience to hope. The public can follow the entire length of the run, and train to participate at the MCA stop, via social media. Electronic music composer Todd Mattei mixes live for the MCA event.
Brittany Harlin explores intersections in hip-hop, street styles, and somatic theory. For her Chicago Dancemakers Forum Lab Artist project, Breathing Through Vernacular Movement, she uses concert dance as the lens for gathering knowledge about the vernacular of the African diaspora found in American street dance, which includes elements of funk, house, and hip-hop. Grounded in the belief that dance brings people together and focused on the potential of concert and street dance to catalyze the growing movement for solidarity among people with different backgrounds, she uses somatic theory to develop a new pedagogy. Harlin links body and mind, connects movers to physical technique, and raises mindfulness in exploring the implications of adopting street movement. Harlin studied dance at Loyola University Chicago, and her choreography has been presented at Links Hall, the Athenaeum, and the Aragon Ballroom. For her Lab year she plans to study and train with a range of movers and musicians from multiple backgrounds and understandings.
Funding
Lead support for the MCA Stage New Works Initiative is provided by Elizabeth A. Liebman.