Mind Over Mirrors Bellowing Sun
Featured Images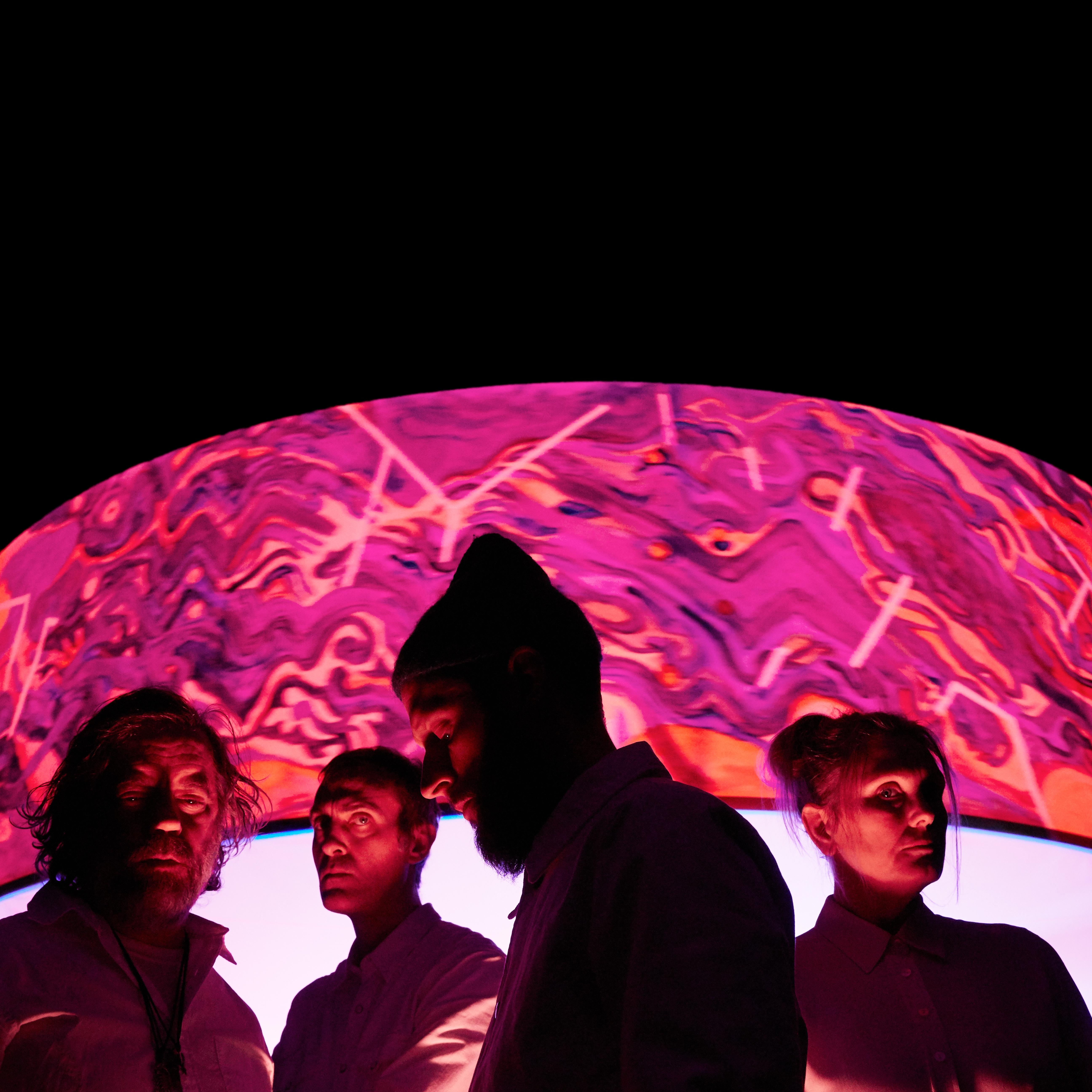 About the Performance
There's an ancient, pastoral thrill to this music, which . . . is shaping up to be praise music for the American landscape.
With his evolving project Mind Over Mirrors, Chicago-based musician and composer Jaime Fennelly premieres Bellowing Sun, a work that creates an aural prism through the layering of acoustic and electronic instruments. A departure from Fennelly's solo practice as a harmoniumist and synthesist, Bellowing Sun also includes vocalist and percussionist Janet Beveridge Bean, violinist Jim Becker, and percussionist Jon Mueller—four musicians who share an interest in the intersections of the American vernacular and contemporary avant-garde.
Bellowing Sun is performed with the audience encircling the musicians underneath a large kinetic sculpture. The visual centerpiece, designed in collaboration with Timothy Breen, Eliot Irwin, and Keith Parham, was hand-built in the shape of a great lighted drum. A rotating cylindrical textile adorned with patterns, abstract figures, and dyed gradients creates an ever-changing kaleidoscope of organic shapes and color that simultaneously form celestial bodies and microscopic life forms. The radiant audiovisual environment results in a space, not unlike a Quaker meeting room, for people to withdraw from daily life and consider questions of the human spirit.
Bellowing Sun is being released on Paradise of Bachelors in April 2018. Listen to Mind Over Mirrors' song "Matchstick Grip" live on NPR and "Zeitgebers" on Stereogum.
About the Artist
Composer, harmoniumist, and synthesist Jaime Fennelly has been making work as Mind Over Mirrors since 2010. Fennelly has fostered a close relationship with choreographer Miguel Gutierrez since 2001 and often collaborates with other performers. In 2002, for example, he cofounded the iconoclastic group Peeesseye in Brooklyn. NPR has described his music as "an out-of-body experience." His recordings have been released on a number of notable labels, including Paradise of Bachelors, which released his sixth album Undying Color in 2017. Fennelly received his MFA from Bard College in 2006, where he studied with Maryanne Amacher, David Behrman, and Pauline Oliveros, among other music luminaries.
Funding
Lead support for the MCA Stage New Works Initiative is provided by Elizabeth A. Liebman.
Bellowing Sun is a National Performance Network/Visual Artists Network (NPN/VAN) Creation and Development Fund Project cocommissioned by the Museum of Contemporary Art Chicago in partnership with Alverno Presents and NPN. Additional support comes from the NPN Forth Fund, and from the NPN Performance Residency Program. Major contributors of NPN include the Doris Duke Charitable Foundation, the Mellon Foundation, the Ford Foundation, and the National Endowment for the Arts (a federal agency).