MCA Live: 2017, A Reflection
Announcement
Tuesdays are always FREE for Illinois residents.
Featured image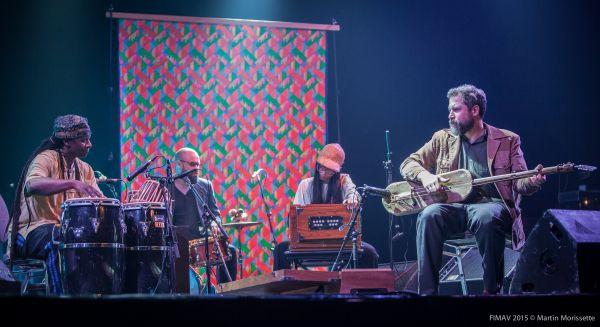 About
Join Joshua Abrams and Natural Information Society for an evening of soulful, musical reflection in the MCA's atrium. The concert is followed by a discussion on the final days of President Barack Obama's administration with historian Paul Durica, organizer and activist Emmanuel Garcia, and curator Anthony Stepter.
About the Artist
National Information Society is Joshua Abrams on guimbri, Lisa Alvarado on harmonium and gong, Hamid Drake on tabla and frame drum, Nick Mazzarella on alto saxophone, and Jason Stein on bass clarinet.
About the Speakers
Paul Durica is a teacher, writer, and public historian. Since 2008, he has been producing a series of free and interactive public history programs under the name Pocket Guide to Hell. These talks, walks, and reenactments use costumes, props, music, and audience participation to make the past feel present. Durica's writing on Chicago history and culture has appeared in Poetry, The Chicagoan, Mash Tun, Lumpen, and elsewhere. Along with Bill Savage, he is the editor of Chicago By Day and Night: The Pleasure Seeker's Guide to the Paris of America(Northwestern UP, 2013). He is currently the director of programs for Illinois Humanities.
Emmanuel Garcia is a Latinx queer organizer and youth advocate. He has dedicated the past 15 years to creating brave spaces for LGBTQ young people and being a voice on issues of immigration, health, and community development. In 2013, Garcia created "Vives Q," an innovative series of public events aimed at fostering intergenerational dialogue between youth and adults. This public program highlights the contributions of Latinx LGBTQ trailblazers and showcases the artistic resilience of youth. Garcia is a cochair of Pride Action Tank and staff at Crossroads Fund, a public foundation that supports grassroots groups fighting for racial, social, and economic justice.
Anthony Stepter is the graduate program coordinator for museum and exhibition studies at the University of Illinois at Chicago (UIC). His work at UIC includes advising graduate students, organizing lectures, partnering with community organizations, and coordinating imaginative projects. Prior to moving to Chicago in 2010, Stepter worked for the arts advocacy group Americans for the Arts and spent a summer working in the scheduling office of Governor Jennifer M. Granholm of Michigan. He has presented on his professional practice at conferences and universities nationally and internationally. As an independent organizer, Stepter has curated exhibitions and projects for ACRE, the Washington Park Arts Incubator at the University of Chicago, and Chicago's 2nd Floor Rear festival. He served as a juror for apexart, collaborated with the Office of Public Culture in Grand Rapids, Michigan, and cocurated Extinct Entities, a month-long performance series of commissioned art works exploring the history of Chicago-based art spaces that no longer exist. Stepter graduated from the School of the Art Institute of Chicago with an MA in visual and critical studies.