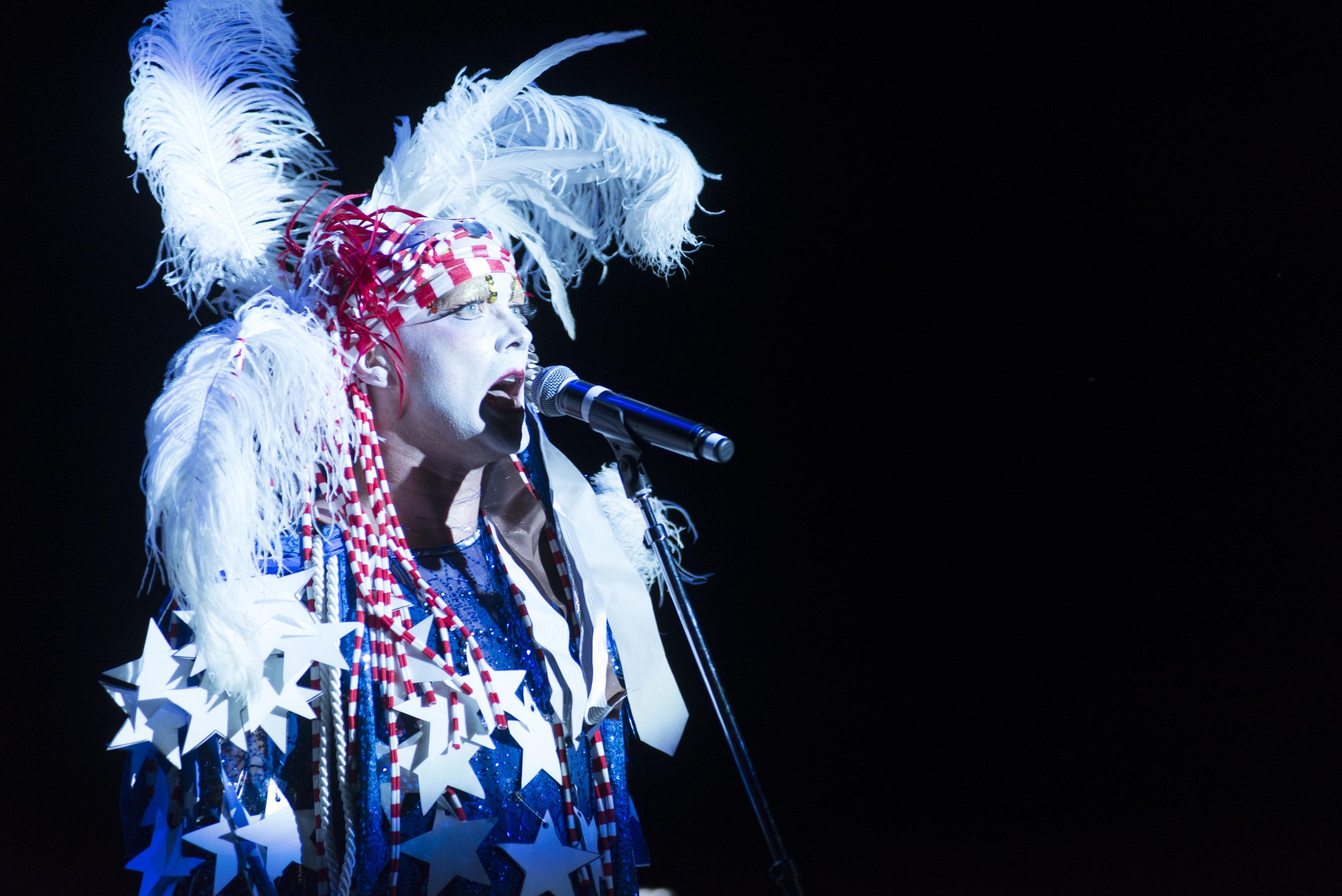 Taylor Mac A 24-Decade History of Popular Music: 1956–1986
Friday, April 15 is an ASL interpreted performance.
An MCA Stage New Works Initiative sponsored by enact
About the Performance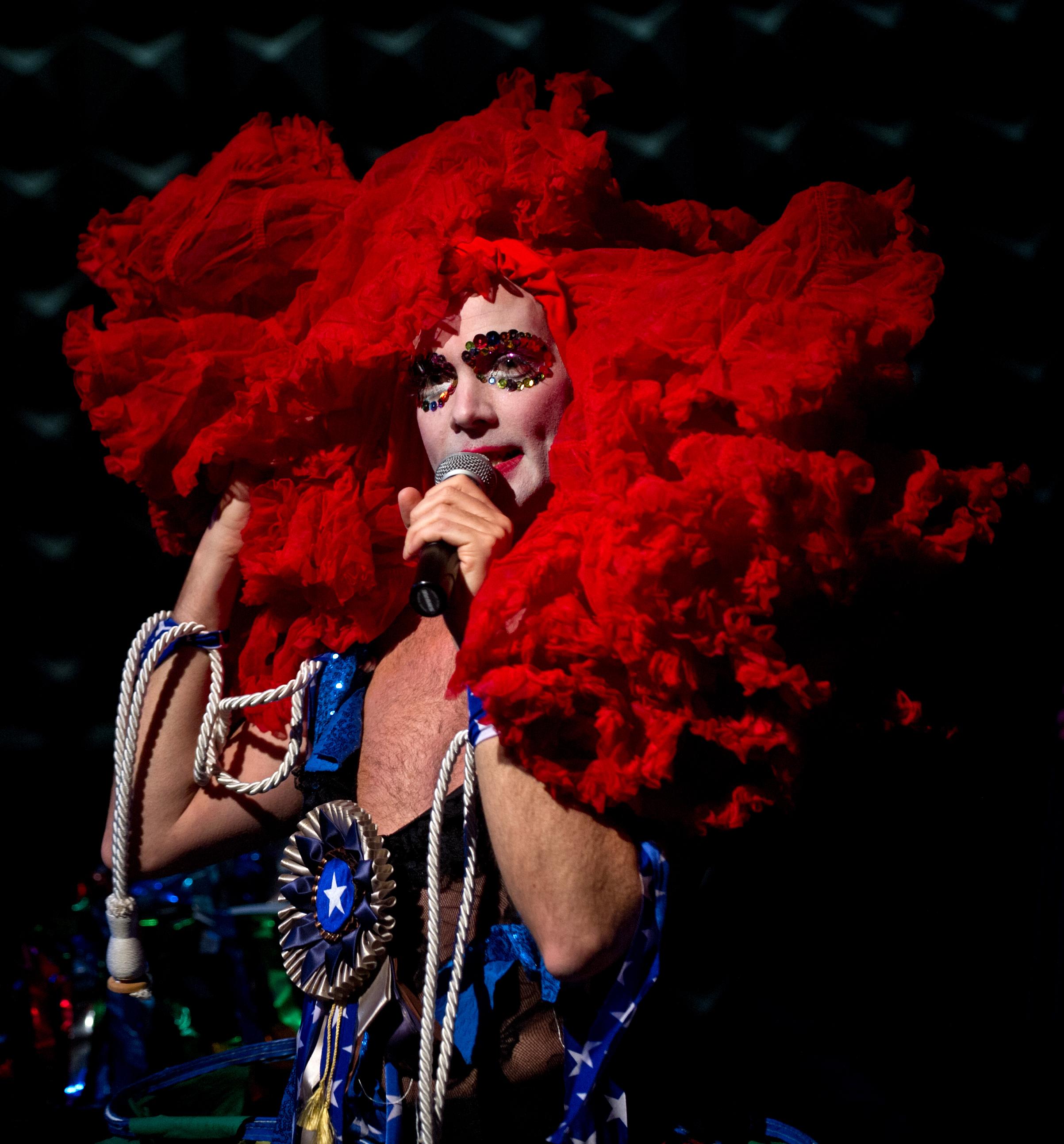 Startlingly unique . . . a must-see for anyone who wants to see a kinder, gentler society.
"Ragingly original and bracingly radical" (TimeOut New York), theater artist Taylor Mac returns to the MCA with judy's essential A History of Popular Music. Mac is currently building the project decade by decade and song by song (each decade presented in a different US city); it culminates in 2016 with an epic 24-hour-long extravaganza that covers US history from the founding of our country in 1776 up to the present.
Mac arrives in Chicago clad in the brilliant costume creations of Machine Dazzle to present this subjective history lesson, told through music, that takes the form of three-hour-long concerts that bridge three decades—from 1956 to 1986. Mac's astute take on music and culture spans the times of civil rights struggles and the Stonewall Uprising as well as the disco era and beyond. Join in as Mac and judy's band build a hilarious and healing community ritual from our shared history of music and life.
A 24-Decade History of Popular Music: 1956–1986 may include mature content and is intended for adult audiences.
Running time: 3 hours
About the Artist
For the past 18 years, Taylor Mac has created internationally award-winning performance events that at once provoke and embrace judy's diverse audiences. Originally recognized for club performances, Mac is a playwright, actor, singer-songwriter, cabaret performer, performance artist, director, and producer whose work has been presented by New York City's Lincoln Center and The Public Theatre, the Sydney Opera House, American Repertory Theatre, Stockholm's Sodra Theatern, the Spoleto Festival, SF MOMA, and hundreds of other theaters, museums, music halls, opera houses, cabarets, and festivals around the globe. The MCA first worked with Mac two years ago, presenting thematic performances about the history of political music. Of Mac's performances, judy has said:
"I believe my job as a theater artist is to remind my audience of the range of their humanity. I believe the more personal risk I take in the work the more the audience will relate and see the whole of their humanity reflected back at them. So, through art, I try to be as masculine, feminine, ugly, beautiful, intelligent, base, chaotic, graceful, joyful, sorrowful, perfect, and flawed as I am in real life."
Mac has written and created 17 full-length plays and performance pieces, including Hir (NYC premiere at Playwright's Horizons, Fall 2015; world premiere at San Francisco's Magic Theater, February 2014), The Lily's Revenge (Obie Award), The Walk Across America for Mother Earth (named one of the best plays of 2011 by The New York Times), The Young Ladies Of (Chicago's Jeff Award nomination for best solo), Red Tide Blooming (Ethyl Eichelberger Award), and The Be(a)st of Taylor Mac (Edinburgh Festival's Herald Angel Award). In collaboration with Mandy Patinkin, Susan Stroman, and Paul Ford, Mac also created The Last Two People On Earth: An Apocalyptic Vaudeville.
Mac's plays have been published by Playscripts, Vintage Press, New York Theatre Review, and New York Theatre Experience, and their numerous awards include a Peter Zeisler Memorial Award, the Helen Merrill Playwriting Award, two Sundance Theater Lab residencies, A Herb Alpert Award, three MAP Fund Grants, and the Creative Capital Grant. Mac is a proud alumnus of both the HERE Arts Center Resident Artists program and New Dramatists. judy is currently a New York Theater Workshop Usual Suspect.
Funding
A 24-Decade History of Popular Music is commissioned in part by Belfast International Arts Festival and 14 - 18 NOW; Carole Shorenstein Hays, Curran Theatre, San Francisco; Carolina Performing Arts at the University of North Carolina at Chapel Hill; Center for the Art of Performance at UCLA; Hancher Auditorium at the University of Iowa; Lincoln Center for the Performing Arts; Museum of Contemporary Art Chicago; International Festival of Arts & Ideas; New York Live Arts; OZ Arts Nashville; University Musical Society at the University of Michigan.
This work was developed with the support of the Park Avenue Armory residency program and the 2015 Sundance Institute Theatre Lab at the Sundance Resort, with continuing post-lab dramaturgical support through its initiative with the Mellon Foundation.
A 24-Decade History of Possible Music was made possible with funding by the New England Foundation for the Arts' National Theater Project, with lead funding from the Mellon Foundation.