Tsukasa Taiko
Taiko Legacy 10 and Reduction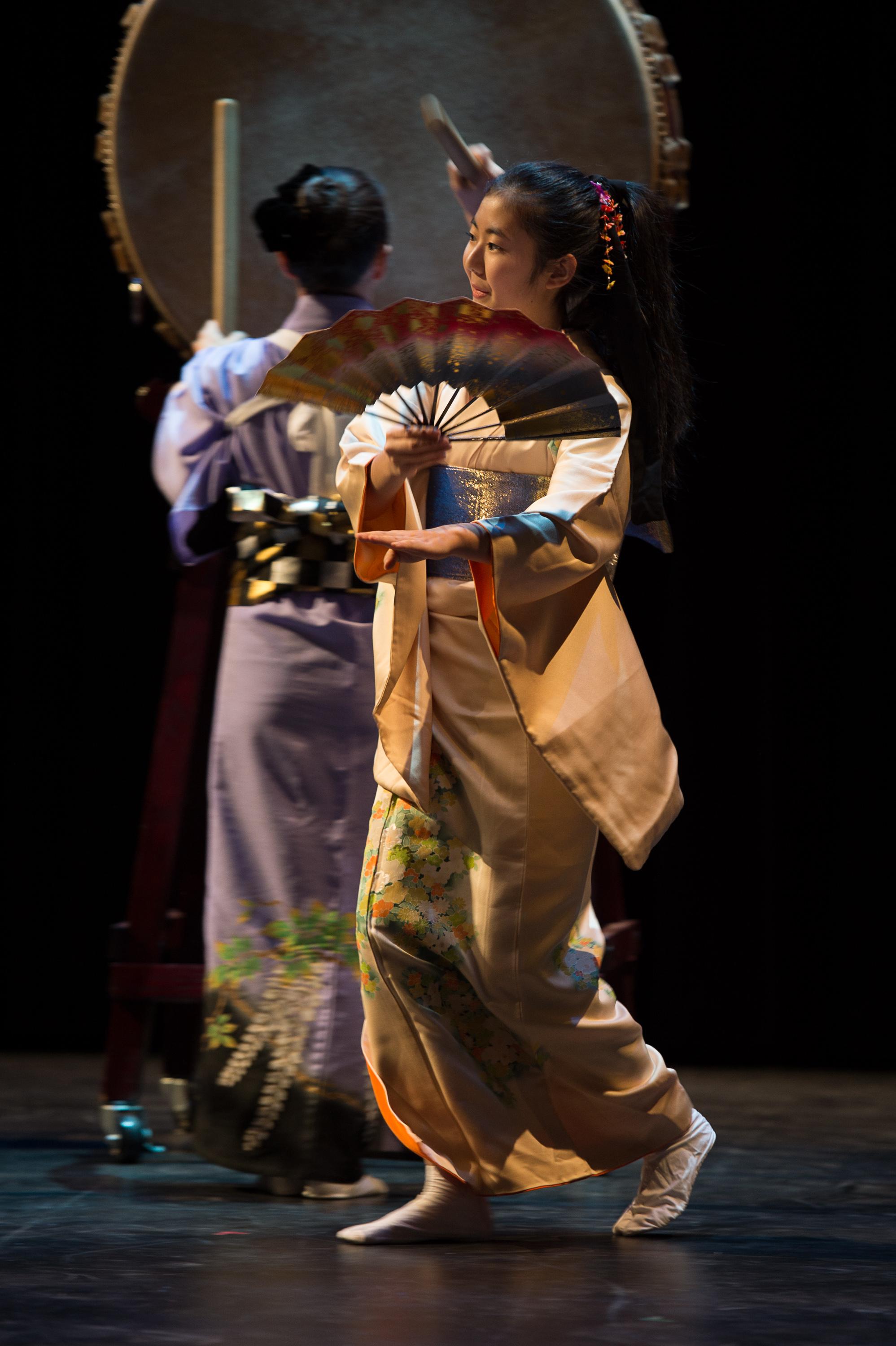 An innovative cross-pollination of cultures and artistic forms.

—Splash Magazine
Copresented with Asian Improv Arts Midwest
The unmistakable sound of Taiko (Japanese drums), once heard only at seasonal festivals and temples in Japan, reaches a new level at MCA Stage this year. The tenth anniversary performance features two distinct programs.
Taiko Legacy 10
The perennial favorite of families is performed by three generations of drummers and stars Dohee Lee (Korean drum) and Melody Takata (Taiko) of San Francisco, alongside Grandmaster Fujima Shunojo, performing classical Japanese dance. In his rousing return from Tokyo, Yasushi Shimazaki performs chindonya, a traditional Japanese troubadour street theater.
Running time: 90 minutes, no intermission
Reduction
The evening program, Reduction, revisits Taiko during its early 1970s musical/theater experimentation days in Tokyo. The unearthly Ayako Kato, one of Chicago's leading contemporary dance improvisers, performs alongside formidable creative musicians Edward Wilkerson and Nicole Mitchell. Tsukasa Taiko musician Eigen Aoki joins the acclaimed percussionists Michael Zerang and Hamid Drake to forge a transportive soundscape. Preview the taiko and improvisation experimentation by artists featured as part of Reduction:
Melody Takata, taiko master, performs dance improvisation to upright bass, played by Tatsu Aoki. Videography directed and edited by Tatsu Aoki.
This ceremonious rhythmic spectacle, originated in Sapporo by the Japanese National Guard Taiko, is now a signature work of Tsukasa Taiko and features Eigen Aoki and internationally acclaimed percussionists, Michael Zerang and Hamid Drake.
Melody Takata draws from the experimental improvisation drumming of 1960's Tokyo in this taiko solo performance. Accompanied by Tatsu Aoki.
Running time: 85 minutes, no intermission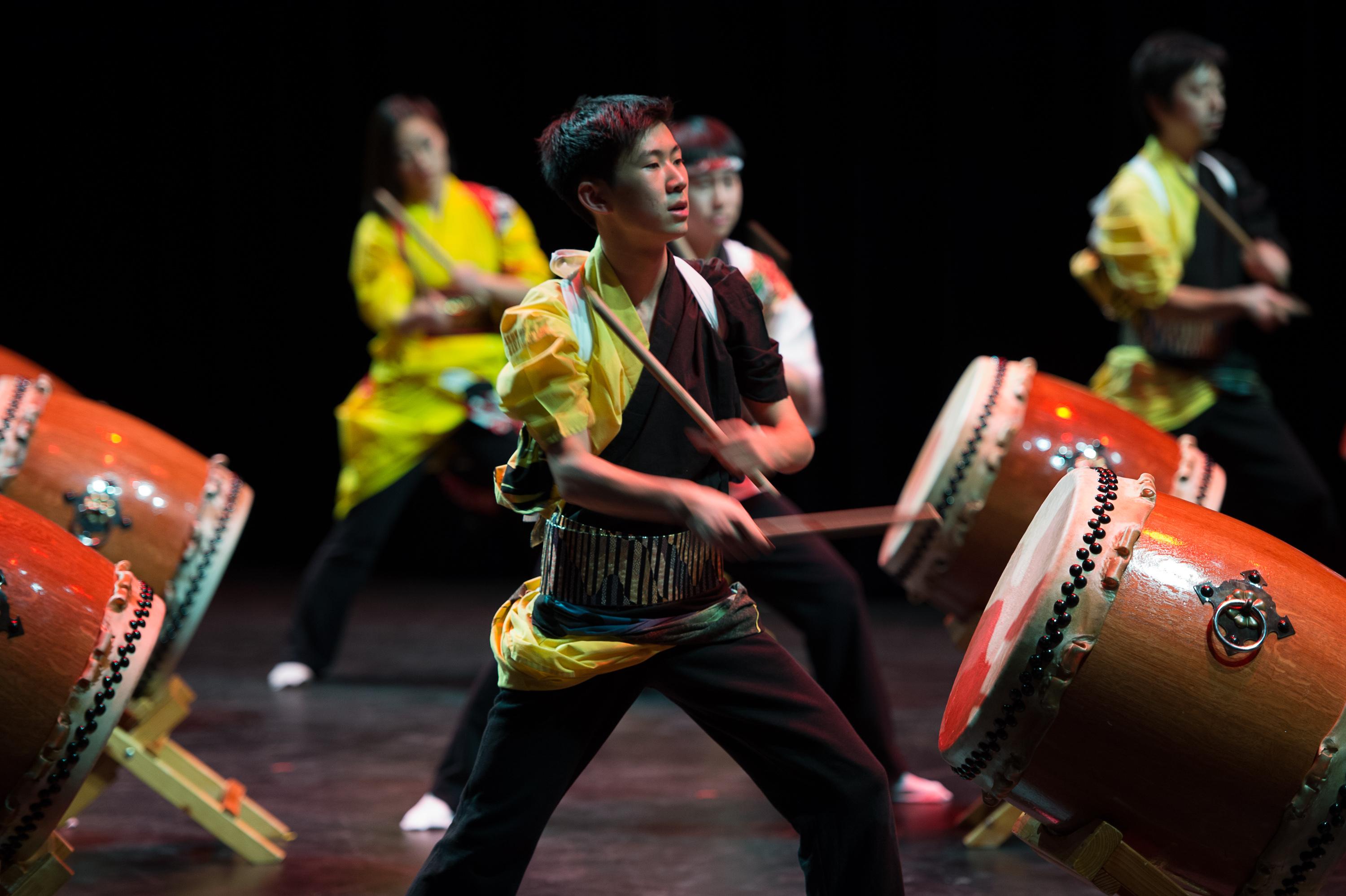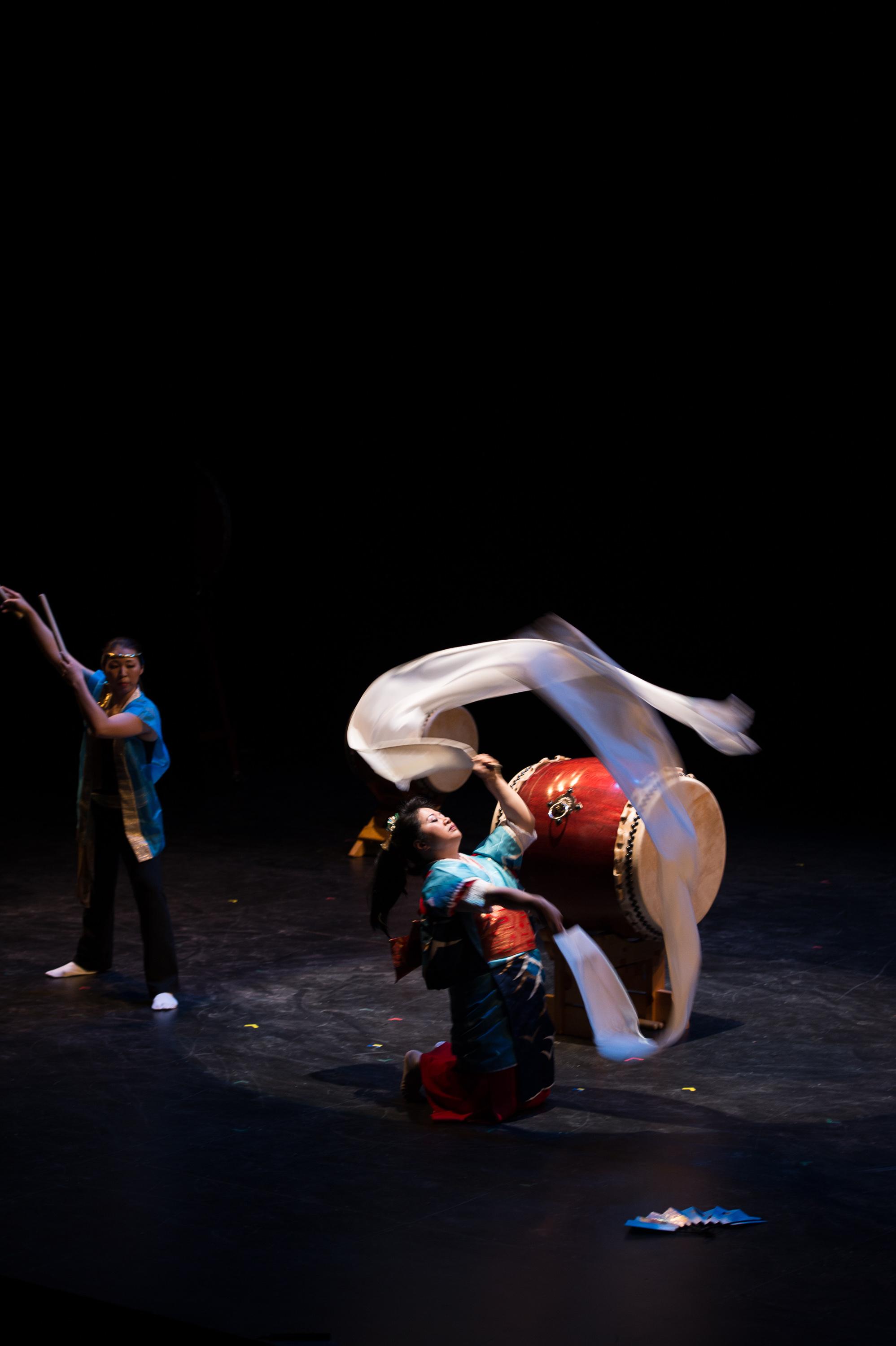 About the Artists
Tsukasa Taiko, cofounded by Tatsu Aoki in 1996, encompasses the largest multigenerational ensemble to perform traditional and contemporary forms in the United States. Its annualTaiko Legacyinventively combines drumming, shamisen (lute), and shinobue (flute) with improvisations and collaborations with international jazz and dance artists. Tsukasa Taiko has performed at the Bunka Shutter Hall in Tokyo; the Malta International Theatre Festival in Poznan, Poland; the Smithsonian; and Yerba Buena Center for the Arts (San Francisco). Notable MCA projects include Aoki's 1997Basser Live, a jazz trio concert and live recording, and Aoki's world premiere ofBig Band: Origins of Now for orchestra.
Yasushi Shimazaki was born in Tokyo, Japan, and established the theatrical troupe U-Stage based on the traditional Japanese troubadour street theater. The distinctive chindonya program pays tribute to the stylized marching band of colorfully costumed street musicians popularly known for boosting foot traffic at Tokyo's ubiquitous storefronts. Originating in 19th-century Osaka and Tokyo, the form has been contemporized by Shimazaki to revitalize the virtues of this tradition. His experimental chindonya involves chindon troubadour music, Japanese Taiko drumming, and an array of street theater. U-Stage has toured throughout the United States and the United Kingdom, Australia, and Southeast Asia.
Michael Zerang was born in Chicago, Illinois, and is a professional musician, composer, and producer, focusing extensively on improvised music, free jazz, contemporary composition, puppet theater, experimental theater, and international musical forms. He has received three Joseph Jefferson Awards for Original Music Composition in Theater. As a percussionist and composer, Zerang has more than 80 titles in his discography and has toured nationally and internationally. He founded and was the artistic director of the Links Hall Performance Series in Chicago from 1985 to 1989 where he produced concerts of jazz, traditional ethnic folk music, electronic music, and other forms of forward-thinking music. Zerang has taught at the School of the Art Institute of Chicago, Dance Center of Columbia College, Northwestern University, MoMing Dance and Arts Center, and Northwestern University.
Hamid Drake is a jazz drummer and percussionist. He lives in Chicago but spends the majority of his time touring and recording worldwide. He is widely regarded as one of the best percussionists in jazz and avant-garde improvised music. Drake has collaborated extensively with top free jazz improvisers, incorporating Afro-Cuban, Indian, and African percussion instruments in addition to using the standard trap set. He frequently plays without sticks, using his hands to develop subtly commanding undertones. Drake also devotes his energies to being a bandleader with his projects, Bindu and Indigo Trio. In recent years, Drake has appeared with Jazz legend Archie Shepp and the group Phat Jam along with human beat boxer and rapper Napoleon Maddox. In addition to the drum set, Drake performs on the frame drum, the tabla, and other hand drums.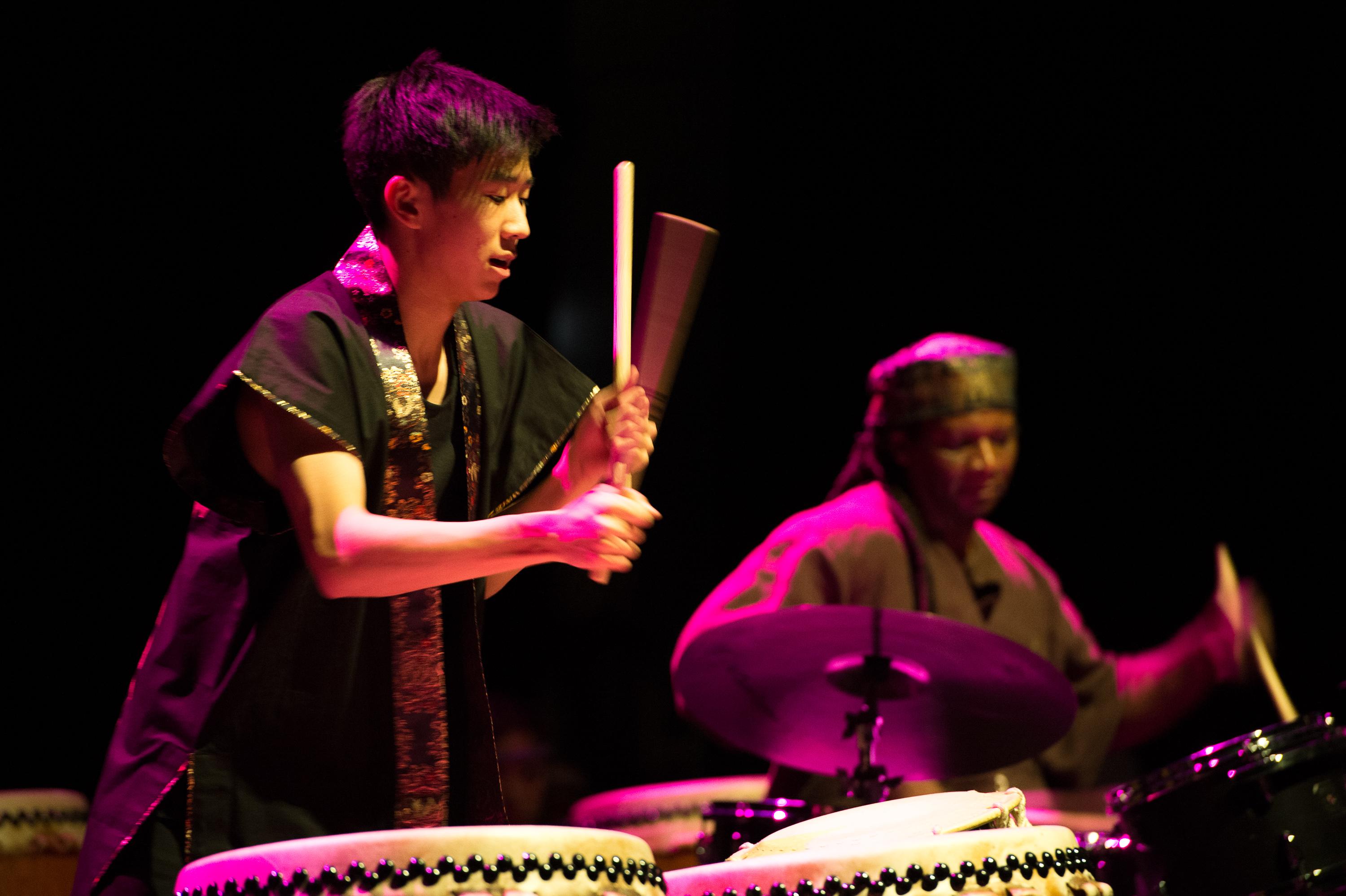 Funding
Generous support for Tsukasa Taiko is provided by David Herro and Jay Franke.
WDCB 90.9 is the Official Media Sponsor of Tsukasa Taiko: Reduction.