Squiggly Window Art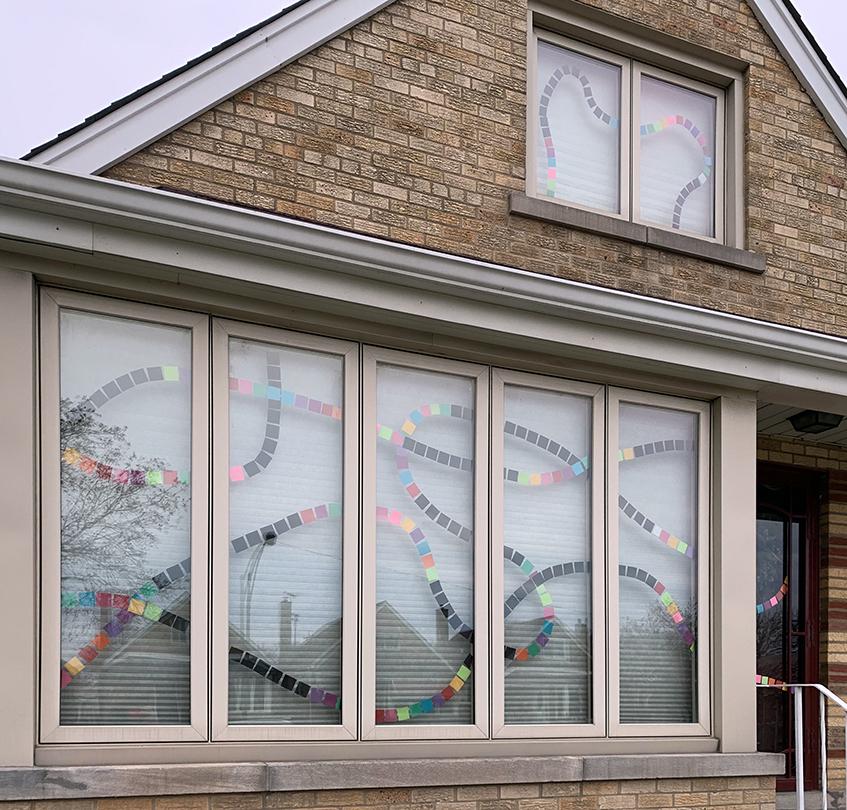 Introduction
When the shelter-in-place went into effect, I had a bunch of pre-cut construction paper squares that were just about to hit the classrooms. I was also having discussions with friends and colleagues about domesticity, locality, ways of delivering lesson plans for our students, and ways to bring people into contact with contemporary art in our neighborhoods.
This project is meant to teach young people about how contemporary painting has conversations with the past. It's like playing a visual game: one artist makes an artwork, then a very enthusiastic fan of that painting makes one in response to the first. And it goes on forever. In the past, I've asked my students to search for a contemporary painter they feel they can "speak back to." I chose to look at the work of Brice Marden and decided he would be the perfect artist to riff off in my front window.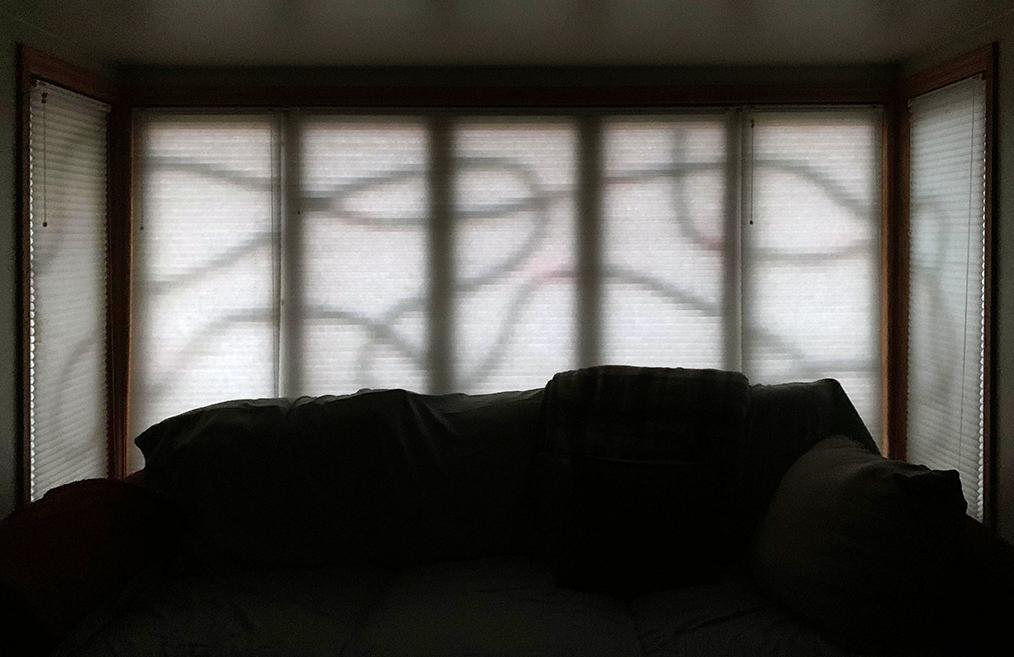 Inspirations
Brice Marden makes abstract paintings. Abstract means it doesn't look like anything from real life, but it may feel like something familiar. Brice would also use materials from nature to make his abstract paintings. He's famous for using long sticks dipped in ink, where he said he could see the whole surface of where he was drawing easier. It also challenged the way he made his lines, so the squiggles all kind of look accidental, although they are intentional.
I was inspired by Brice's squiggly lines. I also love public art and my neighborhood has very little of it. When everyone was being asked to stay inside for the shelter-in-place order, I started feeling a little squiggly too. It can get boring staying in the house. Even when I do leave the house, it's usually just for a walk around the neighborhood. Lots of the houses look exactly the same. I wanted to mix it up a little bit—get wild with it. How awesome would it be if everybody did an artwork in their own window? We could make every block our own personal art museum.
Videos
---
Activity
This activity is great for kindergarten through 8th graders and their adults.
Process
Gather your materials
colored paper
scissors
tape
Create a Window Abstraction
Cut your paper into many small shapes. Try folding a couple sheets of paper like a book. If you cut from the open side, you'll make multiples of the same shape. If you cut from the folded side, you'll make fewer shapes, but they'll be symmetrical, or the same on both sides.
Take a look at your windows. Be sure to choose a window that other people will be able to see from the outside.
Imagine some huge squiggly lines flowing between your windows. They don't need to end at the window frame. They can go from one window into the next.
Put on your favorite music and tape your small paper shapes in squiggly lines. Don't waste the scraps! Those make great shapes, too.
When you think you're finished, take a look from outside. Will your neighbors be inspired by your window abstraction?
Key Words
Abstract or abstraction—art that doesn't look like anything from real life
Public art—art that is outdoors, or is in a space that is shared and open to all
Symmetrical—when two (or more) sides of a shape match
Collection Connection
by Jeremy Kreusch
Curious about artists who are making abstract art? Check out these artworks in the MCA Collection.
---
Brice Marden, 8, 1987–88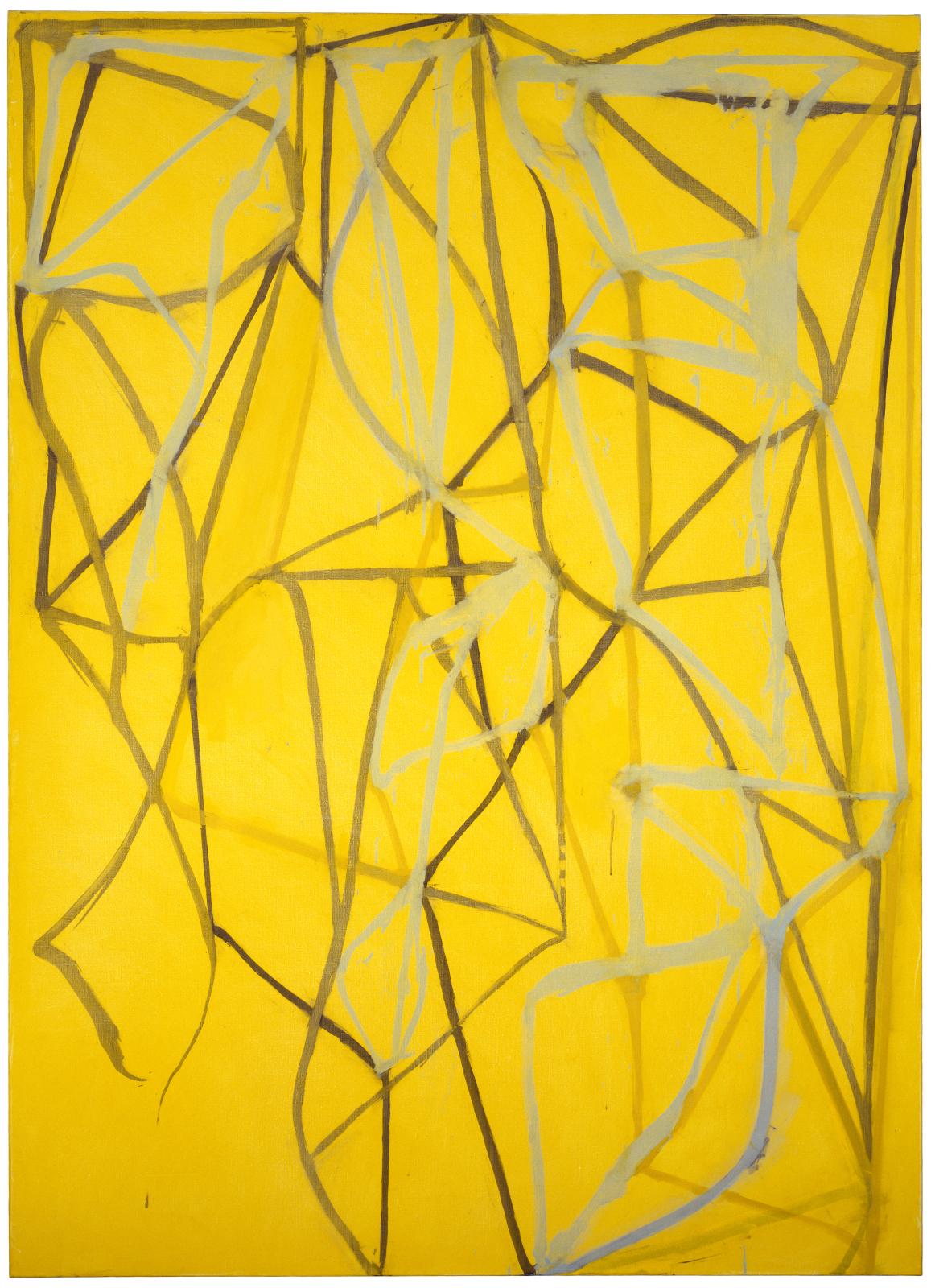 ---
Take a look at Brice Marden's painting 8, (1987-88). On a screen, you can mostly see the color and the lines. In person, a painting's surface is just as important as the other elements. Imagine what the texture of this painting might be like. Look at how Brice Marden's brush moved over the canvas. Do you think his brush created a smooth surface, or a rough one? Would it be shiny, or dull?
The colors and lines in abstract paintings like this one don't intentionally depict anything from real life, though they can remind us of things. With a friend, each of you take a few minutes and make two lists of words. For the first list, write down all the things you can think of that are this particular shade of yellow. Sunset? Old bananas? Then, make a list of action words ending in "-ing" that you'd use to describe the movement of the lines. Crashing? Bouncing? When you have good lists, take turns saying the words in combination to one another, as if they were new names for this painting. Crashing sunset! Bouncing old bananas!
Judy Ledgerwood, Sailors See Green, 2013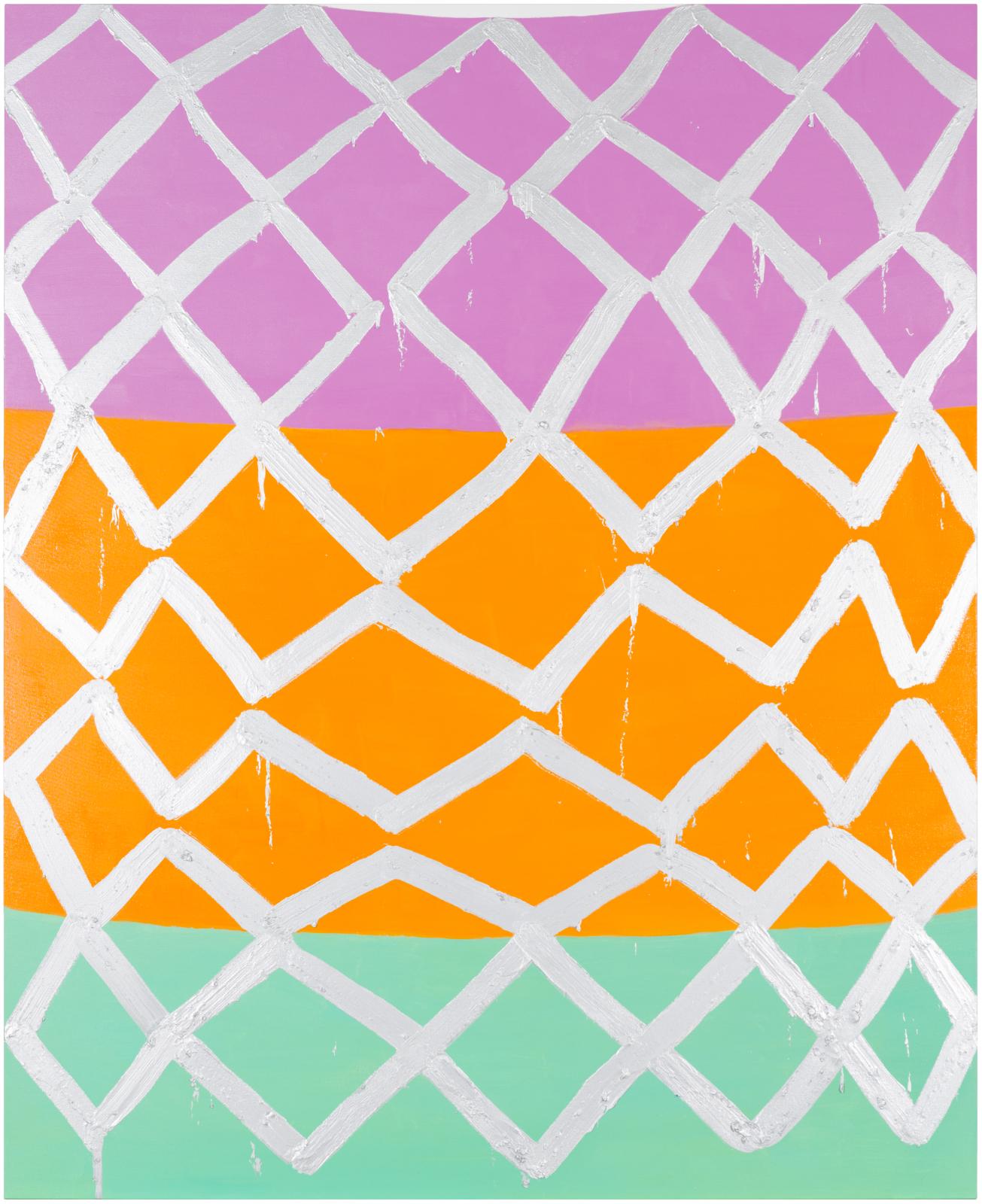 ---
Take a look at this painting by Judy Ledgerwood titled Sailors See Green, (2013). Although abstract paintings don't outright depict reality, sometimes their shapes, colors, and lines echo aspects of real life. Judy Ledgerwood's paintings are frequently inspired by patterns found in textiles. Imagine this painting was a piece of fabric. Would you wear it? How would you feel in these bright colors and silver zig-zags?
Judy Ledgerwood is also known for making huge paintings directly onto walls, like this one she made for the Smart Museum of Art. The painting at the Smart Museum was inspired by this decorative elevator screen by Louis Sullivan. Take a look around your favorite space. Are there any inspiring patterns or colors? How might you use them as inspiration for a painting?