Sympathy for the Devil
Art and Rock and Roll Since 1967
Publisher

MCA Chicago with Yale University Press

Binding

Hardcover

Pages

288

isbn

9780300134261

ISBN

9780300134261

Dimensions

254×318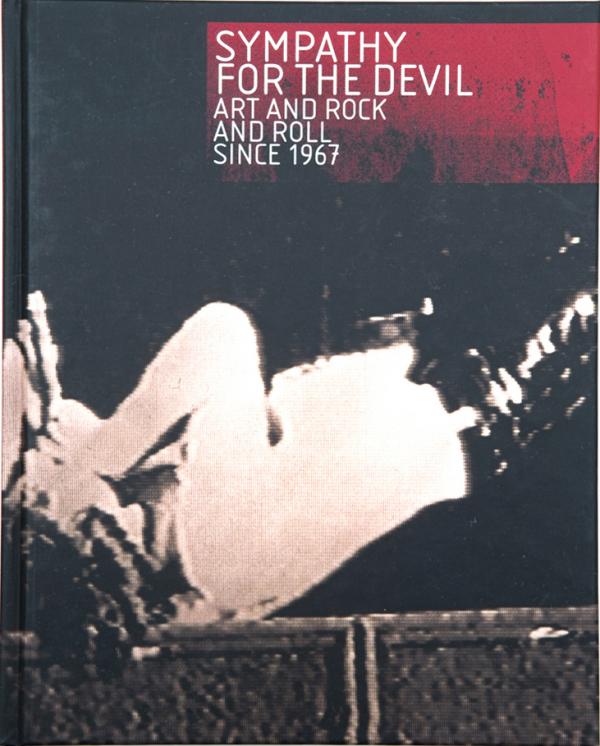 About
---
The dynamic relationship between rock music and visual art crosses continents, generations, and cultures. Beginning with Andy Warhol's involvement with The Velvet Underground in 1967, artists have maintained a strong connection to rock. Artists such as Slater Bradley, Mike Kelley, and Raymond Pettibon have created album covers and music videos for rock bands, while rock musicians such as Bryan Ferry, John Lennon, and Peter Townsend have emerged from art schools, and punk and new wave bands such as Talking Heads and Sonic Youth have shared the same social and artistic milieu as artists including Robert Longo and Richard Prince.
Sympathy for the Devil: Art and Rock and Roll Since 1967 looks at the intimate and inspired relationship between the visual arts and rock-and-roll culture, charting their intersection through works of art, album covers, music videos, and other materials. Organized regionally by cultural centers including London, New York, Los Angeles, and Cologne, the essays examine rock-and-roll's style, celebrity, and identity politics in art; the experience, energy, and sense of devotion rock music inspires; and the dual role that many individuals play in both the sonic and visual realms.
Presenting work that defies a more literal interpretation of the theme and instead suggests the style, energy, and attitude that has come to be associated with rock and roll, this fascinating volume is essential for admirers of contemporary art and culture.
Table of Contents
| PAGE | CONTENT |
| --- | --- |
| 6 | Lenders to the Exhibition |
| 7 | Foreword |
| 8 | Introduction |
| 10 | New York |
| 12 | Experimental Jet Set: The New York Scene by Dominic Molon |
| 20 | No New York: A Personal Account of the Downtown Scene, Late '70s/Early '80s (To the Best of My Recollection) by Bob Nickas |
| 26 | CBGB as a Physical Space by Richard Hell |
| 30 | New York: Plates |
| 70 | The UK |
| 72 | Made with the Highest British Attention to the Wrong Detail: The UK by Dominic Molon |
| 80 | Ono, Eno, Arto: Nonmusicians and the Emergence of Concept Rock by Simon Reynolds |
| 92 | The UK: Plates |
| 122 | Punk as Propaganda by Dan Graham |
| 134 | Europe |
| 136 | Europe Endless: Art and Rock on the Continent by Dominic Molon |
| 142 | Intensity, Negation, Plain Language: Wilde Maler, Punk, and Theory in Germany in the '80s by Diedrich Diederichsen |
| 154 | Europe: Plates |
| 168 | Los Angeles/The West Coast |
| 170 | This Ain't No Picnic: Los Angeles and the West Coast by Dominic Molon |
| 176 | Playing the Strip by Jan Tumlir |
| 190 | Los Angeles/The West Coast: Plates |
| 208 | Strange Früt: Rock Apocrypha, by the Destroy All Monsters Collective by Mike Kelley |
| 212 | The Broader United States |
| 214 | Home of the Brave: The Broader United States by Dominic Molon |
| 218 | The Broader United States: Plates |
| 232 | Sentences on AC/DC by Anthony Elms |
| 234 | The World |
| 236 | Everything is Possible: Art, Rock and Roll, and the Global Perspective by Dominic Molon |
| 239 | The World: Plates |
| 251 | A Timeline by Joe Madura and Dominic Molon |
| 266 | Selected Bibliographies, Discographies, and Exhibitions |
| 281 | Acknowledgments |
| 285 | Index to Artists and Bands |