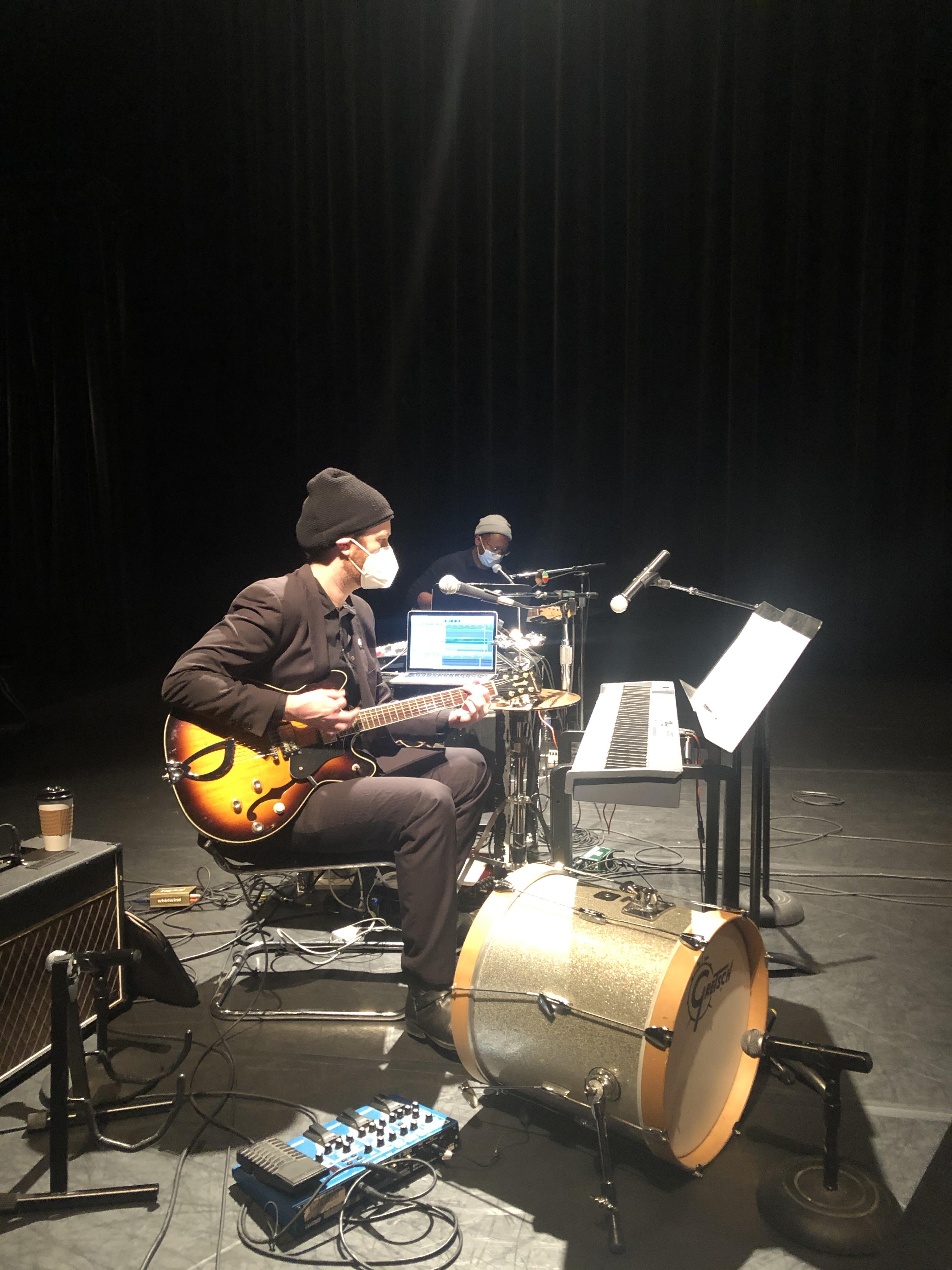 The Long Dream Artist Residencies: Derek McPhatter
by Laura Paige Kyber and Tara Willis
Introduction
Creative process is at the heart of the MCA's relationship with the city of Chicago. As a part of the museum's commitment to supporting each phase of artistic development from conception to final presentation, the MCA's Performance and Public Practice team selected three artists that represent a cross-section of Chicago's robust performing arts community for theater-based residencies as part of the exhibition The Long Dream. Artists were given access to the MCA's three hundred–seat theater, financial and technical support, and a discretionary budget for materials and collaborators. With no requirements toward a final public showing, artists chose how to spend their time and resources in ways that best supported their work. Amidst the enormous pandemic-related loss of work opportunities for live artists, The Long Dream was organized collectively by the MCA's Artistic Division in an effort to be more wide-reaching and inclusive in its support for local artists. These residencies were developed as part of that ethos.
As part two of a three-part blog series,* this post includes an introduction by curator Tara Aisha Willis, followed by work from Derek McPhatter. This piece is accompanied by his personal rehearsal photos and excerpts of raw footage taken during his residency.
---
Derek McPhatter, WATER RIOT IN BETA: A CYBERPUNK ROCK OPERA
During his two-week MCA residency, playwright Derek McPhatter and his collaborators are developing the music and script for the second installment of his epic performance suite NightQueen. This installment is titled WATER RIOT IN BETA: A CYBERPUNK ROCK OPERA. Derek envisions a future Chicagoland under threat of ecological collapse, where Black creativity and resilience thrive in a city becoming unbearably hostile.
Although Derek and his collaborators have been able to develop a lot of the music and lyrics for this new work of music-theater from afar over online platforms, having the chance to hear a handful of the new songs sung and played live—and to work on the details of each word choice and the energy of the music's flow while in the same room—has been a huge leap forward for Derek as he writes the rest of the show. The below text, photos, and video clips give a sense of WATER RIOT's powerful tone.
—Tara Aisha Willis, Associate Curator
Email correspondence from Derek to Tara, December 16, 2020:
This residency provided an ideal framework to experiment with WATER RIOT IN BETA: A CYBERPUNK ROCK OPERA. Over these last few weeks, I have had the privilege of collaborating with Michael Pryzgoda, Nicole Michelle Haskins and Lawrence Baker, with the support of the team at the MCA (and some visual stylings by Aquarius Ester). We moved from text and sound into musical ideas into three distinct songs, which I believe reflect the "heartbeat" that will drive the evening-length work.
In this year of unrest and transition, it was refreshing to settle into a familiar process of developing a performance project. At the same time, the project is grasping at the unsettling nature of the moment—our digitized isolation, our collective determination, our anxieties. I'm looking forward to the continued growth of this piece in the months ahead. In the meantime, an excerpt . . .
am i still here
i guess i am
wasn't my wish
wasn't the plan
But since this borrowed time ain't run out yet i'll try and help you understand
i'm just myself
it's all i am
i'm ready to
upload me
---
*The third planned blog post in this series, by artist-in-residence Joanna Furnans, will not be published. At the request of the artist, Furnans has withdrawn her participation in the exhibition.