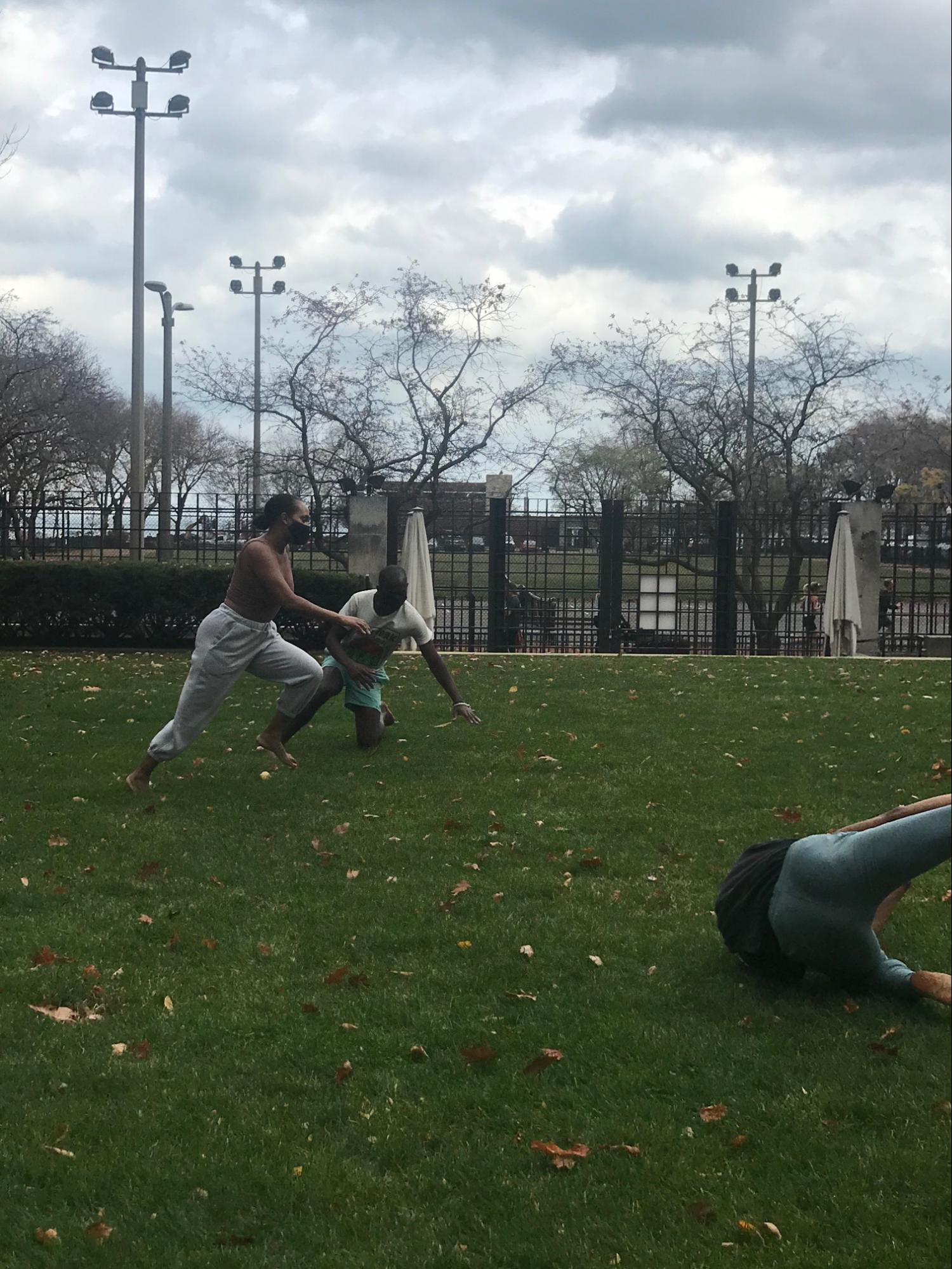 The Long Dream Artist Residencies: Darling "Shear" Squire
Introduction
Creative process is at the heart of the MCA's relationship with the city of Chicago. As a part of the museum's commitment to supporting each phase of artistic development from conception to final presentation, the MCA's Performance and Public Practice team selected three artists that represent a cross-section of Chicago's robust performing arts community for theater-based residencies as part of the exhibition The Long Dream. Artists were given access to the MCA's three hundred–seat theater, financial and technical support, and a discretionary budget for materials and collaborators. With no requirements toward a final public showing, artists chose how to spend their time and resources in ways that best supported their work. Amidst the enormous pandemic-related loss of work opportunities for live artists, The Long Dream was organized collectively by the MCA's Artistic Division in an effort to be more wide-reaching and inclusive in its support for local artists. These residencies were developed as part of that ethos.
As part one of a three-part blog series*, this post includes an introduction by curator January Parkos Arnall, followed by the transcript of an email artist Darling "Shear" Squire sent to collaborators, and a set of links shared by the artist with context provided by curatorial assistant Laura Paige Kyber.
---
Darling "Shear" Squire, Beatitudes
November 7–December 22, 2020
---
Movement-based artist Darling "Shear" Squire's work centers on connection. During a two-week MCA residency, the artist worked on developing Beatitudes, a performance based on the culture of the Beat Generation—an avant-garde literary community in the 1950s. The performance intermingles the poetry and sounds of Beat writers with references to the Beatitudes, a set of blessings from the Gospel of Matthew, many of which indicate favored spiritual positions for those who have suffered while on Earth.
Over the first week of the residency in the Edlis Neeson Theater, the artist invited a group of dancers to engage together in a workshop toward developing the work. What follows is a set of thoughts and references provided by the artist as part of the workshop intensive that gives us a glimpse into the working process and thinking they explored.
—January Parkos Arnall, Interim Senior Curator
---
Email correspondence from Darling to collaborators, November 2, 2020:
*Italic sections of this text are contextual additions provided by Laura Paige Kyber.
I am excited that we are sharing, co-creating and inspiring each other during the Beatitude/Body is an Orchestra workshop intensive. My choreographic assistant Erika Farkvam and dramaturg J'Sun Howard will be joining us over the course of the week, also my sound engineer might be doing some soundscaping one or two of the days.
I hope to have air purifying plants in the space because I take the holistic and green approach when I can because nature is the ultimate healer, refresher, restorer and life giver!
During our time together I am making a comfortable space for us all to share but this is not a "Safe Space." What I mean by that is there are too many specifics of what might be a trigger with each individual that we share space with and seeing how I can't begin to keep up with the specifics of each person, I'm not in your head, it literally can't be "Safe Space." I will do my best to offer comfort and understanding from where I stand, but if at any moment you feel like you may need to walk away from something please listen to yourself and take care of yourself as needed.
Now onto the fun stuff. I will be sharing with you some insight into my new work Beatitude which is about the Beat Generation of the 1950s and their evolution into now. The work is part of a trilogy of work I'm creating that is focused on connection to spiritual being and connecting to source intelligence/ god-source/ the universe and beyond. We will also be diving into Body is an Orchestra, a project on being in concert with yourself.
Here are some links to Music, Spiritual Teachings, Articles and Videos that have been inspiring and offering aid to me for this project:
Spirit:
The following three links are audio recordings from Esther Hicks Weaver, also known as Abraham Hicks, an American inspirational speaker and author. According to Hicks, "Abraham" consists of a group of entities, interpreted through Esther Hicks as a medium. Abraham has described themselves as "a group consciousness from the non-physical dimension." The basic tenets of their teachings include the ideas that people create their own reality through attention and focus; life is meant to be fun and easy; and the basis of life is freedom, for the purpose of joy, toward the result of growth.
Abraham Hicks, speaking in Denver, June 19, 2010
Abraham Hicks, speaking in Orlando, January 11, 2014
Abraham Hicks on art, poetry, and music
Music:
Log in with Spotify to listen to Darling's working playlist for Beatitudes, featuring current and past music by artists like Grace Jones, Erik Satie, Stevie Wonder, Corinne Bailey Rae, Telepopmusik, and more.
Go on an intergalactic musical journey for inspiration with another of Darling's Spotify playlists titled My Spaceship.
Videos:
Rebels: A Journey Underground is a six-part documentary produced for television in the 1990s by director Kevin Alexander and narrated by actor Keifer Sutherland. It covers a range of countercultural movements from William Blake and the 1830s Parisian bohemians to 20th century American movements like the hippie, Jazz, Beatnik, and punk generations. This clip focuses on the Beatniks.
Jack Kerouac: King of the Beats was a 1985 documentary by John Antonelli that examined Kerouac's life through interviews with his contemporaries and friends including Allen Ginsberg, Lawrence Ferlinghetti, and William Burroughs.
Pull my Daisy is a 26 minute short film that typifies the Beat generation. Directed by Robert Frank and Alfred Leslie, Daisy was adapted by Jack Kerouac from the third act of his play Beat Generation. Narrated by Kerouac, the film starred Allen Ginsberg, Peter Orlovsky, Gregory Corso, and others. The film tells the story of a railway brakeman whose wife invites a respected bishop over for dinner when his bohemian friends crash the party with comic results.
The preview reel for Ella Fitzgerald: Just One of Those Things, a 2019 documentary by Leslie Woodhead that follows Fitzgerald's life from the 1934 talent contest at the Apollo Theatre in Harlem that launched her career across five decades reflecting the passions and troubles of the times in her music and life.
Articles:
The Music, a novel by one of my favorite composers Matthew Herbert. A beautiful exploration of sound through description. -
Transform Your DNA Through Sound Frequency, January 22, 2020 in Spirit Science Central
Black Holes Echoing Through Spacetime Could Be Telling Us They Aren't What We Think They Are by Elizabeth Rayne, Feb 12, 2020, in SyFy Wire
How Astral Projection Benefits Your Personal Growth, April 13, 2020 in Spirit Science Central
A thirty-four billion solar mass black hole in SMSS J2157-3602 the most luminous known quasar, by Christopher A Onken, Fuyan Bian, Xiaohui Fan, Feige Wang, Christian Wolf, and Jinyi Yang, in Monthly Notices of the Royal Astronomical Society, Volume 496, Issue 2, August 2020, Pages 2309-2314.
Movement:
At one time, the highest paid female ballet dancer in the world, Sylvie Guillem, was the top-ranking ballerina with the Paris Opera Ballet from 1984 to 1989, before becoming a principal guest artist with the Royal Ballet in London. Her most notable performances have included those in Giselle, Swan Lake, and Don Quixote. In November 2014, she announced her impending retirement from the stage in 2015 at the age of 50. Having performed the classics with Rudolph Nuryev, she is equally known for her collaborations with contemporary dance choreographers such as Akram Khan, Russell Maliphant, Mats Ek, and William Forsythe.
Here we have a 10-minute clip from the 1993 documentary by Nigel Wattis, Sylvie Guillem: Portrait. This clip features her performance in Smoke by Mats Ek.
Pay attention to what she says at the end, sit with, and meditate on it.
[Watch here.]()
Japanese artist Kanazawa Kenichi uses cymatics to visualize sound by experimenting with sand on a steel tabletop. Kenichi uses a small mallet to rub the metal surface to create sound vibrations that move the sand into geometric patterns.
Deca Dance (1998), by Israeli choreographer Ohad Naharin. Naharin has been the in-house choreographer for the Batsheva Company since 1990, and is known for establishing the movement practice of Gaga. His influence is wide-spread, having spawned other noted choreographers such as Barak Marshall, Hofesh Shechter, and Sharon Eyal. Deca Dance is an anthology of many of his earlier works, and has now been performed by dance companies around the world, including Hubbard Street Dance Chicago.
Play from 44:14 to 54:09. sit with that intention for a while. after that watch 54:09 to the end.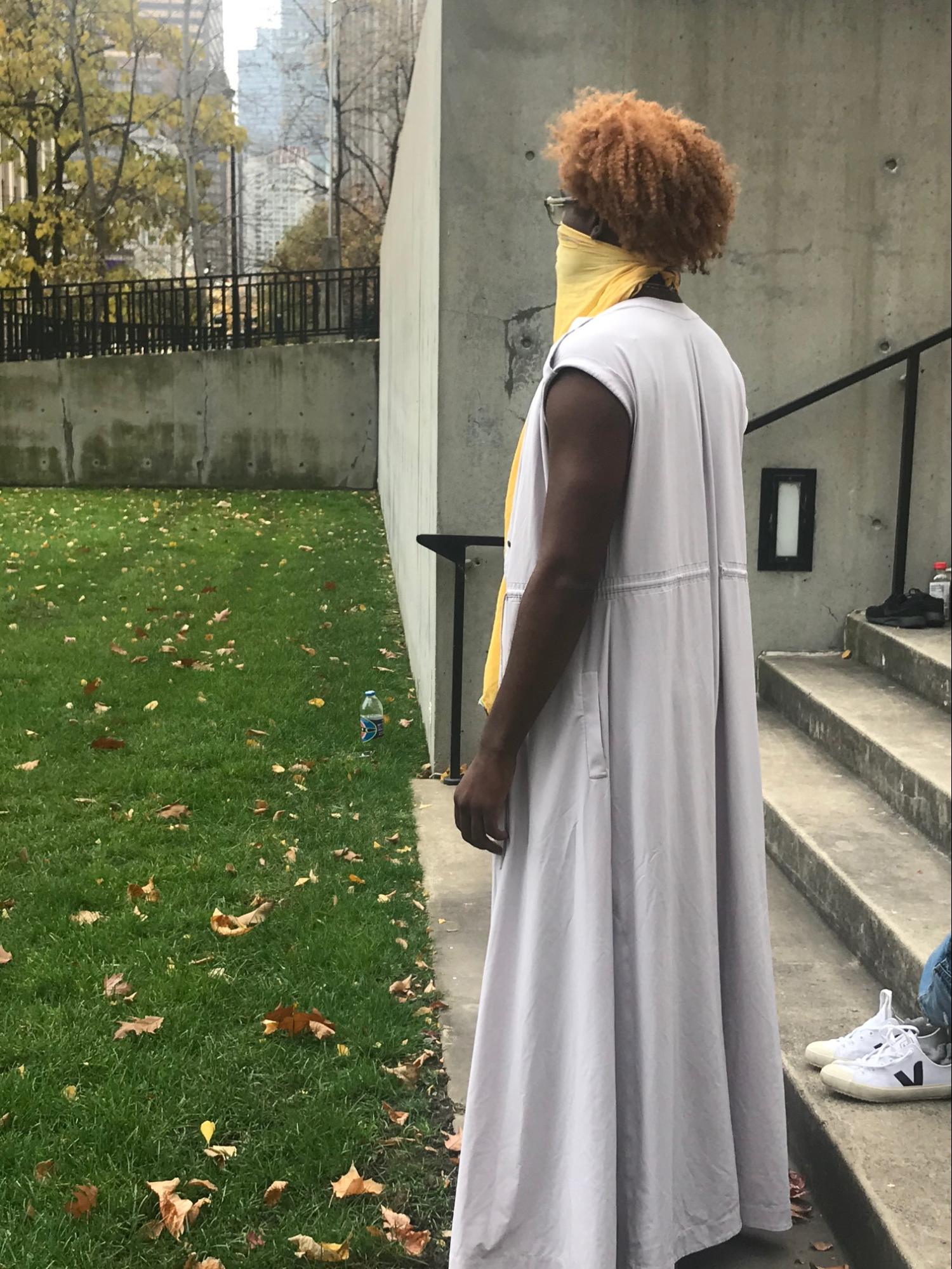 ---
*The third planned blog post in this series, by artist-in-residence Joanna Furnans, will not be published. At the request of the artist, Furnans has withdrawn her participation in the exhibition.