Art Apart: An Opportunity to Look, then Look Again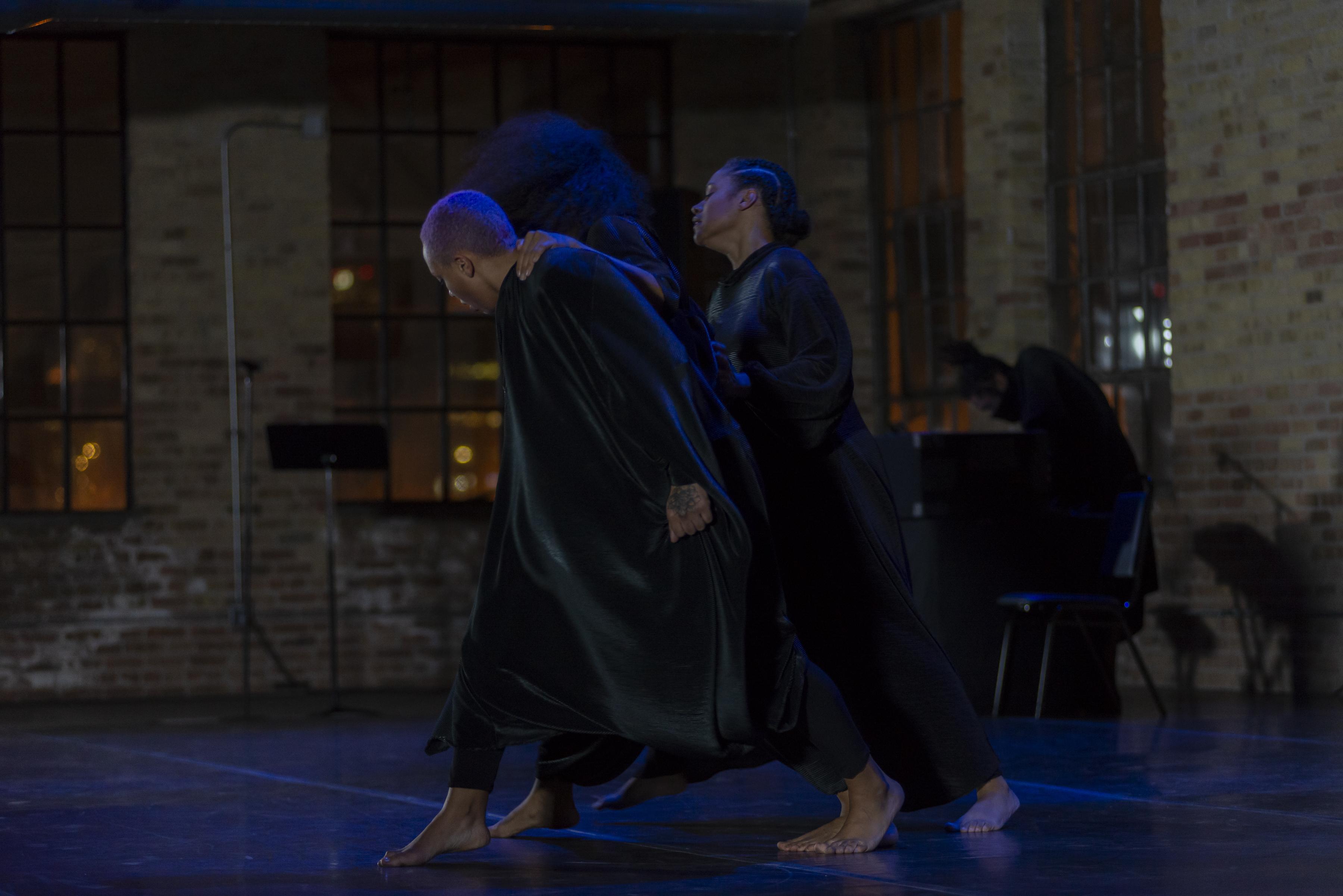 Art Apart is a series that displays how art can connect us, even at a distance. Whether by phone, internet, or other means, art can be more than what hangs on the wall.
---
Introduction
Around the world, theaters and concert halls are dark as we collectively pause in the midst of a pandemic. For art that thrives on the interaction of artist and audience, it can be challenging to think of ways forward: how can performance exist when our bodies are physically distant?
During this time, the MCA's Performance and Public Practice staff has been continuing to explore ways of fostering connections and dialogue through performance. When the MCA shut its doors to the public in March, we knew immediately that we wanted to open up our archive of past performance footage for online viewing, but we also saw potential in the digital realm to create a platform for deeper reflection and dialogue around these works. In a collaborative effort with the MCA's Learning Programs, we'll host the MCA's first Facebook Live Watch Party on Friday, May 15.
On view will be the 2018 collaborative performance What Remains by Bessie Award-winning choreographer Will Rawls and MacArthur Fellow Claudia Rankine. The watch party will feature live commentary from MCA artist guide Joelle Mercedes, who will facilitate conversation among viewers with questions to ponder in real time. In addition to getting to chat live during the performance, we've compiled a list of resources below to further contextualize your viewing experience.
What Remains was one of the first projects I worked on when I came to work at the MCA. By that time, Associate Curator of Performance and Public Practice Tara Aisha Willis had already been immersed in the work for years—first as a performer and later as a curator. We spoke a lot about what it meant for her to step back and forth between these roles for the Chicago iteration of the work, and about how the piece needed to shift in response to the city's history and geography. At the time, I was deeply engaged in questions of who had the right, or the responsibility, to tell certain stories, and to whom. I was learning a lot by watching her careful decisions for the work unfold.
As with Rankine's now widely lauded, book-length poem Citizen: An American Lyric, which was the performance's initial inspiration, What Remains presents a view of contemporary black life as constructed by the dominant values of society. On stage, Rankine's original text is present in little more than the mood set by its four-member cast. But the sense of simultaneous dread, rapture, and wry wit that permeates her pages is palpable throughout. That dissonant combination of sensations allows the performers to play with double entendre in words, sounds, gestures, and tones, asking audiences to look and then look again for what they might be missing. It presents opportunities to rethink what we feel we already know about the world created in the work and the characters that inhabit it.
For this reason, What Remains felt right when it became one of the options for live streaming full-length performance footage from the MCA archives during the COVID-19 quarantine. Now more than ever, our interconnectedness is all too apparent, and the need to re-evaluate and attend to those connections in order to reinforce our social foundation has been something artists like Rankine and Rawls have long been considering.
The piece was originally performed at the MCA Warehouse in Chicago's West Town neighborhood to a limited-capacity house. Not only will this be a rare opportunity to look back at a performance you might have missed live, it will also be a chance to engage deeply with the work's underlying themes and ideas—all while digitally connecting with your fellow audiences without disrupting the show! I hope you'll tune in and let us know what you think in the comments. The live chat will end around 7:30 pm on Friday night, but the performance footage will be available on Vimeo until Monday, May 18.
Additional Resources
Watch

Watch Rankine and Rawls discuss the themes in their piece What Remains, including the erasure and exposure that shape black American life. Full length video and transcript available.

Reflect

Manilow Senior Curator Naomi Beckwith hosted a post-show Q&A with Will Rawls and the cast of What Remains.

Read

Explore an essay by Associate Curator Tara Aisha Willis reflecting on her role in the creation, performance, and curation of What Remains, published for Performa Magazine, 2018.

Shop

Want to get your own copy of Citizen: An American Lyric? Consider ordering one from a local bookstore near you! We recommend Semicolon, Chicago's only Black woman–owned bookstore and gallery space.

Program Notes

Look back on the original MCA program notes that accompanied the 2018 performance.