Intern Spotlight: Jacqueline Zeisloft and Jane Taylor
Intro Text
For this double-feature Intern Spotlight, Winter/Spring curatorial intern Meghan Considine interviewed two other Winter/Spring interns: media relations intern Jacqueline Zeisloft and social media intern Jane Taylor. The Intern Spotlight series highlights the varied opportunities and applicants within our internship program.
Applications for the Fall term close on Sunday, August 11!
---
Featured images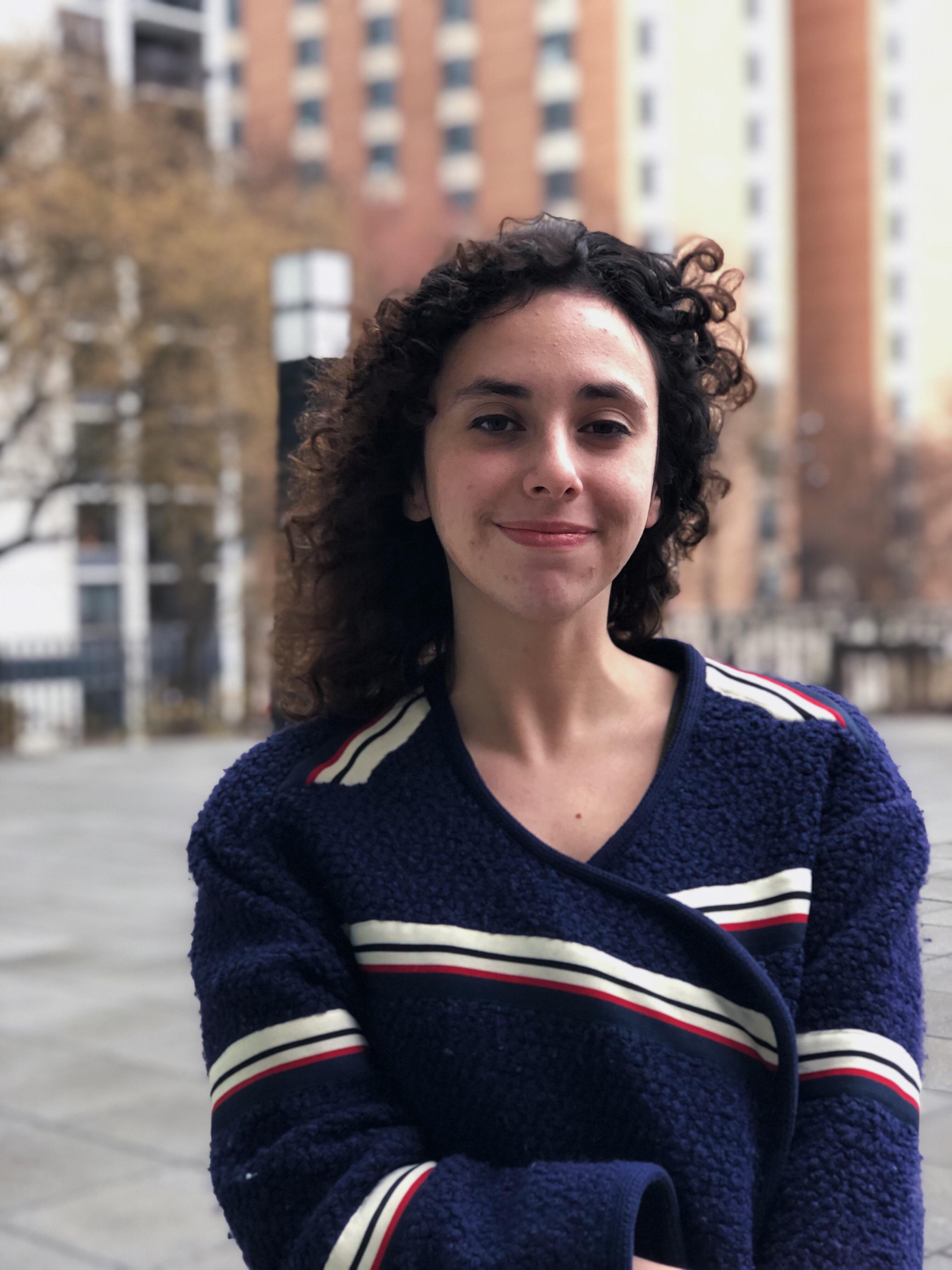 Jacqueline Zeisloft Section Text
What is something that has surprised you about the MCA?
The behind-the-scenes operations here are so big! I had never worked in a museum before I started interning at the MCA, so I was surprised by the size of the team and how much work goes into getting everything done.
What is your favorite current or past exhibition at the MCA?
My favorite past exhibition is Enrico David: Gradations of Slow Release. I'm drawn to Italian modern and contemporary art—its drama, physicality, and incorporation of ancient and religious motifs and symbols. David is from Italy, but he lives and works in London, a city I love for its internationalism and contemporary arts scene. I really see that definitive London edge in his work! I loved that show; I got the exhibition catalogue and everything.
What are your plans and goals after your time at the MCA?
Interning in the Media Relations department sparked my interest in the interaction between art and media, specifically arts criticism and journalism. Journalists and arts writers hold a real responsibility in shaping the way audiences interpret works and in deciding which artists to elevate and bring attention to. After I finish my internship I want to explore arts writing more and see where that takes me. My short-term plans are to move to New York City to join my sister who lives there and to pursue a career in publishing or the media industry.
Do you have any advice for future interns?
Engage with the art in the galleries! Sometimes being behind the scenes in a museum feels like just a normal office job, but not everyone works in the same building as a Kerry James Marshall painting. Also—take advantage of that $7 staff lunch at Marisol.
---
Jane Taylor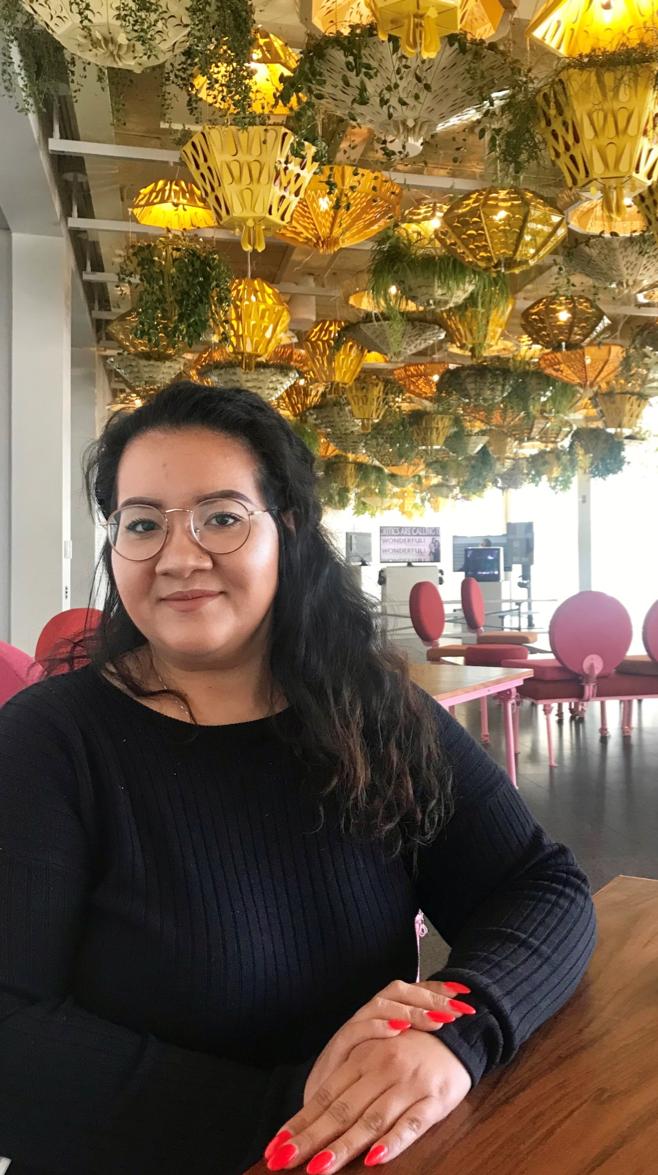 ---
If you could host a talk show, who would be your first guest?
Easy: Jim Carrey, he's hilarious. But I would also like to pick his brain because he's an artist and into psychology. He's a genius. I love the way he thinks and perceives the world and society in general. I love his form of expression. My favorite film he's been in is Eternal Sunshine of the Spotless Mind, but I've also been following his interesting art journey and, of course, his comical posts on Twitter.
What is something that has surprised you about the MCA?
People here work very hard, and I was surprised to learn how much of a process everything is. With things like event planning, a lot of precautions need to be taken. The process is so collaborative, and there is so much more than I thought going on behind the scenes. I love how daring the museum is with the types of art and artists it showcases. The MCA is so bold and charismatic in its exhibitions and events, and in the way that it engages with visitors and artists through programs.
I was really impressed when the MCA implemented pay-gap ticketing for the Laurie Simmons: Big Camera/Little Camera show (https://hyperallergic.com/482004/the-museum-of-contemporary-art-in-chicago-lowers-ticket-prices-for-those-impacted-by-gender-pay-gap/). I was so amazed that they did that for admissions, it was very daring. The museum was like, "look, this is the reality of things." I am also a big fan of the LGBTQ+ events that the museum organizes. It has become a nice and safe private space for anybody to talk and listen.
What are your plans and goals after your internship at the MCA?
I plan to go back to my home state, Texas, for a few months. I'll begin to deal with that post-graduate lifestyle. I plan to use what I learned at the MCA and implement it in my professional career as well as in my growth as an individual. I am studying graphic design and marketing, and the MCA has seriously opened my mind in terms of inspiration and ideas. I feel as if my internship here has helped me meet amazing people that are just rockstars in my book. I have a better sense of my future work and how I might like to present myself moving forward.
Who is your favorite living artist, and why?
I love Yayoi Kusama. Recently, I've been so obsessed. She makes a lot of installation art and interactive works that I find mesmerizing. I love interactive artwork that allows for personal, intimate experiences. Kusama's work is abstract, in a way, but also very whimsical and vibrant. I love the way she transforms space to take you on some sort of trip or adventure. It makes me think I'm living out my best fantasies, or like I'm walking through a dream in real time!