Chicago's Creative Threads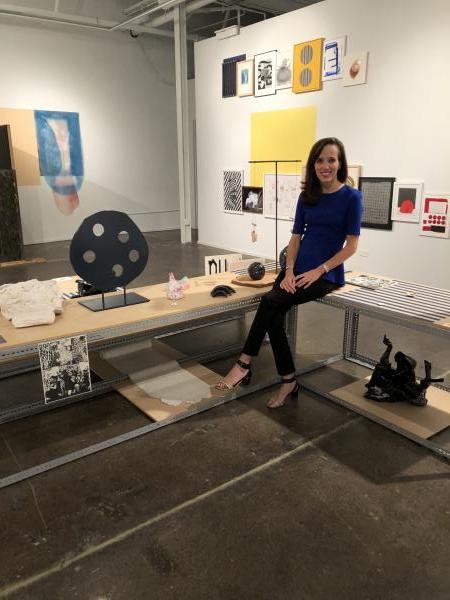 by Leah Froats
Introduction
In the most recent issue of MCA Magazine, various voices from the MCA and beyond explore the topic of creative threads. For this post, three Chicago-area artists and arts professionals provide their perspective on what makes Chicago a unique and vital place for developing a strong arts community.
On Chicago
It can be easy to conceive of museums as isolated monoliths removed from the environments in which they appear. The buildings usually reinforce that way of thinking: large structures walled off from the rest of the world. But art museums can't exist in a vacuum. By nature, museums are entities that thrive when they are connected to the artistic communities around them, and the MCA is no exception.
A Unique City, A Unique History
Museums are inextricable from the places and communities they exist within—and the MCA has the distinct privilege of being located in Chicago, a city with a unique history of social concerns and activism that resulted in a rich and distinctive creative ecology. Jen Delos Reyes, arts organizer and Associate Director of the School of Art and Art History at the University of Illinois at Chicago, is originally from Winnipeg, Manitoba. Before moving to Chicago in 2015, she was "enamored by the city and its legacies."
As Delos Reyes explains, upon moving to the city, "Chicago felt unparalleled—[HaHa]( http://www.hahahaha.org/projFlood.html), InCUBATE, [Temporary Services]( https://temporaryservices.org/served/), Co-Prosperity Sphere—the collective impulse is so strong in Chicago," she says. "I feel like, in some ways, that is born of Chicago's strong union and organizing background."
The individual agency and decision-making that comes from that organizing legacy manifests itself in an empowered Chicago arts community. While some cities' arts scenes thrive on spaces with substantial funding and backing, Delos Reyes explains that Chicago fosters an artist-run culture, abundant with "apartment galleries and people turning unexpected sites and spaces into zones for art activity."
Art in Unexpected Places
Delos Reyes is not alone in her belief that Chicago fosters a creative community that thrives in surprising places.
There is another way in which the sense of place in this city affects artistic communities, and that is in the unique attitude of the people living in Chicago. Call it Midwestern kindness or a kindred urban spirit, but as Caroline D. Older, PhD, explains, there is something unique about this city that makes for an embrace of others in the community. "Chicago might be freezing for a lot of the year, but the arts community is very warm," she says. "That may sound trite, but the arts community here has been welcoming since I moved to the area in 2012 and started at CAC (Chicago Artists Coalition) in 2014. Everyone is always willing to have a meeting, sit down for a cup of coffee, and share their knowledge or advice."
This sense of collaboration and support is reinforced by Jordan Martins of [Comfort Station]( https://comfortstationlogansquare.org/), who believes that the community-minded nature of the city is influenced in part by its economics: "We have a good balance of resources, institutions of various levels, and ample space that can be more affordable than other large cities," he says.
Space as Place
These and other local spaces—vital institutions in their own right—that span the city from Rogers Park to Bridgeport also serve as an essential support network for emerging artists developing their own artistic communities. By passing through these spaces, they grow mutually beneficial relationships and connections. After all, these spaces (the MCA included) can only thrive through these mutually supportive unions with artists.
Such relationships, while necessary and logical, take effort and mutual trust from the institution and its surrounding community to establish, grow, and sustain. Jordan Martins, an artist, musician, and the executive director of the Logan Square–based community space Comfort Station, emphasizes that it's vital for institutions (and the people who work within them) to understand the work that artists are doing: "It's exciting to have someone else tease out the implications of some inquiry that I started," he says.
The volunteer-run space practices what Martins preaches: Comfort Station's P.O.W.E.R. Project not only provides a place for art to hang on the walls, but it empowers Chicago artists of color to take over the space through performances, lectures, and more. By conceiving of the project and collaborating with Chicago's own Art Leaders of Color Network, the P.O.W.E.R. Project draws upon the vital insights and contributions of people of color working in the arts and humanities.
Handing over agency within a space—a familiar practice within the MCA Commons—is an important way in which institutions can share their power, giving artists a more amplified platform that they might not be able to access otherwise. This redistributes authority over artistic practices and invites wider participation, but as Delos Reyes notes, it's vital for these venues to remember that they have to find a balance between their voices and the voices of artists. As she says, institutions need to maintain "[g]ratitude and humility." She continues, "I think more arts institutions need to remember they are there because of, and for artists."
Final Thoughts
We asked each of these Chicago-based arts professionals what makes for a meaningful collaboration between artists and arts institutions. Here are their responses, in their own words:
Jen Delos Reyes: "Shared values. In the work I have done with other artists or arts institutions, things are always better, more productive, rich, and meaningful when we share a foundation and direction. I think that we need to talk more about our values, goals, and visions with each other before engaging in partnerships and collaborations, and if in this process we find out it is not a good fit, we will all be better off for it."
Jordan Martins: "Trust, hospitality, respect, pushing one another to be better."
Caroline D. Older, PhD: "In my experience, successful collaborations between arts organizations develop when both are equally invested in a new shared program, and each organization brings complementary skills or resources to the table. Additionally, having consistent and clear communication about responsibilities, budgets, and the division of labor is key to success as well."