Featured image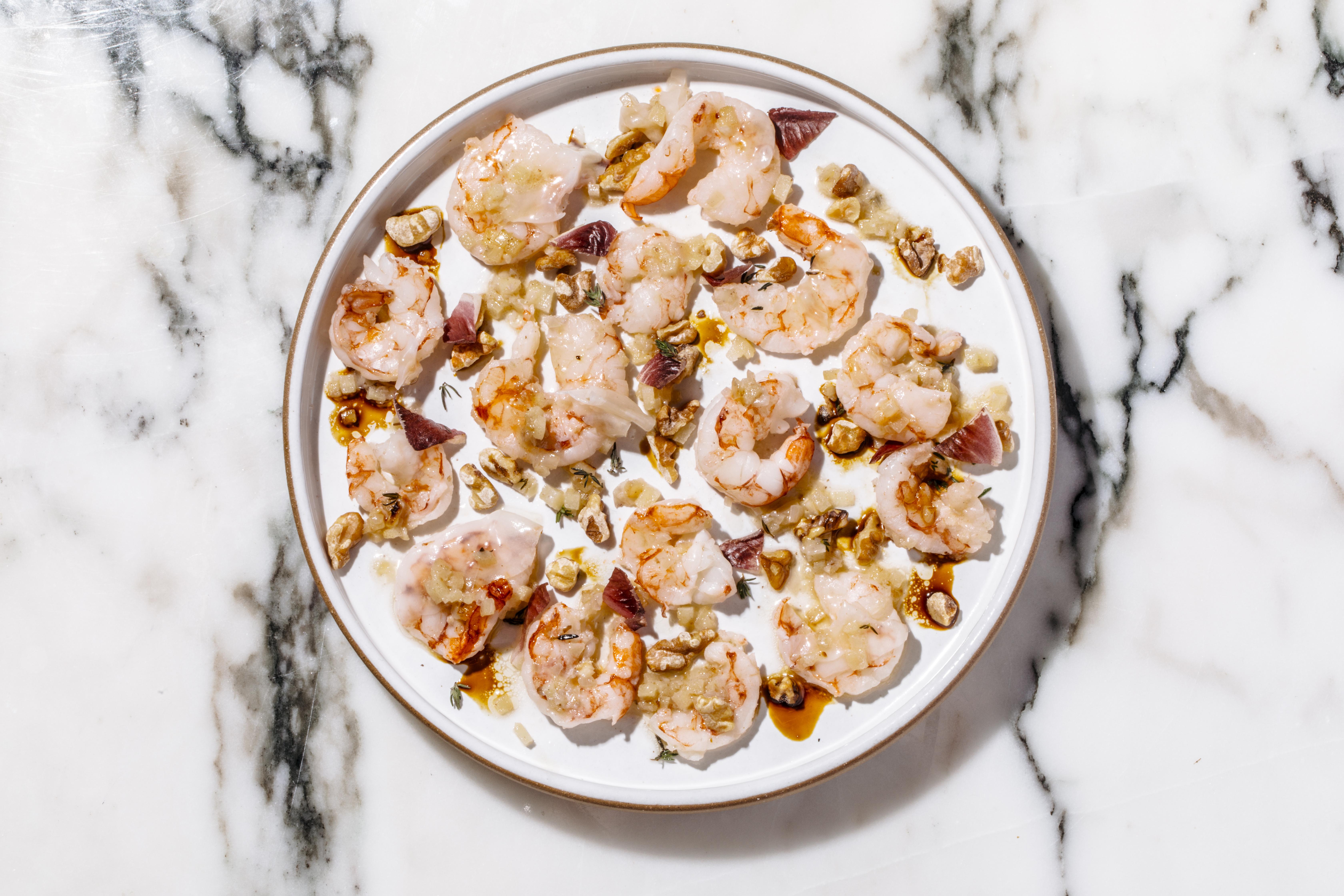 blog intro
With a menu that is guided by what's in season, Marisol's head chef Jason Hammel and chef de cuisine Sarah Rinkavage are constantly experimenting with the freshest ingredients to achieve the best combinations of flavor, color, and plating. Jason sat down with our Communications team to highlight some of the dishes that made it on the current menu. Spoiler alert: white and green feature prominently, with a lot of textures and layers.
Gif of Jason Hammel
---
Rockaway Sweet Red Shrimp: The red shrimp is very pretty and the second version of the prawns with walnut. I made it for Rick Bayless when he was here. The shrimp itself is a really interesting product. It's fish from deep Atlantic Ocean areas in Providence and Connecticut (which happens to be where I'm from) and also New York and it is super-high-quality shrimp that you could eat raw if you wanted to. In this case we just poach it really gently in a brown butter and apple and walnut vinaigrette. It's delicious and pretty. We filet the shrimp into thin slices and lay them flat so they recall a landscape.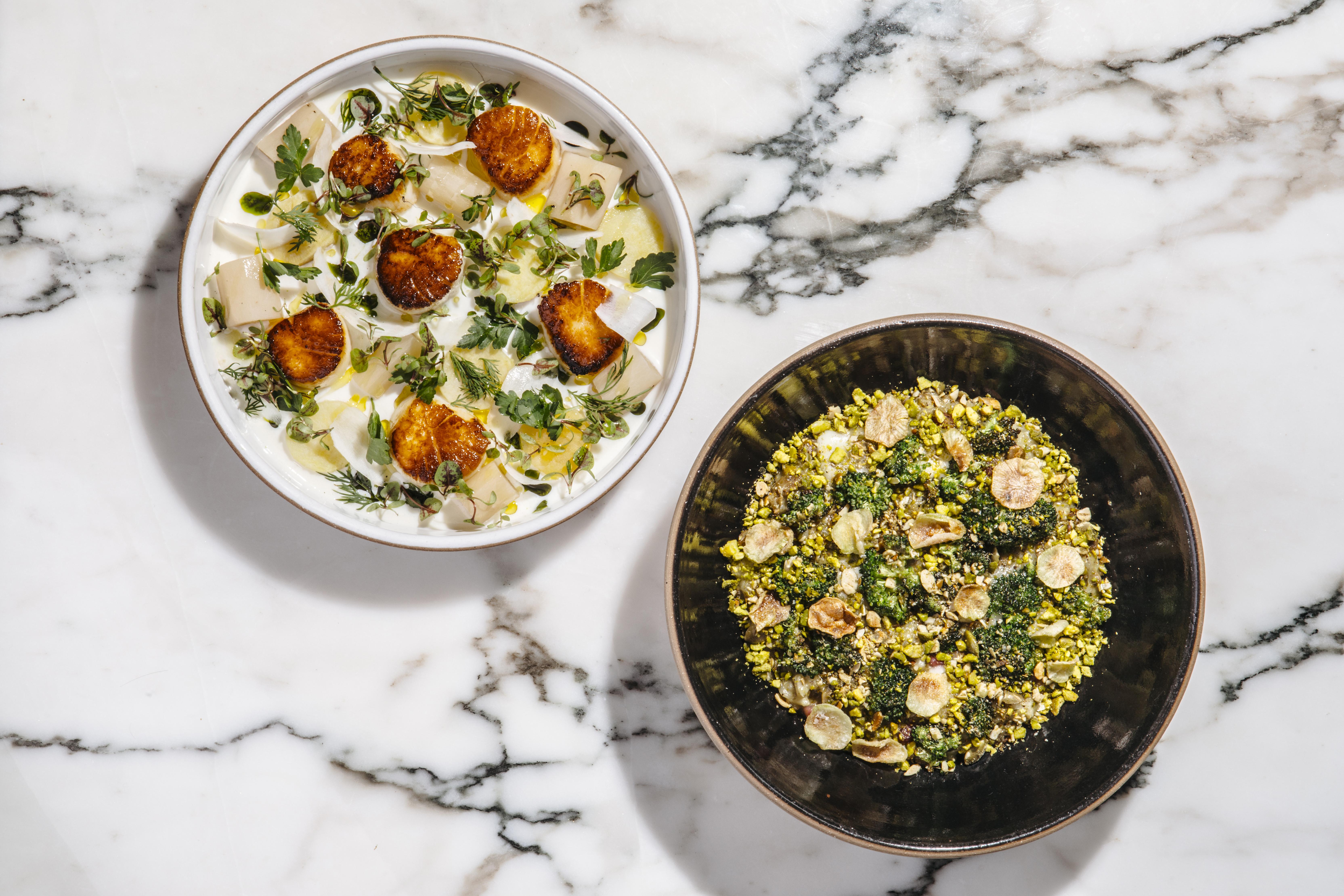 ---
Risotto Verde: I wanted to do a spring dish with peas and asparagus and spinach and artichokes and other green things—fava beans—that are green and springy, so we created a green risotto in winter. We explored tons of techniques and ways of cooking the risotto that would create this dish. The first thing is rice and pumpkin seed. We actually pressure-cooked the pumpkin seeds so that they're tender like rice and we finish with pumpkin seed oil, which gives the whole thing a green tint, and we also braise pistachios so they're also tender and fold them in—so it's nutty-seedy rice not just rice. The pistachios are Sicilian pistachios (that are also on the pistachio roll), and broccoli in a couple different forms, so the whole thing becomes this BRIGHT GREEN landscape.
Seared Scallops: The new Seared Scallops dish is an interesting one. It's pan-roasted scallops in a shallow white jono pandolfi bowl with white yams and salsify. Salsify is a root vegetable that is also white and has a really funky flavor; it looks like a carrot. Both the salsify and white yam are poached in a dashi, which is a Japanese broth, and surrounded by the scallops and a sauce made from dashi and buttermilk. The sauce is the foundation of the plate, so you have these things that are white floating in a white broth and then just tons of herbs and sorrel and bright green herbs and oils. So there is this contrast between these bright green things and the white, because the china is white, too.
Celery Root Involtini: Involtini are usually with eggplant; so when you have stuffed eggplant and you roll it and put something in it, that's an involtini. This is made from celery root. So we cook the celery root really slowly and shave it—slice it really thin and create almost a pasta out of it. We sous vide it in butter. When you do that you're cooking it at a temperature that's below the boiling point so it becomes pliable and tender without being mushy and doesn't tear or rip so you can cut sheets of it, so you can make pasta out of it. So we cooked them that way and filled them with leaks braised in white wine and made little pasta, almost like ravioli, and there are eight of them in the bowl covered in anchovy cream with shaved hazelnuts.