Featured image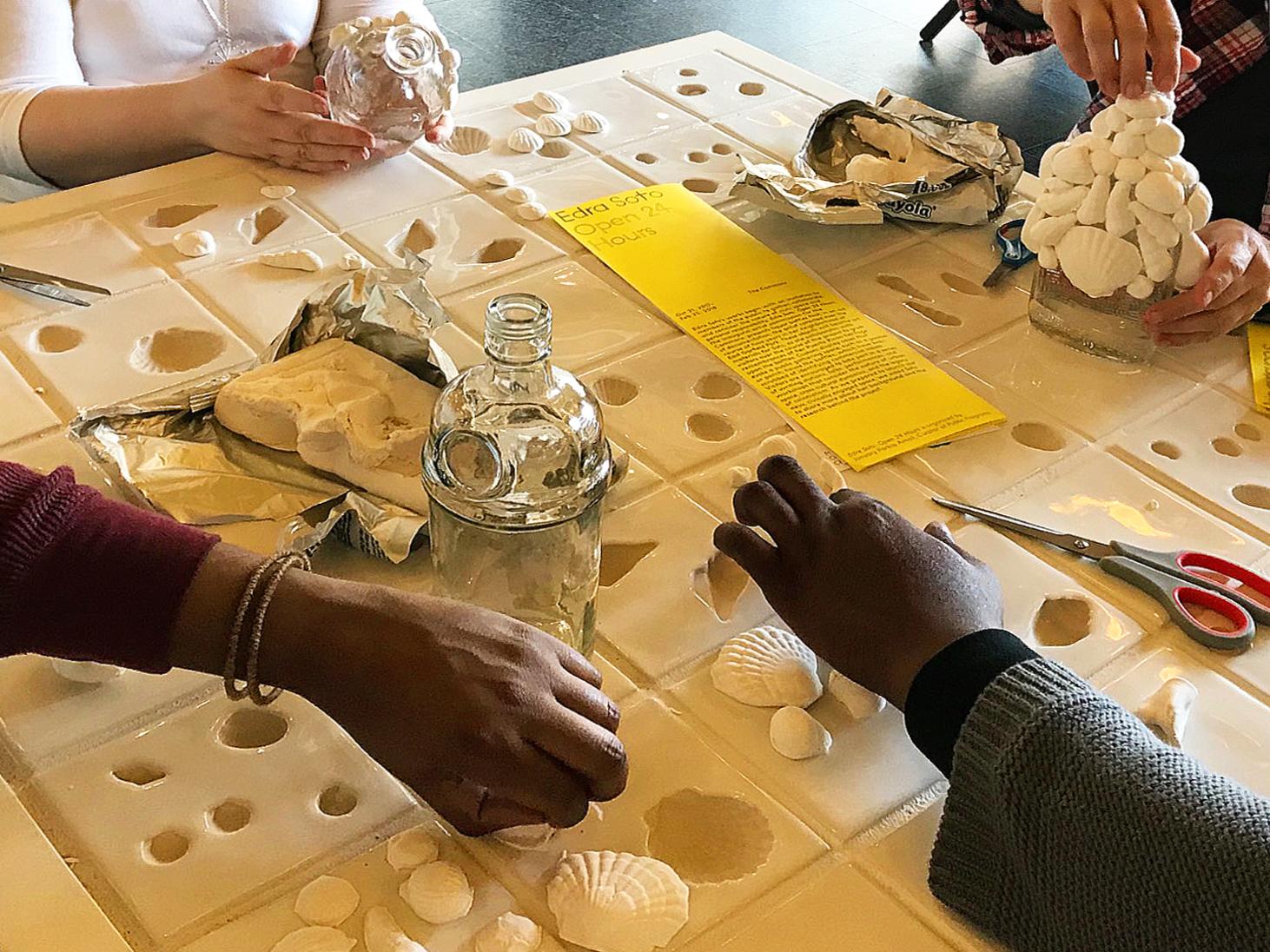 ---
Motivated by the excessive amount of littering and garbage in my neighborhood, I created the project Open 24 Hours. The title refers to the litter accumulation visible to everyone at all times in East Garfield Park, a historic African American neighborhood in Chicago. I have lived in this lovely neighborhood with my husband for more than 10 years.
One of the components of Open 24 Hours, which is part of the project's iteration in the MCA's Commons, is a series of prompts for visitors to respond to. The thematic focus of the project is contained in these prompts: littering, democracy, identity, and segregation. I explore these themes through four main sources, which in turn inform my practice and led me to create this iteration of Open 24 Hours. These four things are: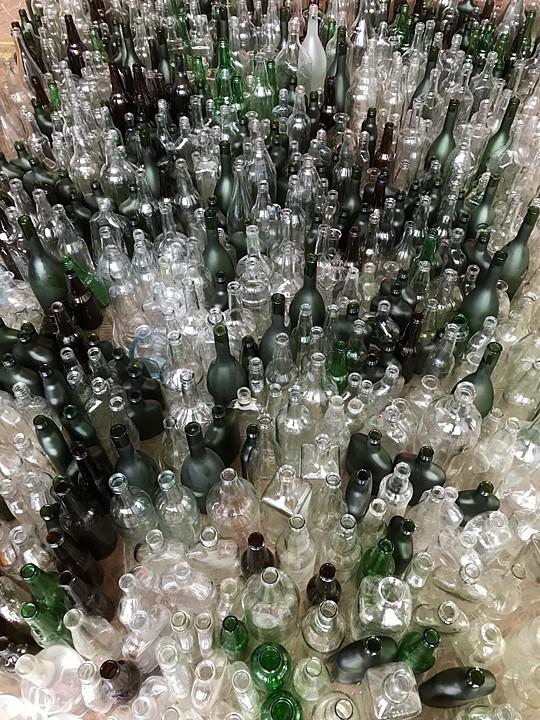 ---
During the mornings, while walking my dogs, I see all types of garbage and litter on the ground. The glass liquor bottles are beautiful and intact, almost as if someone carefully placed them on the ground. Many of the bottles that I have found in East Garfield Park are available to MCA visitors through my crafting workshops in the Commons. This workshop has been offered twice a month since Open 24 Hours opened, and has engaged more than 300 visitors. Before participating in the project, visitors must sign a contract that asks them to "take time" to work with us. It also states that they are acquiring a piece of "American History"—one of the found glass bottles on the display cases. I created this contract to raise curiosity about the origin of the bottle. I also like to think that this contract is a way for us to slow down during the exchange process. By placing the bottles in other peoples' hands, I feel that I am sharing the responsibility of littering, something that pertains to all of us, and that we all have the ability to control.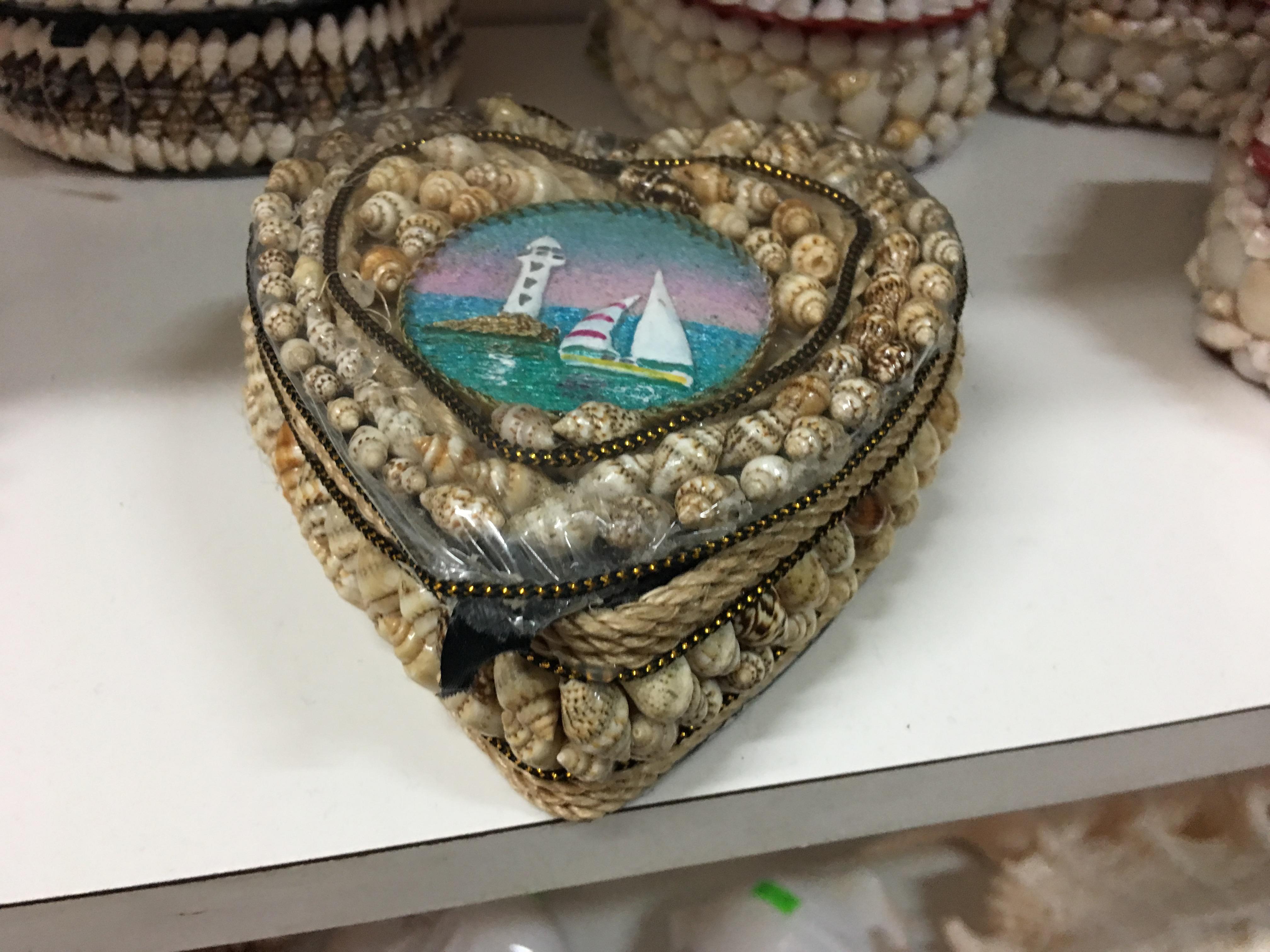 ---
My friend, the curator Ruslana Lichtzier, once pointed out to me the parallel between my boulevard and the beach and how the gesture of picking up shells at a beach mimics my gesture of picking up glass bottles in my neighborhood.
Seashells by definition are the outer skeletons of mollusks, or the house for an organism. The outer skeletons provide shelter, sometimes camouflage, for the animals inside. I think about the housing qualities of a shell and how to symbolically build a shelter. A shelter is a space associated with terms like support, refuge, sanctuary, or safe house. Shells are also considered an icon among Caribbean souvenirs. The shell-crafting tradition dates back to the 1800s and originates in the island of Barbados. Shelled artifacts, like modern versions of the sailor's valentine, are typically found at souvenir shops across the Caribbean.
In the Open 24 Hours installation, you can find two tabletops made of shell castings. During the crafting workshops, visitors use these tables to create shells using air dry clay to decorate the glass bottles. I included a crafting project in Open 24 Hours because crafting has the potential to bring people together by sharing in a creative and relaxing experience. Crafting also allows participants to customize their bottles and inquire about the different meanings behind the shells, the bottles, and the music that fills the environment.
The objective of the crafting project was one of transformation. The found glass bottles were turned into beautiful objects by visitors, sheltered in glass cases, and then given a new home: After being displayed for two or three months, the bottle owners are invited back to the Commons to pick-up their bottles. The bottle becomes a souvenir.
I inherit my mainstream culture taste from my upbringing, having lived in Puerto Rico for 23 years. I have a taste for hip-hop and rap. These musical genres also happen to be the soundtrack of my neighborhood. I wouldn't describe myself as a responsible listener; I listen but don't care what is being said. It is a pure pleasure situation. The beat is great, curling into my skin—must be all the eighties sampling that makes me nostalgic—but this one time, there was a song by DJ Kaleed featuring Drake titled "For Free" that got to me! Among the things being declared in the lyrics of this song, Drake says that "he got off the Henessey." At this point in my bottle-picking habit, I had collected so many bottles of cognac (Henessey and Remy Martin being the two bottle brands that I find the most) that it triggered my curiosity. I couldn't wait to find out what the possible relationship between African Americans and cognac might be. Living in a historic African American neighborhood that is a food desert, with one liquor store in the middle of the boulevard, I felt like I was going to find an answer for the unexplainable selection of bottles that I kept finding.
Featured image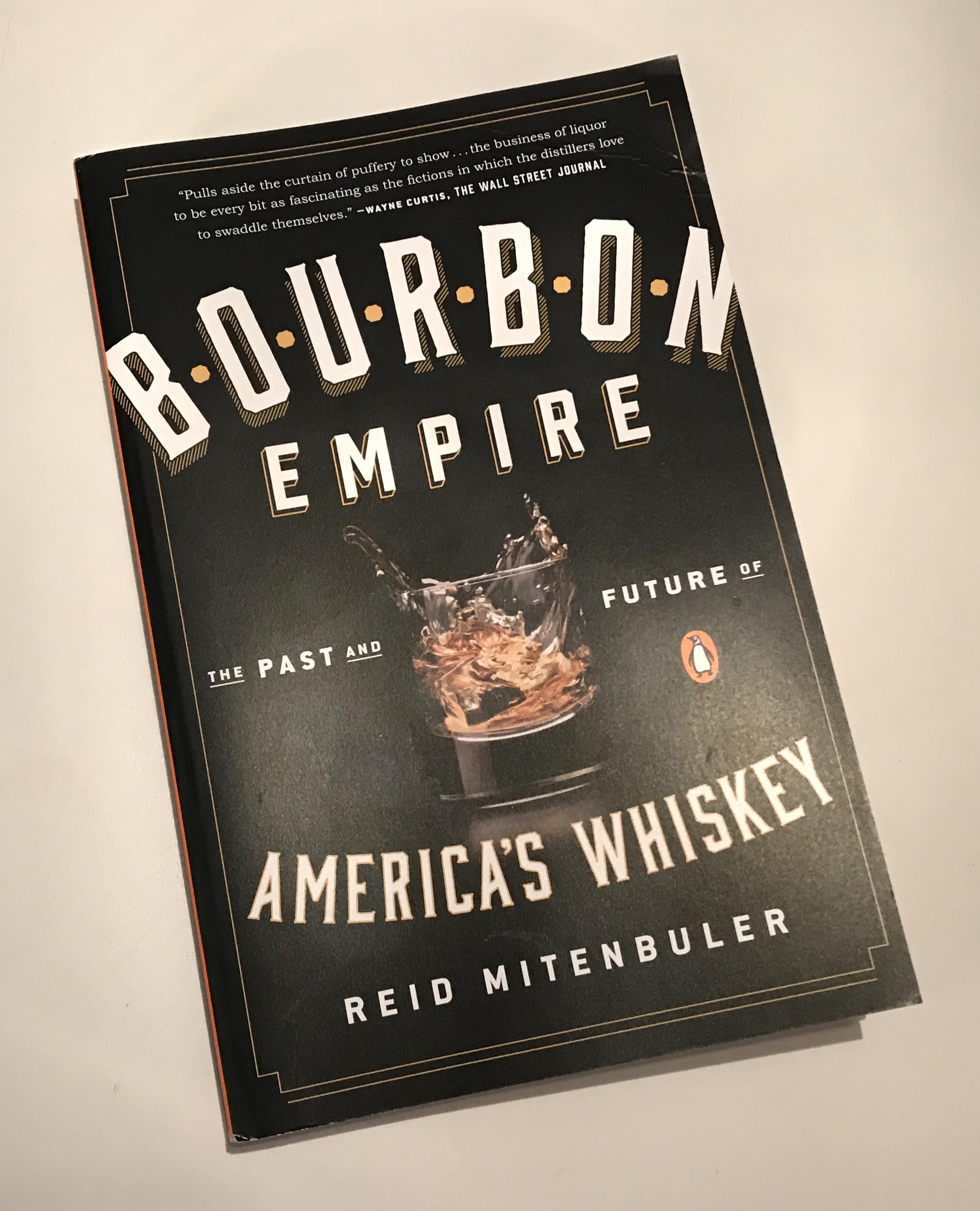 ---
>"Cognac's relationship with African American consumers started later, when black soldiers stationed in southwest France were introduced to it during both world wars. The connection between cognac producers and black consumers was likely bolstered by the arrival of black artists and musicians like Josephine Baker, who filled Paris clubs with jazz and blues during the interwar years . . . France appreciated these distinctive art forms before the U.S. did, continuing a French tradition dating back to Alexis de Tocqueville of understanding aspects of American culture better than Americans did. For African Americans, the elegant cognac of a country that celebrated their culture instead of marginalizing it must have tasted sweet . . . During the 1990s, cognac sales were slow, and the industry was battling an image populated by fusty geriatrics. Then references to cognac began surfacing in rap lyrics, a phenomenon that peaked in 2001 with Busta Rhymes and P. Diddy's hit "Pass the Courvoisier," causing sales of the brand to jump 30 percent. During the next five years, other rappers teamed up with brands, and increased overall sales of cognac in the U.S. by a similar percentage, according to the Distilled Spirits Council of the United States."
—Reid Mitenbuler, author of Bourbon Empire: The Past and Future of America's Whiskey
---
Music is an important aspect of my Open 24 Hours installation and it is manifested through a contribution by DJ and artist Sadie Woods. Sadie created a playlist that greets you as soon as you enter the Commons. Music was also the focus for many Chicago artists who contributed to Open 24 Hours through live performances and events, which I organized for the Commons. The content of these performances were meant to connect conceptually with the content of Open 24 Hours, providing a more expansive experience for visiting audiences.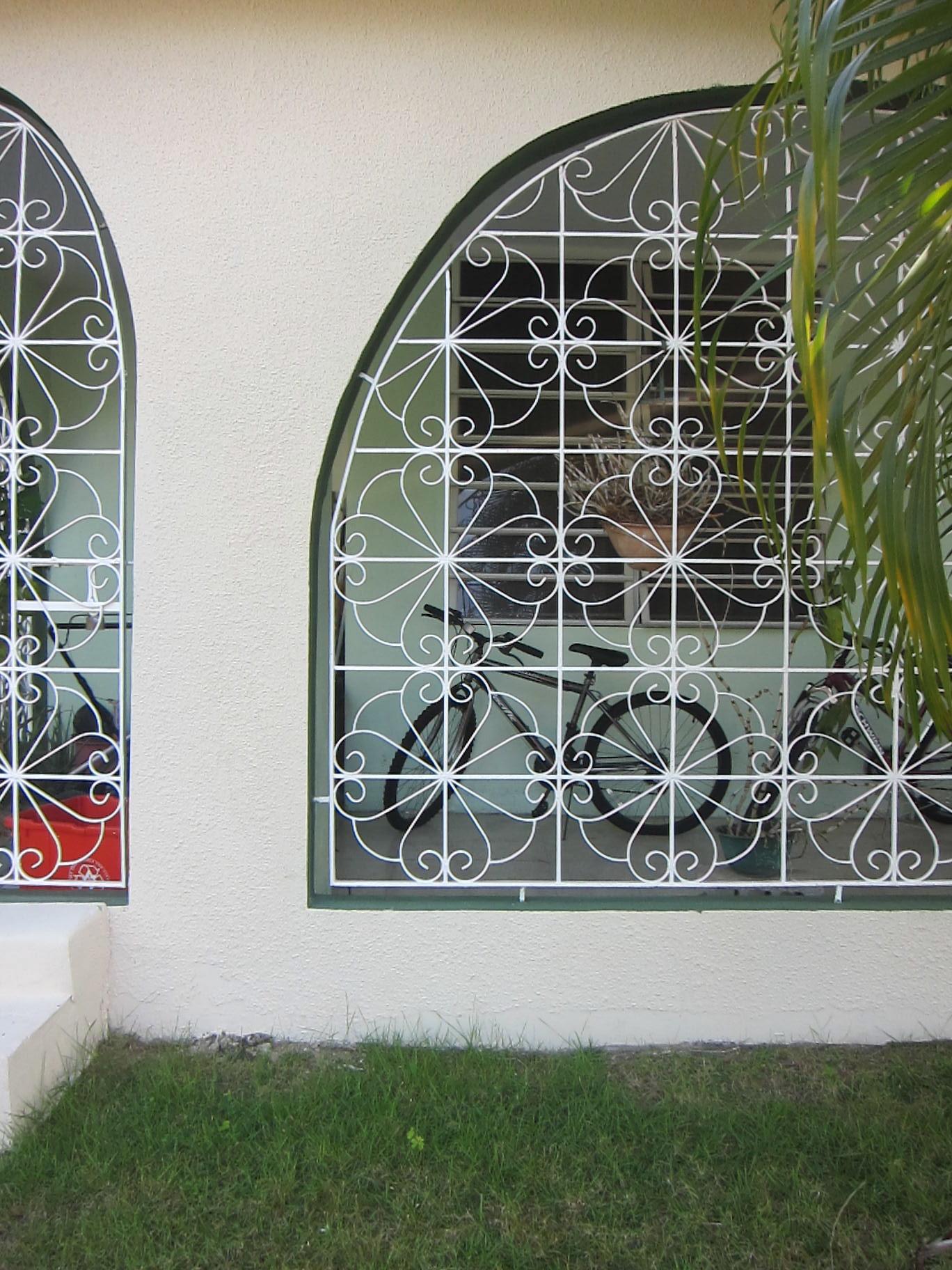 ---
Domestic iron rejas (Spanish for fence) became ubiquitous in the architecture of postwar Puerto Rico, due to the security they provide and their ability to allow for ventilation.
Today, these rejas have become part of the island's visual landscape. I am using the reja patterns I find in Puerto Rico to create architectural interventions that I title GRAFT. Transplanting rejas to locations outside Puerto Rico alludes to the aesthetic and nostalgic qualities of these rejas and points to overlooked histories of conquest and enslavement. It also hints at a sort of neo-colonization in which the vernacular architectural style of a colonized people is appropriated for cultural cachet. A literary component of GRAFT bringing together writers from different disciplines (from political writers, to sociologists, architects, poets, and artists).
In the Commons, GRAFT provides a frame for Open 24 Hours through the decorative, shelved cabinets that hold the bottles. I codesigned these cabinets with Chicago's built-design company Navillus Woodworks. It was important for me to pair my aesthetic work with the functionality and precision of costume furniture. The cabinets were made to hold a lot of weight and are constantly being used during the Open 24 Hours workshops. GRAFT also aesthetically complements the already-existing decorative planters and furniture in the Commons, created by designer team Pedro and Juana. GRAFT is not meant to call attention to itself. It is a representation of vernacular architecture that serves as a backdrop. It also provides an identity backdrop, establishing my relationship to both the Caribbean and the US.
---
Edra Soto's project Open 24 Hours is on view at the MCA through February 25, 2018.