Artists Up Close: Witnessing the Beautiful Manipulation of Wood
by Gustav Reyes
Featured image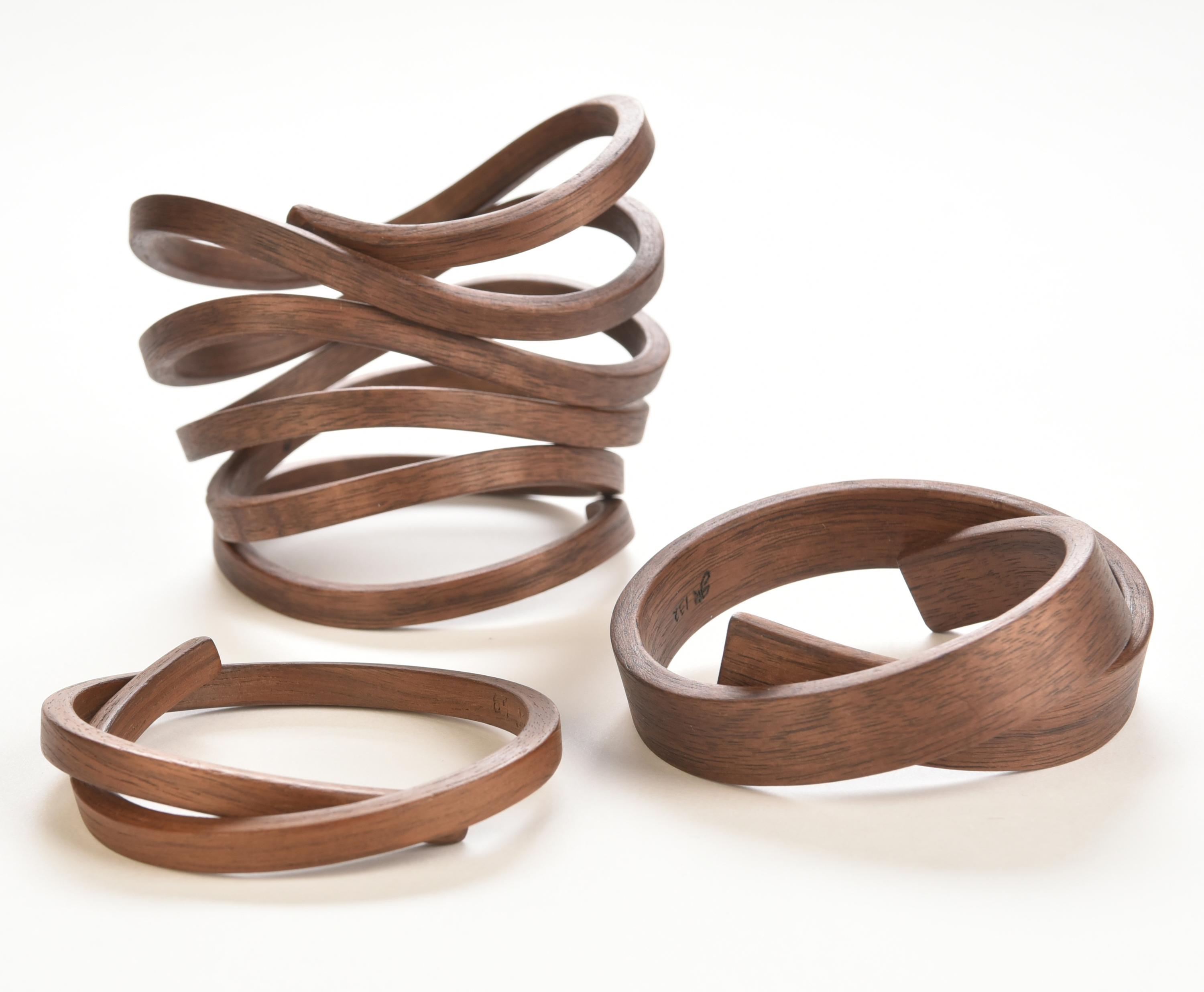 blog intro
Gustav Reyes is a designer who makes one-of-a-kind jewelry and (sometimes) furniture out of wood. We traveled to his Pilsen studio to visit Gustav and to witness the most interesting part of his process, and the most fun for the artist: the manipulation of wood, which has been molecularly altered to be able to bend like wet spaghetti, and to keep it bent that way.
---
At Gustav's studio, we met his lovely wife Juanita who told us Gustav was out buying a cake for his mother's 82nd birthday—having made a trip from Pilsen to Roeser's Bakery in Humboldt Park to pick up something special. Gustav returned to explain that he was between studios at the moment, making the move from a warehouse on Western Avenue, mostly inhabited by manufacturers of garments and furniture, to where we were, a sun-lit storefront in East Pilsen with room for a gallery, offices, and eventually a studio in the basement. The new storefront area was clean and dreamy; every surface was covered in Gustav's signature twisted wooden sculptural adornments. A lamp on a pedestal draws the eye to the back of the gallery housing his new office space.
image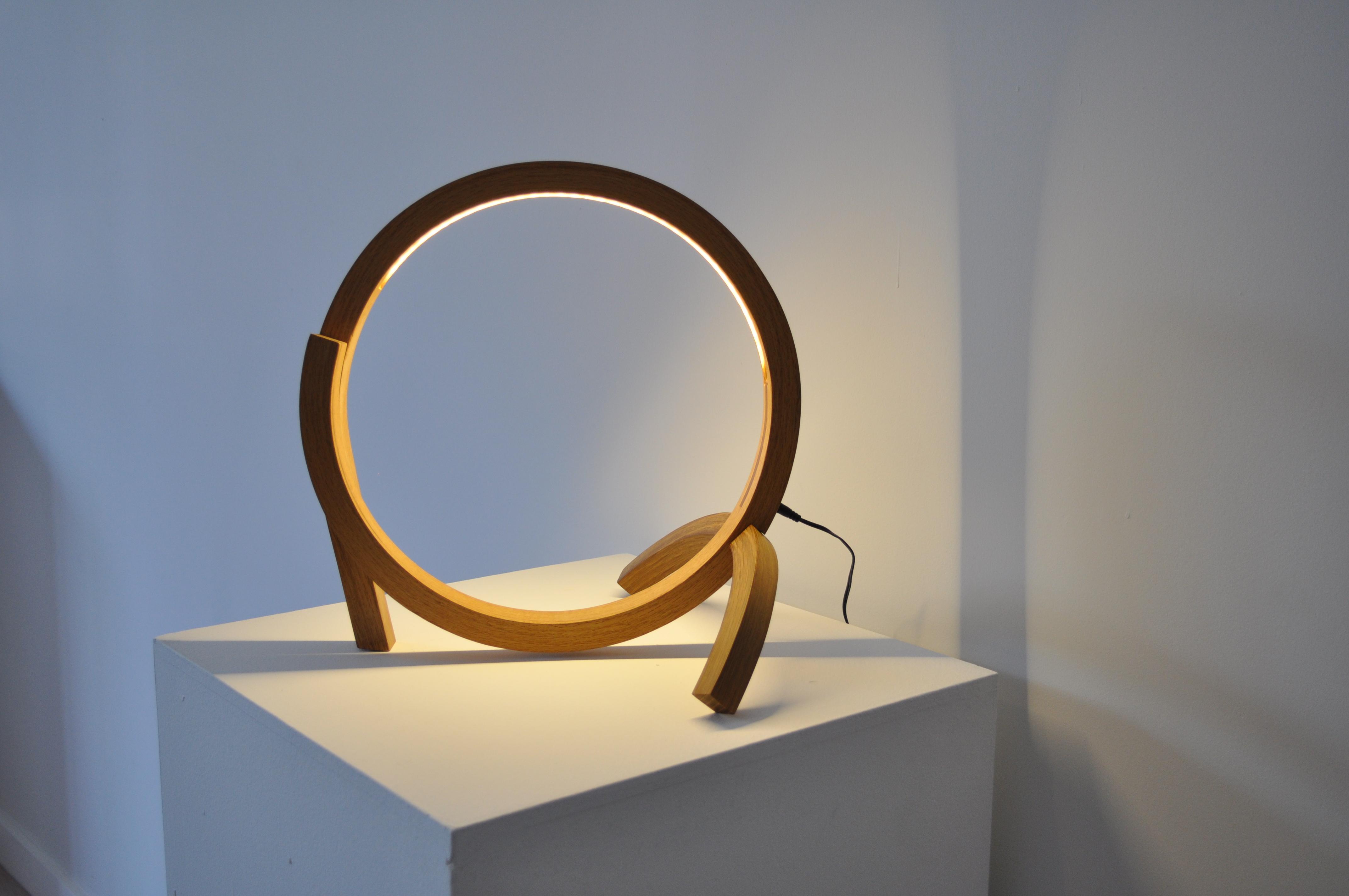 ---
From first glance, it is hard to tell how this gravity-defying wooden loop is standing or producing light. All of his pieces are similarly unexpected; it is hard to wrap your brain around how wood can possibly take this shape. Intelligently designed, legs pop into place to hold the wooden loop upright with the help of hidden magnets, but can be removed so the lamp can be packaged completely flat. Gustav would later share that two of these lamps were thoughtfully chosen to illuminate the offices inside Frank Lloyd Wright's iconic Fallingwater house.
We were looking forward to seeing how his incredible pieces are manufactured so Gustav drove us to his old studio in West Pilsen where his rings are still being made. On the way, Gustav warmly recalled his father bringing him to Pilsen after a long day's work so that he could make jewelry with his artist friends while Gustav made charcoal drawings on newsprint. It was the 1970s and there Gustav got to see art from a different perspective. This opportunity really stuck with him and opened his eyes to a life where art making was passionately prioritized. "That's when [my dad] was having fun; to me, that was an adventure."
image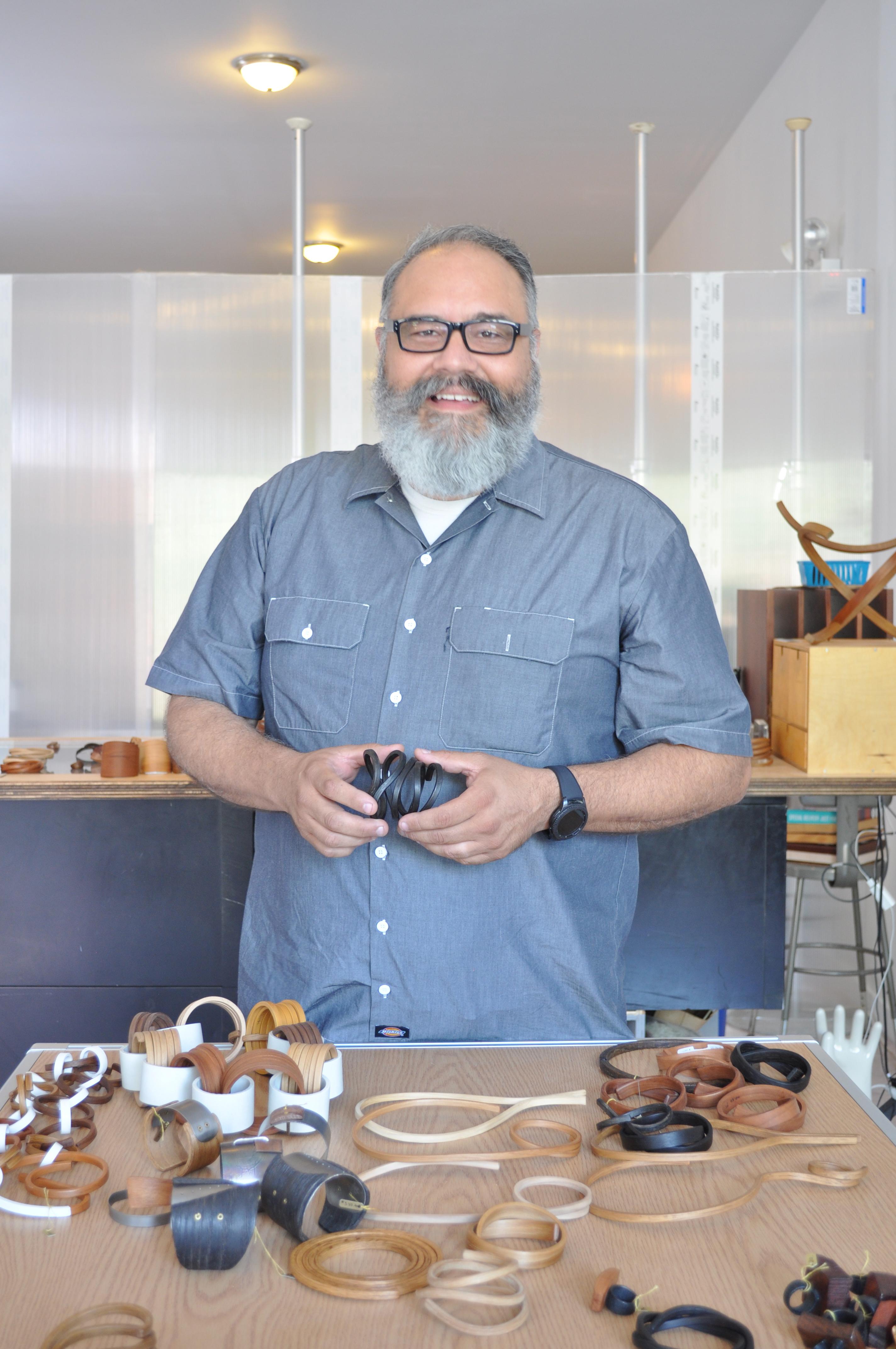 ---
Gustav explained how his lifetime of woodworking transformed into what he does today. His main business, Simply Wood Rings, began as a way to honor the life of a tree and also a relationship. After starting his business on Etsy and having customers for about 12 years now, Gustav says "it's nice to evolve with them and see them grow." He proudly shared that his customers are "very adventurous," and he often incorporates special stones or uses wood from a particularly memorable tree. He once made rings for marine biologists who wanted ocean garbage inlaid into their wedding bands, the result and story are rather beautiful. His studio houses a small catalogue of branches from trees he has made rings from before, in case one of his customers loses theirs. He says that people don't always know that they have organic, sustainable, handmade alternatives to traditional metal rings.
In this busy, fascinating studio, where beautiful rings are being made, the real attraction is where Gustav bends wood into unimaginable forms. The wood is first sent to Washington to be compressed in a big machine, which alters the wood on a molecular level. The wood comes back in a pliable state that is really fun for Gustav because it is "not quite rubber, and not stiff like wood, between metal and clay, you bend it and it doesn't want to snap back." Throughout the studio hang different-sized molds, which Gustav uses to wrap wood around and around to make bracelets that look like ribcages and tie necklaces into knots.
image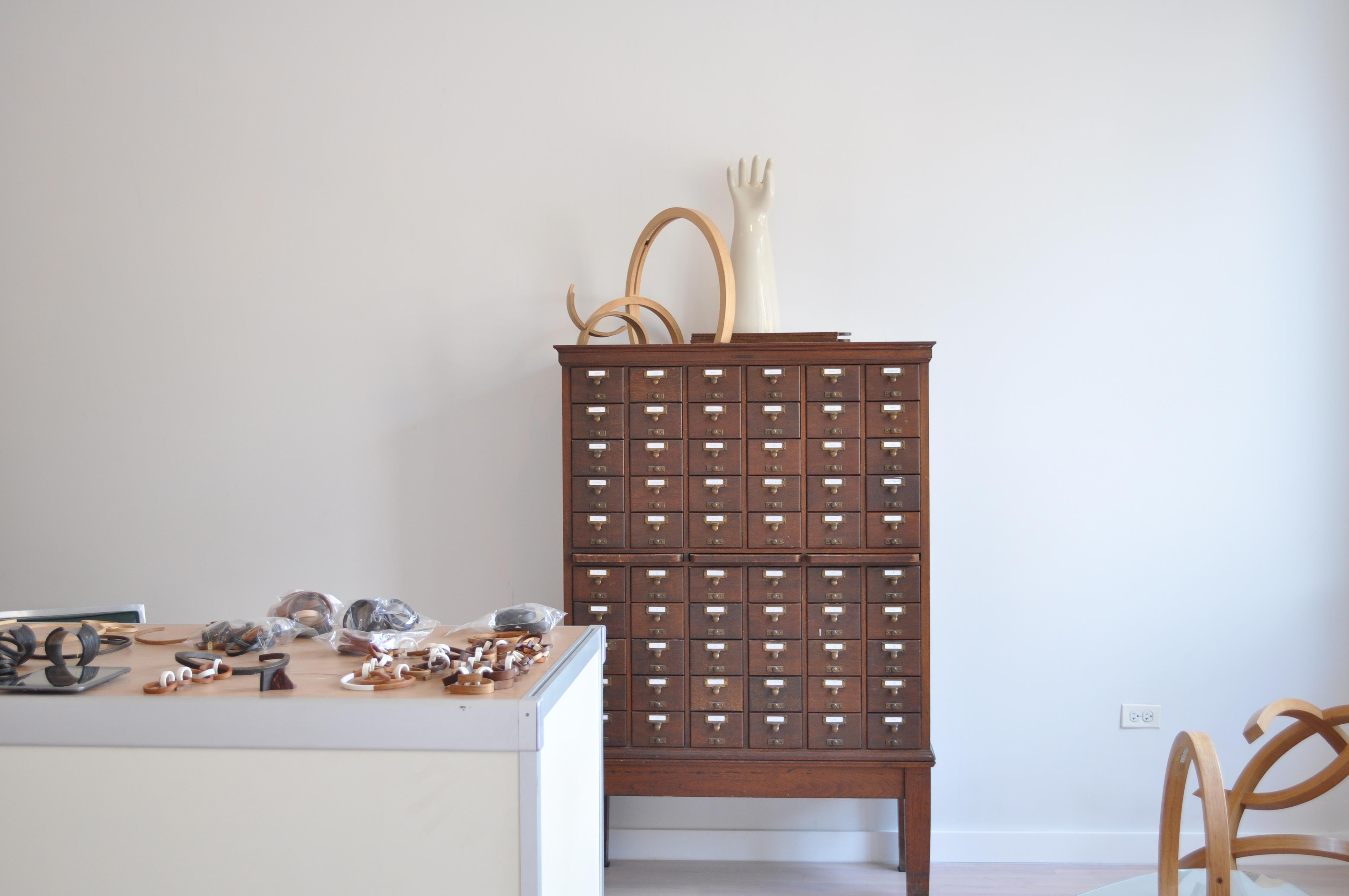 ---
Gustav Reyes is one of 15 designers selected from our Chicago designer competition. His stunning accessories are featured at the MCA Store through the end of the year.