A Recipe for the Next 50 Years
Featured image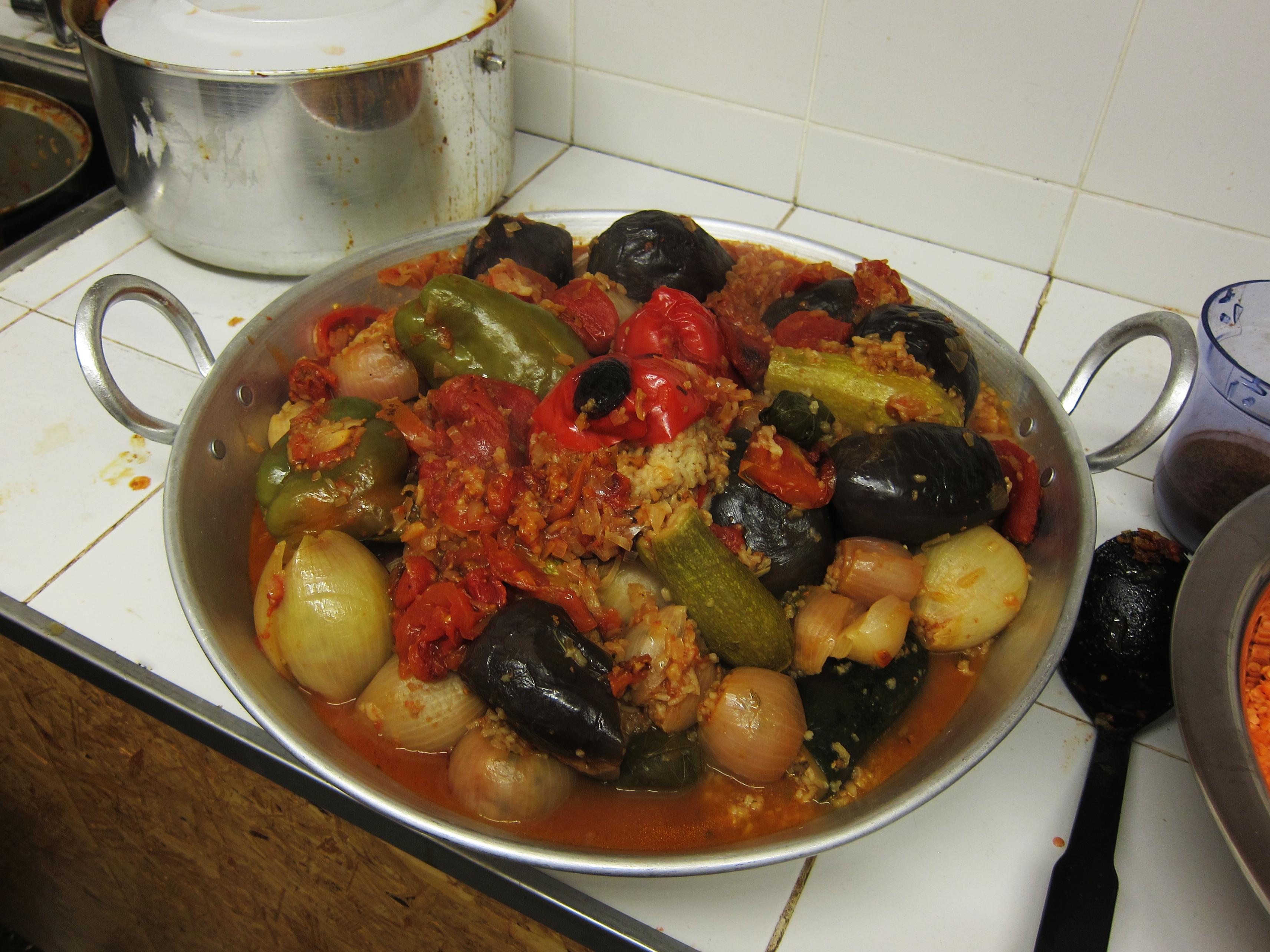 blog intro
One of the themes in the exhibition Michael Rakowitz: Backstroke of the West, is the role food culture plays in forming communities, for example in the passing down of family recipes through generations or the cultivation of prized regional produce. Michael shared with us recipe for vegetarian Mhasha, along with warm wishes for the MCA and the Chicago community.
---
May this recipe be a harbinger of sweet things to come for the next 50 years. Happy birthday MCA.
—M. R.
Ingredients
1 bag spinach leaves (selek)
2 large onions
2 medium beetroot, peeled and cut in half
2 small courgette (zucchini), cut into 4 pieces
1/2 red pepper
1/2 yellow pepper
1 c. celery leaves
1 c. celery stalks
1 c. spinach stalks
1/4 c. mint
1 1/4 c. glass rice
1 tsp salt, 1 tsp lemon, 2 tsp sugar, 1 tbsp tomato puree, and 1 tbsp oil for the rice and vegetable mix
Flavoring
1/2 tsp black pepper
Juice of 1 lemon
4–6 tbsp of sugar
3 tbsp of tomato puree
1 tbsp of oil
Method
Prepare dish as follows:
* Peel the onions and put them in boiling water for 20 minutes. Allow to cool and separate the layers one by one till the last one.
Put aside the remaining pieces of onions.
* Remove the stalk from the spinach and put the spinach in boiling water for 2 minutes. Drain.
Cut up enough stalks to fill one cup.
Wash the peppers and cut into quarters.
Cut each courgette into 4 pieces and scoop out the insides and put aside (leave a base for each piece)
Scoop out the inside of the beetroot halves and put aside.
Blend together the onions, spinach, scooped-out beets, and courgette with the cup of celery leaves, celery stalks, spinach stalks, and mint.
Wash the rice thoroughly and mix with the blended vegetables.
Mix together 1 tsp lemon, 2 tsp sugar, 1 tsp salt, 1 tbsp tomato puree, and 1 tbsp of oil and add to the rice and vegetable mix.
Using a large, shallow pot, heat up 1 tbsp of oil on a low flame.
Fill the vegetables with the rice and vegetable mix and arrange them in the pot in one layer. Do not put one vegetable on top of another.
Mix together the ingredients for the flavoring: black pepper, 3 tbsp tomato puree, juice of 1 lemon, 4–6 tbsp sugar, and 1/4 cup of water.
Spoon this liquid on top of each vegetable.
Add one cup of water and bring to the boil.
* When it starts boiling, reduce heat to low for 20 minutes. If the rice is not cooked, add more water and cook for another 20 minutes.
Cook for another 30 minutes in the oven until the liquid has dried.
About
This recipe first appeared in a special MCA 50 edition of the MCA Magazine.